A PIPELINE FOR TALENT
A PIPELINE FOR TALENT
by Tim Sands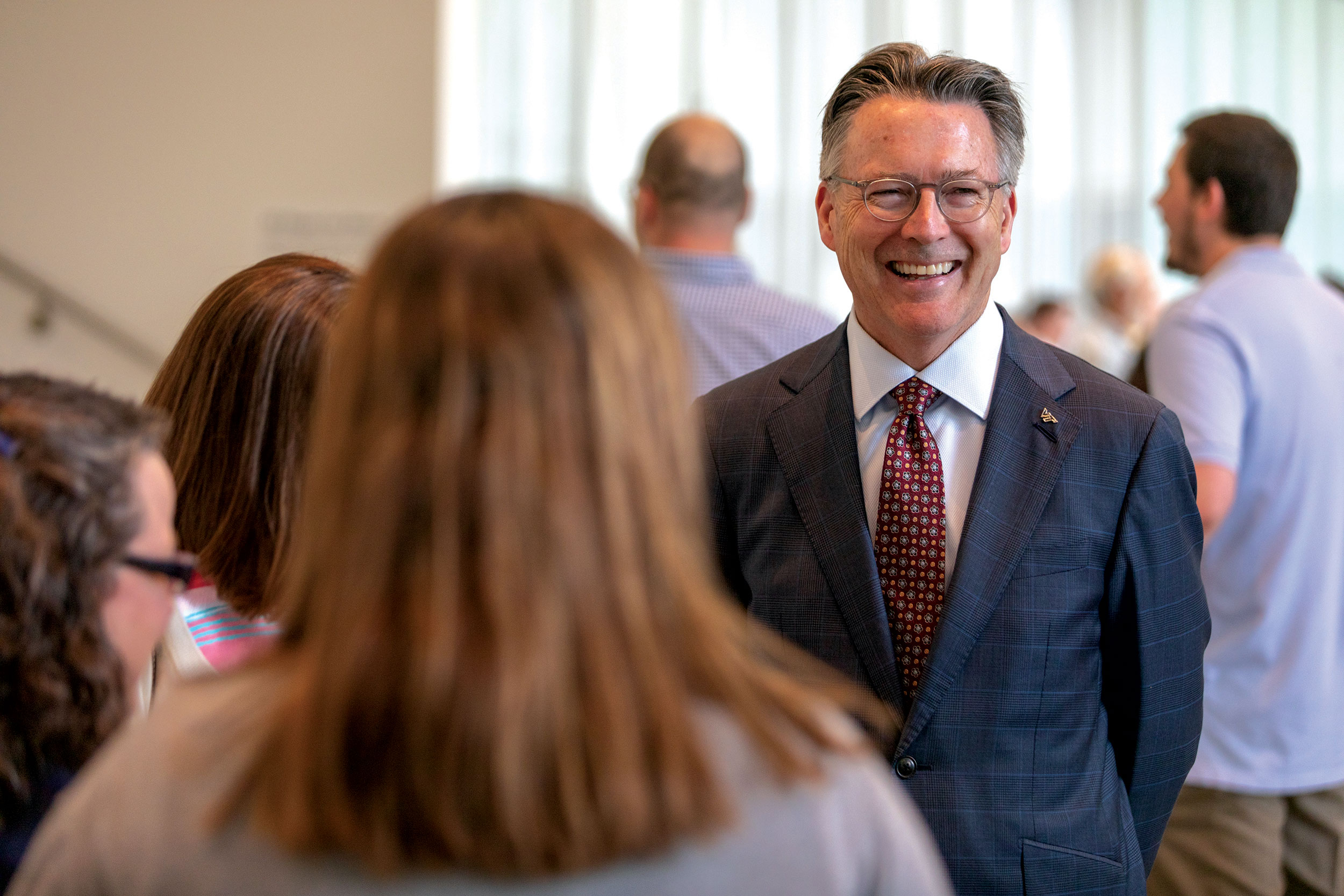 WINNING SMILE: Virginia Tech President Tim Sands interacts with colleagues at an event honoring numerous members of the faculty and staff.
I recently had the privilege of addressing the Class of 2019 during our spring commencement ceremony. The rain didn't dampen their enthusiasm or appreciation for our commencement speaker, Coach Frank Beamer.
These graduates have a lot to be excited about, as they go into the world with tools and experiences that will help them be successful in their careers and life in general.
As members of our newest alumni class plan their post-graduation future, another group of students, the Class of 2023, is preparing to begin their first year as Hokies in the fall. The skills and experiences they will need to be ready for the world in four years are already changing, and Virginia Tech will adapt to support their success and the rapidly expanding industries that will need them.
This is one of higher education's greatest challenges: anticipating the future, staying ahead of the curve, and developing curricular and co-curricular experiences that continue to be relevant and rewarding.
At Virginia Tech, our commitment to excellence and our modern land-grant mission is driving a transformative process to ensure that we continue to provide an extraordinary experience that meets the needs of our students, communities, and partners.
This summer our Board of Visitors will affirm the university's priorities for the future with a new strategic plan, developed collaboratively with the university community and alumni. The rapidly expanding need for talent in technology and related industries is a primary focus. As I meet with industry, government, and economic development leaders from around the country, it's clear that Virginia Tech is well-positioned to make a difference. As the nation's fifth largest producer of engineering graduates, we are uniquely qualified to support the rapid expansion of the tech sector and related demands across multiple industries.
The development of the Innovation Campus in Northern Virginia, the strategic expansion of our Blacksburg campus, and our advancing health and research presence in Roanoke will maximize our impact. And our dedication to service and outreach in the spirit of our motto, Ut Prosim (That I May Serve), will truly differentiate Virginia Tech from the rest as we develop a pipeline of diligent, creative, versatile leaders who are ready to meet the challenges ahead.
Tim Sands is Virginia Tech's 16th president.