MUSEUM ON THE MOVE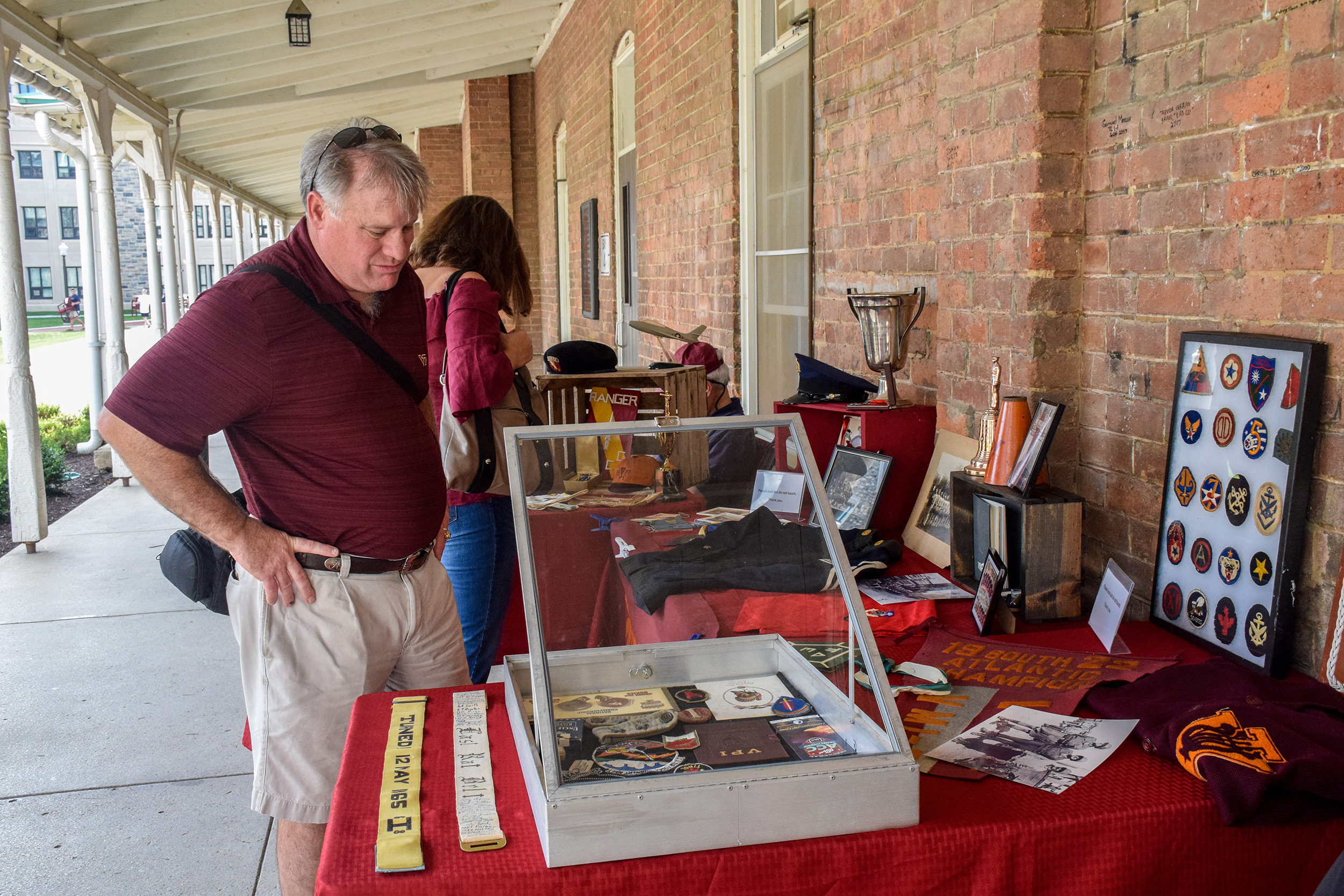 Alumni browse Corps of Cadets artifacts and memorabilia during a Pop-Up Museum on the front porch of Lane Hall.
If you spot a bright orange tent while strolling across Virginia Tech's campus this summer, step inside.
You may find pennants hanging along the tent's edge, an alumnus's World War II uniform, or candid photos from the days when Lane Hall was still the cadet barracks. You might even see yourself staring back from one of the photos.
The Corps of Cadets' Pop-Up Museum started two years ago as a way to evoke memories and showcase a few dozen of the items from the Corps of Cadets Museum collection.
The traveling mini-exhibition celebrates alumni, veterans, and history. The goal is to provide the community with an opportunity to learn about the corps and university history through artifacts that date from as far back as 1872, when Addision Caldwell enrolled as the first student.
Educational programming is the cornerstone of museum curation, and the pop-up museum creates spontaneous opportunities for the curator and cadet historians to talk with visitors about the corps' history and its foundational ties to the university.
A permanent museum space will be housed within the Corps Leadership and Military Science Building, the third building planned in the revitalization project that brought two new residence halls to the Upper Quad. Pearson Hall opened in 2015, and New Cadet Hall opened in 2017. These buildings surround Lane Hall, the original barracks, which is now on the commonwealth and federal lists of historic buildings.
Meanwhile, corps artifacts are on exhibit on the fourth floor of Newman Library. Although space is limited in Newman, there are acres of campus on which to expand the museum—if only for a few hours—through the pop-up museum.
Look for the Pop-Up Museum during reunion weekends and other large events on campus.
Samantha Riggin is the Corps of Cadets' museum curator.