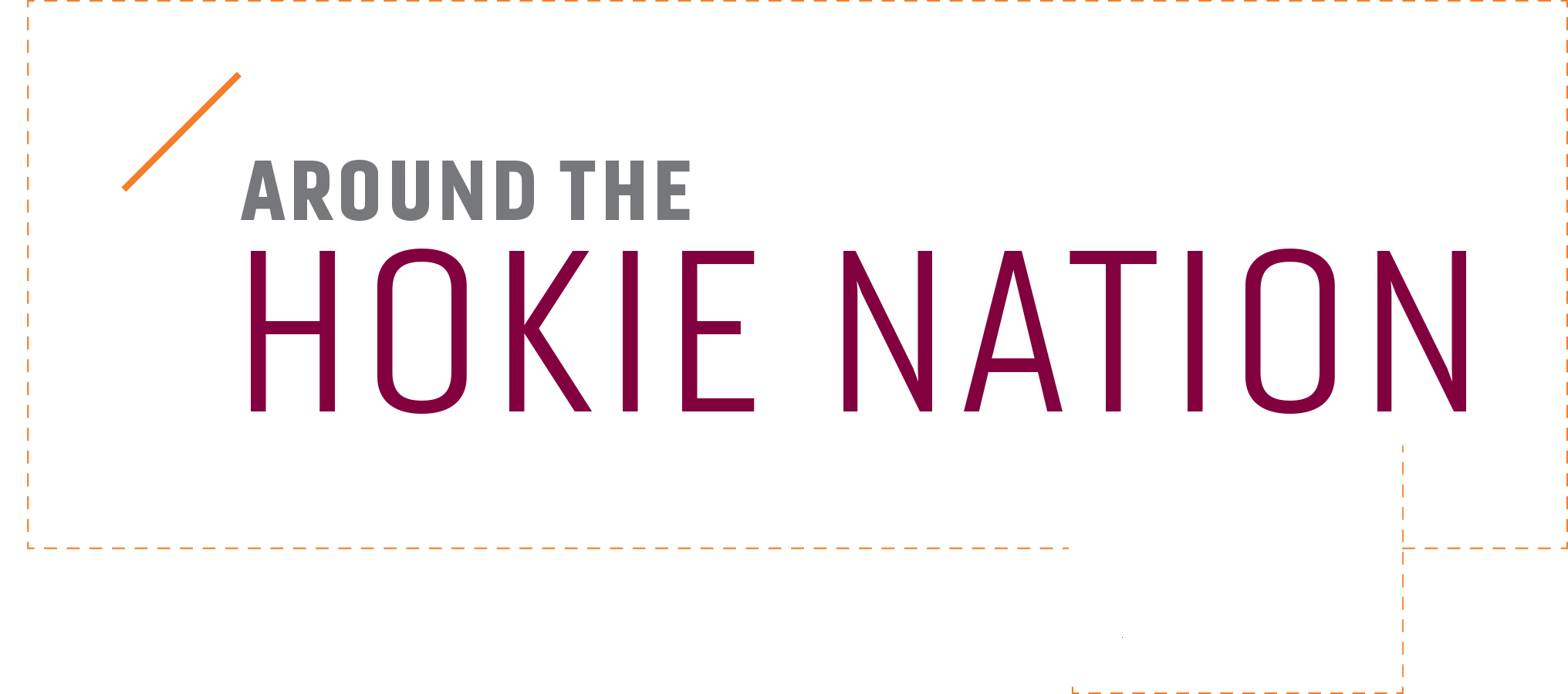 BUSINESS CLASS
Lynne Doughtie—Virginia Tech Q&A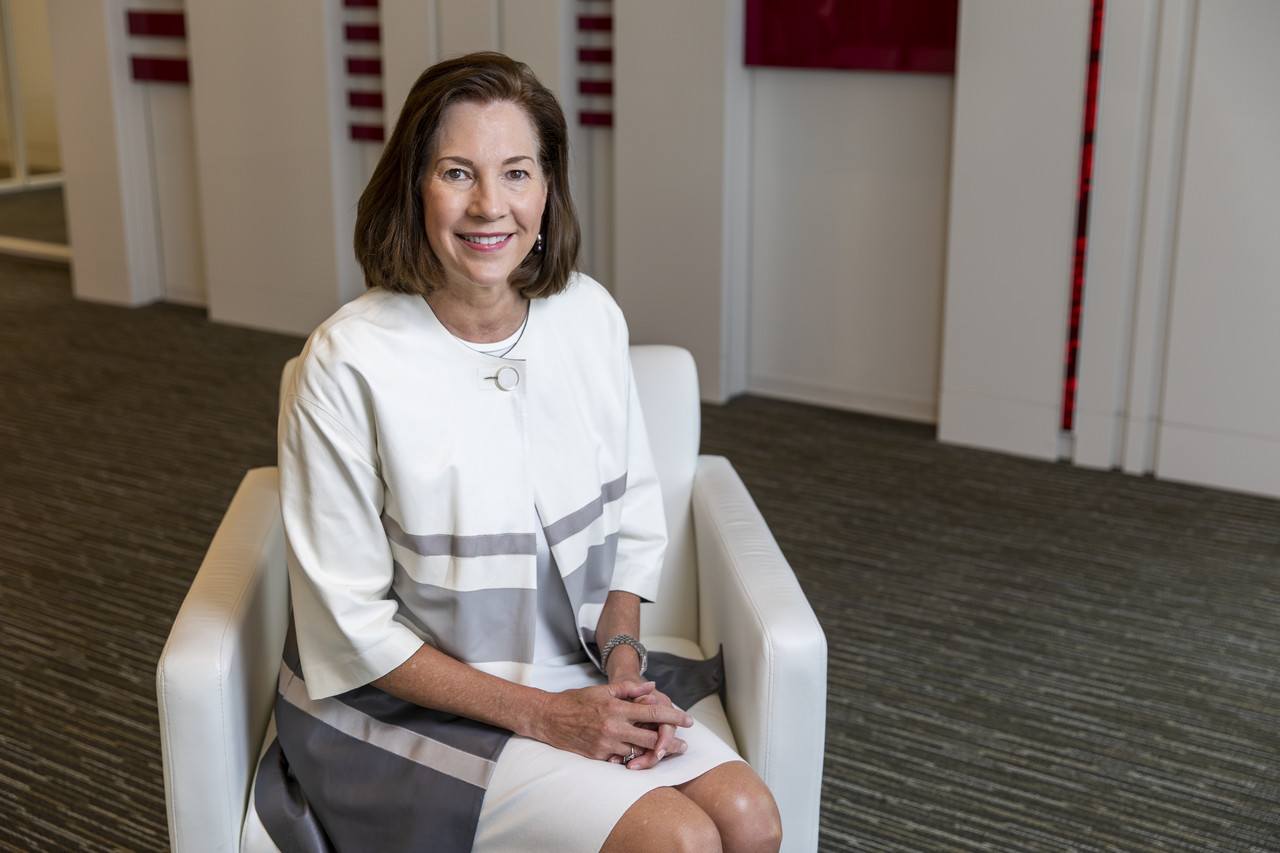 Lynne Doughtie
SUPPORTING BUSINESS EDUCATION
Virginia Tech will name the KPMG / Lynne and Ben Doughtie Undergraduate Programs Suite, within its planned Global Business and Analytics Complex, in recognition of a recent $2.5 million commitment toward the project.
The naming, per approval by the university's Board of Visitors, will highlight the positive impact on the university made by Lynne Doughtie, her family, and KPMG, the firm for which she served as U.S. chairman and CEO from July 2015 through June 2020.
"We are extremely grateful to the Doughties, KPMG LLP partners, and the KPMG U.S. Foundation Inc. for this generous gift, which brings our Global Business and Analytics Complex one step closer to completion," said Virginia Tech President Tim Sands. "This facility will provide tomorrow's leaders with the skills they need to analyze complex data and help solve problems faced by businesses and communities around the world."
The Global Business and Analytics Complex will add four buildings to Virginia Tech's Blacksburg campus. The complex is a major element of the university's strategic push to build on its expertise in data analytics and decision sciences—areas that are quickly reshaping many aspects of how people live, work, and make critical choices.
"One of the most significant issues facing the business community is the need to continually innovate and apply new technologies—both internally and with clients—to address the profound opportunities and challenges presented in today's digital economy," Lynne Doughtie said. "It will be critical for the up-and-coming workforce to understand data, analytics, AI, robotics, and more. Our aim is for students to get grounded in the curriculum that will be offered through the Global Business and Analytics Complex so they can hit the ground running when they begin their careers."
Doughtie was the first woman elected to head KPMG's U.S. firm and the first woman to serve as both chairman and CEO for one of the Big Four professional services firms. Along with KPMG, that group is comprised of Deloitte, EY (formerly Ernst & Young), and PwC (also known as PricewaterhouseCoopers). A 1985 alumna of Virginia Tech's Pamplin College of Business, Doughtie said she has drawn from her university experience at all stages of her career.
"I came to Virginia Tech from a small town as the first person in my family to go to college," said Doughtie, who now lives in Powhatan, Virginia. "Virginia Tech wasn't as big then as it is now, but believe me, it sure was huge to me. Despite its size, what stood out was how it provided a family-like atmosphere with values that mirrored those I was raised with. I was in a new and unfamiliar environment that soon became home. Since then, I've found myself being provided opportunity after opportunity to be challenged and to grow, personally and professionally. And each and every time, I've drawn strength from my Virginia Tech experience. I've stayed involved in the university, and I give back, because I want to make sure tomorrow's Hokies can build on their experience just like I did. I want them to know their horizons are only limited by their imagination, attitude, and willingness to work hard."
Joining Doughtie and her husband in making the naming gift were several Pamplin alumni who are KPMG partners, including Chris Xystros, managing partner for the firm's Norfolk, Virginia, office.
"There is a very special bond between Virginia Tech and its alumni," said Xystros, a 1984 alumnus of Pamplin. "As Hokies, we look for ways to give back and make a difference for our beloved Virginia Tech, and our KPMG alumni partners are no exception, as they stepped up and gave generously in support of the Global Business and Analytics Complex. This project is transformative for Virginia Tech and will cement the university as a world leader in developing talent and methods for data analytics as a critical element in addressing problems faced by industry and society. I know I speak for all KPMG Hokies when I say that I am extremely proud that Lynne Doughtie, a fellow Hokie, rose to the top of our firm and served us well as chairman and CEO. We are equally proud to join with Lynne in making this commitment in support of Virginia Tech's Global Business and Analytics Complex."
The four-building complex is expected to consist of two academic buildings and two residential buildings for living-learning communities. Construction of the first of the two academic buildings is scheduled to begin in November. As envisioned, the KPMG / Lynne and Ben Doughtie Undergraduate Programs Suite consists of nearly 3,500 square feet within the second of the two academic buildings planned for construction. Among other functions, the second building is expected to serve as the new home for Pamplin.
KPMG is one of the leading employers of Pamplin graduates. The college and firm have a history of strong academic-industry partnerships, including other initiatives focused on data analytics.
"This prominent naming highlights the distinguished record that Lynne and her fellow Hokies at KPMG have of staying involved and giving back to higher education," said Pamplin's dean, Robert Sumichrast. "Our college, and the university as a whole, is much stronger thanks to people like them."
The Global Business and Analytics Project is one of six major university-wide priorities within Boundless Impact: The Campaign for Virginia Tech, which launched in October 2019. Doughtie is one of the campaign's three co-chairs. She was Virginia Tech's University Distinguished Achievement Award honoree for 2018.
"I hope our gift will accomplish three things," Doughtie said of the naming gift. "First, I really hope it provides an unsurpassed environment for students to learn how to use data to make better decisions so they are prepared for a workplace that will require them to know how to use and interpret data in ways that are smart, efficient, and effective. Secondly, I hope that it helps to position Virginia Tech as a true leader in this education space. And finally, I hope it inspires other donors to give generously, as this is such an important investment in our future."
Lynne Doughtie '85, achieved professional success, breaking barriers in the business world along the way.
In 2015, she became the first female top executive at KPMG LLP, one of the world's leading professional service firms. In June, she will retire as the company's U.S. chairman and CEO. Throughout her career, Doughtie regularly has been named one of Fortune Magazine's Most Powerful Women in Business.
As a result of her extraordinary accomplishments, in 2018, Doughtie was awarded Virginia Tech's University Distinguished Achievement Award.
Doughtie has also remained involved with Virginia Tech as a member of both the Pamplin College of Business Advisory Council and the Accounting and Information Systems Advisory Board. She is currently serving alongside Morgan Blackwood-Patel '03 and Horacio Valeiras '80 as a tri-chair of Boundless Impact: The Campaign for Virgina Tech.
Doughtie recently shared her thoughts on her career, her alma mater, and the direction of higher education with Virginia Tech Magazine.
Why did you pursue a career in professional services?
"Growing up I watched my parents build businesses and, from an early age, they allowed me to 'help.' I recall summers as a young girl, sitting with my mother and her teaching me to post accounts receivable and make deposits. Their drive sparked my desire to pursue a business career. Eventually, I made what felt like a natural choice to major in accounting at Virginia Tech.
"As the first in my family to go to college, it was important to me to find a university, and later a place to work, with a nurturing, supportive culture. I found that at Virginia Tech and at KPMG.
"When I was looking at what was next after graduation, I met recruiters from what was then the 'Big 8' accounting firms and the recruiter from KPMG was a woman. That was unusual in 1984. She was impressive, articulate, and kind, and I walked away from that conversation thinking that KPMG would be a good fit for me—culturally and from a professional standpoint. I was right!"
Each turn of your career has involved additional responsibilities and a widened scope of influence. What prepared you for these transitions?
"The foundation I had was strong. My parents instilled in my sister and me the confidence that we could achieve anything. I also had great mentors and sponsors at Virginia Tech and at KPMG who invested their time in me and supported me in career growth opportunities.
"I think what prepares you most for added responsibilities is just doing it. Doing the things that take you out of your comfort zone—the things that scare you a bit. I've found those are the times when you grow and learn the most. That leads then to gaining the confidence to take on that next hard challenge."
What was the most unexpected turn in your career?
"When you've been at it as long as I have, you're definitely going to have times when things don't go as you expect. Sometimes things just happen—external forces, the marketplace changes, whatever it might be—you think you're headed this way, and that's no longer available to you.
"In the late 1990s, I was up for partner at KPMG and feeling confident I would be promoted that year. And then, market forces and client consolidation impacted my promotion that year.
I was really upset about it. It seemed unfair because it wasn't anything I did wrong; there were external factors beyond my control. It was a time when I was disappointed and upset, but it actually led to a much bigger opportunity for me. I joined a different part of our business. It was a brand-new area for me where I learned so much, and it gave me a different experience to be a more successful leader down the road. I'm not sure I would have become chairman and CEO of KPMG if I hadn't taken some risks, gotten out of my comfort zone, and tried new things."
By a number of measures, KPMG is regarded as a great place to work. Why do you feel this is the case?
"Our caring and inclusive culture is what stands out the most to me. It attracts extraordinary people who want to work and build their careers here.
"I have been so blessed to be at a firm that I love dearly and work with people whom I love dearly. The people at KPMG have become like family. It's the reason I've been with the firm for nearly 35 years.
"Culture is something that can't be replicated. To ensure it remains the cornerstone for years to come, I've led initiatives that further strengthened the firm's culture and accentuated our values, while also continuing to advance diversity and inclusion within our firm and the marketplace."
Describe the principles that govern your life, professionally and personally.
"It starts with integrity and your character and ensuring that doing what's right is front and center. Also important to me is authenticity—being true to who you are and not trying to be something you are not. In our family, we value humility and hard work. We are all here for a purpose and have a responsibility to help others—in other words, Ut Prosim—That I May Serve.
"Professionally, I trust my values to guide me, especially when making tough decisions. I focus on leading with my head, my heart, and my gut. Leading with your head is getting the facts and using your intellect to get to the truth. Leading with your heart—caring about others and being empathetic—is important, too. Leaders who care get to the right decisions. And leading with your gut means sometimes you have to do the really hard thing because it's for the greater good. I put decisions through the head, heart, and gut check and move forward with courage to do what is right. It goes back to the core value of integrity."
When you're away from the office, what are you most passionate about?
"I love being home or at Smith Mountain Lake spending time with my family. Boating, fishing, snow skiing, and golf are some of my favorite things to do.
"And, of course, I'm passionate about Virginia Tech and love to attend basketball, football, and any sporting event involving the Hokies."
Why have you continued to serve on the Pamplin advisory board and the accounting and information systems board?
"Virginia Tech had a huge impact on my life. My husband, son, and daughter are all alumni, too.
"I graduated with the educational foundation and the confidence to launch my career. I want to make sure tomorrow's Hokies can build on their experience, just like I did, and I want them to know their horizons are only limited by their imagination, attitude, and willingness to work hard.
"Virginia Tech invested so much in me, and I want to pay it forward by serving and investing in future business leaders and Virginia Tech graduates.
"Ut Prosim lives on in me, and I will continue to do what I can to support Virginia Tech."
What are your thoughts about Virginia Tech's momentum and direction?
"Graduates today must be skilled in their disciplines but also be able to work together in teams, problem-solve, think critically, and function professionally.
"This combination of skills is not only crucial to employers across industry sectors, it is critical in the global economy, which is defined more and more by technology, innovation, and transformation."
"At KPMG, for example, leaders must inspire trust, deliver impact, and seek growth—for themselves, and their teams. We look for individuals with the requisite skills to meet the fast-evolving needs of our profession, who also lead with passion and purpose, live and uphold our firm's long-standing values, drive quality, and value an inclusive and diverse culture. VT students are well-positioned to succeed and lead."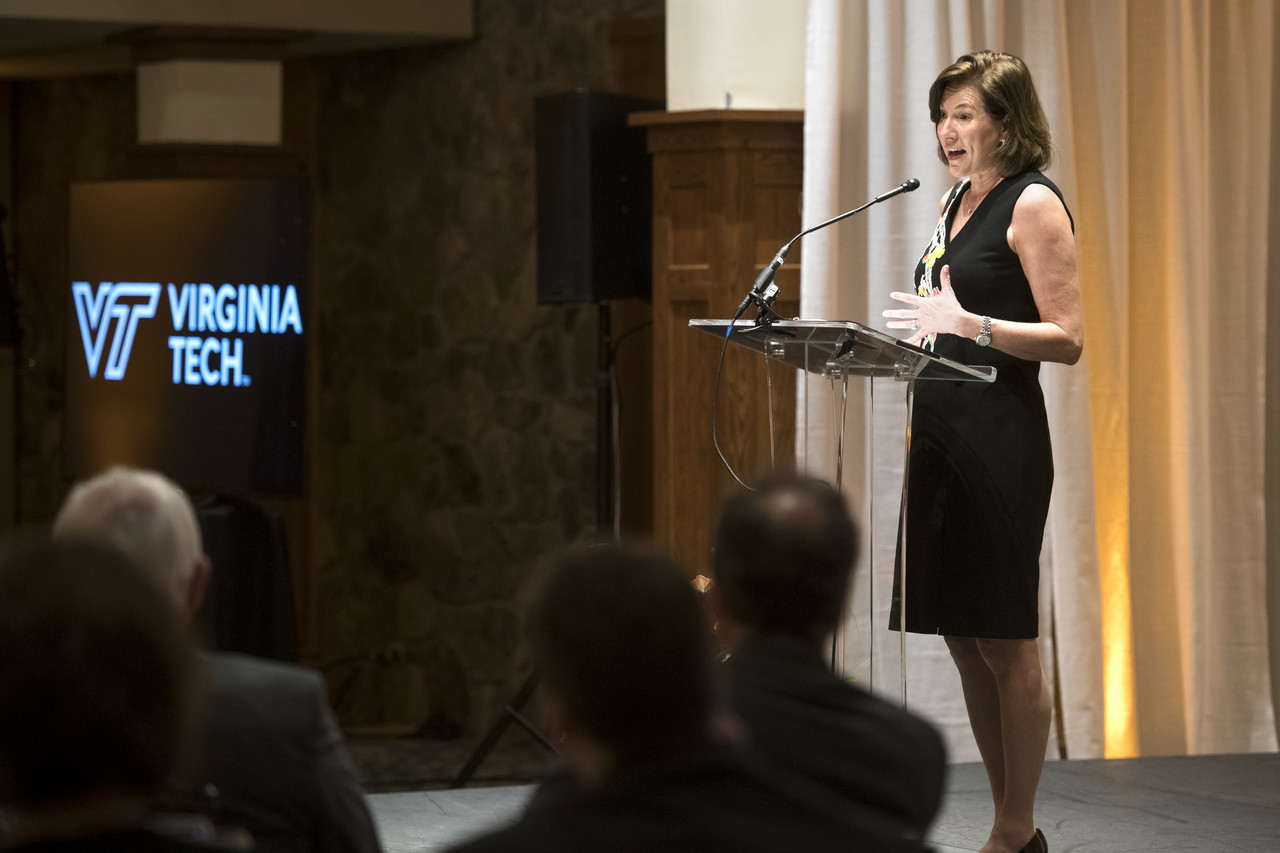 As you think about the top-rate talent needed for a successful business, what is higher education doing well, and where can it improve?
"Higher education has evolved in its approach to how students learn, particularly by using technology, inside and outside the classroom. Virginia Tech does a great job of surrounding students with access to services to help guide their careers by making ongoing and increasing investments in its students, through career services, job fairs, and meetings with companies through a variety of channels on campus.
"The university's focus on bringing students together from different disciplines to tackle challenges, with a curriculum that gives students the opportunity to work on real-world, multifaceted problems that require people with different mindsets and skills, really prepares students for a working world where diversity of thought and experience is the norm.
"And, importantly, Virginia Tech should continue making investments like it has in its Innovation Campus. Not only will this investment drive economic growth in Virginia, but it affords Virginia Tech students the unique opportunity to be at the forefront of the expansion of technology education in this country, where they will learn the critical skills businesses are looking for in hiring."
Virginia Tech paused its fundraising efforts so that members of the Hokie community can focus on their personal, business, and community responses to the pandemic. What would you say to Hokies about taking care of the needs closest to them, while also considering how they might someday continue giving to Virginia Tech to help students and faculty?
"This unprecedented crisis has thrust us into an uncertain world. We are navigating many unknowns, and it is more important than ever that we focus on those closest to us—our families, neighbors, colleagues, and communities.
"We have seen tremendous acts of kindness during this time, and I am certain that my fellow Hokies are amongst those who are doing their part in this crisis.
"Virginia Tech has given us so much and we are a strong and resilient community. This will pass, and we will find ourselves in a new normal. When that happens, I encourage the Hokie community to continue supporting Virginia Tech."