WITNESSING HISTORY
by Charlie Phlegar
Charlie Phlegar (photo by Ryan Young/Virginia Tech)
WHAT HAS HAPPENED TO OUR WORLD during the last few months has led to changes in our perspectives and our work.
The global COVID-19 pandemic and the ways it has affected all of us are unprecedented. The reckoning with race relations in America is a turning point generations in the making. I have found myself rethinking priorities and having difficult conversations with family, friends, and colleagues.
In this moment, we are all witnesses to history. Together, we find ourselves at a crossroads. The directions we each choose will determine our individual paths forward. While these times are challenging, I am continually seeking ways to learn and how to make my community better.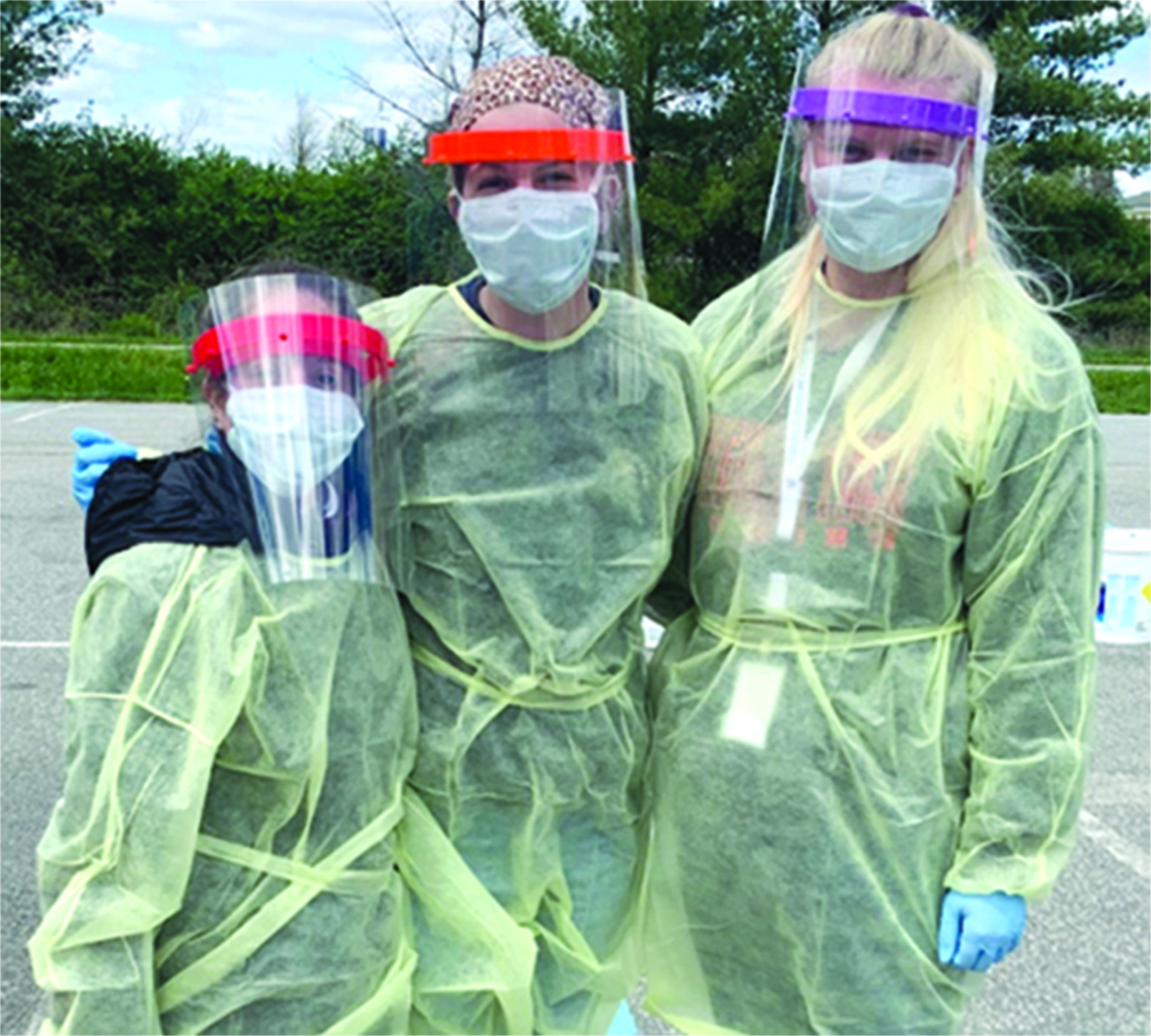 ON THE FRONT LINES: Master of Public Health students Jaclyn Abramson, Teace Markwalter, and Hannah Reed at a COVID-19 testing site.
Our alma mater is dedicated to a course that drives positive change, and the role of Virginia Tech has never been more important. I am honored to be part of the leadership team at our university. Led by President Tim Sands, we are acknowledging our challenges, uniting to do and be better, and committing to being living examples of our Principles of Community.
It is heartening to witness how Hokies have also stepped up to support one another in the face of a new normal. You have made gifts to our university to provide aid to students and assist with faculty research. This generosity has the power to change lives.
The Hokie Nation is a collective, powerful force that has demonstrated an unwavering commitment to help provide for the needs of our great institution. With your help, we have achieved yet another year of record giving, which is especially remarkable amid uncertainty on so many fronts. Giving is the highest it has ever been to the university. And leading by example, the university's leadership and many of our volunteer advisory boards have achieved 100 percent philanthropic participation over the past fiscal year.
Since the COVID-19 crisis began, an unprecedented number of students have come forward asking for help, suddenly facing financial hardship and personal turmoil. Generous Hokies gave and so far have helped more than 200 students through the Student Emergency Fund, in addition to providing numerous current-use scholarships through the Beyond Boundaries scholarship initiative with $1 million dollars raised in the past fiscal year. Virginia Tech researchers have also answered the call to explore the science behind COVID-19, which will hopefully lead to more knowledge and help save lives.
One bright spot during these challenging times has been the opportunities to come together online to find friendship, fun, and support. So much has changed in the world, including how we now connect. We have a renewed emphasis on engagement to remain connected as an energetic body of alumni, students, and friends. From online networking events and town halls, virtual committee meetings and happy hours, and even Zoom game rooms, we continue to innovatively explore ways to safely work and play together.
TRUE BLUE: For several weeks this spring, Burruss Hall was illuminated with blue lighting as part of the national #LightItBlue campaign honoring medical professionals and essential employees.
Even though we have not been able to gather in person, we can still stay in touch, strengthen our community, and share information about Virginia Tech's role in the world. Through our virtual offerings, Hokies anywhere can come together. This is an opportunity for more of us to gather more frequently, keeping our bonds strong.
While you manage your personal priorities amid our changing world in the months ahead, let us continue to support one another, maintain our Hokie pride, and stay connected. Let us know how you are doing, what your alma mater can do for you, and any feedback you wish to share.
Thank you for all that you do for Virginia Tech—and continue to be well.
Charlie Phlegar ' 78, M.A.Ed. ' 87 is the vice president for advancement at Virginia Tech.
IN THE NEXT ISSUE
Over the past decade, advances in technology and improvements in global connectivity have changed many businesses and industries. When the COVID-19 pandemic hit in the spring, people around the world found new ways to manage career responsibilities and adapt their businesses to the new reality.
Virginia Tech is preparing the leaders of the future for jobs that haven't even been thought of yet. What is the future of work? Which skills are required to launch a successful career in a changing world?
Read this story and more in the fall issue of Virginia Tech Magazine.