COLLEEN PRAMENKO TAKES AIM AT SPACE PROGRAM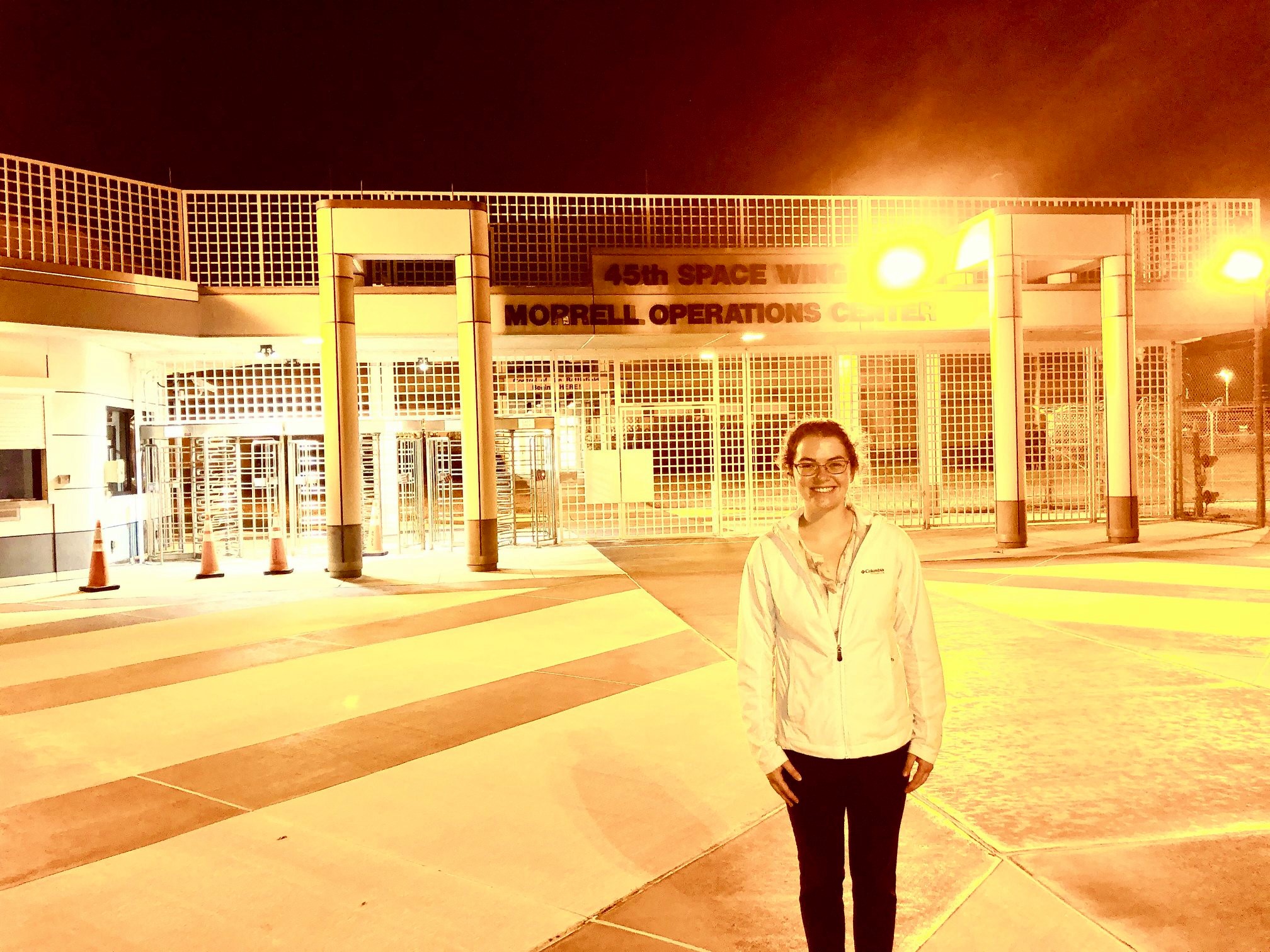 During an internship as a research assistant for the 45th Weather Squadron at Cape Canaveral, Florida, Colleen Pramenko visited the Morrell Operations Center and toured its mission control room. (Photo submitted by Colleen Pramenko.)
Colleen Pramenko always knew she would follow her parents into the U.S. Air Force.
"Watching them helping others was a large part of my childhood," she said. "They instilled a sense of service to others in me, which made the Air Force an easy choice for me."
In May, Pramenko graduated from Virginia Tech with a degree in meteorology from the College of Natural Resources and Environment and commissioned as an Air Force second lieutenant.
She spent four years in the Virginia Tech Corps of Cadets, where she served as regimental commander, the highest rank a cadet can achieve, during spring 2019 and was a bugler with the Highty-Tighties.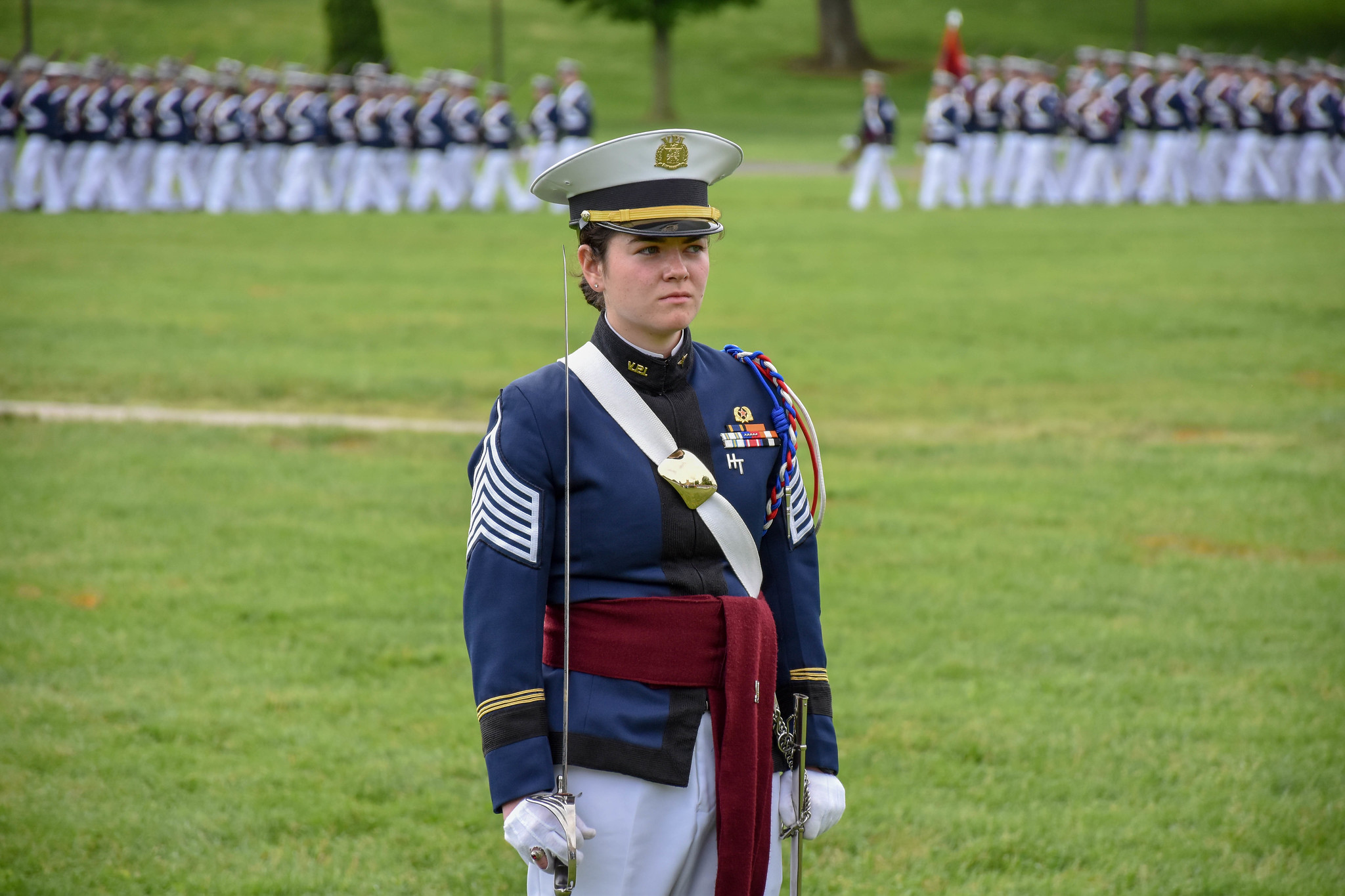 CONFIDENT LEADERSHIP: Colleen Pramenko served as the Corps of Cadets' regimental commander, the highest rank a cadet can achieve, during the spring 2019 semester. (Shay Barnhart for Virginia Tech)
Now, she is putting her college experience to use as an environmental science officer with the 28th Operational Weather Squadron at Shaw Air Force Base, South Carolina.
"My job will be to manage and direct weather operations that have a direct effect on the activities of the U.S. military," Pramenko said. Her goal is to become a launch weather officer supporting the new U.S. Space Force, established in December 2019 to provide space capabilities to all branches of the military.
Pramenko formed that goal during summer 2019 while interning as a research assistant for the 45th Weather Squadron at Cape Canaveral, Florida. She analyzed data from 28 weather towers to help pinpoint where thunderstorms are likely to develop and improve weather prediction for space launches.
Col. Eric Dorminey, commander of Virginia Tech's Air Force ROTC program, said Pramenko will make an exceptional officer. "She has credibility built on a solid intellect informed by natural curiosity and personal reflection," Dorminey said. "And she has a friendly engaging personality and is willing to share her perspective and mentor those she leads."
Pramenko chose Virginia Tech in part because her father worked for Dee Dodson Morris, who graduated in 1976 with the first group of women in the Corps of Cadets. At age 9, Pramenko went to work with her father and was awed by the cadet saber hanging in Morris's office.
"Throughout my cadet career, I held the memory of meeting Dee Morris during that Take Your Daughter to Work Day close to heart," Pramenko said. "It was a constant reminder that I was part of something greater than myself. I was responsible to help continue the legacy and opportunities the corps provided me, so other people could create their own legacy."
As the academic arm of the Corps of Cadets, the Rice Center's mission is to develop cadets into the next generation of global leaders. Each year, center Director Elaine Humphrey searches out diverse speakers who challenge cadets—and the general public—to become better leaders.
Shay Barnhart is the communications director for the Corps of Cadets.