IN CASE OF EMERGENCY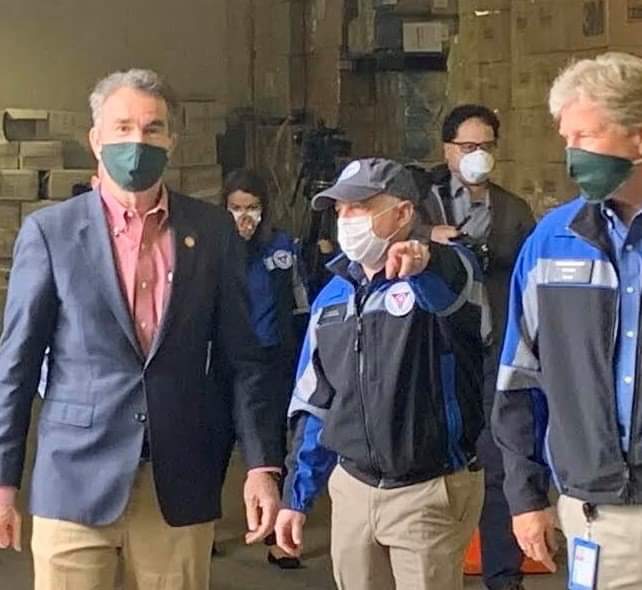 PREPARED: Jeff Stern shows Virginia Governor Ralph Northam the supplies collected by VDEM to help in the pandemic.
Hurricanes, tornados, floods, disease outbreaks, and more—Jeff Stern has seen it all.
At age 18, Stern was drawn to protecting the public good, so he became a volunteer firefighter and paramedic in Montgomery County, Maryland.
"What I enjoyed doing as an avocation as a volunteer was directly helping people," said the Virginia Tech alumnus who holds a Ph.D. in public administration/public affairs from the university's Center for Public Administration and Policy, housed in the School of Public and International Affairs. "There was that immediate sense of being part of a team, being part of a mission where we are doing something that's important."
Stern ultimately turned that passion into a 15-year career as a professional firefighter and paramedic in Arlington, Virginia, and later in Colorado.
As leader of the Virginia Department of Emergency Management (VDEM), Stern was at the forefront of the commonwealth's response to COVID-19. VDEM is responsible for carrying out preparedness and emergency response functions on behalf of Virginia Gov. Ralph Northam, buying personal protective equipment and managing and distributing the supplies across the commonwealth.
As the pandemic began, a small group, including Stern, his employees, and representatives from 40 state agencies, manned the Virginia Emergency Operations Center, which is located in the basement of the Virginia State Police headquarters. Many more team members worked remotely to support the Virginia Department of Health and local governments.
The days are long, but thanks to a rotating schedule that Stern implemented, employees are not all working at the same time, despite the seven-day-a-week schedule that started in March when Northam declared a State of Emergency.
"That's why I walk in and people are still smiling," said Stern, who was in Europe teaching a graduate class for Georgetown University's emergency and disaster management master's program when the pandemic hit. "Everybody is sort of in a rhythm and sharing the workload."
We spoke with Stern, who recently transitioned to a new role as superintendent of FEMA's Emergency Management Institute, where he educates emergency managers across America, about what it's like to lead a state through a global pandemic.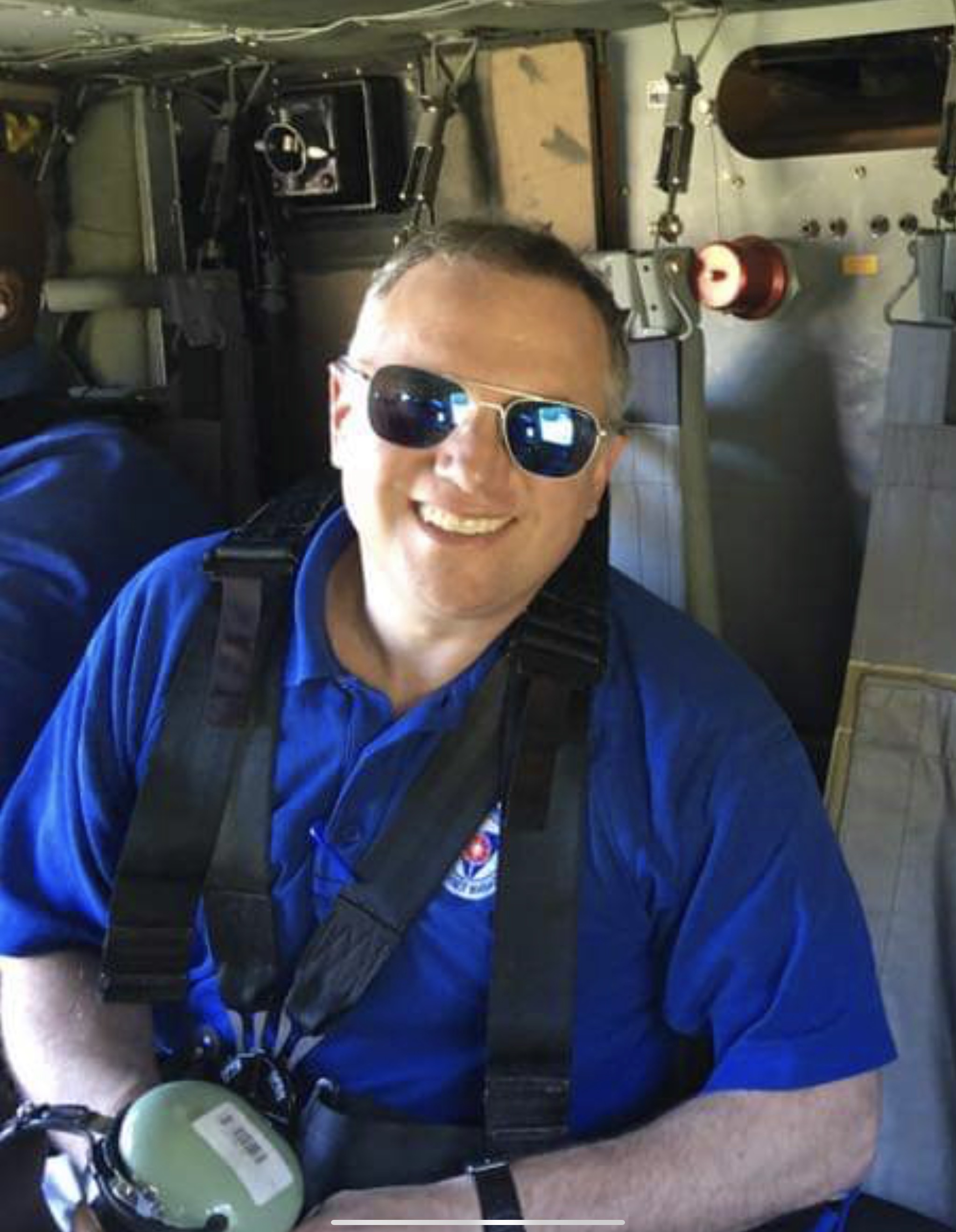 IN FLIGHT: Jeff Stern toured a disaster scene by helicopter.
Q. You have dealt with about 50 emergencies in Virginia. How is this one different?
Stern: The first difference is the need to distance. We can't physically be together other than that small staff in the Emergency Operations Center. About 1,000 people are working virtually or out in the field. It's a very big scale and doing it remotely is a new challenge.
Another major difference is that normally when there is an event, you can quickly build out an estimated timeline of how long it will last, an arc of the event from preparation to response to recovery. We can define the aftermath of that, whether it be days or weeks or months, but there are defined milestones as we move from one phase to another. With this, there is not an easily designed end stage, because there is the uncertainty of the disease.
The third difference involves our engagement with the private sector. We have over 1,000 private companies that have offered to assist in some way.
Q. What has been the hardest decision during the pandemic?
Stern: At the governor's level, I think the hardest decision was to shut down the economy.
Additionally, virtualizing the EOC structure early on was a critical choice. In those first couple of months, we had to be transparent with local governments about our limitations. We couldn't necessarily come to their aid with equipment the way we normally would in a hurricane or tornado. Supplies were limited. Orders for things like PPE [personal protective equipment] were being processed, but it took three to six weeks to get them to our warehouse. We have been fortunate that nobody has run out.
Our logistics team did an amazing job building a warehouse hub and distribution system in partnership with the Virginia National Guard and Estes Express, a Virginia trucking and logistics company. I am very proud of them. And our purchasing team managed hundreds of millions of dollars in contracts.
Q. How do you and your staff remain calm during emergencies?
Stern: How we personally manage ourselves is something that comes with training, it comes with education and it comes with experience. With a disaster nothing is ever perfect, you try to take the same advice you give to the employees. On day one, I said, "This will go on for months. You need to take care of yourselves and your families."
Q. How can Virginians stay positive right now?
Stern: The most important thing is to have hope and believe that this, too, will end. Other generations have gone through crises that have lasted for months and years.
Also, understand that it's okay to have mixed feelings and fears. There are a lot of resources in the communities. Even folks who think they are psychologically resilient should reach out. We will get through together. The meaning of 'commonwealth' is so paramount right now. JKB