FACING OFF AGAINST COVID-19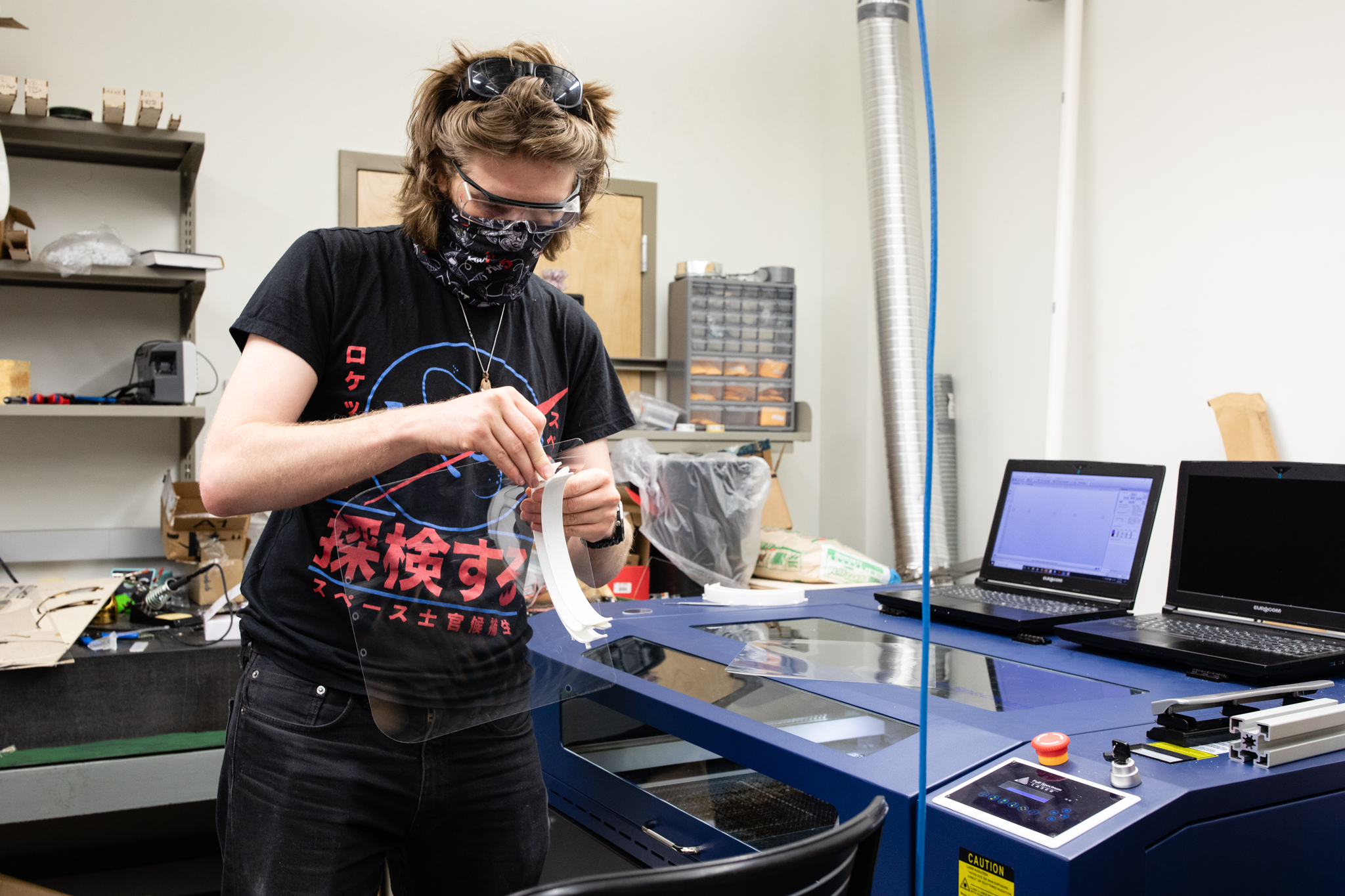 Liam Chapin fastens headpiece to plastic shield.
Face shields, face masks, PPE—since March, these terms have become common elements of everyday pandemic vocabulary. The items to which they refer remain in short supply because of rising demand due to COVID-19.
A group of faculty and students at Virginia Tech led a massive effort to produce thousands of face shields for nurses, doctors, and first responders in the Roanoke and New River valleys who are on the pandemic's front lines.
First, researchers worked closely with local health care professionals, who approved the designs and helped ensure that the finished product would meet stringent infection-control requirements for such PPE.
3D-printed headpieces
Then, the team solicited volunteers throughout the region who had access to 3D printers, which are machines necessary for creating one version of the shield's headpiece. A second version of the shields uses a foam headpiece rather than a 3D printed band. A laser-cutter also is required for cutting sheets of plastic.
Liam Chapin, a computer science student, cut the majority of the shields using a laser-cutter in the Field and Space Experimental Robotics Laboratory on Virginia Tech's Blacksburg campus. Other university units, including the Honors College, pitched in with their own laser-cutters.
The response has been enormous. As of mid-May, the group had produced and distributed at least 4,400 shields to employees at Carilion Clinic and LewisGale facilities, as well as other health and emergency professionals, said Alex Leonessa, a mechanical engineering professor who is leading the project.
"As long as we can keep the materials going, we will keep making them," he said.
Here is a peek into the parts that comprise the two face shield designs: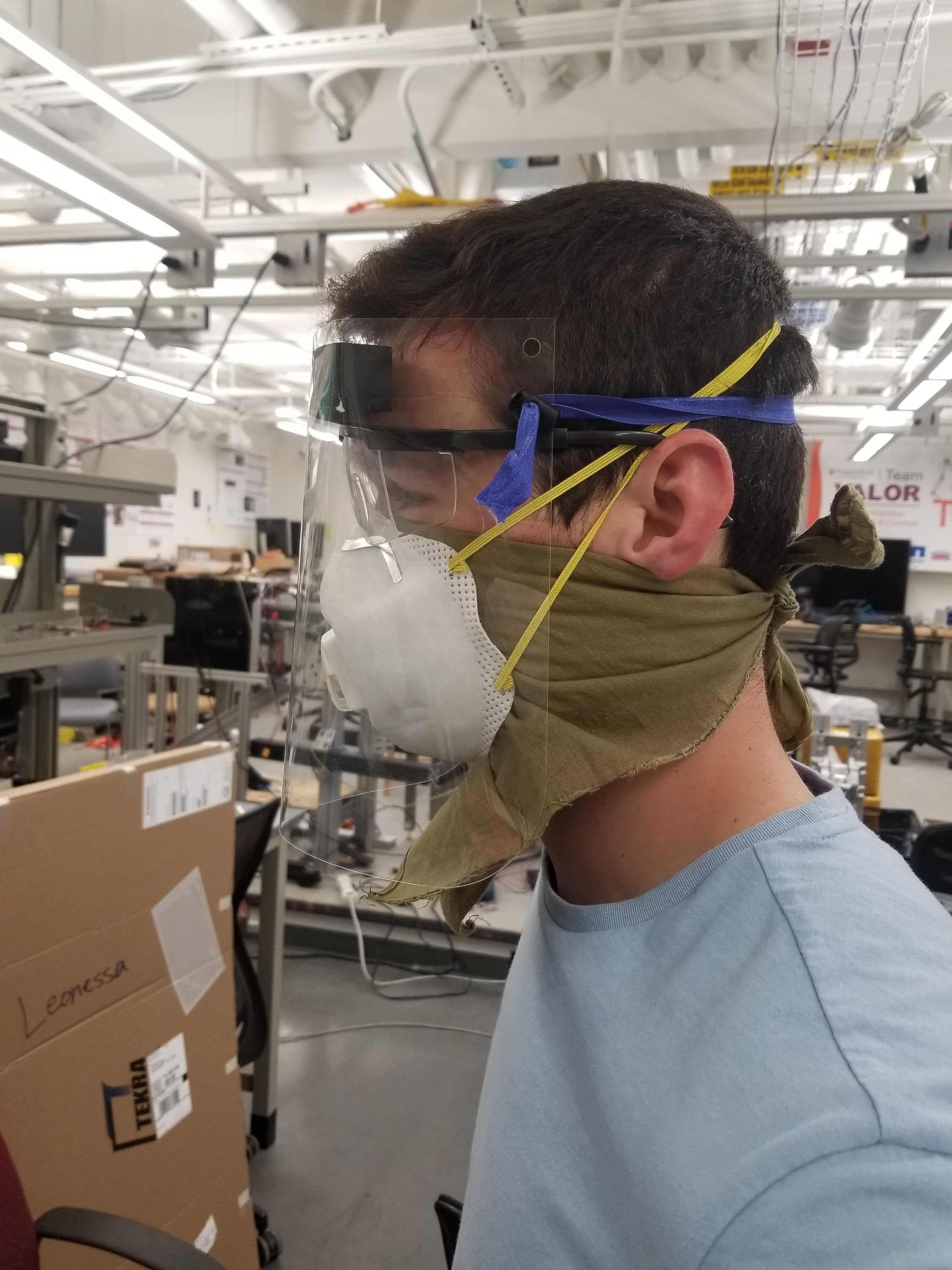 Foam version:
Foam head block - A foam headpiece with adhesive on one side that sits on the forehead.
Elastic and Clip - Fasten the shield to the head.
Shield - Laser-cut polyester film attaches with adhesive to the foam headpiece.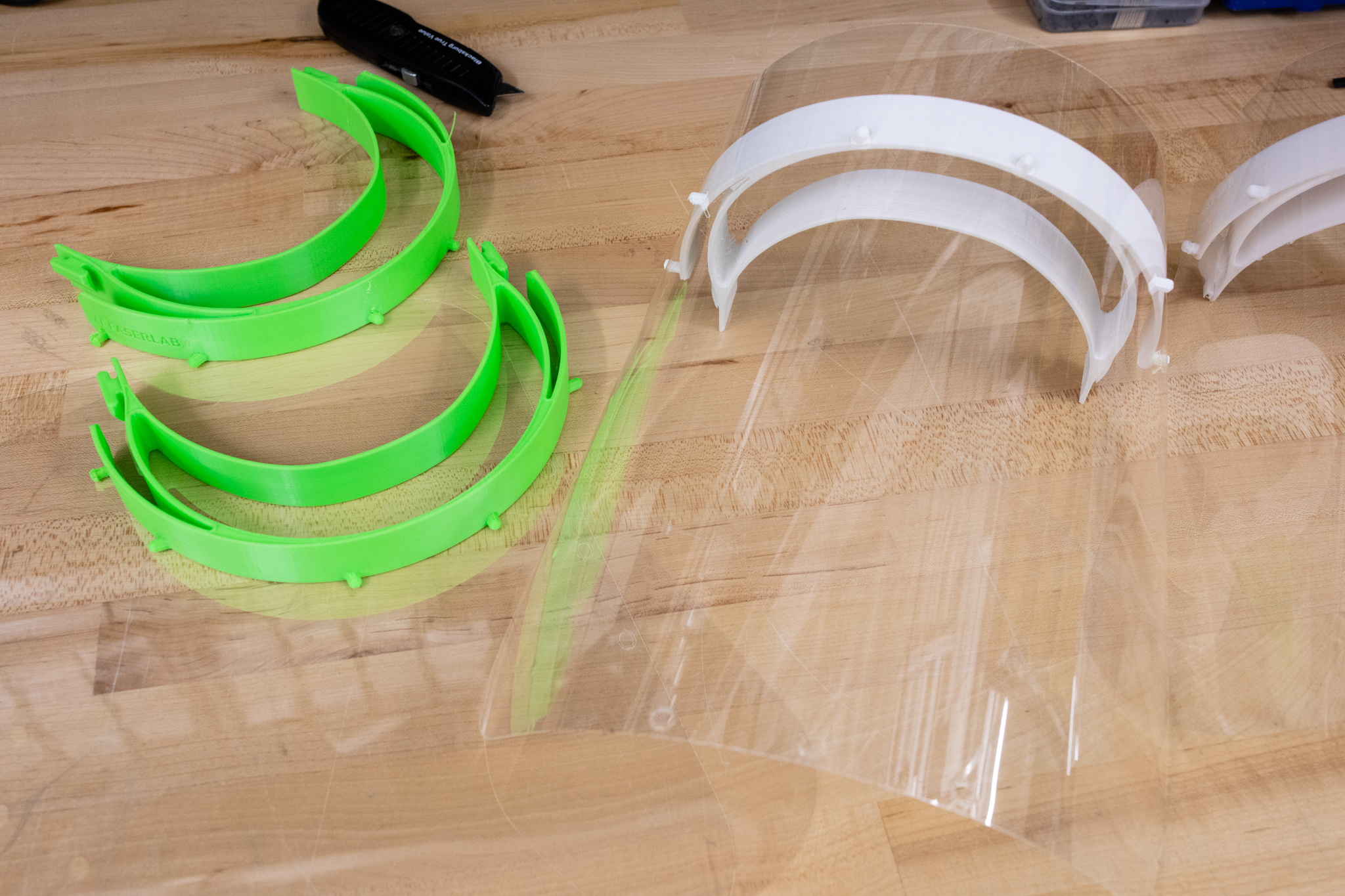 3D-printed version:
Headpiece or frame - A plastic headband produced using a 3D printer. It rests on the forehead and is secured with rubber bands.
Shield - A long piece of clear polyester (PET) film that snaps onto the headband and folds to cover the face, the top of the forehead, and the sides of the head at the temples.