THE GREAT PIVOT
THE GREAT PIVOT
by Tim Sands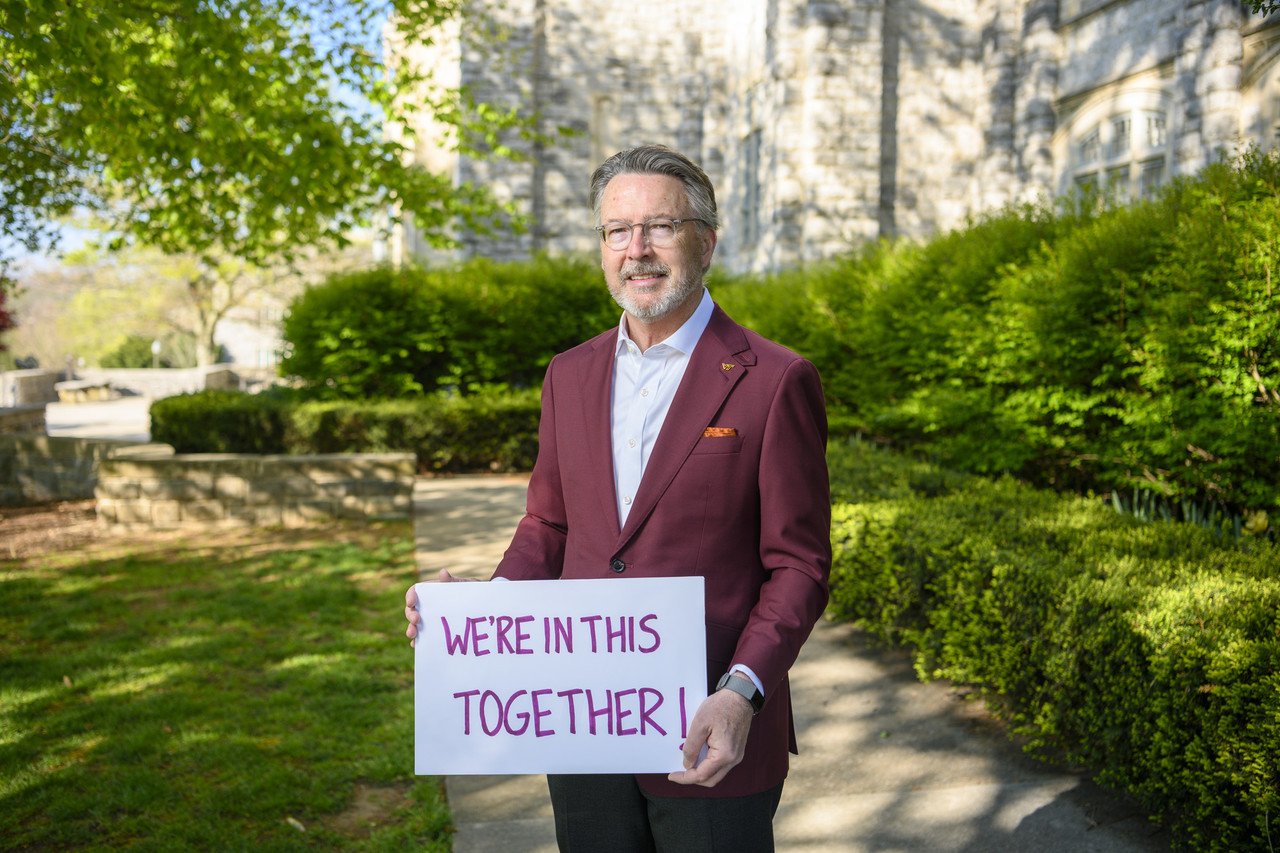 President Tim Sands
I hope this summer message finds you safe and well. As the challenges of 2020 have unfolded, the Hokie community across the country and around the world is never far from my mind. Our thoughts are with those who have suffered loss, and we are grateful to all the essential workers who are putting the needs of others first and demonstrating their commitment to our motto, Ut Prosim (That I May Serve).
Since early spring, we have all been adapting continuously to a steady flow of information, directives, challenges, and opportunities. Virginia Tech is a microcosm of the world when it comes to the effects of the COVID-19 pandemic and the impact of racism—past and present, systemic and overt.
The pandemic initiated a rapid move to remote online teaching and learning in mid-March, a forced experiment that was largely successful, if not entirely satisfying. The nature of the coming academic year has been more difficult to predict. Working collaboratively with university leaders and faculty, we have developed a plan that blends in-person and online learning while reducing the potential for exposure to the coronavirus. The most up-to-date information about our plans and detailed answers to the questions that many of you may have are available online at vt.edu/ready.
The pandemic has shown how Hokies come together to use their world-class expertise and skills to help others. Our university researchers responded to the dire need for rapid testing; enterprising students, alumni, and employees used their skills to address shortages of critical equipment and supplies; Virginia Cooperative Extension agents continued to serve by moving quickly online; and our campus and community hosted a federal personal protective equipment (PPE) decontamination site.
With respect to Virginia Tech's fiscal status, we are fortunate to be experiencing a period of rapidly growing student demand, increasing support from research sponsors, and our highest levels of philanthropic support ever. This strong momentum has placed us in a more resilient position than many institutions, but we know that we will face substantial financial challenges moving forward.
And even as we manage our response to the pandemic, our community, like others across our nation, is grappling with events that stand in opposition to our ideals of freedom, justice, and equality. From the disparities in COVID-19 outcomes across racial, ethnic, and economic divides to the unrelenting burden of racism, we fall short of what we say we are all about. This moment offers an unprecedented opportunity to transform our ideals into realities. At Virginia Tech, we have anchored that aspiration in our Principles of Community, but principles become meaningful only if they are acted upon.
It is reasonable to assume that we will be living with COVID-19 for the foreseeable future, and we know that the change needed to meaningfully move toward real equality will not happen quickly. During this time, we must rely on each other. We know that the world needs Hokies now more than ever, and Virginia Tech needs you. In the months to come, we look forward to sharing more about Virginia Tech's efforts to improve health, equity, and inclusion in our communities and in higher education. We invite you to partner with us. Those of us who enjoy privilege cannot remain on the sidelines; our vision for the future and the spirit of Ut Prosim call us to action.
Tim Sands is Virginia Tech's 16th president.