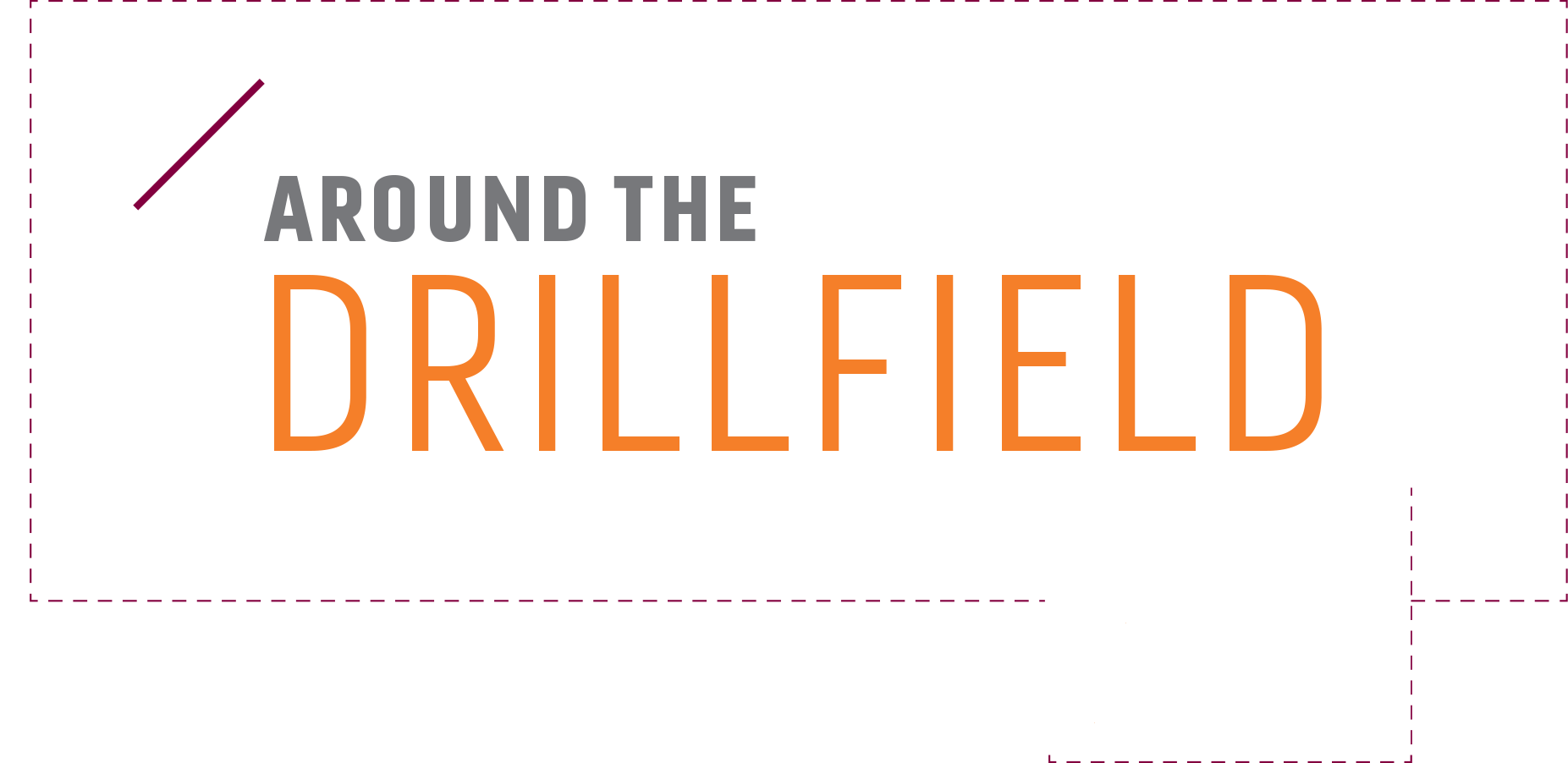 COVID-19 News
VIRGINIA TECH RESEARCHERS DEVELOP COVID-19 TESTS
VIRGINIA TECH RESEARCHERS DEVELOP COVID-19 TESTS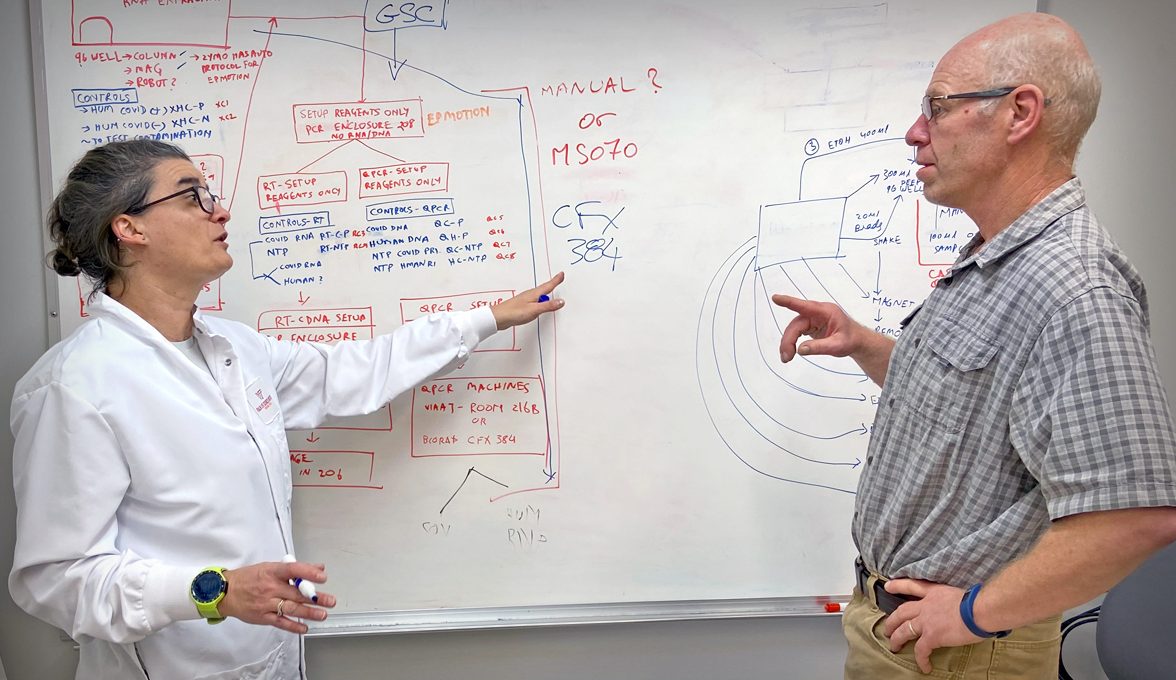 Carla Finkielstein and Harald Sontheimer led research teams.
Virginia Tech scientists are supporting local health systems and health departments by offering new COVID-19 tests at university campus labs.
After securing state and federal approvals in April, faculty research leaders and their teams, led primarily by Carla Finkielstein at the Fralin Life Sciences Institute in Blacksburg and Harald Sontheimer at the Fralin Biomedical Research Institute at VTC in Roanoke, began testing COVID-19 samples. They receive the samples directly from the Roanoke and New River Valley health departments or health systems working with these departments.
"Many faculty members stepped outside of their normal roles and routines, but ultimately these people are scientists who are at the top of their game," said Matt Hulver, executive director of the Fralin Life Sciences Institute. "We realized this testing uses technologies that many of us have available in our labs, and we could be part of the solution. We have robotic equipment. Our scientists understand biomedical research. We have software. We have safety training. It's what we do."
Sontheimer, a professor of neuroscience in the College of Science, said his lab team of faculty and postdoctoral associates hoped to process several hundred samples a day.
PROFESSOR EVALUATES EFFECTIVENESS OF N95 RESPIRATORS, MASK MATERIALS
PROFESSOR EVALUATES EFFECTIVENESS OF N95 RESPIRATORS, MASK MATERIALS
Lindsey Marr, a professor of civil and environmental engineering, has captured national media attention during the pandemic for her expertise in airborne disease transmission. Marr has been interviewed about everything from the distance requirement for running outside to how virus particles may or may not land on a person's clothes or other surfaces.
Since March, she has been testing the efficacy of sterilized N95 respirators and alternative mask materials in filtering out particles. The rapid science experiments conducted by her team aim to help quantify how well these forms of personal protective equipment and homemade face coverings shield their wearers against COVID-19, especially in the face of shortages.
When testing sterilized N95 respirators, Marr and her team found that the respirators retained their ability to filter particles after up to 10 cycles of sterilization by hydrogen peroxide vapor and by ethylene oxide.
In their look at homemade mask materials, Marr's team tested items that have emerged in the public eye in recent months. Microfiber cloth, a material used to clean eyeglasses, filtered out at least 80 percent of particles under optimal conditions, while a heavyweight cotton T-shirt, a shop towel, and a shop rag filtered out only about 10 percent of the hardest particles to remove and about 50 percent of the larger ones.
The team will continue to run experiments as new ideas for mask materials surface.
CAMPUS KITCHEN CONTINUES TO DELIVER FOOD TO COMMUNITY DURING COVID-19
CAMPUS KITCHEN CONTINUES TO DELIVER FOOD TO COMMUNITY DURING COVID-19
With a little creativity and a lot of partner support, the Campus Kitchen continued to deliver food to those in need during the COVID-19 crisis.
The program, a partnership between VT Engage, Virginia Tech Dining Services, and the Division of Student Affairs, recovers unserved food from campus dining centers to deliver to nonprofit agencies in the New River Valley.
The kitchen is normally student-led, but once student events were suspended because of the pandemic, Virginia Tech employees volunteered to step in and run the program.
Three VT Engage team members and an employee from the Dean of Students Office delivered food three days a week—a change from the program's typical schedule of six deliveries per week. Each week, those deliveries went to Radford-Fairlawn Daily Bread, Plenty! Farm and Food Bank in Floyd, and the Giving Tree Food Pantry in Christiansburg.
The team also set up temporary arrangements with other organizations to assist with food delivery.
PROFESSORS GET CREATIVE WITH ONLINE CLASSES
PROFESSORS GET CREATIVE WITH ONLINE CLASSES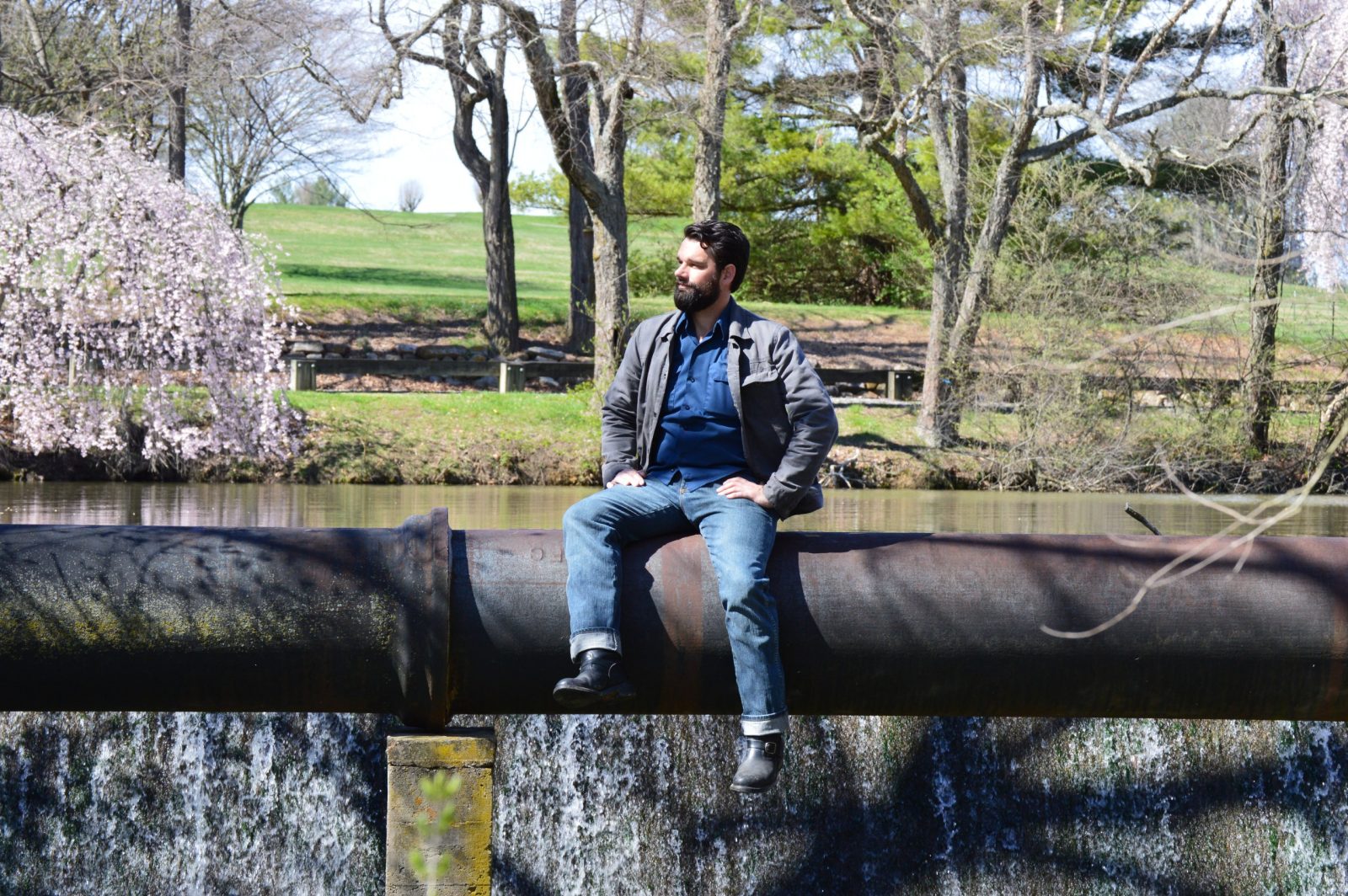 Paoloa Scardina, an assistant professor.
From class lectures directly from Stroubles Creek and the Duck Pond to TikTok music history vocabulary assignments, many Virginia Tech professors put creativity to work as they moved their courses to the web for the spring semester because of COVID-19.
Paoloa Scardina, an assistant professor of practice in the Charles E. Via Jr. Department of Civil and Environmental Engineering, filmed parts of his lectures for his three online courses while standing up to his ankles in creeks and waterways around campus and in nearby areas. For one course, he waded into Stroubles Creek, which flows into the Duck Pond, to record a segment on open channel flow.
"Now I can make the classroom wherever I want," he said.
Betsy Bannan, an advanced instructor of painting and drawing in the School of Visual Arts, told her students to use whatever materials they could find around the house for art. Food, grass—anything was fair game.
Meanwhile, instructor of musicology Elizabeth McLain assigned students to tap into a trendy video-sharing app for her history and analytics of musical style class. Each student was assigned a vocabulary word to teach to the class by creating a 60-second TikTok video.
"The students make these anyway ... it seemed like a natural fit," McLain said.
SKY-HIGH DELIVERIES BENEFIT SMALL BUSINESSES, CONSUMERS DURING PANDEMIC
SKY-HIGH DELIVERIES BENEFIT SMALL BUSINESSES, CONSUMERS DURING PANDEMIC
Wing drone in flight.
It turns out that drone delivery thrives during a pandemic—including in the New River Valley.
Wing, a drone delivery enterprise and offshoot of Google's parent company, Alphabet, has seen a dramatic increase in its business since COVID-19 began. From March to early April, the number of people signing up for its services across its four sites in three continents, which includes Christiansburg, Virginia, jumped 350 percent, said spokesman Jacob Demmitt. The company launched its commercial drone delivery service in Christiansburg with the Virginia Tech Mid-Atlantic Aviation Partnership (MAAP) last October.
"It became clear early on [in the pandemic] that delivery services were becoming more and more important," said Demmitt. "It came at a time when it was getting harder and harder for them [businesses] to reach customers."
Wing began offering new deliveries from several Christiansburg businesses, such as Brugh Coffee, Mockingbird Cafe, and Gran Rodeo, at the start of the pandemic. The deliveries have provided a way for consumers to support local businesses without leaving their homes.
"It is a unique situation, but at the same time, it really does showcase why this is such a good technology and opportunity to benefit people," said Mark Blanks, director of MAAP. "This is the first place in the country that this is happening, which means everybody's watching."
COVID-19 RESPONSE EFFORT GIVES SENIOR MEMORABLE FINAL PROJECT
COVID-19 RESPONSE EFFORT GIVES SENIOR MEMORABLE FINAL PROJECT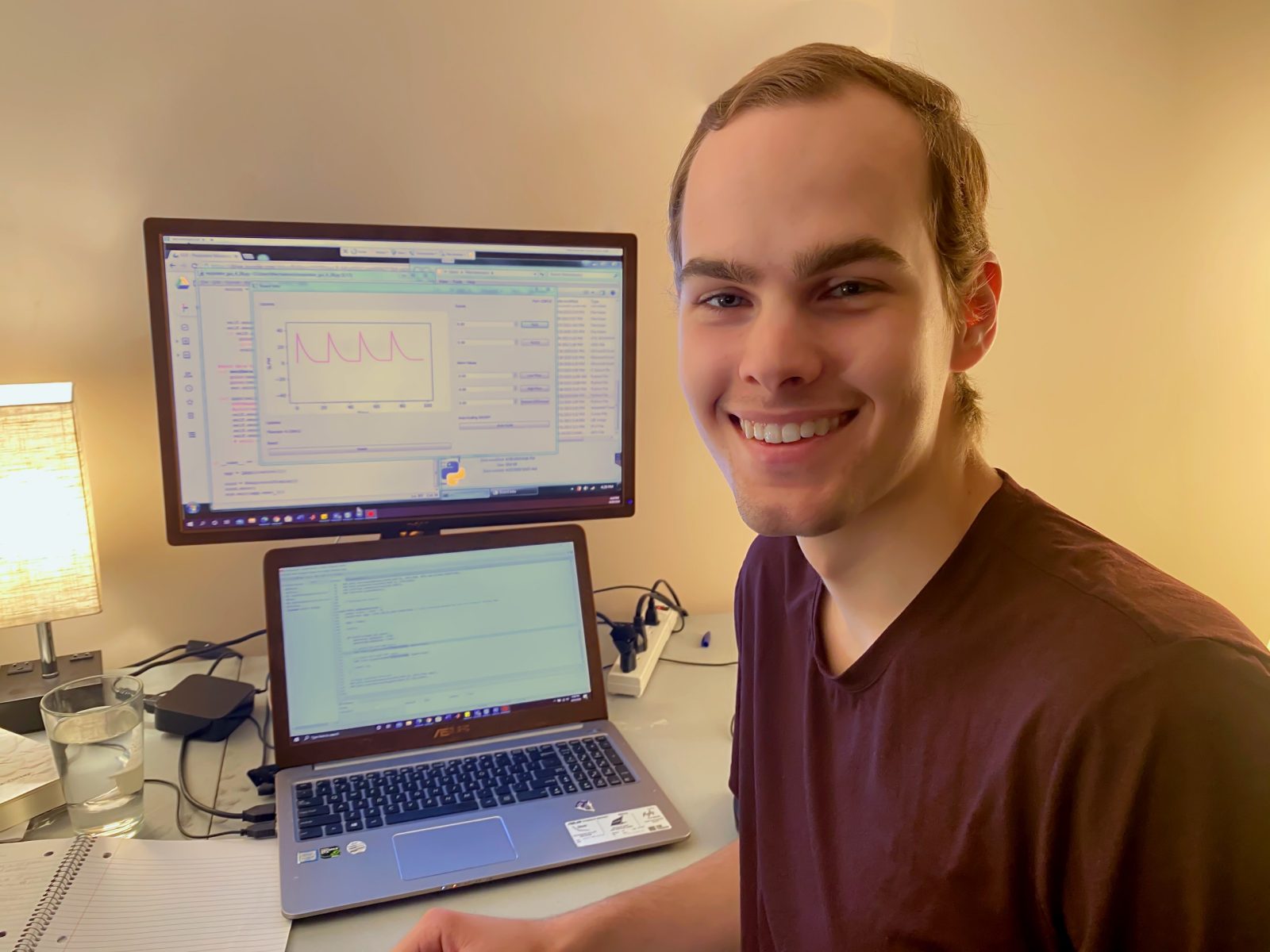 Brent Bailey had a memorable final project.
As his senior mechanical engineering project, Brent Bailey planned to create a robotic hand for industrial use. But it involved extensive in-person group work and so was canceled once COVID-19 hit.
But Bailey found a new project when Al Wicks, associate professor in the Department of Mechanical Engineering, invited students to help adapt sleep apnea machines into ventilators. The multi-department effort is a Virginia Tech partnership with Carilion Clinic physician Edmundo Rubio to upgrade bilevel positive airway pressure (BiPAP) machines, commonly used for treating sleep apnea, into makeshift ventilators to treat COVID-19 patients. The work addresses the worldwide shortage of critical devices to assist with breathing.
"I thought, 'If I do this, I can tell my kids that I worked in the fight against the COVID-19 pandemic,'" Bailey said. Bailey joined a team of students to develop a microcontroller that interpreted flow meter data for the converted machine, allowing for real-time measurements of air flow rates. Bailey wrote code and worked with fellow seniors Jonathan Guevarez and Connor Herron on integration and testing. Other students processed data from the sensor into meaningful flow rates and inhale/exhale volumes and focused on flow meter design and final assembly.
"This work felt meaningful, because I knew I was working on something that would help people in this time of need," he said. "This project reminded me of the purpose of my God-given talents—to show love to hurting people."
HOKIES@HOME PROJECT COLLECTS AND PRESERVES HOKIES' EXPERIENCES DURING COVID-19
HOKIES@HOME PROJECT COLLECTS AND PRESERVES HOKIES' EXPERIENCES DURING COVID-19
The University Library's Special Collections and University Archives are collecting and preserving the extraordinary experiences of members of the Hokie Nation during COVID-19.
Leaders of the Hokies@Home: Documenting COVID-19 at Virginia Tech project are gathering oral histories, audio recordings, written stories, diary and journal entries, photographs, videos, art, and other documentation for inclusion in its publicly available digital collections.
"We're particularly interested in the documentation of experiences as they relate to Virginia Tech and how individual and community-university experiences were affected by the pandemic," said Anthony Wright de Hernandez, University Libraries' community collections archivist. "If you are a member of the Virginia Tech community and you have a story to tell, this project is about you."
Digital materials can be submitted through a donation form on the Hokies at Home website, and there are submission options in multiple languages.