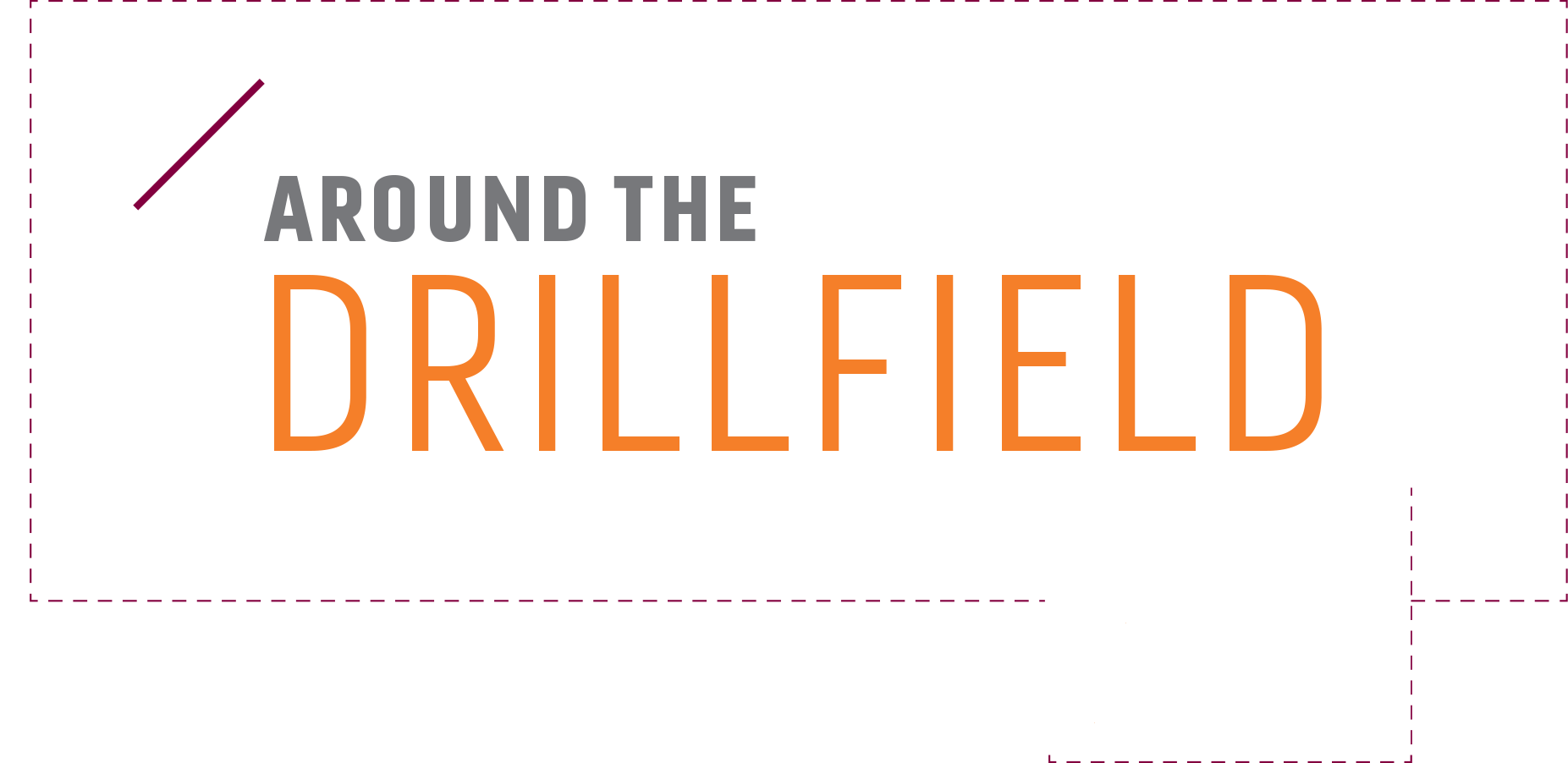 A GRAND OCCASION FOR REGION'S PETS
A GRAND OCCASION FOR REGION'S PETS
HANDLE WITH CARE: Nick Dervisis, associate professor of oncology, and Jennifer Carroll, oncology resident, work with a patient in the chemotherapy room at the new Animal Cancer Care and Research Center in Roanoke, Virginia.Andrew Mann, Virginia Tech
GRAND OPENINGS ARE USUALLY, WELL, GRAND.
In line with these physically distanced times, however, the recent grand opening of Virginia Tech's state-of-the-art Animal Cancer Care and Research Center in Roanoke, Virginia, was a decidedly modest affair.
Instead of a local dignitary cutting a ribbon or a popular politician delivering a rousing speech, the new clinical and research facility was inaugurated by an 11-pound domestic shorthaired cat named Kokomo, the first pet to set paw in the new center as a clinical patient.
Although Kokomo is surely more interested in batting around her favorite yellow banana toy than in cutting-edge medicine, her presence at the center, which is housed in the 139,000-square-foot addition to the Fralin Biomedical Research Institute at VTC, represented the culmination of more than six years of planning.
"This center will develop and deploy novel modalities for treating a variety of cancers," said M. Daniel Givens, dean of the Virginia-Maryland College of Veterinary Medicine at Virginia Tech. "This exciting new initiative creates the opportunity for advanced, integrated cancer treatment for dogs and cats in our region and transformative, translational research that will advance cancer treatment in pets and people alike."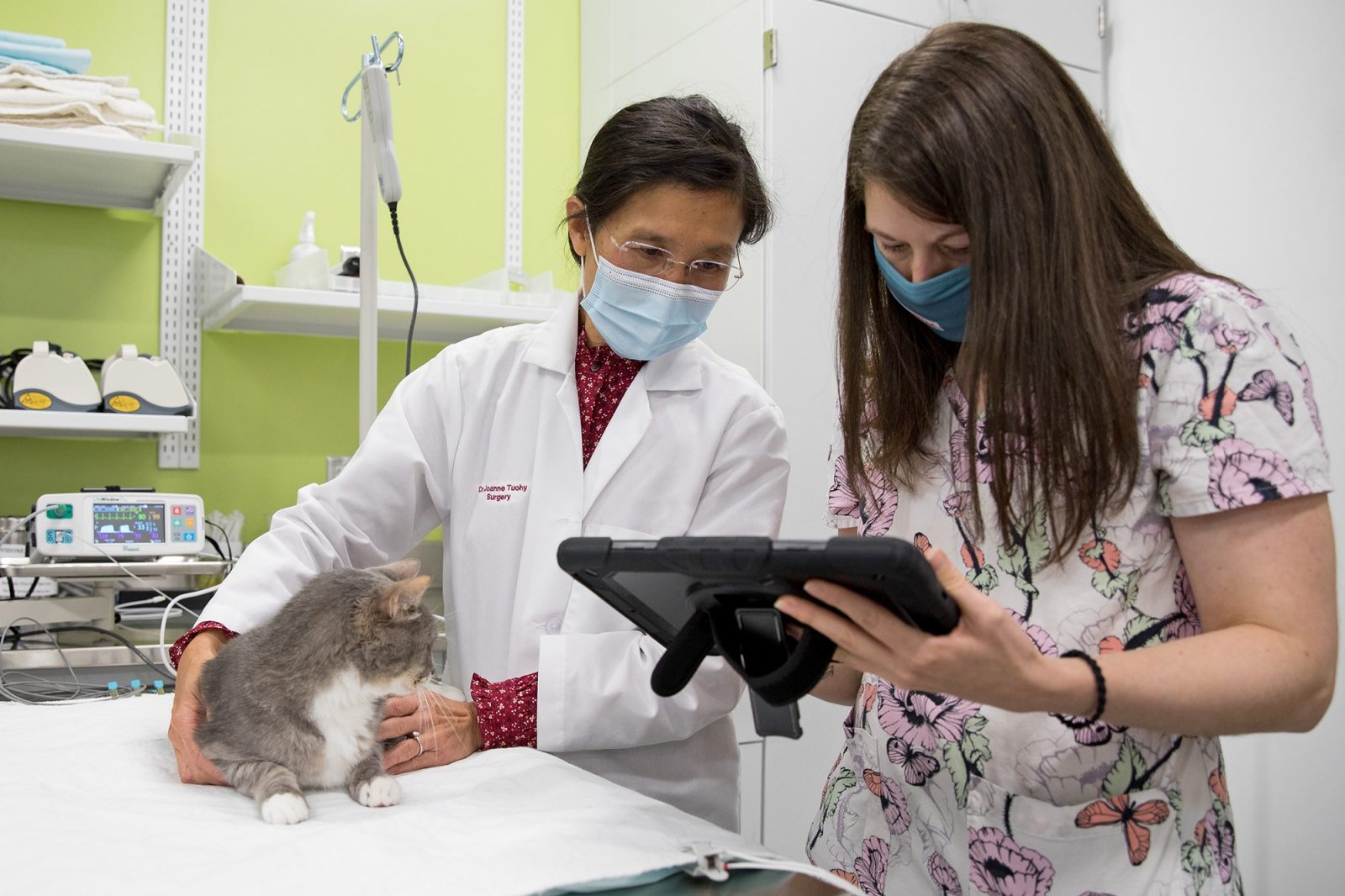 PURR-FECTING CARE: Joanne Tuohy, assistant professor of surgical oncology, and Stefanie Olsen, oncology technician, review a patient's test results in the center's pre-operative room. (Andrew Mann, Virginia Tech)
The new facility is a vital part of the Virginia Tech Carilion Health Sciences and Technology Campus, adjacent to the Virginia Tech Carilion School of Medicine, and integrates human and veterinary biomedical researchers. The center's faculty clinicians offer comprehensive, integrated services, including medical, surgical, and radiation oncology, as well as frontline cancer diagnostics and treatment for dogs and cats.
Kokomo was referred to the center to explore treatment options for a bladder tumor called transitional cell carcinoma, but patients like Kokomo and their owners aren't the only beneficiaries of the oncology clinicians' expertise and advanced care. The center's unique co-location alongside human-focused clinicians and researchers embodies a true One Health approach that recognizes the dynamic interdependence of animal, human, and environmental health. Because companion animals often develop the same or similar cancers as humans, therapies developed by researchers can help human patients and serve as new treatments for pets.
Read more about the grand opening.
DEPARTMENT OF DEFENSE AWARDS $1.5 MILLION TO PREPARE STUDENTS FOR CYBERSECURITY CAREERS
DEPARTMENT OF DEFENSE AWARDS $1.5 MILLION TO PREPARE STUDENTS FOR CYBERSECURITY CAREERS
VIRGINIA TECH HAS BEEN AWARDED $1.5 million to fuel workforce development in cybersecurity and related professional roles as one of six Department of Defense (DoD) senior military colleges participating in the U.S. Cyber Command Cyber Leadership Development Program (SMC2I).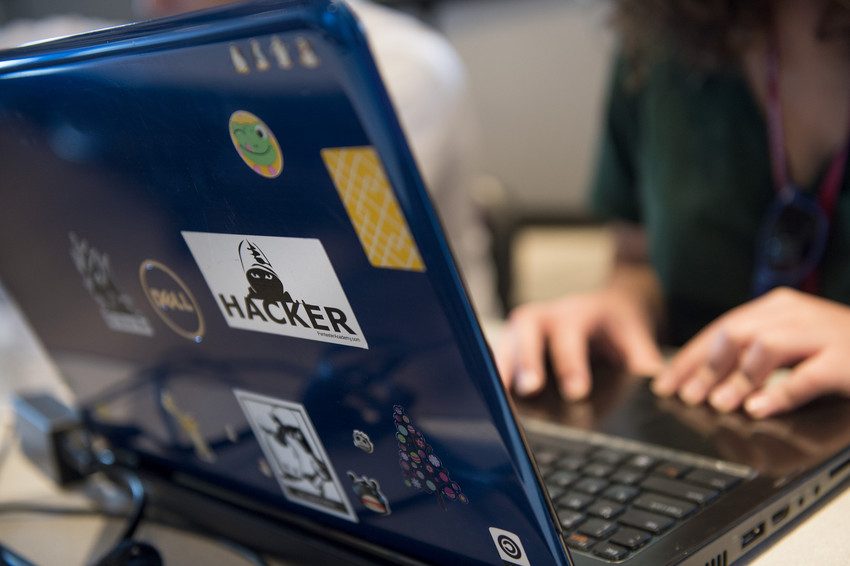 Virginia Tech, the Citadel, the University of North Georgia, Norwich University, Virginia Military Institute, and Texas A&M will work collaboratively on this national initiative.
The funds for SMC2I are part of a $10 million DoD appropriation to the National Security Agency to identify and develop a diverse population of students from various academic disciplines into technical experts and leaders in cybersecurity through five primary program elements: pipeline programs, experiential learning, curriculum development, program development, and enhancing cybersecurity research.
CHEM-E-CAR TEAM WINS INTERNATIONAL COMPETITION
CHEM-E-CAR TEAM WINS INTERNATIONAL COMPETITION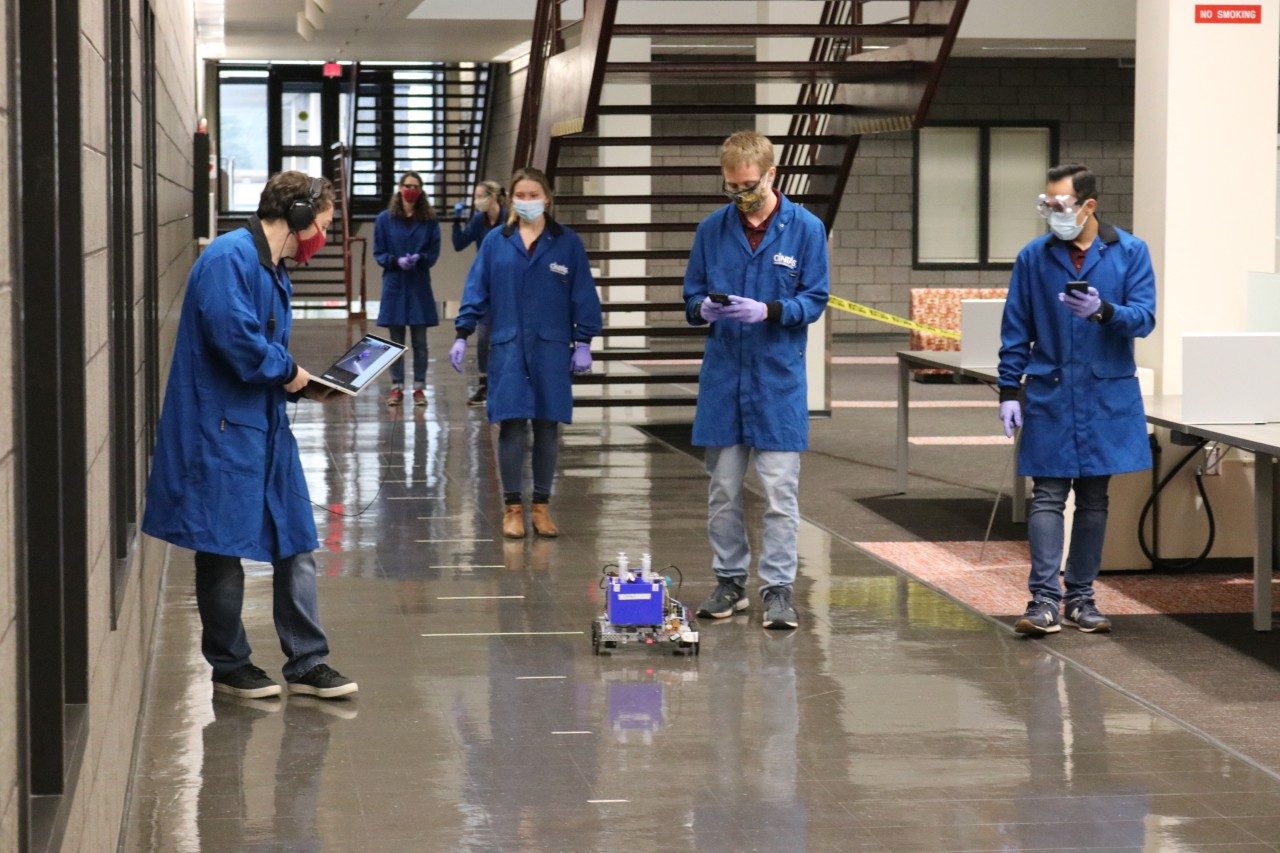 ELEMENTS OF SUCCESS: Students from the chemical engineering Chem-E-Car team powered and stopped a robotic car by means of a chemical reaction for the 2020 AICHE Chem-E-Car Competition. (Steven Martin)
IN NOVEMBER, THE VIRGINIA TECH Chem-E-Car team won first place at the 2020 AICHE Chem-E-Car Competition, defeating more than 20 other teams from around the country and the world in the virtual event.
The Chem-E-Car competition tests a team's ability to design and construct a shoebox-sized car that is both powered and stopped as precisely as possible by using chemical reactions. Virginia Tech's car won the competition by traveling 17.40 meters and stopping almost exactly at the target distance. The team used four concurrent vitamin C clock reactions as a stopping mechanism and built a zinc-carbon battery as their power source.
The Virginia Tech team has now won two consecutive international Chem-E Car competitions, having also placed first at the previous year's international competition in Orlando, Florida.
The 2020 Chem-E-Car team consists of 14 chemical engineering undergraduate students: team lead Jared Arkfeld, Aashi Agarwala, Abby Boyles, Alejandro Rodriguez, Carlos Prieto, Anshul Paripati, Paul Stiles, Ian Davis, Catie George, Lexi Swift, Katy Carney, Mackenzie Roach, Lindsey Wallen, and Sara Schlemmer. Their faculty advisor was Stephen Martin, associate professor in the Department of Chemical Engineering.
VIRGINIA TECH CARILION SCHOOL OF MEDICINE SEES 48 PERCENT INCREASE IN APPLICATIONS
VIRGINIA TECH CARILION SCHOOL OF MEDICINE SEES 48 PERCENT INCREASE IN APPLICATIONS
THE VIRGINIA TECH CARILION School of Medicine received 6,374 applications, a 48 percent increase from last year's total of 4,299.
The school's application deadline for the Class of 2025, which has 49 available seats, was Dec. 1.
"More and more people are discovering the Virginia Tech Carilion School of Medicine and recognizing it as a place to become systems-minded scientist physicians," said Lee Learman, dean of the Virginia Tech Carilion School of Medicine. "In addition, our continued success in matching all of our graduates to top-choice residency programs is attractive to prospective students."
The Virginia Tech Carilion School of Medicine has been in demand since the first class started studies in 2010, but has become more competitive each year. Over the past five years, the school averaged around 4,000 applications for fewer than 50 available positions.
Medical school applications are up nationwide this year. The American Medical College Application Service, which processes submissions for most U.S. medical schools, reported a nearly 17 percent increase in applications near the end of October. In the past decade, the year-over-year increase has averaged less than 3 percent.
VIRGINIA TECH RESEARCHERS DISCOVER 635 MILLION-YEAR-OLD FUNGI-LIKE MICROFOSSIL
VIRGINIA TECH RESEARCHERS DISCOVER 635 MILLION-YEAR-OLD FUNGI-LIKE MICROFOSSIL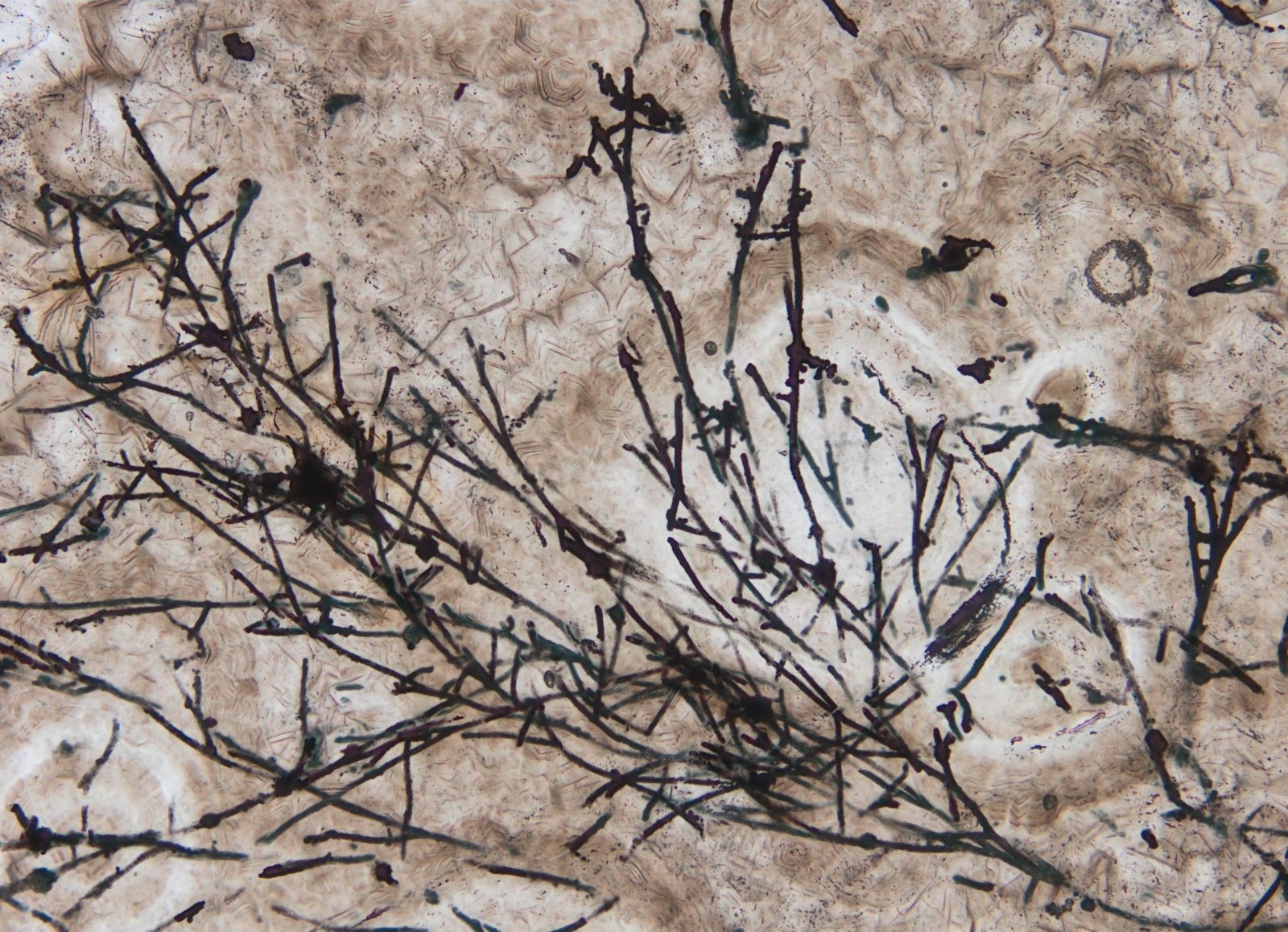 Fungus-like filamentous microfossils (Andrew Czaja Of University Of Cincinnati)
A TEAM OF SCIENTISTS FROM Virginia Tech, that included geosciences professor Shuhai xiao, and visiting Ph.D. student Jion Gan, the Chinese Academy of Sciences, Guizhou Education University, and University of Cincinnati has discovered the remains of a fungi-like microfossil that emerged at the end of an ice age some 635 million years ago. It is the oldest terrestrial fossil ever found, predating the oldest dinosaurs about three times over.
The findings were published in Nature Communications on Jan. 28.
The fossil was found in small cavities within sedimentary dolostone rocks of the lowermost Doushantuo Formation in South China.
But against all odds, Gan found a few long, thread-like filaments, one of the key characteristics of fungi.
"It was an accidental discovery," Gan said. "At that moment, we realized that this could be the fossil that scientists have been seeking for a long time. If our interpretation is correct, it will be helpful for understanding the paleoclimate change and early life evolution."
This discovery is key for understanding multiple turning points throughout Earth's history: the Ediacaran period and the terrestrialization of fungi.
Read more about the microfossil.
COLLEGE LAUNCHES CENTER FOR ADVANCED INNOVATION IN AGRICULTURE
COLLEGE LAUNCHES CENTER FOR ADVANCED INNOVATION IN AGRICULTURE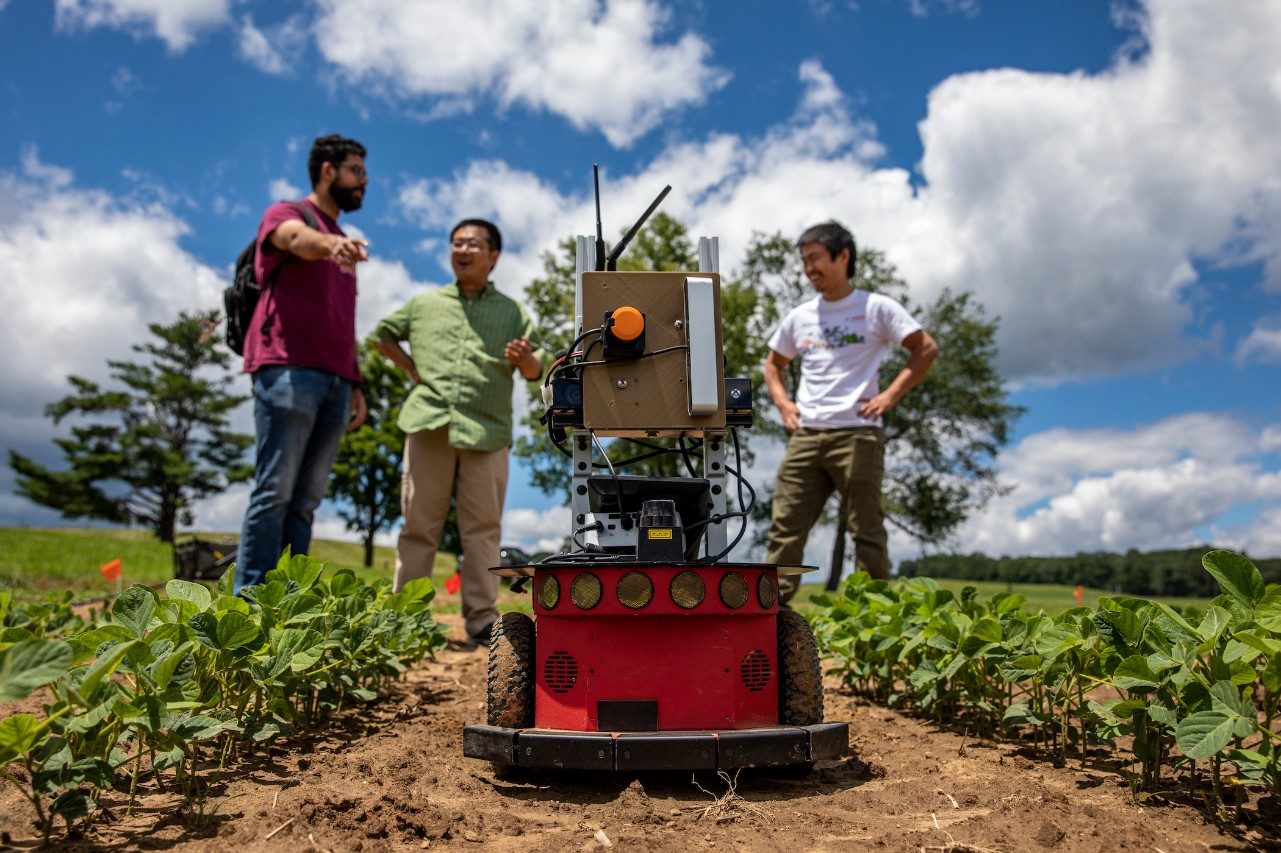 HARVESTING THE FUTURE: The new Institute for Advanced Learning and Research in Danville, Virginia, is one of the testbed operations for the new Center for Advanced Innovation in Agriculture, where technology and research are leveraged to accelerate advancements, economic development, and regional participation in the developing industry of indoor farming.
THE AGRICULTURAL LANDSCAPE IS changing. Increased food production is needed to support the world population. Innovative efficiencies are needed throughout agriculture. Climate change scenarios suggest significant modifications in agriculture.
In order to address these issues and use informed scientific discovery and technology-driven innovation to develop solutions, Virginia Tech's College of Agriculture and Life Sciences has created the Center for Advanced Innovation in Agriculture (CAIA). The center's work will focus on technology, data analytics, and decisions to address challenges and security in the natural world and in human society in the domains of plants, animals, and food systems.
This center is a direct result of listening to agriculture stakeholders express their needs during the 2018 Virginia Agriculture and Natural Resources Summit held in Richmond, Virginia.
The world needs efficient and flexible agriculture and food systems, and the Center for Advanced Innovation in Agriculture combines the existing expertise of the college to chart a path that addresses these issues in the natural world and human society.
Some of the existing expertise and platforms the CAIA will utilize include the SmartFarm Innovation Network; cyberbiosecurity and biosecurity in agriculture and life sciences; and data analytics, decisions, and machine learning for food, agriculture, communities, and health systems.
SONGBIRDS EXPOSED TO LEAD-CONTAMINATED WATER PREDICT HUMAN IMPACTS
SONGBIRDS EXPOSED TO LEAD-CONTAMINATED WATER PREDICT HUMAN IMPACTS
HUMANS, WILDLIFE, AND THE environment play a role in one another's health and well-being. Sentinel species, such as birds, are good indicators of environmental health, and they can send subtle warning signs that humans may be in danger.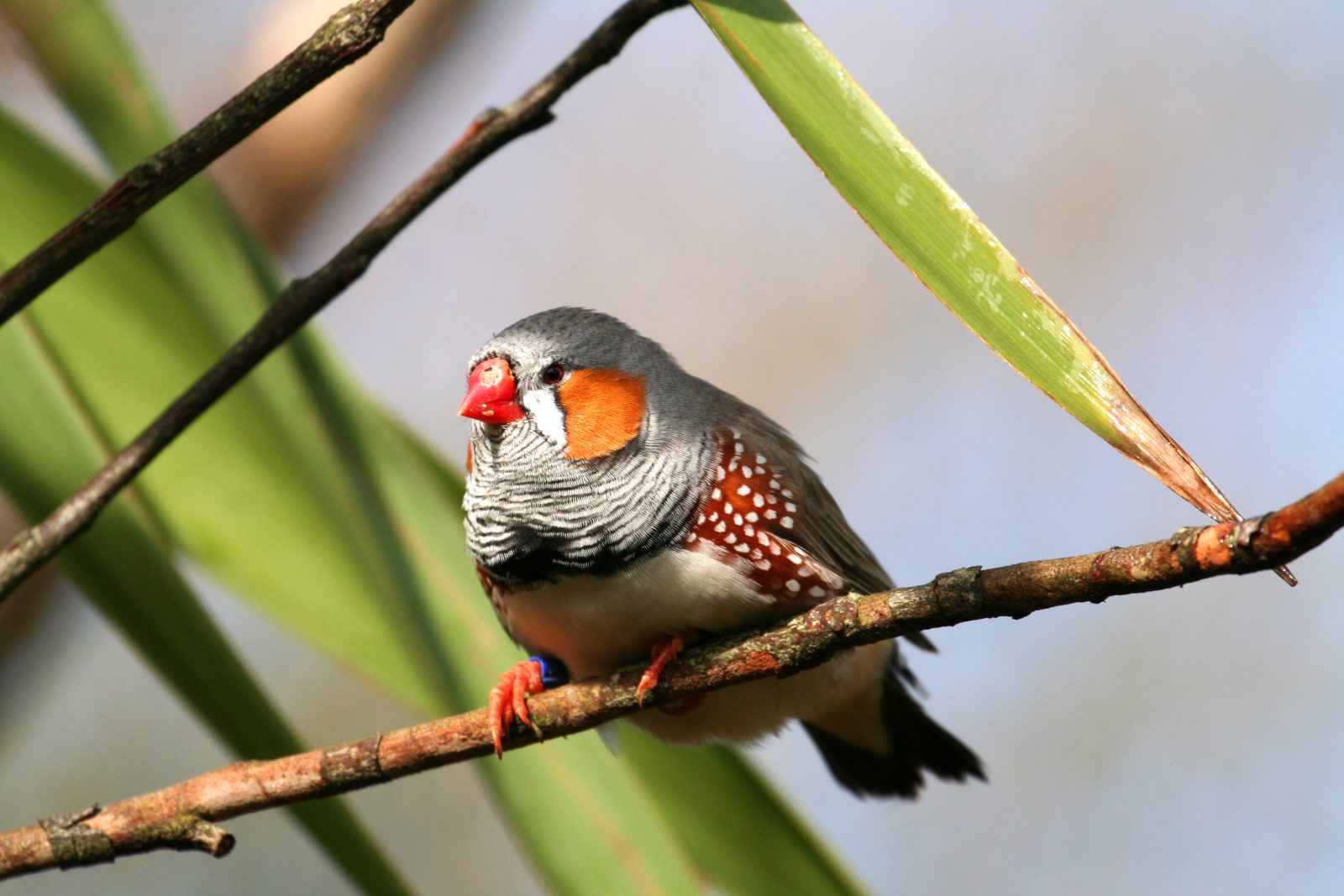 In an experimental exposure study, Kendra Sewall, an associate professor of biological sciences in the College of Science, and a diverse team of scientists and students found that lead levels like those reported in Flint, Michigan, can interfere with the vocal development of songbirds and affect mate attraction.
By examining the effects of lead exposure in songbirds, more information will be known about how lead affects learning and underlying neural networks in humans.
"Our study shows that levels of lead in water that are known to be concerning for human health also have negative effects on the brain and the learning ability of male songbirds," said Sewall, who is affiliated with the Fralin Life Sciences Institute and the Global Change Center.
Their findings were published in Ecotoxicology and Environmental Safety on Jan. 8.
FULLY ONLINE MBA LAUNCHED TO MEET CHANGING NEEDS
FULLY ONLINE MBA LAUNCHED TO MEET CHANGING NEEDS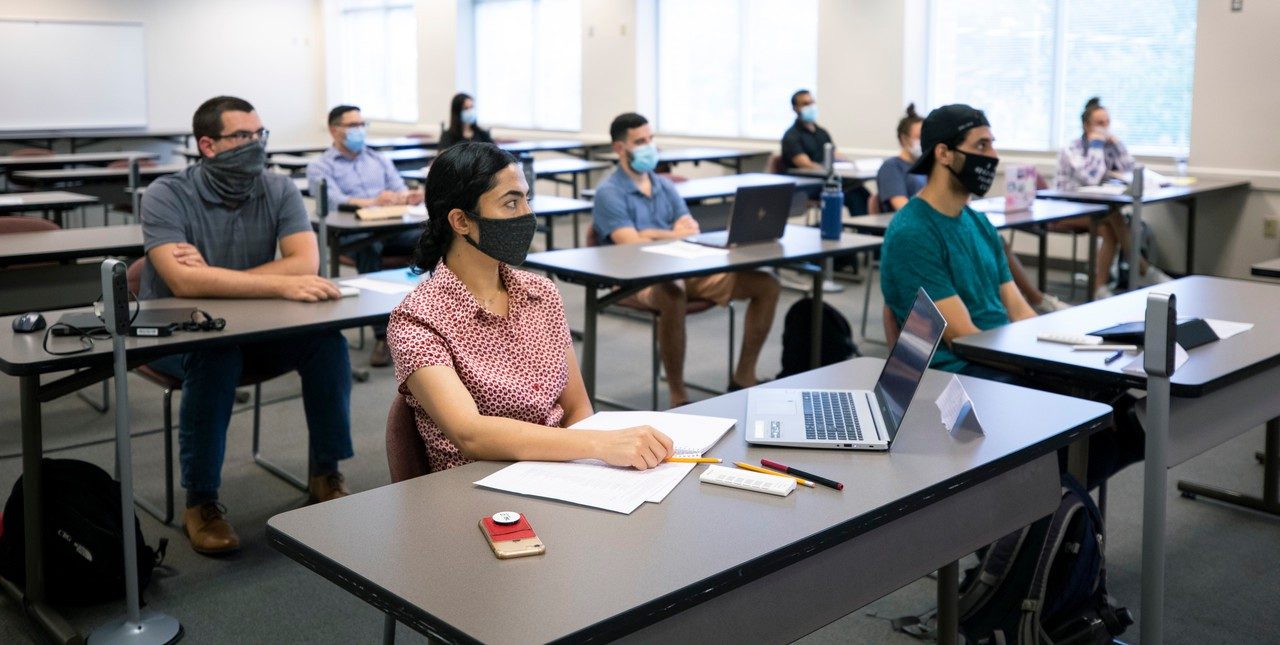 MULTIPLE CHOICE: MBA students attend a class at the Northern Virginia Center taught by Bill Becker, associate professor of management. A new, fully online MBA will expand the options for students seeking the graduate business degree.
VIRGINIA TECH IS LAUNCHING ITS newest MBA program option—the Online MBA.
Responding to the changing needs of students and the workplace in the wake of the COVID-19 pandemic, the Pamplin College of Business intentionally designed this new program to deliver a deep understanding of business principles and practices to a wider range of working professionals through the flexibility of fully online delivery.
While fully online, delivery of the new program will be evenly split between synchronous and asynchronous experiences. The program is cohort-based, which means that students complete their studies in lockstep and have the opportunity to build meaningful professional relationships with their classmates.
Students can also choose to specialize their MBA curriculum in subject areas where Pamplin and Virginia Tech have a strategic emphasis and significant expertise, such as cybersecurity, entrepreneurism, health information technology, and business data analytics. These topic areas are popular choices for those seeking better jobs and career growth.
The students will also have the option to study abroad through the international business specialization. Optional international travel provides an opportunity to examine global business in action and take part in an immersive in-person experience with fellow MBA classmates.
As with all of Virginia Tech's MBA programs, the Online MBA will be taught by experienced Pamplin College of Business faculty steeped in scholarly research with practical applications.
Beyond faculty, Online MBA students will also share the support and resources available to all Virginia Tech MBA students. This includes access to an established MBA alumni mentoring program, personalized academic advising, and membership in Virginia Tech's vast alumni network.
The program has been approved by the State Council of Higher Education for Virginia and The Southern Association of Colleges and Schools Commission on Colleges. Applications for the inaugural cohort will be due May 1, with classes starting in July. Graduation for the first cohort is expected in May 2023.
APEX CENTER WINS INTERNATIONAL AWARD FOR ENTREPRENEURSHIP RESEARCH
APEX CENTER WINS INTERNATIONAL AWARD FOR ENTREPRENEURSHIP RESEARCH
VIRGINIA TECH'S APEX CENTER FOR Entrepreneurs has won the top award from the Global Consortium of Entrepreneurship Centers for exceptional contributions in entrepreneurship research.
The award was announced at the consortium's annual conference, hosted virtually by the University of Nevada, Las Vegas. Virginia Tech is a co-winner of the award with Texas A&M University. The other finalists from the 106 nominee schools were the Stockholm Institute for Economics, the University of Louisville, and the University of North Carolina.
Judging criteria included the volume of research produced and quality of the publication outlets; the potential of the research to significantly advance the entrepreneurship discipline; and demonstrated ability to connect research efforts to teaching and community engagement.
"The award is clear testimony of the high quality and significance of our entrepreneurship research," said management department head Devi Gnyawali. "Our faculty have published in all major entrepreneurship journals. Several current Ph.D. students and recent Ph.D. graduates have been working on entrepreneurship research in recent years."
Virginia Tech's entrepreneurship research community has been extraordinarily productive, Gnyawali said. "Since the Apex center's founding in 2014, Virginia Tech has gone from being unknown in the realm of entrepreneurship research to being one of the most frequently mentioned for its quantity and quality of research output."
The achievements of Apex researchers in the past six years include 72 peer-reviewed publications in top journals, 34 peer-reviewed proceedings at major conferences, and thousands of Google citations.
Research honors include the Academy of Management's Outstanding Dissertation and multiple awards for the academy's Outstanding Paper on Entrepreneurship Theory, the Sumantra Ghoshal Research-Practice Award, and numerous best paper awards at other conferences.
This is the center's second award from the Global Consortium. The Apex Center, which serves students from any Virginia Tech major and any year who are interested in building new business ventures, received the Outstanding Emerging Entrepreneurship Center Award in 2018.
Read more about the APEX center.
VIRGINIA TECH STAMPS SCHOLARS GIVE BACK BY BUILDING BEDS FOR KIDS IN THE NEW RIVER VALLEY
VIRGINIA TECH STAMPS SCHOLARS GIVE BACK BY BUILDING BEDS FOR KIDS IN THE NEW RIVER VALLEY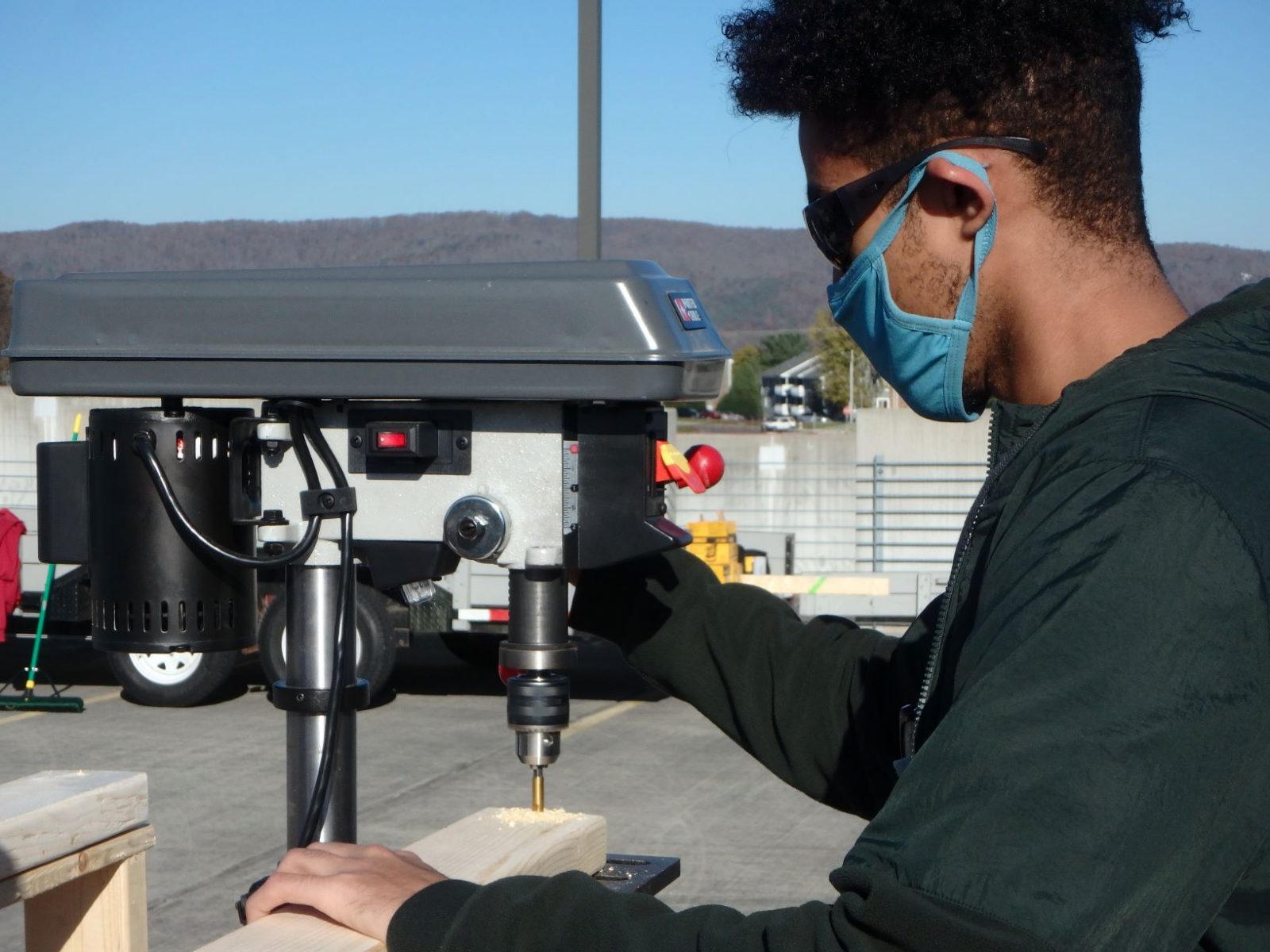 SWEET DREAMS: Stamps Scholar Sengal Ghidewon-Abay, a senior majoring in electrical engineering, predrills bolt holes to aid in the assembly of a bed. (Christina Mcintyre)
THE VIRGINIA TECH HONORS COLLEGE Stamps Scholars recently took to the top deck of a parking garage to build 24 beds for children in need.
The project's genesis was a meeting between Christina McIntyre, the director of professional development and national and international scholarships at the Virginia Tech Honors College, and Paul Mele, the president of the New River Valley (NRV) chapter of Sleep in Heavenly Peace, which is dedicated to building, assembling, and delivering high-quality bunk beds to children and families in need.
The chapter has completed multiple bed builds since August 2020. Volunteers have delivered more than 55 beds to children in the NRV, but there is a waiting list.
"There is need in the New River Valley," said Mele. "Bedlessness is a problem in every community across America. We in Sleep in Heavenly Peace believe the average is probably 3 to 4 percent of kids between 3 and 17 do not have a traditional device to sleep on."
The build day, Nov. 7, was made possible by contributions from the community. Lowe's of Christiansburg donated more than $2,500 worth of lumber, Heavener Rental loaned the group generators, and the Virginia Tech Foundation provided access to University Mall Parking Garage.
Stamps Scholars are high-achieving student leaders selected from incoming freshmen by the Virginia Tech Honors College each year to receive a multiyear merit scholarship through the national Strive Foundation to help them achieve their educational aspirations. Service is foundational for the Honors College and Stamps Foundation.
LAUREN CHILDS HELPS ADDRESS MALARIA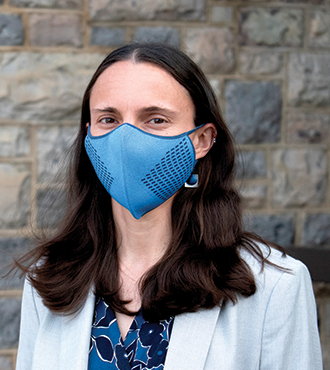 EVERYONE KNOWS THAT 2 + 2 = 4, but what about mosquitoes plus malaria? Lauren Childs, an assistant professor in the Department of Mathematics at Virginia Tech, says there's an equation for that, too.
Childs recently co-authored a report with a team from Harvard University on the role of natural mosquito behavior on transmission of a disease that threatens half the world's population.
The study was published in the December 2020 issue of PLOS Pathogens.
"Worldwide there are about 400,000 deaths and 200 million cases each year from malaria," said Childs, who last year was named the Cliff and Agnes Lilly Faculty Fellow. Plasmodium, the parasite that causes malaria, is transmitted through the interaction between mosquitoes and humans. Efforts to study this interplay solely in nature can be problematic due to constantly changing conditions.
"All these complicated pieces, mathematically we can put them all into a system and see how that feedback affects the next level and the next level so we can think about it quantitatively and make predictions," said Childs.
Read more about Lauren Childs.
CENTER FOR GERONTOLOGY RECEIVES $2.1 MILLION
CENTER FOR GERONTOLOGY RECEIVES $2.1 MILLION
KAREN ROBERTO AND TINA SAVLA, both core faculty members of Virginia Tech's Center for Gerontology, are leading a five-year, $2.14 million study that will examine the role of extended family caregivers and their service use, needs, and challenges.
The National Institute on Aging—part of the National Institutes of Health— awarded the grant.
While most of the caregiving literature to date has focused on close kin, such as adult children and spouses, this new study will turn the spotlight on other family caregivers, such as grandchildren, siblings, nieces and nephews, and step-kin.
What is daily life like for them as dementia caregivers? How is the type and manner in which they provide for their relative different, if at all, than the care provided by spouse or adult child caregivers? Do these extended family caregivers need more support, education, or training?
The research team will recruit 240 extended family caregivers for the study, which they have named "CareEx." They will also recruit 120 adult children and spouse caregivers to serve as a comparison group.
Roberto and Savla anticipate the CareEx study findings will inform the development of tailored interventions for extended family caregivers. The research may also have policy implications, particularly if the study team finds that extended family caregivers encounter unique barriers to accessing care for relatives with dementia.
News Reel
Virginia Tech videographers have been hard at work capturing the university's news. Watch these videos and many others at video.vt.edu.
STATE OF THE UNIVERSITY
STATE OF THE UNIVERSITY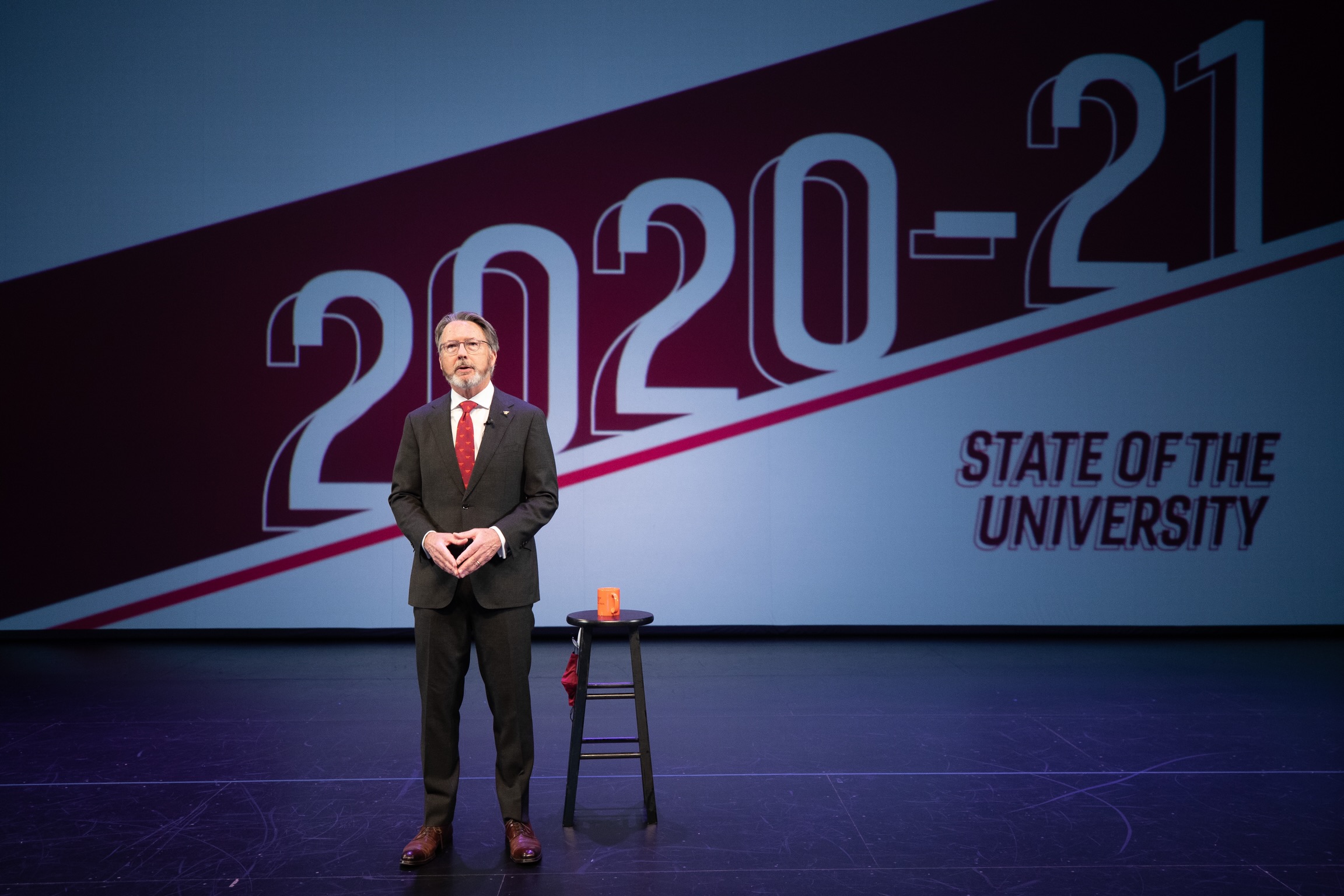 On Jan. 13, President Tim Sands delivered his fifth State of the University address. During the virtual event, Sands shared progress on stra- tegic priorities while responding to the pandemic. Listen to a recording of the address at vt.edu/state-of-the-university.
VENTURE OUT OPENS NEW BOULDERING WALL
VENTURE OUT OPENS NEW BOULDERING WALL
Venture Out's bouldering wall is located in the new Venture Out Center at 540 Beamer Way in the South Recreation Area next to the Recreational Field House. Use of the bouldering wall is free for students during open hours.
INNOVATION CAMPUS PROGRAM ATTRACTS STUDENTS FROM ARRAY OF BACKGROUNDS
INNOVATION CAMPUS PROGRAM ATTRACTS STUDENTS FROM ARRAY OF BACKGROUNDS
Meet four members of the first Virginia Tech Innovation Campus class. Their backgrounds vary, but they share a common goal: earning a master's degree that will quickly advance their careers.
UNDERSTANDING THE NEW CORONAVIRUS VACCINES
UNDERSTANDING THE NEW CORONAVIRUS VACCINES
Infectious disease ecologist Kate Langwig explains the complicated dynamics that are at play in determining how effectively the new COVID-19 vaccines will help to regain pre-pandemic normalcy.