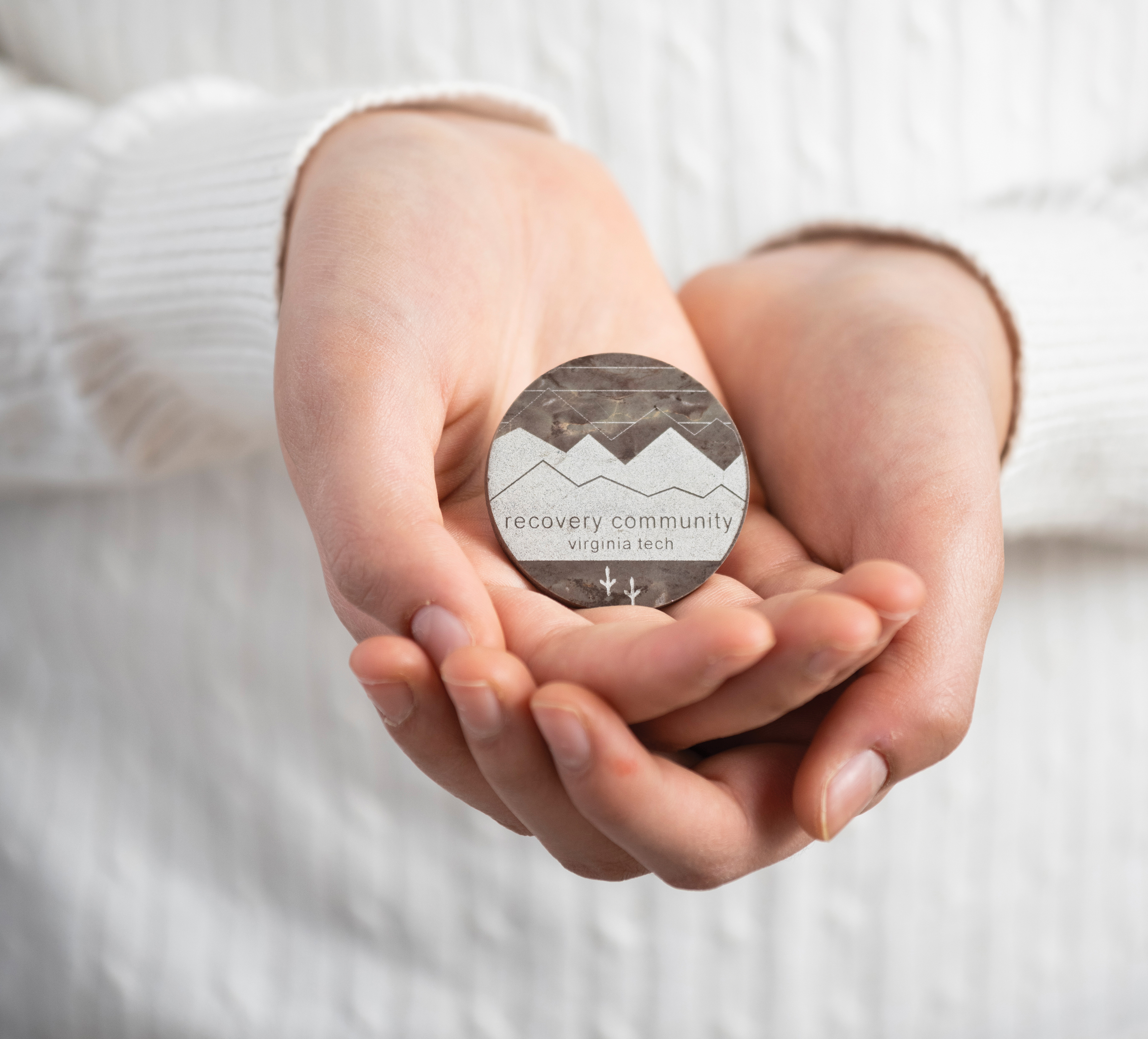 By Jenny Kincaid Boone and Travis Williams, with Rosie Hutchison, John Pastor, and Max Esterhuizen.
THE MANY LAYERS OF SUBSTANCE MISUSE: HOW RESEARCH, TECHNOLOGY, AND UT PROSIM UNCOVER OPPORTUNITIES FOR SUPPORT, RECOVERY, AND AWARENESS ON CAMPUS, AT HOME, AND IN THE COMMUNITY.
Alcohol, marijuana, Adderall, LSD. Richard has not only tried them all, but he once was addicted to several at the same time.
"I was staring at myself in the mirror, and I just saw death," the Virginia Tech graduate student said. "I thought, 'I need to start making changes.'"
Richard's treatment and recovery journey began in early 2020. Because of the existing and often harmful stigma surrounding substance use disorders, he elected to use a pseudonym in this story. After approximately six years of battling addiction, Richard was determined to make sure graduate school and a new environment didn't slow or stop his positive progress. And it didn't. He recently celebrated one year of sobriety, thanks in large part to the support he found within the Virginia Tech Recovery Community. For students like Richard, as well as some Virginia Tech employees, the Recovery Community has been a lifeline on their journeys toward a positive well-being.
In the U.S., there were more than 81,000 deaths from drug overdoses from May 2019 to May 2020, the highest number of overdose deaths recorded during a 12-month period, according to the Centers for Disease Control and Prevention. Synthetic opioid use, up 38 percent from June 2019 to May 2020, drove the overall jump in overdose deaths. Meanwhile, binge drinking also spiked significantly during the pandemic, and distancing restrictions that have prohibited in-person attendance at support group meetings has led to feelings of isolation and depression. Across the country, this rampant substance misuse results from a web of individual and societal issues and leads to numerous personal and community-wide problems.
Across the university, scientists are conducting research to learn more about why people use substances, working with community groups and public schools to evaluate the impact of positive interventions, and using what they learn to advocate for better outcomes for both people who use and those impacted by using.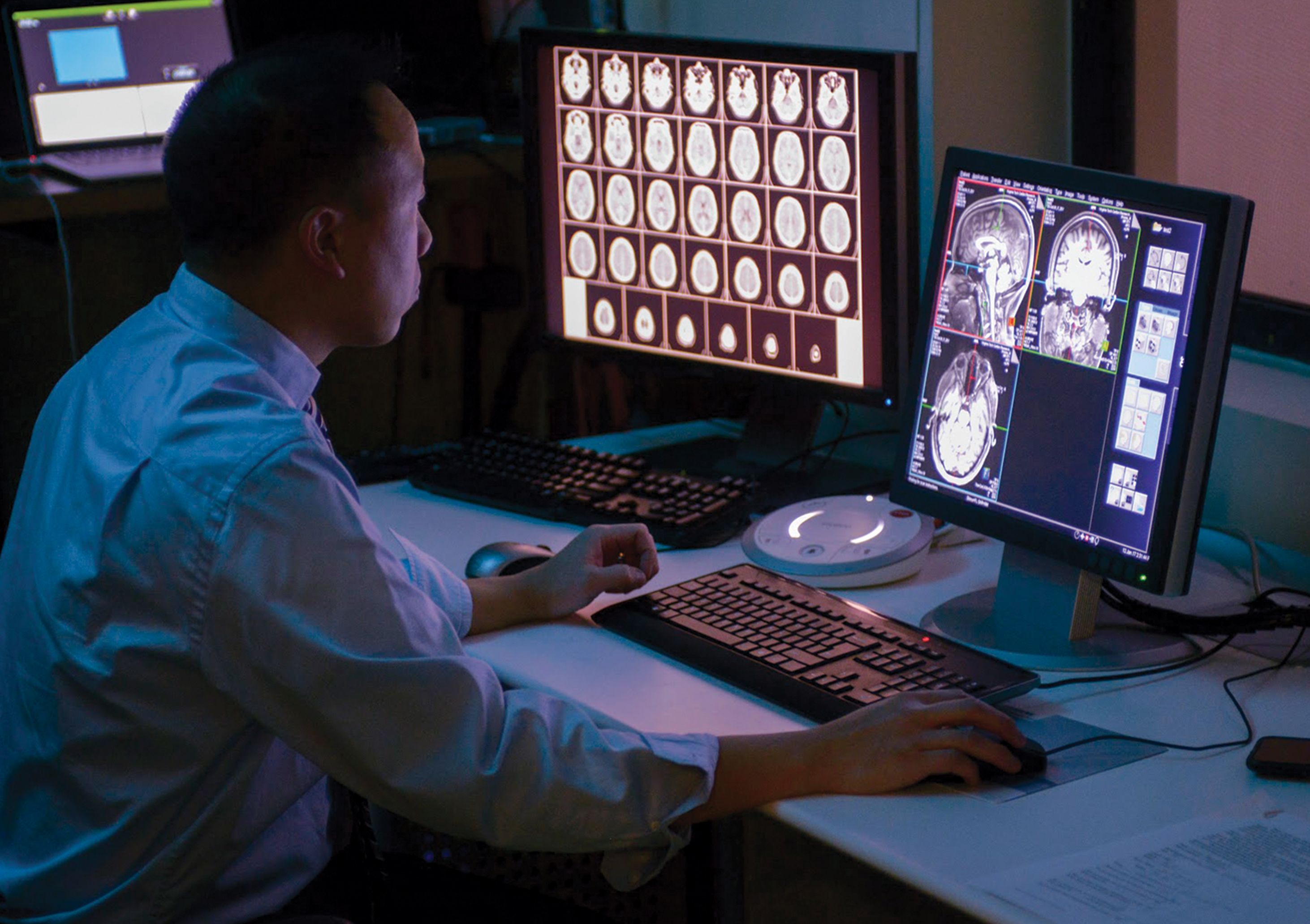 BRAIN SCIENCE: Scientists at the Fralin Biomedical Research Institute at VTC use imaging scans in a variety of research studies, including some connected to the study of substance use and misuse. (David Hungate)
RESEARCH
Nobody ever expects to get hooked on opioids—not people who take prescription drugs to manage pain, nor those who want the high that comes with being under the influence of heroin or fentanyl.
But opioids have different ideas.
According to the National Institute on Drug Abuse they bind to brain receptors, making it hard for users to feel pleasure from anything else. Once people become dependent, getting better is a complex process that involves an immediate intervention to allow a person to stop taking drugs and then the more extended recovery period.
"Our understanding of addiction has evolved in recent years to more fully appreciate that opioid use disorder is chronically relapsing and requires enduring treatment," said Warren Bickel, a professor at the Fralin Biomedical Research Institute at VTC and director of the institute's Addiction Recovery Research Center (ARRC) and its Center for Transformative Research on Health Behaviors. "Living with opioid use disorder is like living with diabetes, obesity, or a host of other chronic ailments that are, in many cases, aggravated by a person's own behavior."
Recently, with colleagues and a contract from the global pharmaceutical company Indivior Bickel studied the long-term recovery in individuals with moderate to severe opiod use disorder who had earlier received a buprenorphine medication to assist long-term recovery.
And beyond drug treatments, Bickel is researching a "behavioral economics" approach to substance abuse, which aims to understand why some people chose the greatest immediate appeal at the cost of long-term happiness.
People who use alcohol believe that, when it comes to immediate satisfaction, nothing works quicker than liquor, and new interventions have not kept pace to help individuals resist the siren song of alcohol, the second-most-abused substance in the U.S. Tobacco ranks No. 1.
Now, Bickel and Stephen LaConte, an associate professor at Fralin and an expert in advanced neuroimaging, are studying whether people battling alcohol use disorder might gain some relief by "pre-experiencing" the future.
"People who have problems with alcohol have a decision-making process focused on immediate outcomes, and they make choices that aren't very healthy for them," Bickel said. "When time is short, reinforcers that offer brief, intense, and reliable rewards, such as alcohol, have greater value. Instead, we want to explore ways for people to mentally construct how they will feel at future events, and this lowers the value they place on alcohol."
FOR MORE HELP, PLEASE REACH OUT
Substance Abuse and Mental Health Services Administration:
samhsa.gov/find-treatment
National Hotline: 1-800-662-HELP (4357)
Narcotics Anonymous:
na.org
(818) 773-9999
Alcoholics Anonymous:
aa.org
(212) 870-3400
Al-Anon:
al-anon.org
(757) 563-1600
With support from the National Institute on Alcohol Abuse and Alcoholism of the National Institutes of Health and using behavioral analysis, an in-laboratory drinking situation, neuroimaging, and computational modeling, the new approach dives right into efforts to understand the decision-making involved in alcohol use and abuse. Scientists have also used the applications to study opioid addiction.
Study volunteers belly up to an experimental bar, where they "self-administer" alcohol. But it's not exactly party time.
"We have safety limits," said Bickel, who is also a professor of psychology in the College of Science. "There's only a limited amount they can drink in our bar lab during the window of time that we give them. Of course, study volunteers are not permitted to leave until they're no longer affected by alcohol."
LaConte, an associate professor in the Department of Biomedical Engineering and Mechanics in the College of Engineering, oversees a form of functional brain imaging called real-time fMRI—a technique he refined to understand further the events that occur in the brain. As with alcohol use disorder, people struggling with opioid use place a much higher priority on immediate gratification than future rewards—an indicator they may need extra help during recovery.
"When time is short, especially when people feel sick because they are in withdrawal, opioids are intense, immediate, and reliable," Bickel said. "The person is trapped in the moment. If we use technology to 'teleport' their thinking into the future, get them to think about loved ones, family members, or goals that have greater long-term value, we can change that short-term focus."
This technique, called "episodic future thinking," has worked before in situations where scientists measured how much people normally drank during their daily activities and then introduced episodic future thinking to the mix.
"If someone said, 'A month from now I'm going to go to my nephew's birthday party,' we would text them reminders, 'Nephew's birthday party,'" Bickel said. "It worked. People who were drinking an average of six beverages a day cut their consumption nearly in half, only because we were texting them with the titles they wrote for themselves during episodic future thinking.
"We still have more to understand about the nature of alcohol use disorder and believe the results of our studies will positively impact public health," Bickel continued.
The study is just one of the efforts scientists at the institute have been making to address the substance addiction crisis since Bickel launched the International Quit and Recovery Registry in 2011. A kind of social media option for people in recovery, the registry has logged nearly 10,000 members in its first 10 years. In addition to being a safe forum, the site is a tool for collecting the data needed to develop further methods for overcoming addiction.
"They are teaching us what recovery looks like," said Sarah Snider, a former postdoc and senior research associate at Fralin Biomedical Research Institute and founder of BEAM Diagnostics. The company, for which Bickel works as senior scientific advisor, spun out of the institute in 2017. "Employment, social interactions, family relationships, the circumstances of people's lives—all play a part. There's so much more to it than just the drug or the substance."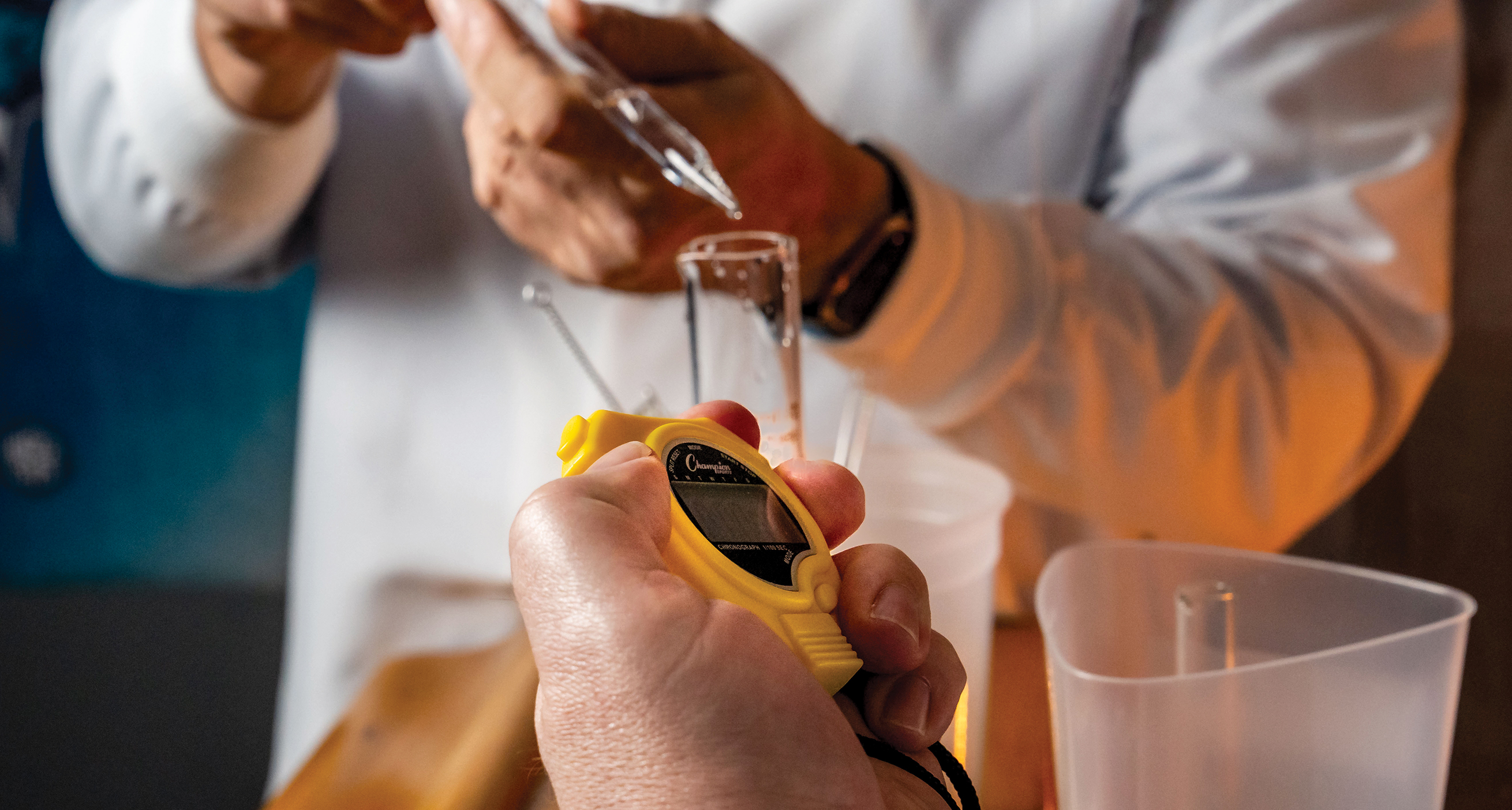 OUTREACH
Sometimes navigating the complex web of substance misuse starts with a simple piece of fabric.
"You'd be amazed at the gratitude that comes from getting a washcloth when you haven't had those means in a long time," said Christine Baldwin, a certified peer recovery specialist and the peer recovery services coordinator for HOPE Initiative. Peer recovery specialists and peer educators most often have some level of lived experience related to the topic with which they are providing assistance.
A program of the Bradley Free Clinic in Roanoke, Virginia, the HOPE Initiative assists individuals battling substance use disorders. The organization operates in partnership with Virginia Tech researchers from the Institute for Policy and Governance, the Center for Public Health Practice and Research, Fralin Biomedical Research Institute, and the Center for Biostatistics and Health Data Science to address the opioid crisis through an innovative combination of research and service. Together, they distribute lifesaving resources to at-risk populations via backpacks as part of the Connection 2 Care (C2C) project. The project is funded by the Center for Drug Control Policy & Enforcement's Combating Opioid Overdose through Community-level Intervention grant program.
The bags contain not only basic life essentials, such as fleece blankets, water bottles, and personal hygiene products, but also the overdose reversal drug Naloxone, more commonly known as Narcan, which is provided via training by authorized partners. In addition, C2C funds the work of community-based peer recovery specialists who support partnership building, and organize outreach and education events.
"It's like a fire extinguisher. It should be close to where the fires are," said Lawson Koeppel, executive director of the Virginia Harm Reduction Coalition (VHRC), of Naloxone. "Overdoses are part of life for people suffering with addiction, and saving their lives is often done by folks who also use drugs. This is helping make sure they have the tools to do that."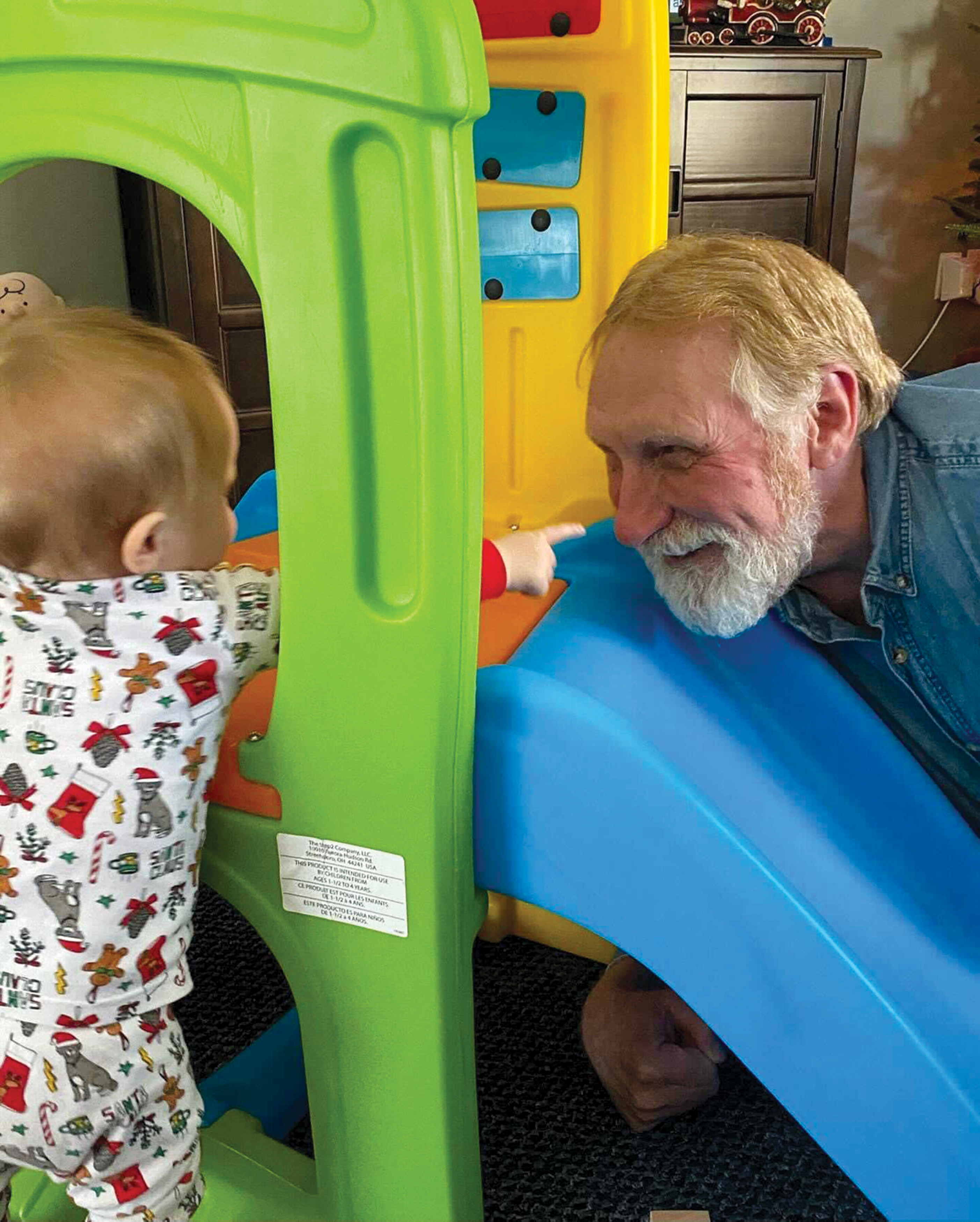 WE ARE FAMILY: Grandparents play a special role in the lives of children. In some families, grandmothers and grandfathers may even step in as primary caregivers when necessary. (Courtesy Travis Williams)
Since December 2019, 540 Connection 2 Care bags have been given out, and more than 300 have gone to individuals who are housing-insecure. The Department of Health and Human Services has defined housing insecurity as high housing costs in proportion to income, poor housing quality, unstable neighborhoods, overcrowding, or homelessness. The backpacks are distributed through community-based partners, such as HOPE and VHRC, as well as to people who have been treated for overdose in emergency rooms and those being released from incarceration.
"It's kind of like sending them out with survival kits," said Leigh Ann Sparks, an inmate recovery services coordinator with the Western Virginia Regional Jail in Salem, Virginia. Sparks said the bags are most often supplied to people who aren't held long enough to become involved in the jail's other long-term treatment programing.
"Now we can actually offer something to those folks who aren't engaged in our programming and empower them with some potentially life-saving information," Sparks said. "If people aren't ready to change, there's nothing any of us are going to do to change that. But we can give them all the information to do so, and say, 'Here is the help, just in case you decide you want it.'"
Through the backpack distribution and other programming efforts under the Connection 2 Care umbrella, the researchers reported more than 1,200 successful contacts with individuals in the program's first year, with about 240 people being referred to some level of treatment services.
Connection 2 Care is just one of the efforts researchers across the university are developing to learn more about the results of positive interventions related to substance use disorders. Much of this research takes place in settings common to the most at-risk populations, including certain segments of the criminal justice system, alongside health care providers, and in public schools.
"We always joke that our lab is the community," said Sophie Wenzel, associate director of Virginia Tech's Center for Public Health Practice and Research. "It's all public-health-based, practice-based implementation research. So our lab really is working with people."
This work often includes helping facilitate grants that support positive interventions, providing training related to implementation, and documenting the outcomes so they can be used in policymaking and to secure future funding.
Monica Flora, treatment and recovery coordinator with Piedmont Community Services in Rocky Mount, Virginia, works with Virginia Tech researchers at the Institute for Policy and Governance on the PACE to Recovery initiative.
"Virginia Tech's involvement in this program has directly impacted the lives of people living in our community," said Flora.
CONNECTION 2 CARE
Connection 2 Care backpacks come in two forms: drawstring bags for people who are housing secure and heavy-duty bags for those who are housing insecure. Most backpacks include some combination of the following:
• Fleece blanket.
• Personal hygiene items, such as a toothbrush, toothpaste, and feminine products.
• Portable battery for charging mobile devices.
• Gloves, socks, and hat.
• Water bottle.
• Sun screen.
• Pen and notebook.
• Rescue breathing face mask.
• Referral cards to various community and health-related services and resources.
• Naloxone, the opioid overdose reversal drug, in some form.
• Sharps box—needle disposal container—available if desired.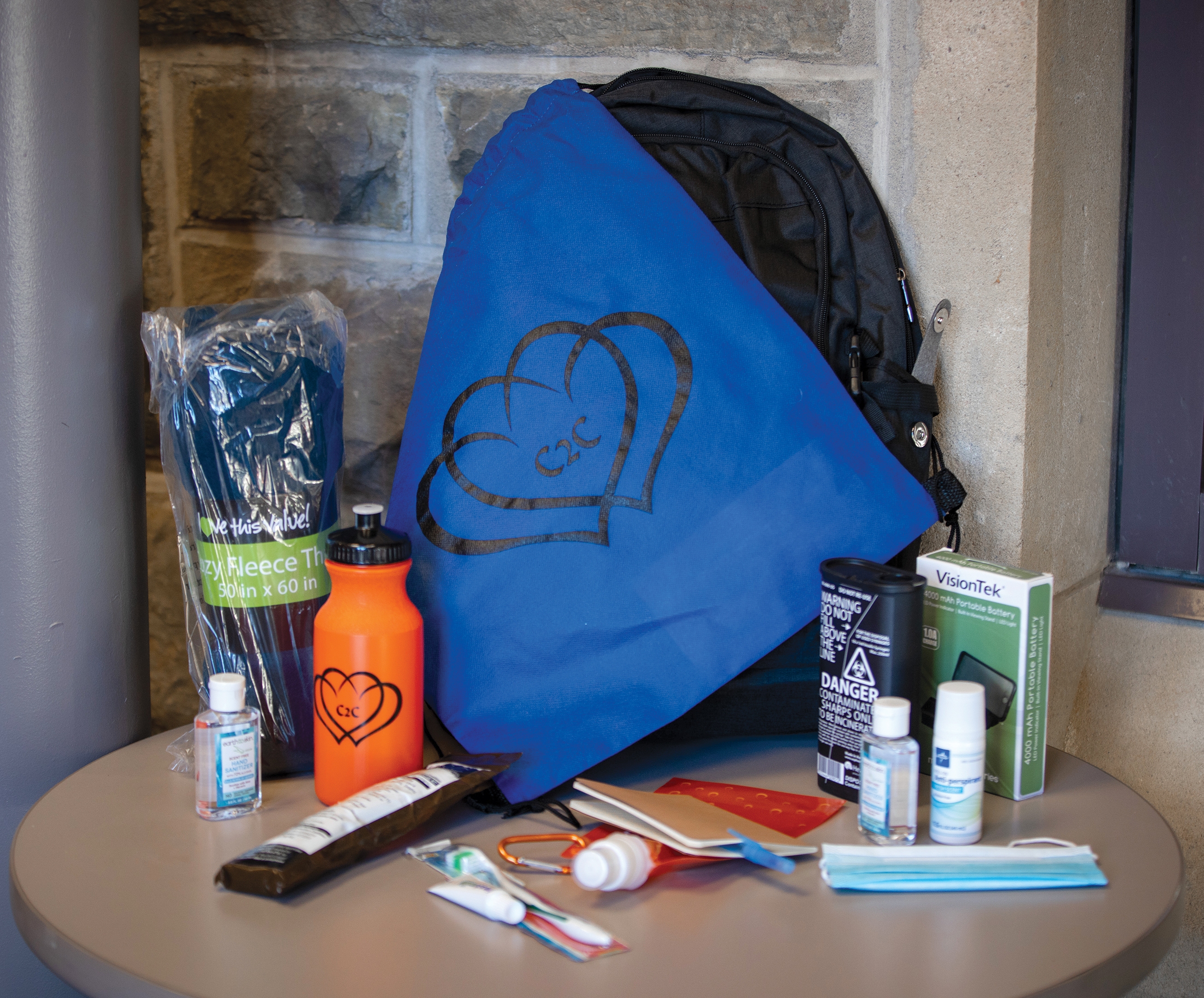 The goal of PACE is to create a bridge between emergency room patients with overdose-related issues and access to Medication Assisted Treatment (MAT) and substance use disorder specialists. PACE to Recovery has been funded by the State Opioid Response grant program and the Virginia Higher Education Opioid Consortium.
"They [our Virginia Tech partners] have helped us organize the program from its conception, going above and beyond to link us with other partners; develop materials, such as a brochure and logo; and helping with training people in MAT," Flora said. "The researchers are always looking for ways to collaborate with others and make an impact on the communities in Southwest Virginia."
The work of professionals like Wenzel; Mary Beth Dunkenberger, associate director of the Institute for Policy and Governance (IPG) in the School for Public and International Affairs; and Lara Nagle, IPG community-based learning projects manager, differs from commonly held notions of research. Their studies not only require collaborations with groups, such as community service boards, health districts, local governments, and various nonprofit organizations, but a commitment to building relationships that extend beyond grant cycles.
"A challenge we've found is that we'll get a grant that covers sometimes just a year, but when you're working with community partners, you can't just say, 'Oh well, our grant's up,' and go on your merry way," said Dunkenberger. "We're committed to those relationships too much for that."
Since much of the work typically takes place in person, the COVID-19 pandemic has created new hurdles, but also offered new opportunities to better understand real-life circumstances.
"We recently got in around 400 [C2C] backpacks, and normally I would have had graduate students help deliver those. But I couldn't ask them to do that right now," Dunkenberger said. "So, I've been out taking those to community partners, but what that has enabled is more community conversations. And those conversations can provide invaluable understanding of what's actually happening and what the needs are in the community."
Addressing the needs of communities relevant to substance misuse is also at the heart of Kimberly Horn's research. Horn, a professor at the Fralin Biomedical Research Institute and in the Department of Population Health Sciences in Virginia Tech's Virginia-Maryland College of Veterinary Medicine, is a co-principal investigator on the Connection 2 Care project.
"Despite an ever-growing number of people seeking help for opioid use disorders, only about 10 percent get the treatment they need for recovery," said Horn. And she suspects better peer support services may be one key to reverse the trend.
Horn is also a principal investigator with the Studies To Advance Recovery Support (STARS) Network. The partnership, which involves researchers across multiple universities as well as those associated with several health care systems, is focused on building research and support networks to address treatment and recovery support services.
"It is important for people in treatment to interact with others like themselves—people who have successfully navigated the same journey in their community and who can give them support as they rebuild their lives," Horn said. "We need to figure out how to create a recovery ecosystem that bridges the gaps. Our hope is that more in-depth studies will prove the value of peer support models so that they can be more fully accepted and utilized in our communities."
Part of the existing Opioid Research Consortium of Central Appalachia, STARS fosters teamwork between scientists, clinicians, practitioners, and community members. The network provides access to online inventories of peer recovery support resources and support professionals, as well as offering online training and certificate programs, consultations, and collaborations with clinics within communities.
A similar commitment to addressing all the needs surrounding substance use disorder drives the research of Megan Dolbin-MacNab, an associate professor in the Department of Human Development and Family Science at Virginia Tech. Dolbin-MacNab has spent her career studying grandfamilies–grandparents serving as primary caretakers for grandchildren–and more recently, the impact of the opioid epidemic on these families.
Nationally, the number of children entering foster care due to a parent's drug misuse has more than doubled since 2000, according to a study by JAMA Pediatrics, a journal published by the American Medical Association. If possible, it is preferred that children live with relatives, rather than enter foster care, Dolbin-MacNab said.
For decades some kind of substance misuse by a parent has been a primary factor behind grandparents' decisions to assume responsibility for their grandchildren. Crack cocaine was the primary substance of choice in years past, but today, it's the opioid epidemic that's once again pushing grandfamilies into the spotlight throughout America.
"The lethality and the highly addictive nature of opioids means that if a parent is misusing these substances, they may very quickly get to a point where they can't take care of their children," Dolbin-MacNab said.
In 2017, Dolbin-MacNab testified before the U.S. Senate Special Committee on Aging about the epidemic, and the next year, Congress passed a new law designed to evaluate and disseminate resources for grandfamilies on the federal and state level.
"Part of the reason I got into this field was to help families," she said. "You can help them one-on-one, but the policy level is where you can put larger resources and support in place."
Connecting people to resources and information is the core mission of Virginia Cooperative Extension (VCE), and as the incidence of substance misuse has increased, VCE has worked to implement programs that provide families with educational resources that target prevention. Since 2016, VCE has helped public schools in some of the most economically challenged areas of the state curb substance misuse by employing the Botvin LifeSkills Training Program, an evidence-based prevention program designed to teach students to make positive life decisions.
"It's really taking it away from the old, general health class that's about nutrition and talking about hygiene," said Patrick Mills, a health and physical education teacher at Laurel Park Middle School in Henry County, Virginia. "The program meets a lot of the needs of this age group, especially in this community, which has a lot of self-esteem issues related to poverty."
The discussion-based program teaches the skills required to resist drug, alcohol, and tobacco use, while also supporting the reduction of violence and other high-risk behaviors. VCE has trained more than 200 school teachers, who have reached more than 18,000 third through ninth grade students across 26 rural counties in Virginia. The program is often incorporated into the health curriculum.
"This is a really powerful connection across a lot of different community partners," said Kathy Hosig, Extension specialist, director of the Virginia Tech Center for Public Health Practice Research, and associate professor in the Department of Population Health Science. "Teachers are constantly saying how important it is that they have this training because it helps them interact with the students."
Such is the case for Mills and Melissa Bowers, a fellow health teacher and co-leader of the Laurel Park Middle School program. The pair said the real-world approach of the content keeps their students engaged, even in an online format.
"I've been surprised how many students really want to talk about these issues," Bowers said. "And sometimes during the lessons, you can hear a pin drop. It just really taps into some of the things they're experiencing at home."
Hosig is leading a multi-agency team to expand public school and community programs designed to curb the misuse of opioids and other substances, funded in part by a two-year, $1 million grant awarded by the Substance Abuse and Mental Health Services Administration to the Center for Public Health Practice and Research and VCE.
"This programming gives young people the tools to choose not to go down the path they see other people around them taking," Hosig said. "Long term, hopefully this will break the cycle of generations of substance abuse."
The areas in which these Virginia Tech researchers work vary tremendously, as do their methods. Nevertheless, they are connected by a common thread—the commitment to serve people and communities in the tradition of Ut Prosim ("That I May Serve.")
"We're committed to our community partners. We're committed to those relationships," said Dunkenberger. "And that's where we get our energy for the work."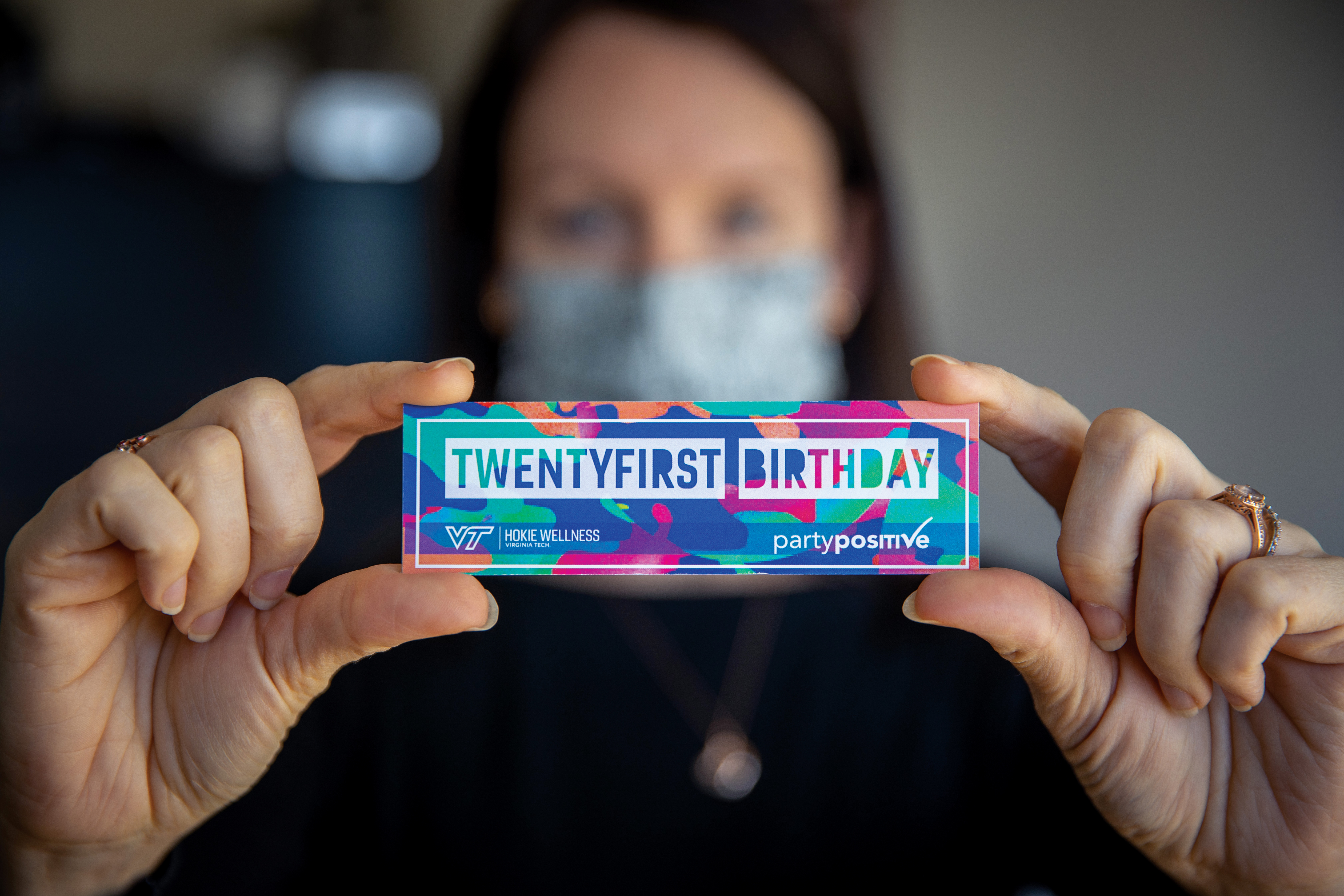 PARTY POSITIVE: A program of Hokie Wellness, the 21st Birthday Project was created to help students transition into the legal drinking age in a safe and happy manner.
SUPPORT
When Jack Mills turned 21 in March, Hokie Wellness helped him celebrate.
"I don't think many universities would think to give out birthday gifts, but then again, Virginia Tech isn't like most schools," said Mills, a junior studying marketing.
Shortly before his birthday, Mills took part in the Hokie Wellness 21st Birthday Project, where he received a book of coupons and vouchers for food at some of his favorite downtown Blacksburg spots, along with educational information about how to celebrate safely.
"They give you really helpful tips to navigate your first night downtown and a ton of free stuff, which is awesome," he said. "It's such a cool way for Virginia Tech and the Blacksburg community to show students they care about us."
A part of Hokie Wellness' Party Positive programming, the 21st Birthday Project is just one example of university-organized peer-to-peer, harm reduction strategies to address the use of alcohol and other substances. Student peer educators in the group IMPACT—Initiating and Motivating a Positive Alcohol Culture Together—team work with Hokie Wellness staff to hold regular workshops for student groups and perform outreach on campus.
"I really like sharing the Party Positive message because it's not saying, 'Don't party.' It's saying, 'Hey, let's talk about drinking and doing it in a healthy way,'" said Lia Dopp, a senior Virginia Tech student studying public health and a member of IMPACT. "I think there's this misconception about college life—that everyone is getting blackout drunk every night—when really people are drinking a lot less than you think. I like that the university is talking about that and making it okay to not drink. I think it takes the pressure to drink off students a little bit."
The peer-to-peer format is a foundational tool that spans all Hokie Wellness programming. Not only does this format help overcome some of the barriers in talking about sensitive subjects, it provides valuable leadership, teaching, and real-world problem-solving opportunities for the peer educators.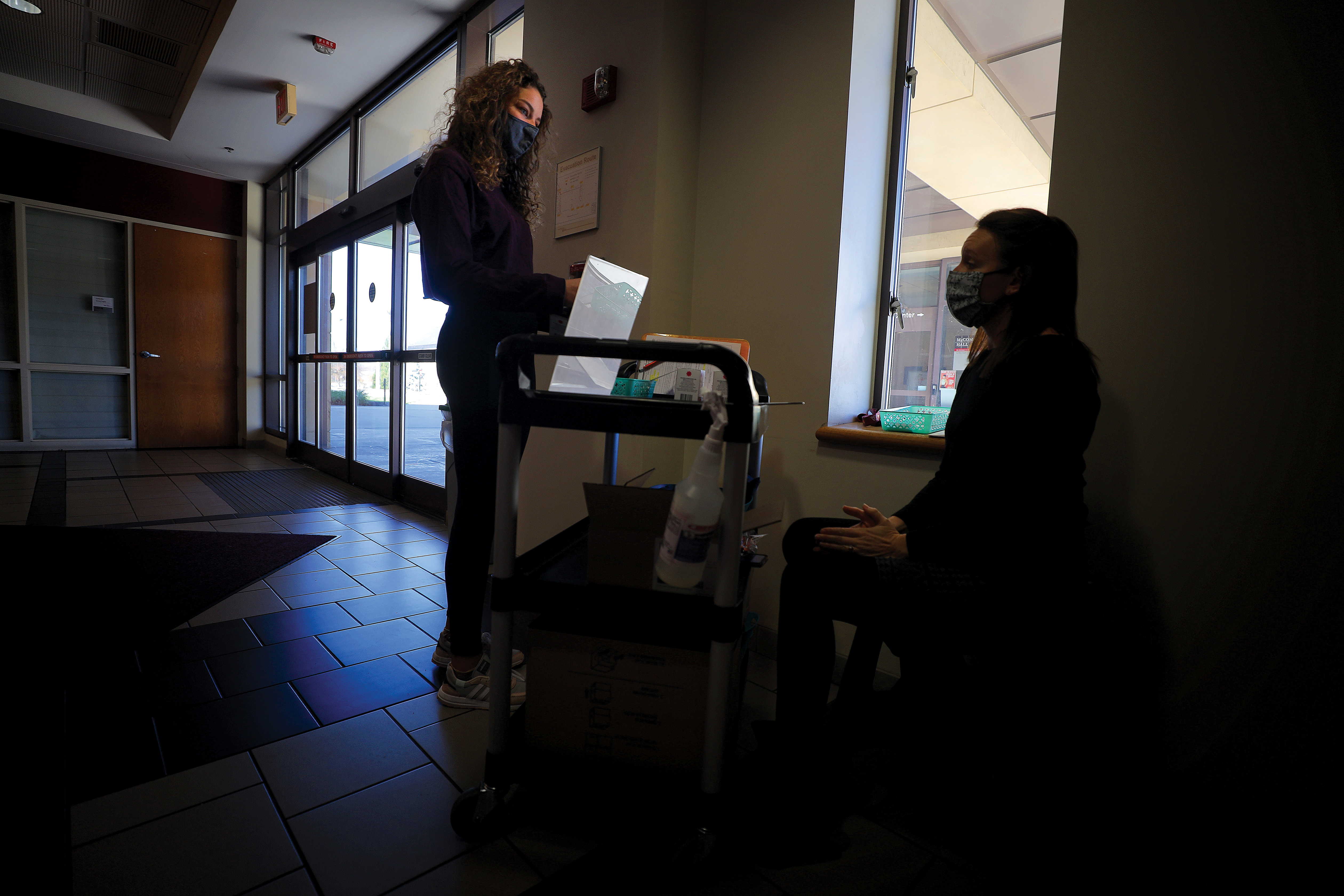 During the past five years, IMPACT members have helped educate thousands of Hokies about alcohol-related safety, providing more than 200 presentations to such groups as Greek organizations, university athletic teams, residence halls, and academic classes. And more than 5,100 students have taken part in the 21st Birthday Project since spring 2016.
The birthday project was founded by Hokie Wellness assistant directors Kelsey O'Hara-Marasigan and David Andrews on a simple premise.
"It is universally good knowledge to have in college," said O'Hara-Marasigan. "We never assume that any student drinks, but we know that having harm-reduction strategies will be helpful if they ever choose to do so or if they are around friends who are drinking. We want everyone to have all the information they need to make sensible decisions."
The program's success at Virginia Tech has garnered the attention of educators across the country. More than a dozen institutions have reached out for assistance with implementing similar opportunities for their students.
"The peer education model was the most inspiring part of Virginia Tech's idea," said Mindy Koon, assistant director of Alcohol and Other Drug Abuse Prevention at James Madison University. "What stood out to me was the opportunity for peer educators to use one-on-one time to speak with students about topics they wouldn't regularly bring up. While we have staff members that are able to facilitate the meetings, it's really our peer educators that have the most effective conversations."
For Virginia Tech senior Yadeen Rashid, it was the opportunity to have such meaningful conversations with fellow students that led him to join the IMPACT team.
"Being on the receiving end of one of their presentations is what drew me in," said Rashid, who is studying economics and political science. "I thought, 'oh, it's just going to be an alcohol seminar,' but it was really more about, 'hey, here's some basic knowledge so you can drink, you can go out and have fun, but you do it in a way that's safe.' Now I get to be the one sharing that information and seeing it being processed and really understood. I really like that."
GET TRAINED!
The opioid epidemic is a public health crisis. Any person, no matter their age, income, or any other demographic, can experience and suffer from addiction. Knowing how to respond and possibly reverse an opioid overdose can save someone's life and might help them access needed resources for recovery.
Hokie Wellness offers specialized training for the campus community through REVIVE. Other organizations throughout the commonwealth and around the nation offer similar educational sessions.
Anyone who completes REVIVE training through Hokie Wellness is eligible to receive a Virginia Department of Health REVIVE Opioid Overdose Response Kit. Each kit includes the lifesaving drug Naloxone in the form of FDA-approved Narcan nasal spray. Additional forms of Naloxone are available through local health departments and pharmacies.
KITS ALSO INCLUDE:
• Latex-free gloves.
• Rescue breathing face masks.
• Naloxone instruction card.
• Training completion card.
• Stickers to document the time of dosing.
While Hokie Wellness' Party Positive programs are focused on empowering current students, the REVIVE training program is aimed at equipping people from across the entire Virginia Tech community to help save lives.
The roughly hour-and-a-half-long course covers how opioids work, why they're extremely addictive, and how to respond in the event of an overdose. Those completing the course are eligible to receive Narcan, the opioid overdose reversal drug. Hokie Wellness supplies the nasal spray version of the drug free of charge, and other forms are available via health care providers or local health departments after completing the course.
"I wanted to be sure that I could prevent a tragedy," said John Galbraith, a professor in Virginia Tech's School of Plant and Environmental Sciences, who attended an in-person training prior to the COVID-19 pandemic. "Being able to administer Narcan seemed such an easy way to save a life until professional help could arrive. I often take large numbers of students on long field trips, and I wanted to prepare myself to bring them home safely."
Galbraith is one of the more than 530 people whom Hokie Wellness has trained through REVIVE since its conception in spring 2018. Over the past year, the course has been made available online, and the accompanying REVIVE kit, which includes Narcan nasal spray and other resources, can be picked up at a later date.
"REVIVE not only gives members of the university community an understanding of opioids and the ability to reverse related overdoses, but also helps to decrease the stigma surrounding this crisis," said O'Hara-Marasigan. "It's a great way for any person at Virginia Tech to demonstrate their care for the community and build empathy around topics that sometimes feel hard to discuss."
Such efforts help support the type of welcoming and supportive environment that Richard knew he would need when he arrived in Blacksburg to start his graduate studies.
Seeking a group to hold him accountable in recovery from alcohol and substance misuse, Richard researched Virginia Tech's Recovery Community. He contacted Monica Stanley, a recovery support specialist who works for Hokie Wellness. She invited him to lunch to learn more.
Now, he is a regular at the Recovery Community's meetings and other events. He even meets up with Joshua Redding, a counselor and assistant director at Hokie Wellness who runs the Recovery Community, at 5:30 a.m. several days a week for exercise and weightlifting.
"It's like, out of everyone I've met here, I feel the most connected to them," Richard said of the group.
When Redding initially came to Virginia Tech in 2014 to help students struggling with drugs, alcohol, and other substances, he noticed a gap. He would refer many students who were interested in long-term recovery to local Alcoholics Anonymous groups because those kinds of resources did not exist on campus. But the majority of the students found their way back to Redding.
"It [AA] didn't fit for all of them," said Redding, a 2000 Virginia Tech graduate and a former football player for the Hokies who earned a master's degree in counseling from Eastern Mennonite University in Harrisonburg before returning to his alma mater. "They didn't see themselves there."
Soon after that, Redding learned about a $10,000 grant, which was available through Transforming Youth Recovery, to launch recovery groups on campuses. He also met Tom Bannard, program coordinator for Rams in Recovery at Virginia Commonwealth University, who is considered a guru for college recovery programs. Bannard has served as a mentor to Redding and many others at universities across the country as they develop recovery groups at their respective campuses.
The private seed grant fueled the start of Virginia Tech's Recovery Community, formed in 2015 with the mission of bringing students and even faculty and staff together as part of their journey in recovery from substance use disorder. The community also helps students balance academics and social activities with their recovery. The cohort, which consists of about 10 to 15 members, meets once a week to discuss personal experiences and at other times for social events.
Prior to the pandemic, the group also gathered one evening a week at Bollo's Cafe & Bakery in downtown Blacksburg for free coffee and games. Bollo's would close to the public on those evenings to host the group. Redding also regularly opened his Blacksburg home for informal group dinners.
"College is a recovery-adverse environment, and some of these students feel there is no place [for them] in college," Redding said. "They feel socially isolated. To me, this [the recovery group] is the inclusivity part that we have been missing for awhile."
For the majority of Virginia Tech students who deal with substance use disorder, alcohol is largely the substance of choice because it is readily available and not illegal for those 21 and older, Redding said.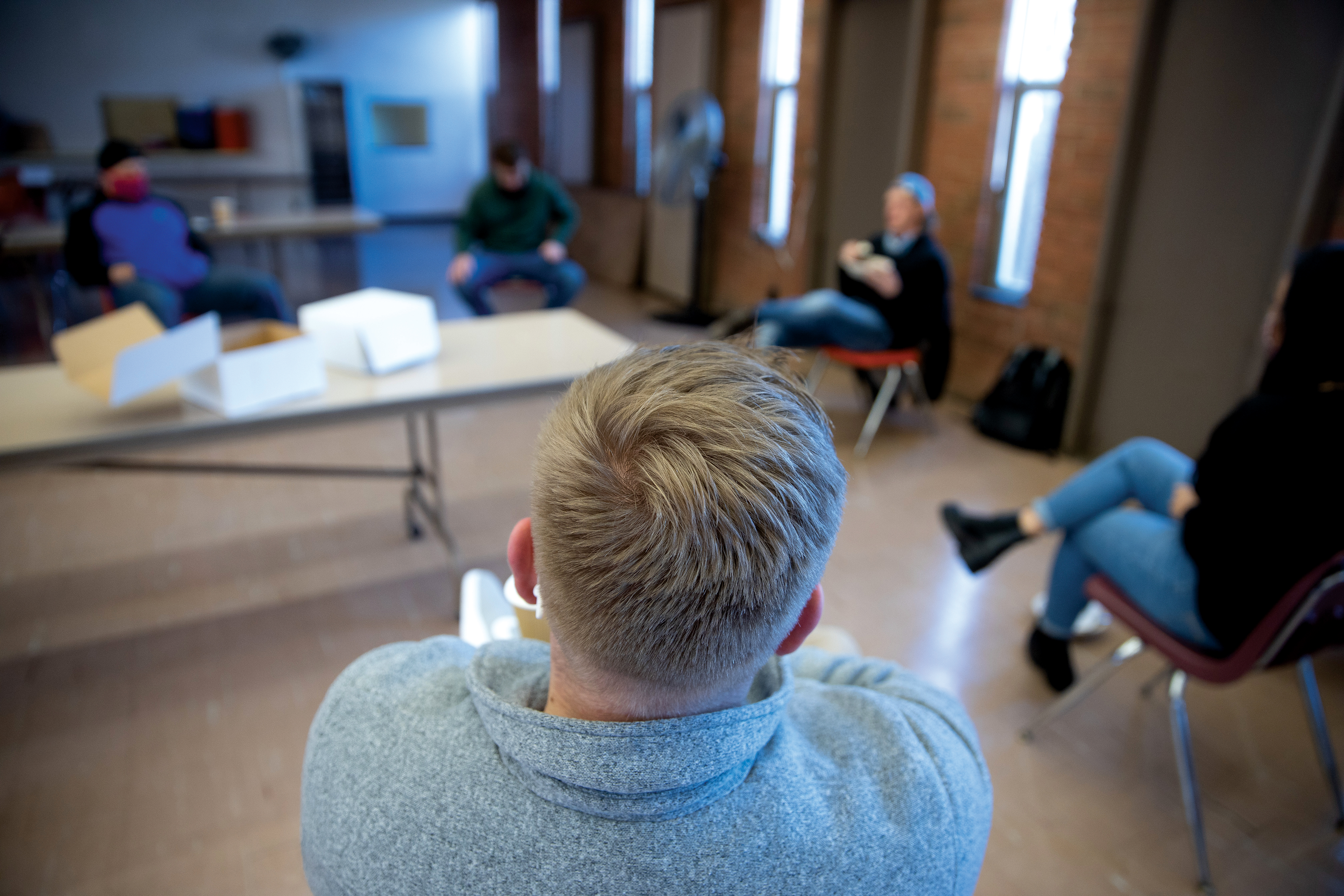 Typically, the first step in overcoming addiction is treatment for the problem, which may include everything from individual counseling to other kinds of intervention. After treatment comes the recovery phase, which is when a person seeks to sustain the behavior that they used to treat the problem and move away from negative patterns for good.
Hokie Wellness is not the only group at Virginia Tech that counsels students who need help with substance misuse. Cook Counseling Center offers therapy with a focus on harm reduction depending on students' preferences, while the Recovery Community is specifically for those who are interested in stopping the use of substances altogether.
One of the biggest challenges that people in recovery face is the stigma associated with addiction. The fear and shame associated with substance misuse can lead to isolation and even relapse. Recovery Ally training, a relatively new Hokie Wellness program, is designed to promote understanding and stamp out the stigma. The program, hosted by Stanley and Redding, is open to anyone at Virginia Tech.
Recovery Ally training, offered virtually during the pandemic, raises awareness about the factors that may lead to substance use disorder, explains treatment options, and offers tips for supporting family and friends in recovery.
"You can talk to a lot of folks on campus in recovery, but unless we have other folks who aren't in recovery talking for them as well, it's hard to make change," Redding explained. Both Stanley and Redding stressed that finding connection through a group like the Recovery Community is especially important for people who feel isolated in their misuse or related struggles.
During their weekly meetings, group members often discuss how they can give meaning to their past suffering, and each spring, there is a special commencement ceremony to celebrate the Recovery Community's graduates.
TOKEN OF HARD WORK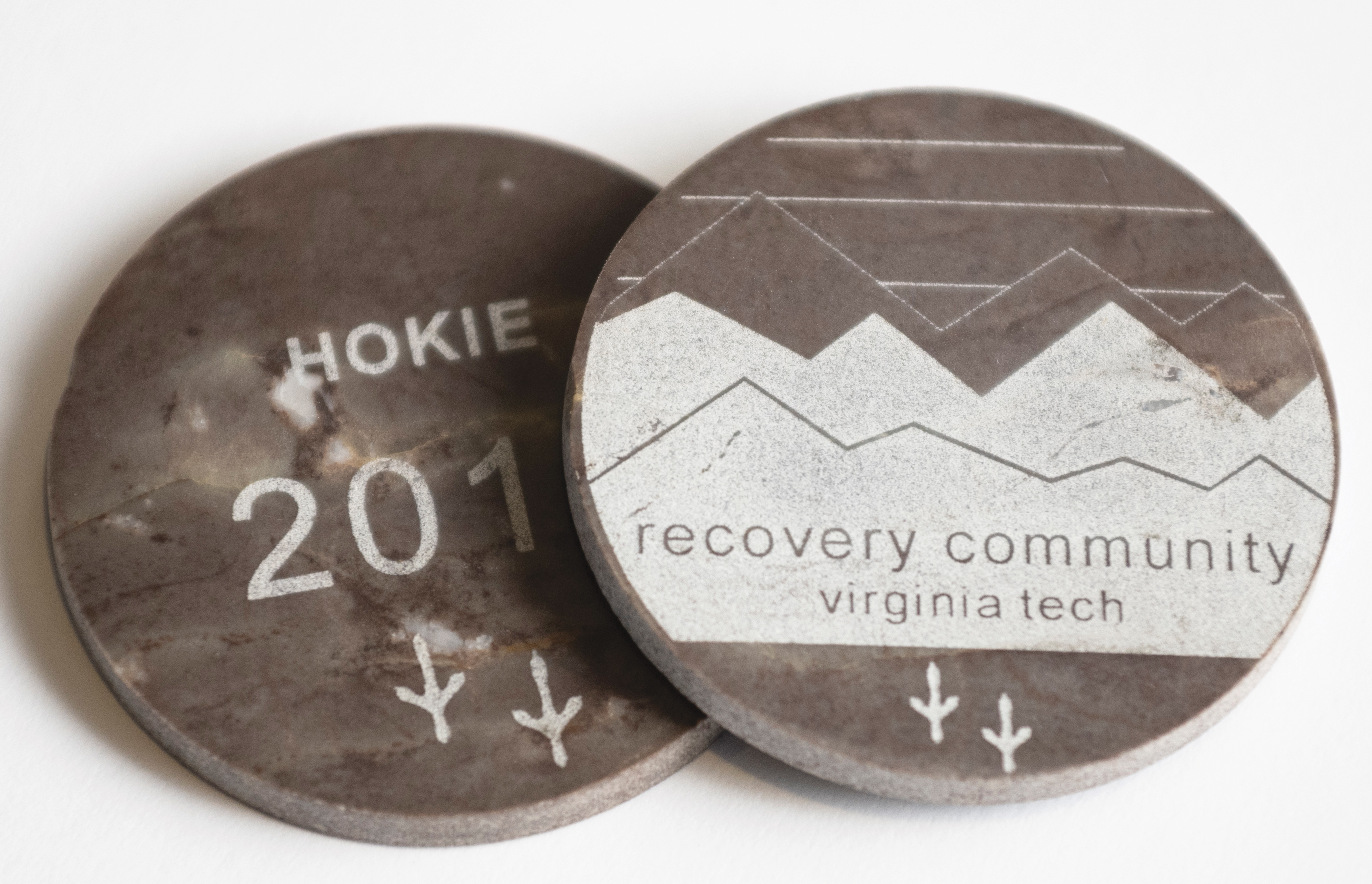 Each spring, Hokie Wellness hosts a special commencement ceremony for graduates of the Virginia Tech Recovery Community.
To commemorate the occasion, each graduate receives a round chip, carefully crafted from Hokie stone and with a mountainscape image and HokieBird feet printed on the front. On the reverse side, the graduate's name is printed with their graduation year.
The chip is a physical symbol of achievement in school and also in recovery.
Graduates also receive a purple cord to wear at the university's commencement ceremonies. Purple is the traditional color of recovery.
The Recovery Community is a support network for Virginia Tech students and employees who are recovering from substance misuse in a variety of forms. Its goal is to support students in their recovery journey while also helping them to balance academics and social life. The community meets weekly and is a lifeline for many members who find security and acceptance among others who are on a similar path.
About a year ago, Hokie Wellness opened the Roost, a room inside the Wesley Building on Roanoke Street that is a dedicated space for the Recovery Community to socialize and host weekly meetings. This spring, the Roost will relocate to a house on West Roanoke Street, which will include office space for Redding and Stanley along with more room for participants to hang out.
"Having a sober space is important," Stanley said. "It's a little bit more of a sanctuary."
The Roost was a much-needed haven for Michael Whalen, who graduated from Virginia Tech last year with a degree in material science and engineering. Whalen, who was in recovery for alcohol misuse, described the Recovery Community as a bridge between himself and Virginia Tech, and he enjoyed his first-ever sober spring break trip to Florida with the group.
"This is the place where we can just be together and not have to worry about being shamed or judged," he said. "I also saw the Recovery Community as giving me an opportunity to reach other students in need of help."
But the plans don't stop there. Several new initiatives are in the works, and there is no shortage of ideas to continue to grow the programs. Ultimately, the vision for the future of the Virginia Tech Recovery Community focuses on the well-being of students, and the implementation of these ideas and others will be contingent on funding.
One new avenue of awareness for the Recovery Community will arrive to campus this spring in the form of a traveling electric tricycle that serves coffee. Redding saw a similar concept at VCU and successfully pitched the idea to students and faculty in Virginia Tech's industrial design program. The bike will serve coffee and offer materials that raise awareness about substance use and related campus programs. Although the coffee will be free, the bicycling baristas will accept donations to support the recovery community.
In addition, Redding and Matthew Hulver, executive director of the Fralin Life Sciences Institute at Virginia Tech, are developing plans for a Recovery Scholars Program. The program would offer specific courses for students in recovery, from interviewing skills and personal finance to research and hands-on opportunities, and provide scholarships.
Hulver, who is in long-term recovery himself for alcohol use disorder, collaborated with Redding on the idea because he wanted to contribute in some way to the Recovery Community's growth and to address campus needs.
"For students in recovery, just getting to college is a big deal," Hulver said. "I think there are confidence levels that we need to help grow."
Although the project is currently conceptual, Hulver's aim is for the institute to support its development financially and instructionally and to help connect students with research. But philanthropic support will also be needed to launch this kind of initiative, he said.
"At the institute, our goal is to make impacts at the environment and human condition interface," he said. "So helping students, faculty, and staff in recovery, that speaks to the human condition."
Eventually, Redding said, he would like to develop community housing for students in recovery. Together, the students could navigate day-to-day routines of college life while they keep each other accountable and motivated in their recovery journey.
This kind of space would provide the like-minded support, community, and friendships that students like Richard need so that they can overcome challenges and be successful.
In recovery, "you have to reinvent your entire life, and you have to get to the core of your being and uproot all of these feelings and emotions. It's like getting reborn," Richard said. "No one really understands it except people who have been through it."