SCIENCE-BASED APPROACH
SCIENCE-BASED APPROACH
by Tim Sands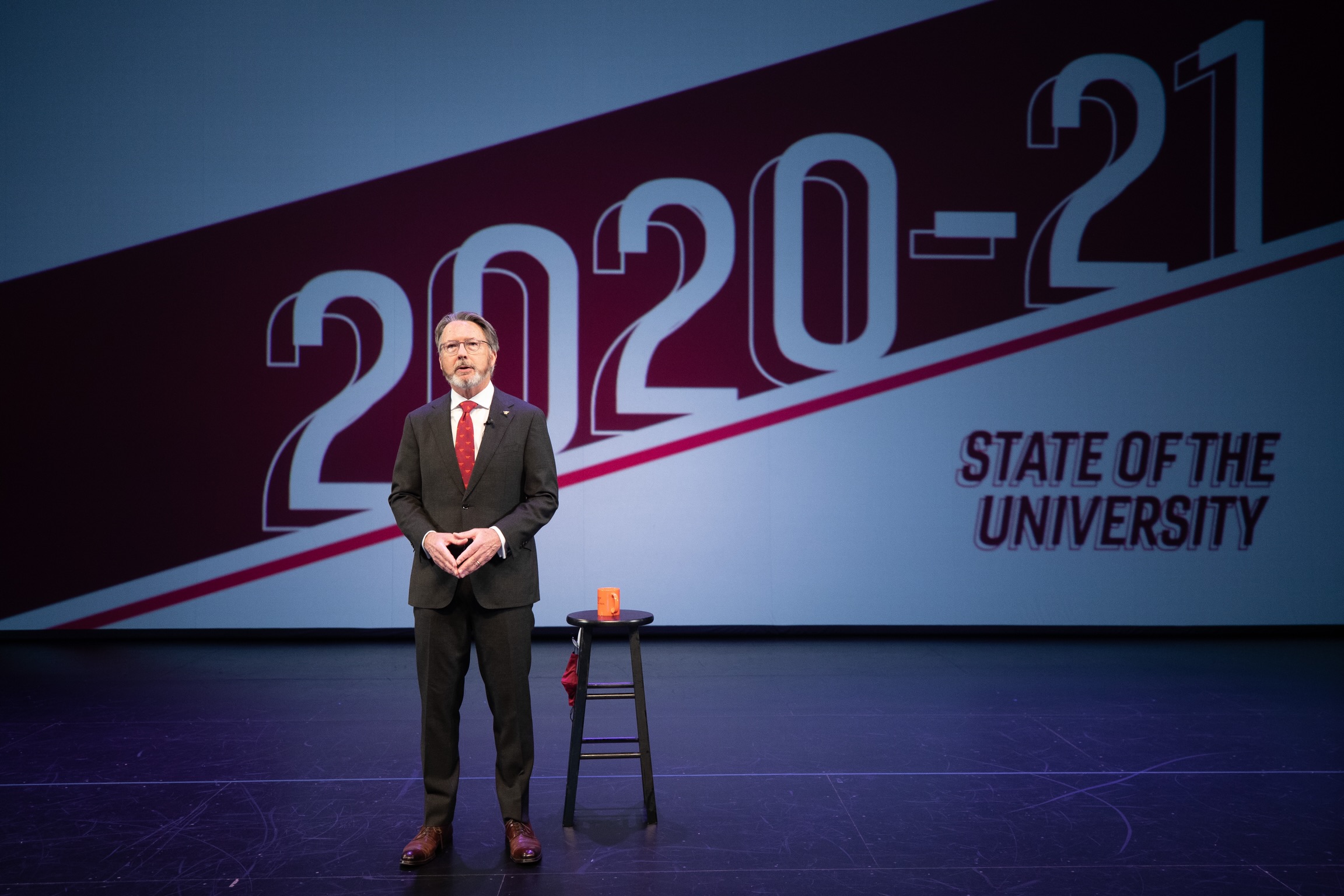 ADVANCING BEYOND BOUNDARIES: On Jan. 13, President Tim Sands delivered his fifth State of the University address. The presentation was streamed digitally, in keeping with the university's coronavirus mitigation guidelines.
More than a year after the pandemic changed our world, Virginia Tech continues to adapt, using a science-based approach to planning and decision-making to fulfill our education, research, and engagement missions.
We advance into spring and early summer with caution, but also with the hope that vaccines and the work of talented scientists here at Virginia Tech and around the world will lead us to a new normal in which Hokies can once again gather in numbers.
Meanwhile, our faculty and staff continue developing innovative solutions for both in-person and remote learning, and our students are rising to the challenges, participating in Virginia Tech's enhanced pods and seeking out new ways to define their college experience.
University alumni are providing relief through volunteerism, developing new businesses and programs, and finding ways to improve their communities, reflecting the worldwide impact of Ut Prosim (That I May Serve.) And we are deeply grateful for the way our alumni continue giving back to the university. Despite the pandemic, Hokies stepped forward and set new records for giving in FY20, with more than $185 million in new gifts and commitments and a 2 percent gain in alumni giving participation. And on Giving Day, Feb. 24-25, more than 12,000 donors gave more than $6.1 million in just 24 hours.
Research expenditures have also gained momentum. External funding rose by more than 6 percent last year, and researchers' awards grew by an average of 13 percent. Scientists like Linsey Marr are focused on addressing complex problems facing our world today. The Fralin Life Sciences Institute and Fralin Biomedical Research Institute at VTC have expanded their roles in direct response to the pandemic, serving our communities with COVID-19 testing and other important outreach. Our expansion in the greater Washington, D.C., area is hitting important milestones, including Alexandria City Council's approval of the Innovation Campus's first building. And the Virginia Tech-led Commonwealth Cyber Initiative has amassed $85 million in active research grants to advance research, innovation, and workforce development in this sector. Undergraduate applications for admission to Virginia Tech rose more than 30 percent over last year, including a significant increase in applications from underrepresented and underserved students. The increased demand for a Virginia Tech degree reflects the relevance and value of the university's mission and the accomplishments of our students, faculty, and alumni. We look forward to welcoming a talented new class of Hokies to campus in the fall.
We acknowledge the losses our global community has endured and yet are inspired for the future by the resilience and ingenuity of Hokie Nation. Our challenges notwithstanding, Virginia Tech is growing, leading, and advancing in alignment with our strategic plan, The Virginia Tech Difference: Advancing Beyond Boundaries. Thank you for your ongoing interest and support. I look forward to continuing our journey together.
Tim Sands is Virginia Tech's 16th president.