PARENTS, PAINTINGS, AND PUPS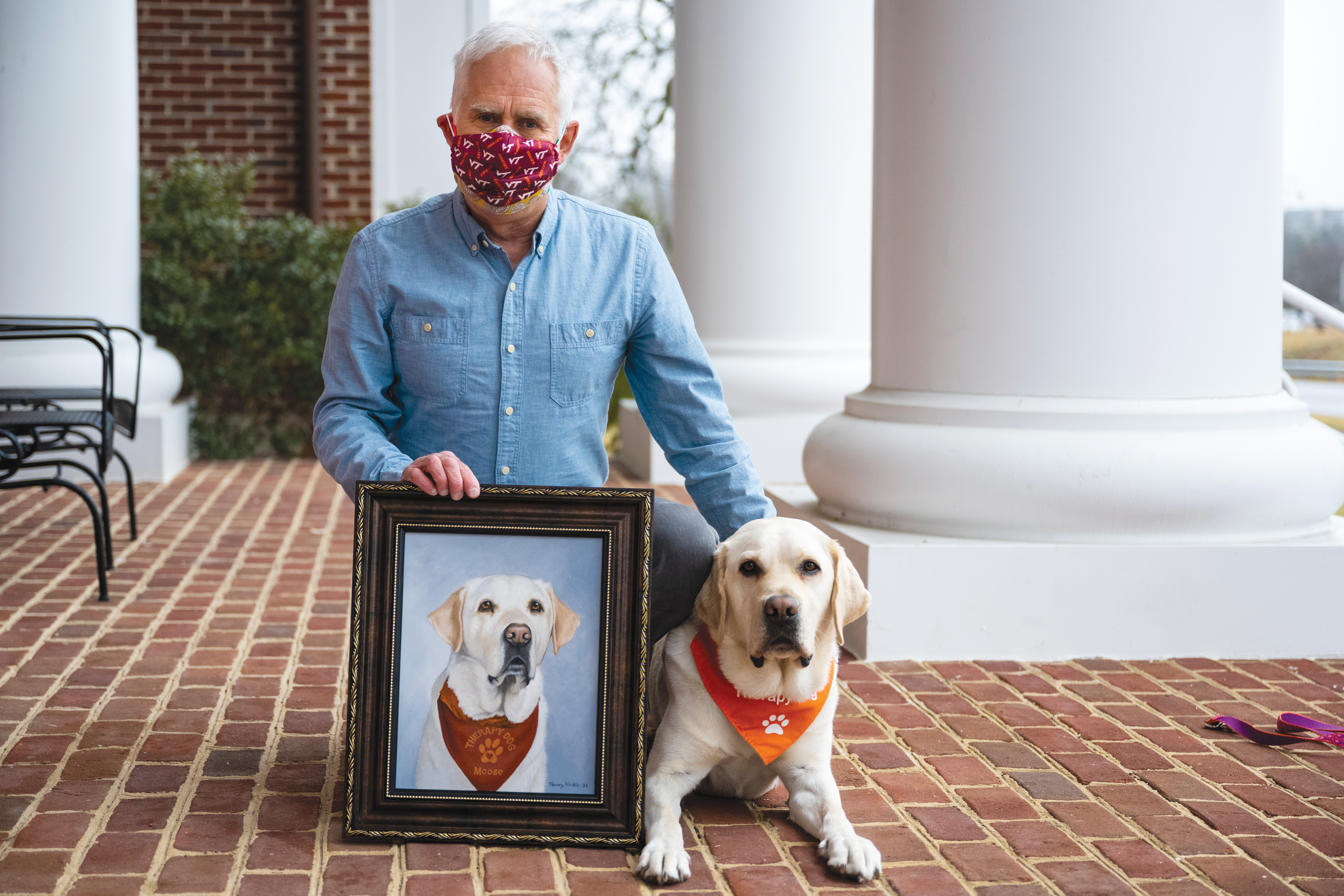 IN A PRIVATE FACEBOOK GROUP, Virginia Tech parents gather to share stories and seek advice. In true Hokie spirit, they offer support, celebrate successes, and reach out in times of distress. The volunteer-run group is not an official platform of the university, but organizers work in tandem with Virginia Tech to ensure that the space supports the accurate, respectful exchange of information.
And of course, the 20,000-plus members also engage in lighthearted, fun activities, such as "VT, I Spy."
"VT, I Spy" is the brainchild of Tammy Cartonia Hinkle, of Glen Allen, Virginia. Tammy, an artist whose work includes large murals, joined the parent group while her son, Benjamin '19, was a student. Her husband, Chris Hinkle, earned a master's from the university in 1997.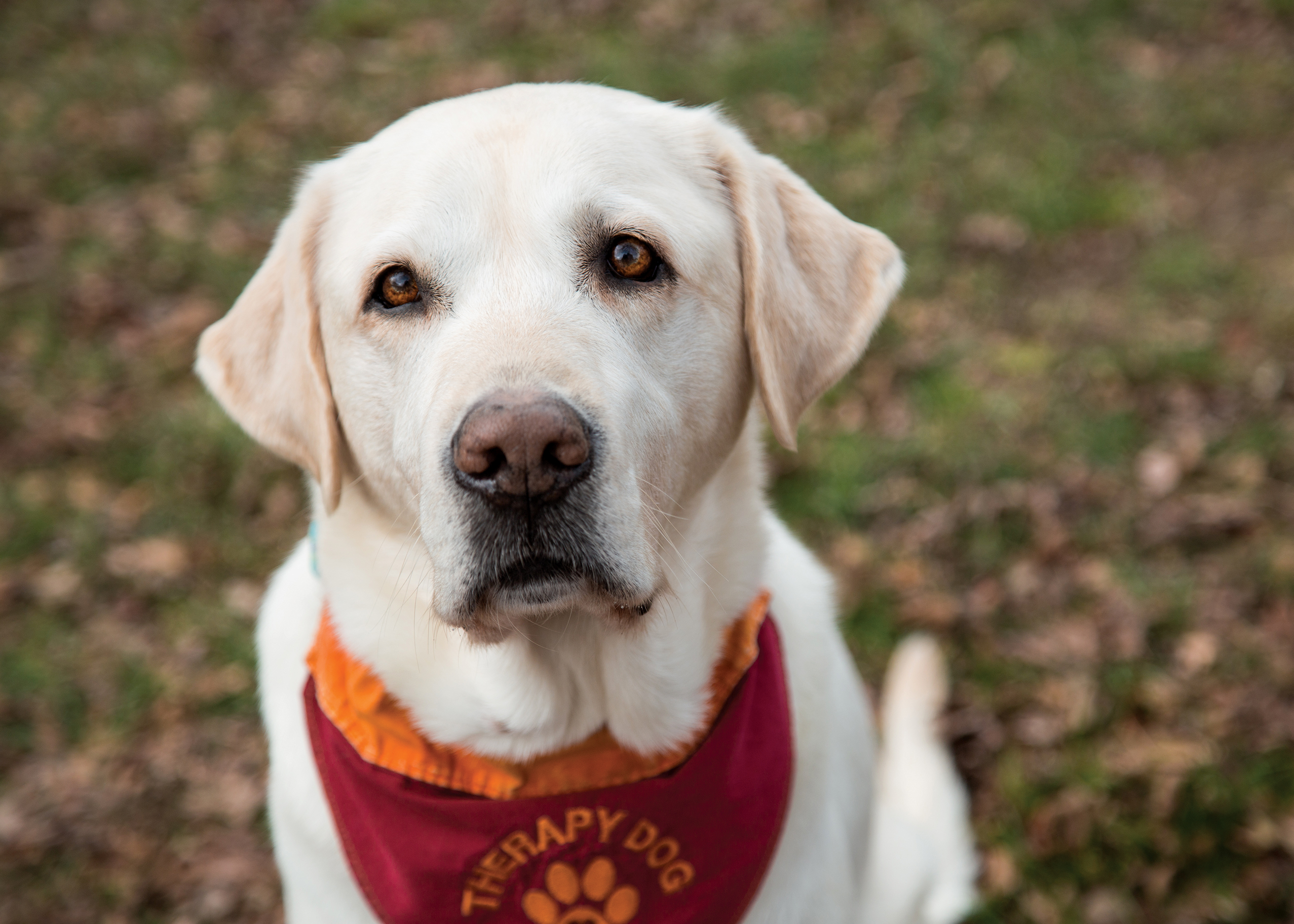 A "PAWSITIVE" OPPORTUNITY
According to Trent Davis, Moose was one of those beings that just keeps giving.
"Moose was exactly the right dog, at exactly the right time, in exactly the right place," said Davis. "His legacy is simple. By being himself, he made a real difference. He lived the way we encourage our students to live: Be true to yourself; the rest will come."
According to Davis, Moose's presence made counseling cool, breaking down barriers between students and counselors. To continue that work, Davis has worked to establish a special endowment in Moose's memory.
Funds raised will provide programmatic support for the Animal Assisted Therapy program at Virginia Tech.
Make a gift at: give.vt.edu/drmooselegacy
In 2018, Tammy was invited to help paint a sea life mural in a children's hospital in Virginia. Another artist involved in the project chose the color scheme, settling on hues of blue and orange, the colors of Virginia Tech rival UVA. In response, Tammy hid a "VT" in the tail of one of the sea creatures, sharing her rebuttal via a photo post on the parents' social media page. The post was so popular that Tammy began hiding VTs in more of her paintings, which she would later put online for parents to find.
"It's all about giving back, finding ways to bring joy to other people," Hinkle said.
Hinkle now focuses her energies on canvas creations. She paints a variety of subjects, including animals. Hinkle admits that memorializing pets for her clients is a sort of a passion. So, when she learned of the death of Virginia Tech's beloved therapy dog, Moose, Hinkle reached out to Trent Davis, counselor and coordinator of Virginia Tech's Animal Assisted Therapy at Cook Counseling Center, offering to gift a portrait in recognition of Moose's "pawsitive" contributions.
"I was touched by Tammy's offer to paint Moose," Davis said. "She kept in touch throughout the process. For me, it was like watching a photographic negative while it was developing. She really gets the relationship that humans have with dogs, and she wanted every aspect of Moose's picture to be right."
Davis describes Moose as the epitome of what it means to be a Hokie, serving with the gifts that you have, whatever they may be. "We are all special, and we all have the capacity to change this world. Ut Prosim is about relationships, and Moose helped our students understand that," he said.
Born and raised at Guiding Eyes for the Blind in Yorktown Heights, New York, Moose paused his formal guide-dog training when he was diagnosed with a minor kidney issue. The timing of his dismissal coincided with Davis' search for a new therapy dog in Blacksburg.
Davis said Moose's unmerited love and ability to be "present" was a great asset to Cook Counseling Center's mission to serve a student population, many of whom are facing stress and change at a time in life when mental health issues often first arise. Moose's "pawsitive" vibes made discussing hard topics easier and led to clients missing fewer appointments. Davis believes Moose's presence both on campus and on social media channels also helped tear down the stigmas often associated with mental health.
During his seven years at Virginia Tech, Moose aided in more than 7,500 counseling sessions and more than 500 outreach events, becoming one of the university's most beloved celebrities in the process.
Moose's service and accomplishments reached beyond the university into the surrounding community, including work at the monthly "Paws to Read" program at the public library in Blacksburg. He was honored in 2019 with the Virginia Veterinary Medical Association's Animal Hero Award and was recently recognized with a proclamation of appreciation from the veterinary college in honor of his support to veterinary students.
Today, the therapy dog pack at Virginia Tech includes three members: Derek, Carson, and Wagner.
Moose, who had been diagnosed with cancer in the spring, died on Dec. 2, 2020.
Hinkle's portrait of Moose arrived in Blacksburg in early February. The painting (see still-life.php) is also the latest edition of "VT, I Spy." (Hinkle has hidden four VTs in the painting. Find the answers at vtmag.vt.edu/ispy.)
The original hangs prominently on a wall in the home that Moose shared with Davis. "She really captured his eyes," he said. "His soul was in his eyes." ES