IN MARCH 2020, COVID-19 FORCED Jarred Green and college students like him to finish the semester via remote learning from home. Not one to sit around with nothing to do, Green, who graduated in May, turned his boredom into a woodworking business by implementing a series of simple and easily replicable steps.
1. FIND SOME FREE TIME
Green left behind a hectic class schedule and a heavy workload in Blacksburg when he moved back home to Chesapeake, Virginia. Searching for something to fill the time, he turned to a table saw he had received from his parents at Christmas.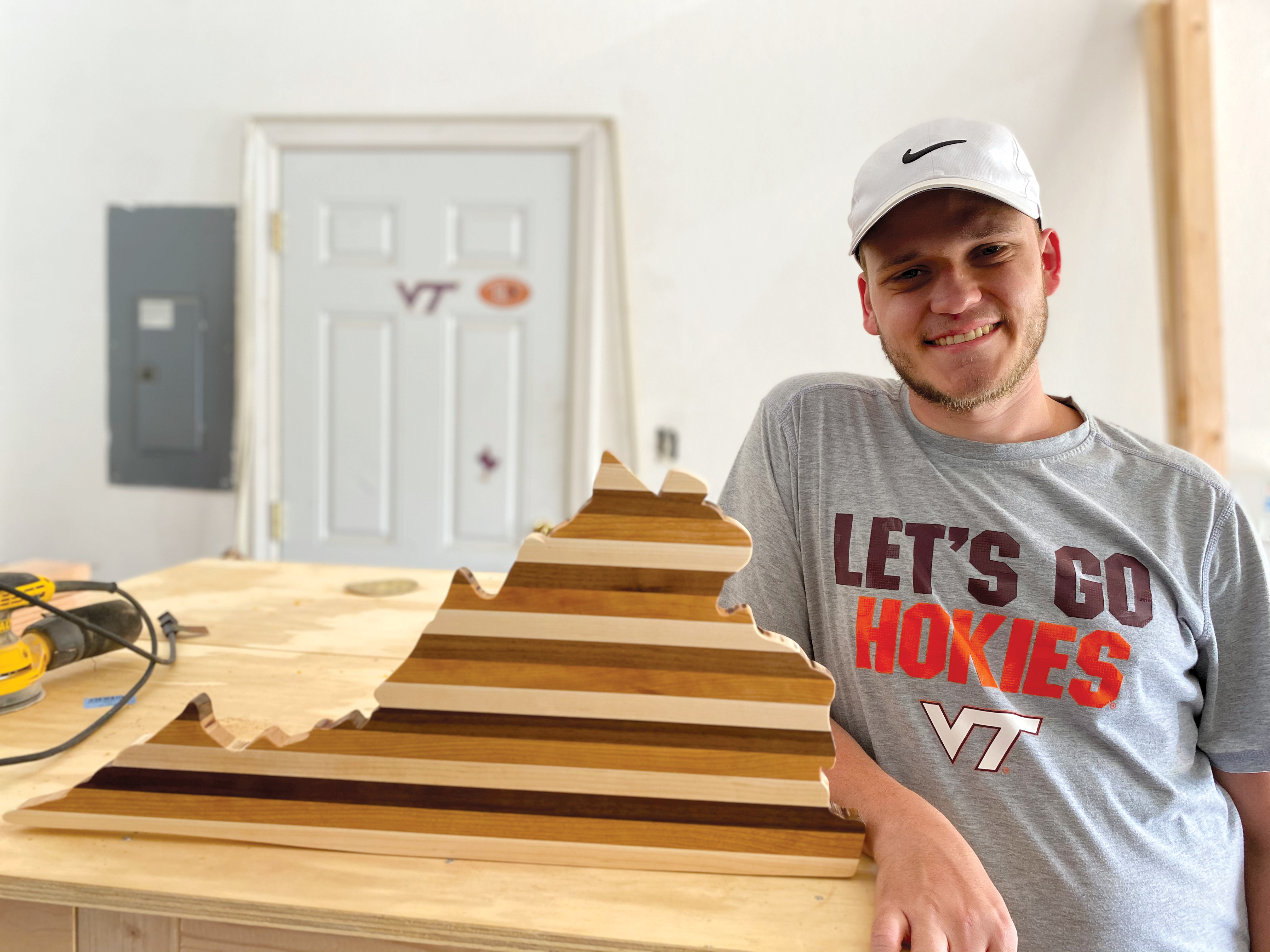 2. FIND SOMETHING YOU LOVE TO DO
Armed with the saw and a passion for craftsmanship, Green had his ticket to a new business venture. A quick online search pointed Green to a few product ideas. After purchasing the necessary supplies, Green got to work, finishing five cutting boards in one weekend.
3. USE YOUR CURRENT NETWORK AND RESOURCES TO YOUR ADVANTAGE
Green's first clientele base was a clear choice. He knew his mother and her friends would be interested in his custom cutting boards, so he reached out to them. They were enthusiastic about his products and supporting his business. "It just kind of exploded from there," he said. Now, he uses social media apps as a platform for making cold calls to potential customers, which he says has been highly (and surprisingly) effective.
THE CUTTING EDGE: Armed with a table saw he had received as a gift, Jarred Green transformed his parents' garage into a small business space. Photos Courtesy Meghan Green
4. MAKE A BUSINESS PLAN
After the initial boom, Green knew he had to make a plan in order to keep up with orders and maintain his sales figures. Each month, Green reviews spending and earning in order to stay solvent. Aside from reaching his monthly business goals, a measure of Green's success is the amount of space his venture takes up in his parents' garage. Green's mom no longer can park her car there.
5. KEEP UP WITH TRENDS AND GET CREATIVE
Green expanded from making cutting boards when he realized he had the tools and talent to experiment with more products. It became clear that his customers were eager for more as well. Green now builds custom painted Adirondack chairs for sports fans, plant hangers for gardeners, and even specially made countertops. He refuses to become complacent and continues to work hard and stay ahead of the curve.
Rosie Hutchison, a senior majoring in public relations, is an intern with Virginia Tech Magazine.