S P A C E D O U T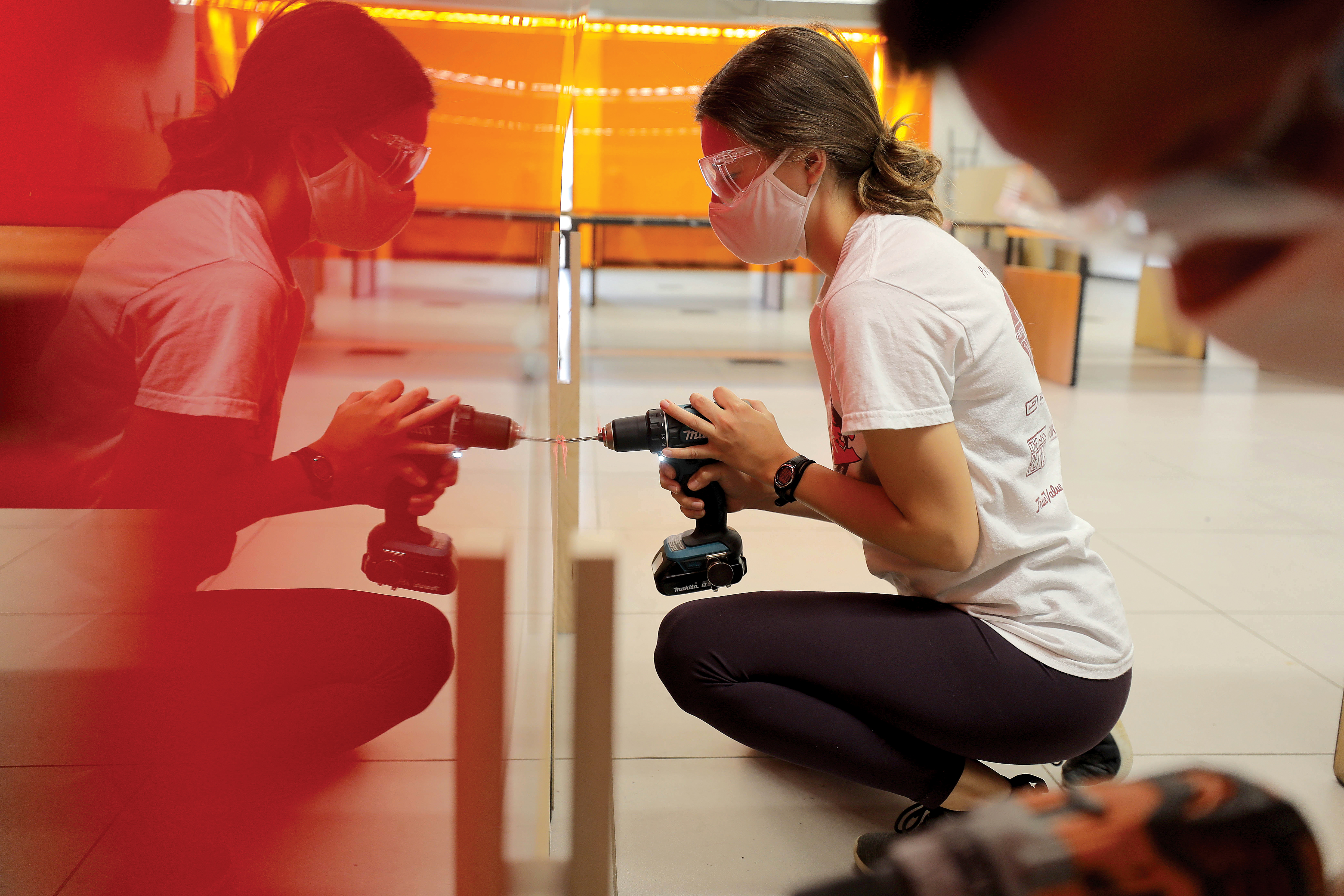 THROUGH A LOOKING GLASS: Throughout campus, labs, classrooms, and other spaces were rearranged to accommodate distancing guidelines. In the College of Architecture and Urban Studies, colorful plexiglass panels were installed between workspaces. The individual spaces with see-through partitions helped create a studio environment that, while different, maintained an atmosphere conducive to student's design needs.
CREATIVE, EXPERIENTIAL LEARNING opportunities are central to the Virginia Tech experience. So when restrictions related to the COVID-19 pandemic altered the day-to-day routines of campus life and learning, students, faculty, and administrators innovated, restructuring traditional classrooms and lecture halls. Different in-classroom arrangements were used to maximize space, while staying safe, and Hans Robinson, a professor in the Department of Physics, provided resources, including a slide presentation and a software program to support departments in reconfiguring layouts specific to variances in classroom shapes and instructional needs.
Many Hokies also took teaching outside and into campus spaces, developing what some might call avant-garde academic areas.
During a time when many universities across the country were forced to return to fully online learning due to outbreaks of COVID-19, Virginia Tech successfully completed the fall semester as planned. In total, 360 courses were held in-person and 1,604 courses followed a hybrid model, having some level of in-person activities, this fall. To date, the Virginia Department of Health has not seen evidence of the transmission of COVID-19 in those classrooms or laboratories during the fall semester, according to Noelle Bissell, health director of the New River Health District. TW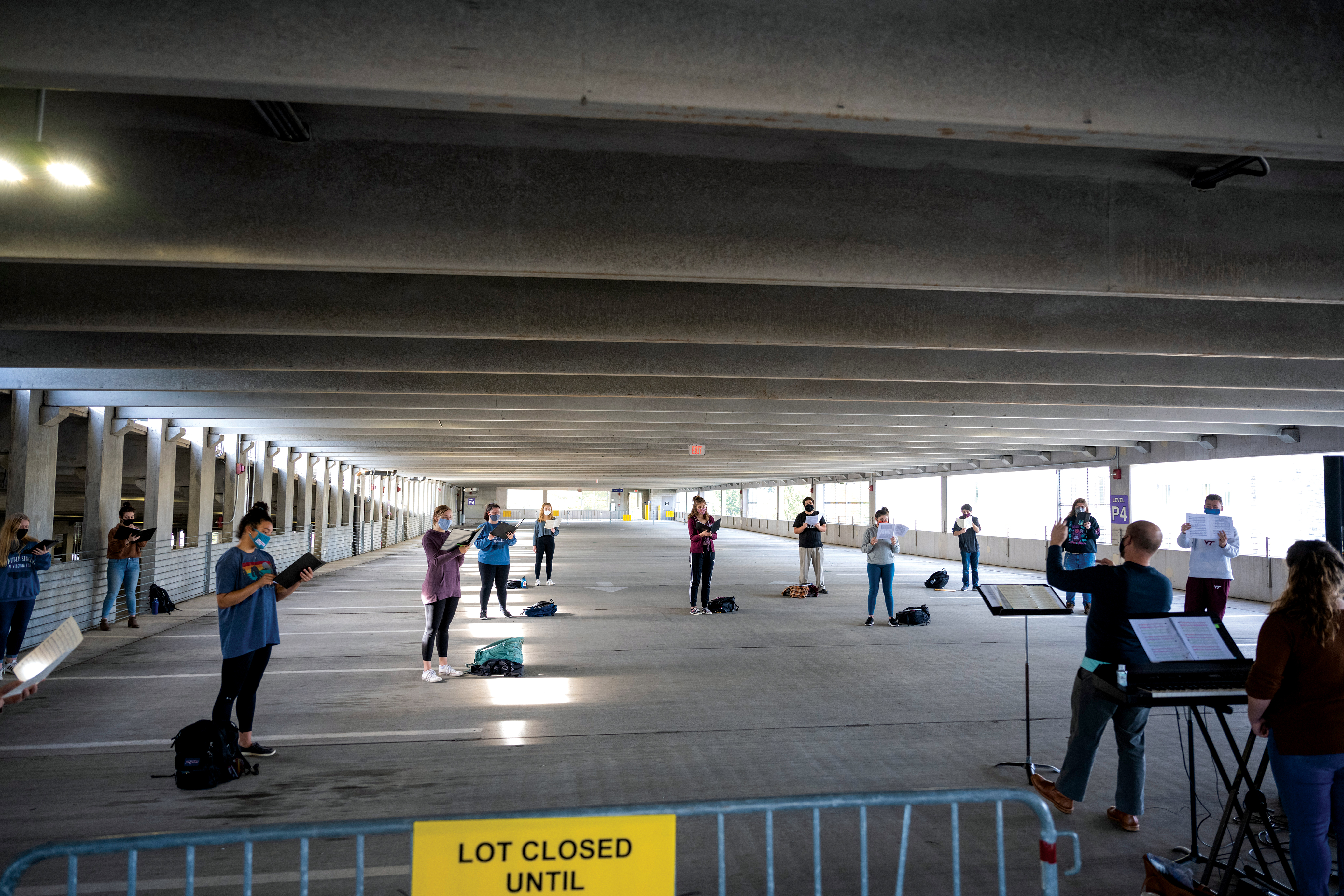 GARAGE BAND VOCALS: The Virginia Tech Chamber Singers didn't expect to start a garage band, but the global pandemic called for a little improvisation. They barricaded a section of a parking garage to create a low-risk space to rehearse. The parking space lines served as a visual reminder to maintain physical distance, and the natural ventilation helped mitigate airborne secretions as the members sang.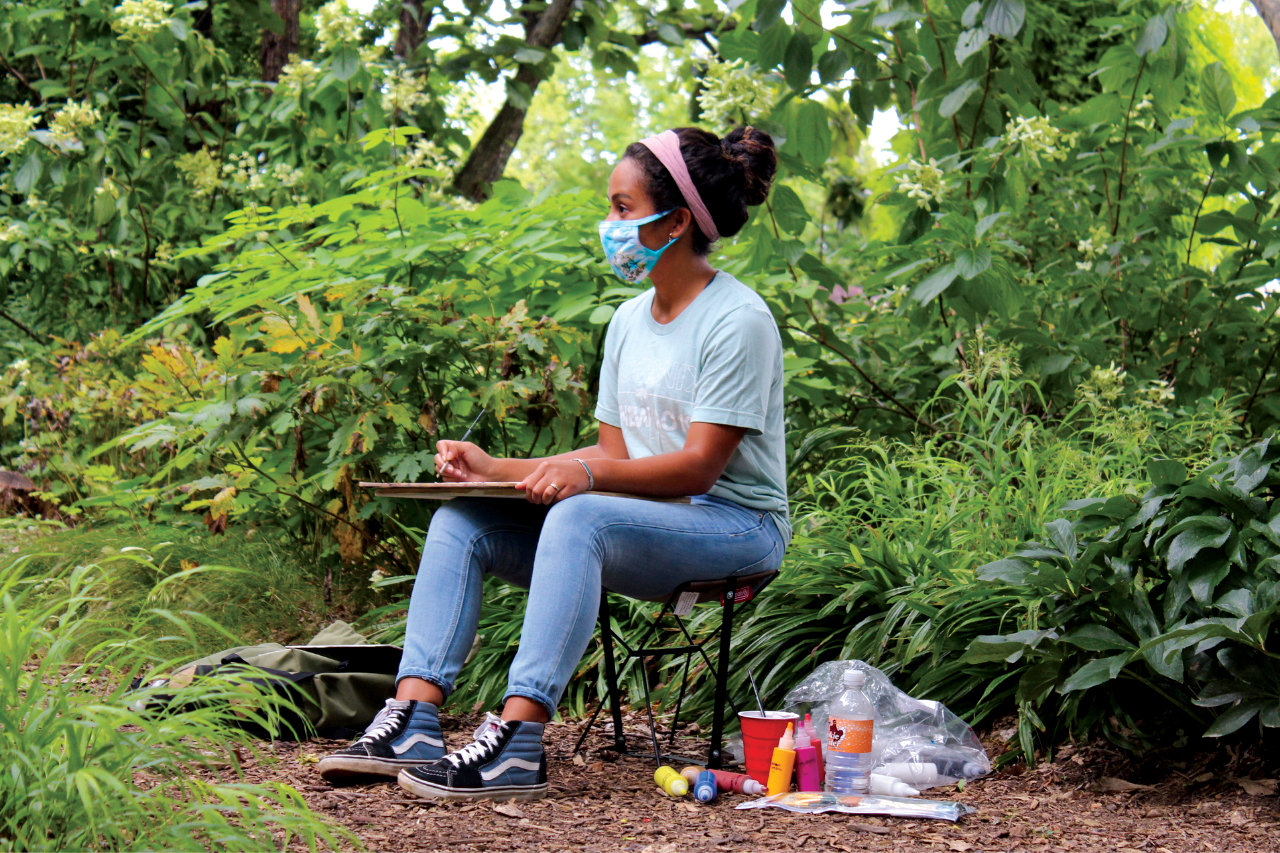 GETTING OUT AND ABOUT: In an effort to maximize in-person learning opportunities, faculty members in the School of Visual Arts are taking to the great outdoors—and providing a much-needed outlet for students in their classes. To increase these options, the school made an agreement with the Town of Blacksburg to use the covered pavilions at the Blacksburg Farmers Market as open-air classroom space.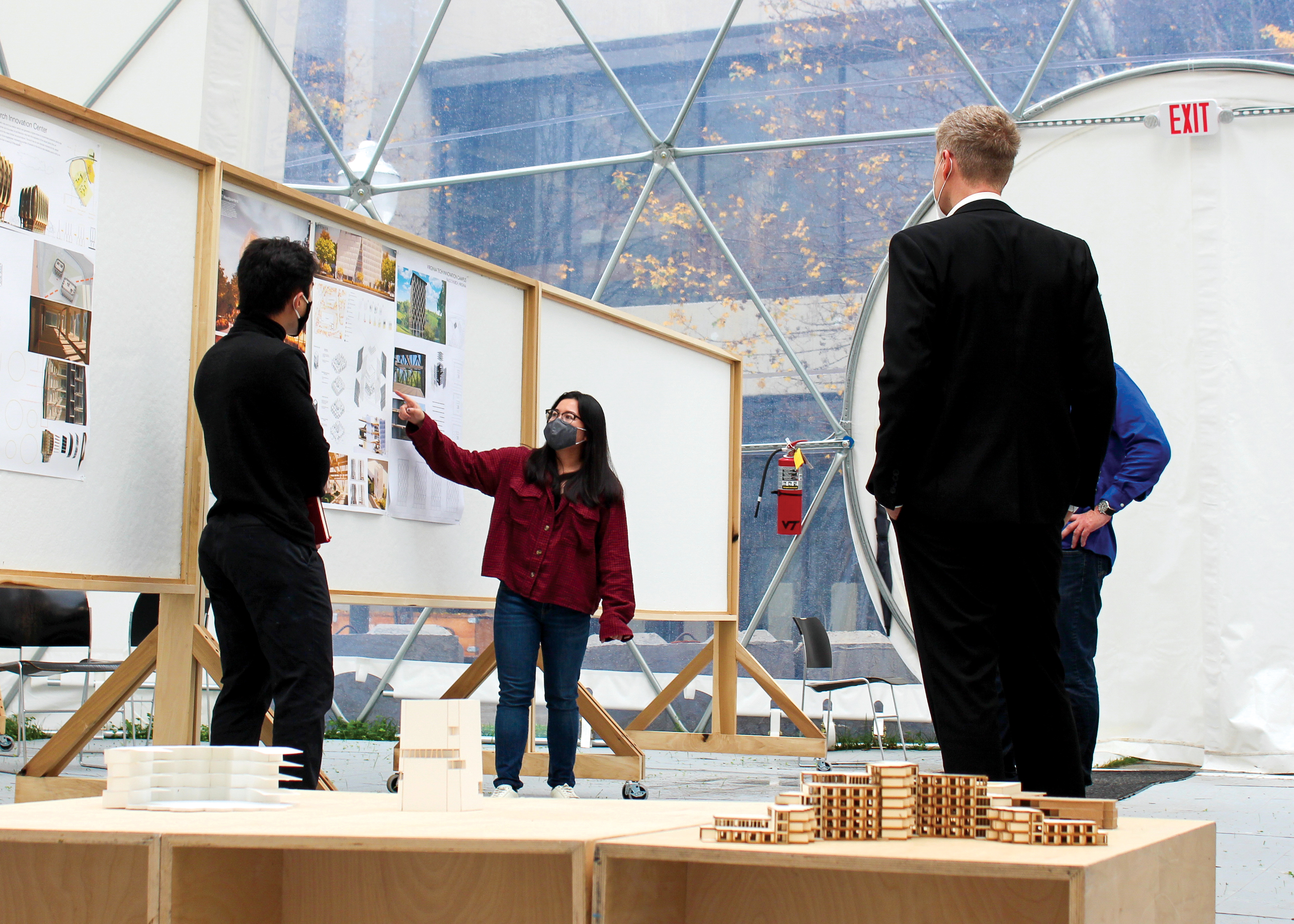 A DOMECOMING: Standing out in stark contrast to the familiar façade of Cowgill Hall, a bright white, 2,900-square-foot geodesic dome now bridges the gap to Bishop-Favrao Hall and adds a futuristic aura to the Hokie Stone surroundings. The dome can host up to 25 people with proper physical distancing and provides additional space for faculty teaching, student presentations, and small gatherings during spring 2021 semester.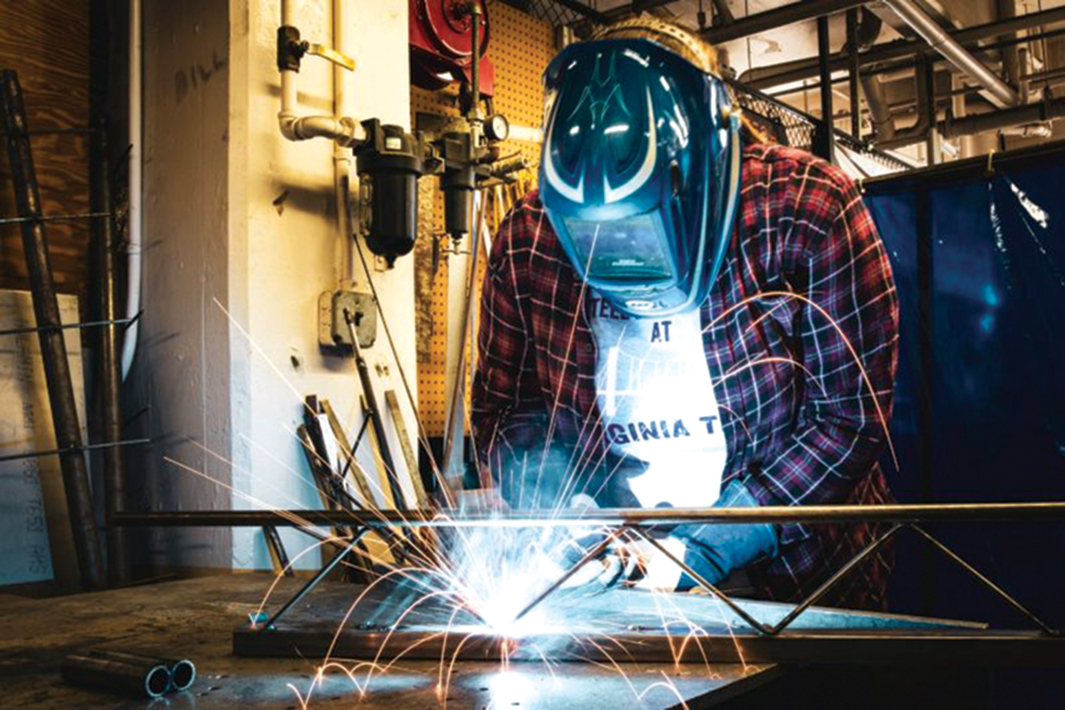 ENGINEERING DISTANCE: The Ware Lab is a 10,000-square-foot design space. Plexiglass partitions were installed in lab spaces, and students interested in using the lab were required to adhere to rules that included limiting capacity, maintaining distancing, wearing a mask at all times, and following protocols for disinfection of spaces, self-quarantine, and testing for potential exposures.
These VTNews articles detail how the university has created other classroom spaces:
https://vtnews.vt.edu/articles/2021/01/unirel-studyspaces.html
https://vtnews.vt.edu/articles/2020/07/univrel-classroomchanges.html
https://vtnews.vt.edu/articles/2020/08/activating-outdoor-spaces.html
https://vtnews.vt.edu/articles/2020/10/unirel-chambersingers.html
https://vtnews.vt.edu/articles/2020/12/CAUS-dome-COVID-19.html
https://eng.vt.edu/magazine/stories/spring-2020/built-for-the-long-game.html