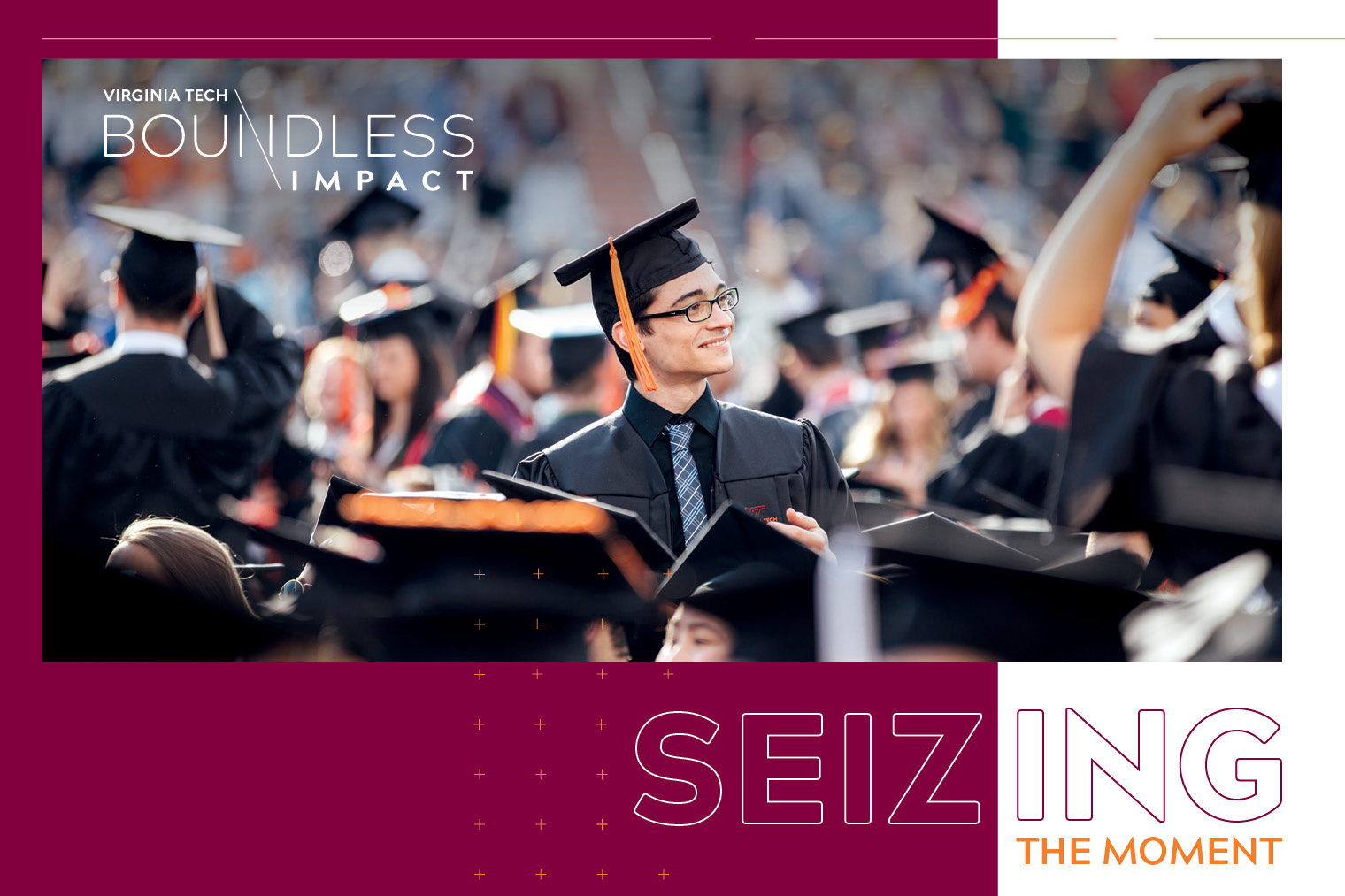 Institutions that stand the test of time must capitalize on moments of change and challenge.
Virginia Tech is in that moment.
Never before have the opportunities been greater nor the pressures as intense for an institution that promises to deliver today's solutions and tomorrow's leaders.
Through the most ambitious fundraising and engagement campaign in its history, Virginia Tech will raise $1.5 billion and engage 100,000 alumni. Boundless Impact: The Campaign for Virginia Tech, will make it possible for the university to achieve once-unimaginable goals.
In Blacksburg, in the greater D.C. area, in Roanoke, and around the commonwealth, a growing Virginia Tech is seizing the opportunity put its bold vision into action and become a leading university on the world stage.
Years of strategic planning and ambitious moves have positioned Virginia Tech to play a major role in solving global problems and preparing uniquely qualified leaders for an increasingly complex and challenging world.
With the launch of Boundless Impact: The Campaign for Virginia Tech, the university is marshalling support from the entire Hokie Nation to fuel new programs, initiatives, and capital projects. Together, we will propel Virginia Tech to greatness.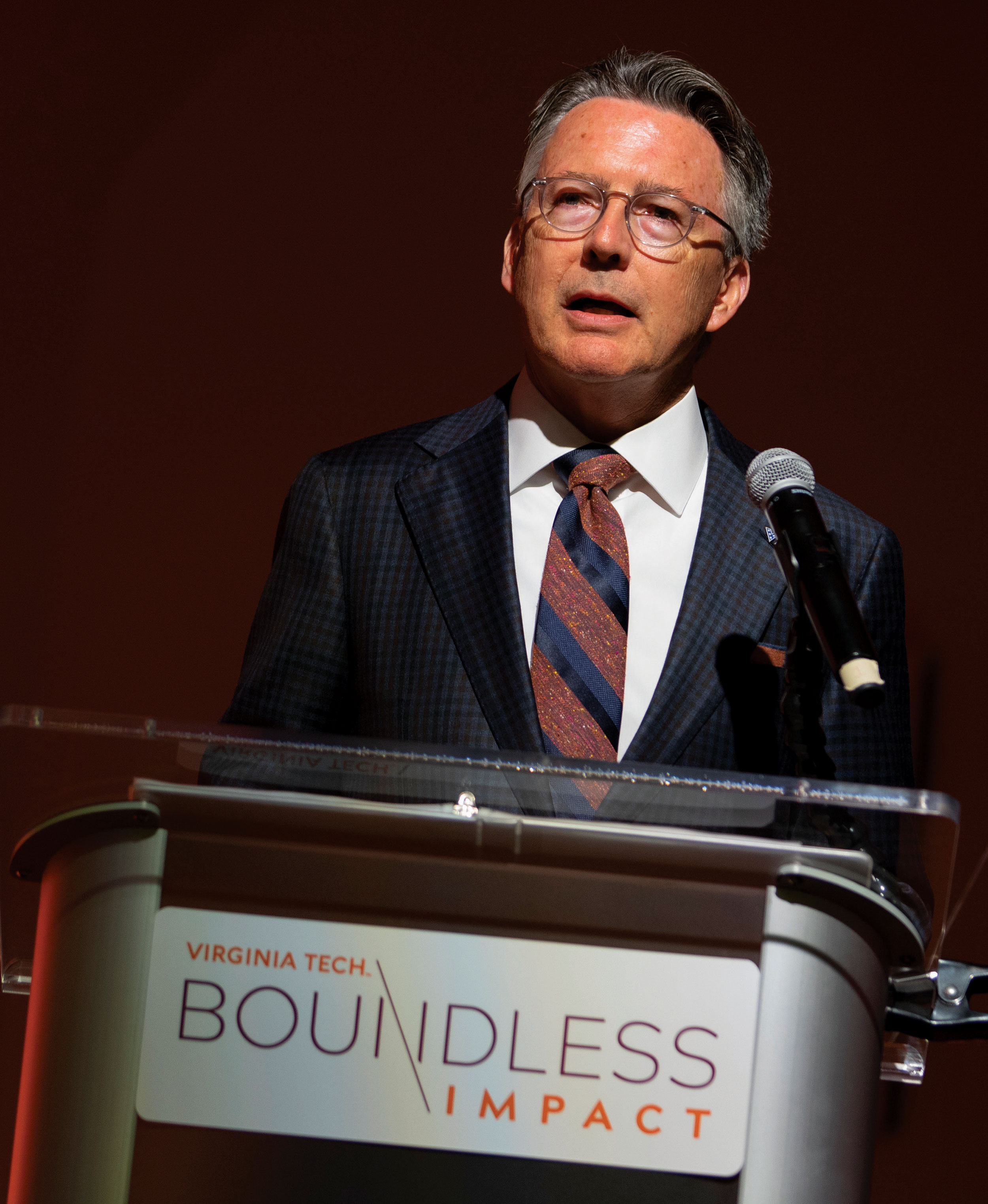 Announced in October by university President Tim Sands, the Boundless Impact campaign will run through June 30, 2027. Its impact will echo for generations. By fueling university-wide priorities and the individual priorities of numerous colleges and programs, the campaign will propel Virginia Tech's ambitious trajectory for growth.
Boundless Impact
"We are at a unique moment in our history, grounded by nearly 150 years of tradition and shaped by a steadfast mission to serve humanity and take our place in the world as a catalyst for innovation that affects everyday life," said university President Tim Sands, who on Oct. 11 announced the campaign's goals of raising $1.5 billion and engaging 100,000 Hokies worldwide. "It's a challenging vision, the kind of challenge that always brings out the best in the Virginia Tech community."
Every Virginia Tech college and many of the university's major programs have ambitious campaign goals that align with strategic plans that were crafted with making a greater impact in mind. The campaign will also fuel major, university-wide priorities. These include fostering innovative new collaborations to solve complex problems, becoming a global leader in data science and analytics, maximizing the impact of the growing Health Sciences and Technology Campus in Roanoke and the emerging Innovation Campus in Alexandria, diversifying the student body and faculty, and going beyond the classroom to reimagine how students can best learn.
Complex Problems
A major goal of the campaign is to enhance the educational and research environments that allow faculty and students to solve complex problems that span academic disciplines. Safe water is one example among many. Right now, Virginia Tech faculty and students are addressing the need for clean drinking water in remote areas by developing a device to harvest fog. They are raising awareness of lead contamination in water that flows from city taps. They are combining computer science, engineering, biology, chemistry, and social science in new ways to predict water-supply issues before they arise.
Every complex problem has many angles, not all of which are easy to see right away. As a result, the university is forging powerful connections between scientific disciplines and the humanities in order to ensure that technological innovation is done in a human-centered way.
"A shift is occurring in the tech world," said Sylvester Johnson, executive director of the university's Tech for Humanity Initiative and vice provost for the humanities. "New philanthropy is funding humanistic approaches to artificial intelligence (AI). The military is giving special attention to ethics in AI. Major tech corporations are hiring humanities experts. Virginia Tech is uniquely positioned to lead in this new era."
Global Business and Analytics Complex
Because data literacy is now required in the working world, the university is changing how it conducts research and teaches by integrating data analysis into every discipline. The Blacksburg campus will also change, literally, with the addition of a four-building Global Business and Analytics Complex. Known as GBAC, it's designed to bring together students, faculty, and industry partners to learn, work, and even livein an environment that fosters data literacy and places it in an international context.
The ability to collect, assess, and use data to predict results is altering business and society as a whole. No industry is immune, and there are implications for every academic discipline. Virginia Tech is at the leading edge of adapting to this new reality.
"This is work that transcends not just departments, but entire colleges across the university," said Naren Ramakrishnan a computer science professor who directs the university's Discovery Analytics Center, where researchers have used news and social media to forecast civil unrest, disease outbreaks, and mass migrations in countries of Latin America and the Middle East.
Inclusion and Diversity
As it fulfills its land-grant mission to welcome all prepared residents of the commonwealth to an accessible education, the university is taking major steps to deliver graduates who can thrive on diverse, collaborative teams.
To reflect the diversity of the commonwealth, the university has set a goal for 40 percent of the student population to come from underrepresented or underserved groups. Numerous universities have similar goals and are frequently able to offer much larger scholarship incentives, leaving Virginia Tech with a recruiting disadvantage. Campaign supporters will help to remedy this equation by funding scholarships and supporting programs that help retain students once they arrive.
Scholarships helped make it possible for Jesika McDaniel to study biological systems engineering. She shows her gratitude by devoting one Saturday each month to leading STEM activities for prospective students as part of the National Society of Black Engineers Pre-College Initiative.
"For a lot of kids from disadvantaged neighborhoods, college isn't even on their radar," McDaniel said. "I want to show them that higher education can be fun and is an option no matter where you come from or what you look like."
Health Sciences and Technology Campus
Virginia Tech's central role in a nationwide clinical trial treating infants with strokes is the first of its kind. Similarly, pioneering work on brain cancer treatments in dogs may one day help save human lives, too. The university's world-class researchers address health problems that affect millions, and their ability to move forward is enhanced by health sciences and technology collaboration that brings together experts from across the university with outstanding partners like Carilion Clinic, the leading health care system in Southwest Virginia, at an expanding Health Sciences and Technology Campus in Roanoke.
"The way we look at questions about how to improve health and the quality of life is influenced by this interdisciplinary framework" said Sharon Landesman Ramey, a leader of the nationwide trial focused on strokes, who is on the faculty of the Fralin Biomedical Research Institute at VTC, the Virginia Tech College of Science, and the Virginia Tech Carilion School of Medicine. "We are working actively with colleagues and partners across the U.S. and many other countries. Our work is immensely enhanced by the support and engagement of faculty, students, alums, and communities."
New Era in Greater D.C.
Virginia Tech's expansion in the D.C. area—which will include a 1 million-square-foot Innovation Campus for graduate education—fills a critical need. Across the commonwealth, and in industry in general, there is a shortage of talent in fields like cybersecurity and analytics.
The university's bold plan to address this need by dramatically increasing its presence in Virginia's largest population center has drawn significant support from the commonwealth and was a key factor in Amazon's decision to locate its second headquarters a short distance from where the Innovation Campus will rise. But maximizing the impact of the university's growth in the area will also take private support through donations that fuel this campaign priority.
When it comes to the potential for innovation and entrepreneurship, Silicon Valley executive Joseph DeSimone Ph.D. '90, said, "D.C. is probably a more important city than ever before. That's where a lot of things are going to happen, and so by having the presence there, to be on the doorstep of all of that, it allows Virginia Tech to be center stage in a way that no other university is able to."
Reimagining Education
Today's problems no longer fit nicely into one area of expertise. Solving them takes teams of people with different skill sets, experiences, and backgrounds. It takes a different environment than is found in a traditional classroom, which is why Virginia Tech is reimagining how to prepare tomorrow's leaders.
With support from the campaign, every college will strive to provide as many opportunities as possible for students to have meaningful experiences learning in action. Across the university, new ways of collaborative teaching are being introduced. These include the Calhoun Discovery Program, where Honors College students from nine different degree programs are working alongside industry partners to address real problems from the business world.
The Future of Virginia Tech
By marshalling support from Hokies around the world, the campaign will help fulfill the vision of Virginia Tech as a global leader—a university that inspires and empowers people to learn, innovate, and serve.