A PIVOTAL MOMENT
A PIVOTAL MOMENT
by Tim Sands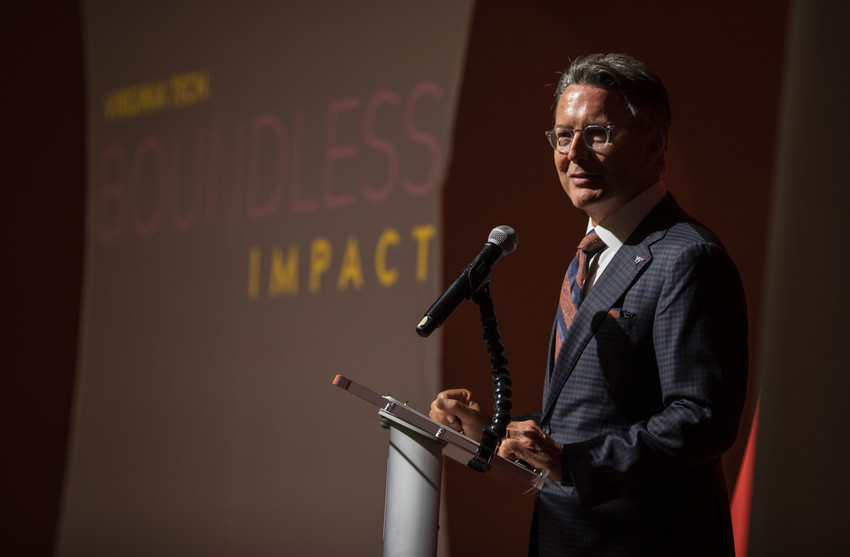 A VISION: Virginia Tech President Tim Sands talks about the Bold Vision campaign.
Autumn is beautiful in Blacksburg, and the energy on the Virginia Tech campus is contagious as our newest students find their places in the Hokie community and alumni take part in our timeless traditions. While it may sound like "business as usual" for a new semester, I believe fall 2019 is a pivotal time in our university's history.
We began the academic year with a new strategic plan, The Virginia Tech Difference: Advancing Beyond Boundaries. It establishes four priorities: Advancing Regional, National, and Global Impact; Elevating the Ut Prosim Difference; Being a Destination for Talent; and Ensuring Institutional Excellence. We are off to a great start.
This fall we made history as our Mid-Atlantic Aviation Partnership and Wing, an offshoot of Google's parent company Alphabet, began the country's first residential commercial drone delivery program in nearby Christiansburg, Virginia. Virginia Tech continues leading the way in shaping solutions for tomorrow's autonomous vehicles and smart infrastructure.
Plans for the Innovation Campus in the greater Washington, D.C., area are moving forward. We've selected a prime location in Alexandria's National Landing development, and our first class of master's degree students begins studies next year as we step up our efforts to meet the commonwealth's needs for tech talent.
The Fralin Biomedical Research Institute's newest building in Roanoke will open next year, as one of the nation's leading neuro-geneticists, Anthony-Samuel LaMantia, prepares to join the institute and Virginia Tech begins a university-wide cancer research initiative.
On Oct. 11, we announced our plans to fuel excellence across all university programs and advance our strategic priorities when we launched Boundless Impact: The Campaign for Virginia Tech. Our goals are ambitious, as we are seeking to engage 100,000 alumni in the university's mission to serve humanity and raise $1.5 billion to establish Virginia Tech's place in the world as a catalyst for innovation that impacts everyday life. Innovation can take on cancer, feed hungry populations, build tomorrow's infrastructure, and prepare a new generation of leaders to take on society's biggest problems.
Look at what we've accomplished so far, and imagine what we can achieve in the future. It's the kind of challenge that always brings out the best at Virginia Tech, and I invite you to join us.
Tim Sands is Virginia Tech's 16th president.