By Erica Stacy and Lindsay Key
It's been called the Red Island, the Rainbow Island, and even the Eighth Continent.
Situated off the southeast coast of Africa, Madagascar is the fourth-largest island in the world. Slightly larger than France, Madagascar is about twice the size of the state of Arizona. Scientists believe that the island was formed about 88 million years ago.
For millions of years, Madagascar evolved in isolation. The result: a uniquely biodiverse environment. Almost all of Madagascar's reptile and amphibian species and half of its birds are endemic to the island, meaning they can be found nowhere else on earth. The area is a mecca for researchers interested in evolution, climate, flora, or fauna.
AND LEMURS.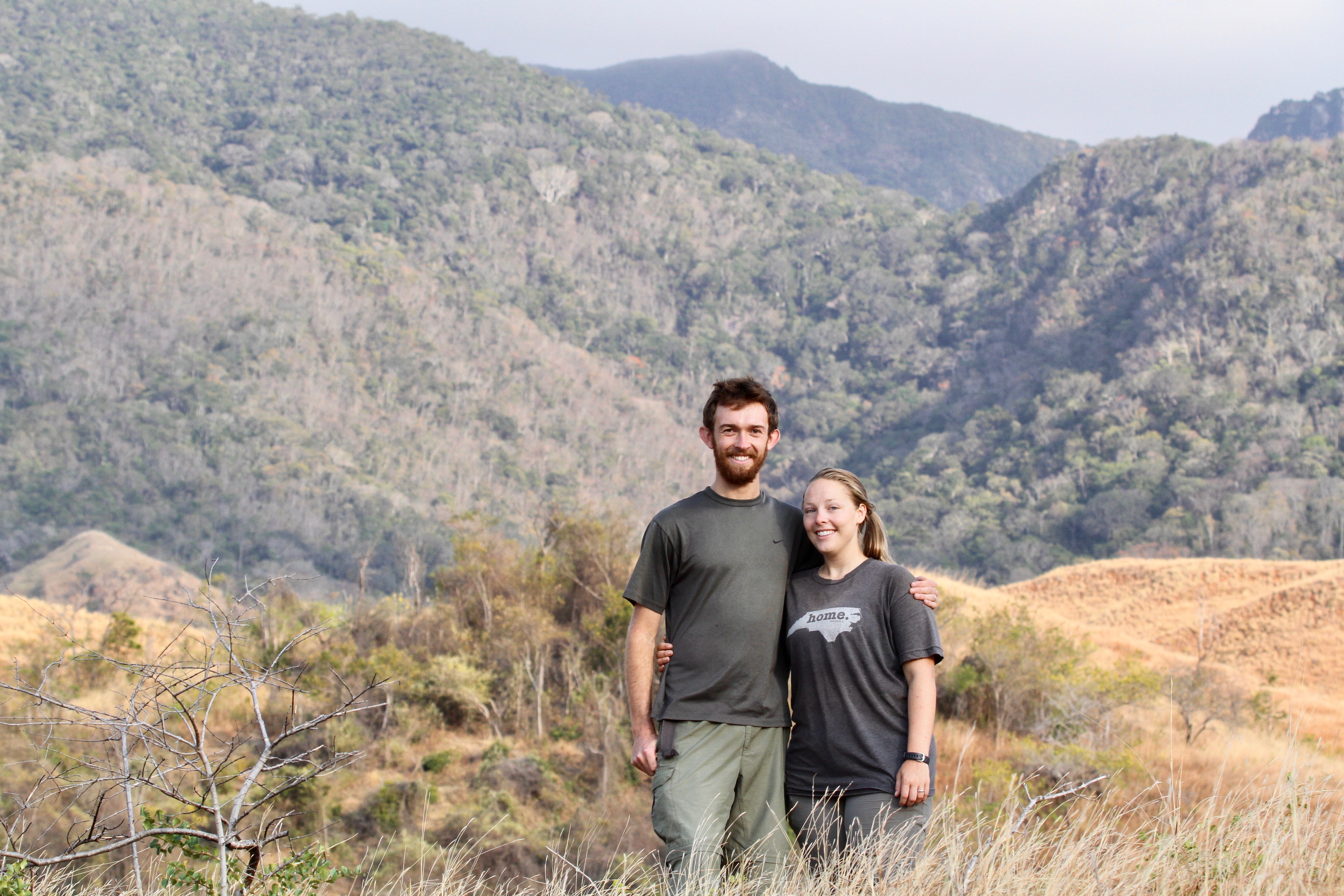 Brandon and Meredith Semel met while serving on a research team in Madagascar. (Photo courtesy of Brandon and Meredith Semel)
Lemurs, the tree-hopping, large-eyed, furry primates found only in Madagascar, have inspired numerous research projects and captured the hearts of people around the world, including Interfaces of Global Change Fellows Brandon and Meredith Semel.
Pursuing field studies on the island, the couple found not only a direction for their careers, but also each other in what might be dubbed a lemur love story.
The Semels' story began about two decades ago when, as young students, both felt called to work with animals.
"When I was in the third grade, I wrote and illustrated a book on lemurs," said Brandon, who grew up in McHenry, Illinois. "My dad, Brad Semel, sent my report to Duke (University). They invited me to come meet their celebrity lemur, Jovian, and to take a guided tour of their lemur center." (Jovian, whose stage name was Zaboo, starred in the PBS children's show "Zaboomafoo," which ran from 1999 through 2001. Although Jovian has since passed away, several of his offspring still live at Duke.)
At Duke, Brandon met then Duke Lemur Center director and professor Ken Glander—the man who years later would become the advisor for Brandon's undergraduate research.
Brandon earned a bachelor of science in evolutionary anthropology and environmental science from Duke in 2013, followed by a master's in anthropology from Northern Illinois University (NIU) in 2015.
Meanwhile, in North Carolina, Meredith aspired to a career as a veterinarian. She was drawn to the pinnipeds—seals, sea lions, and walruses—and later to sloths and elephants.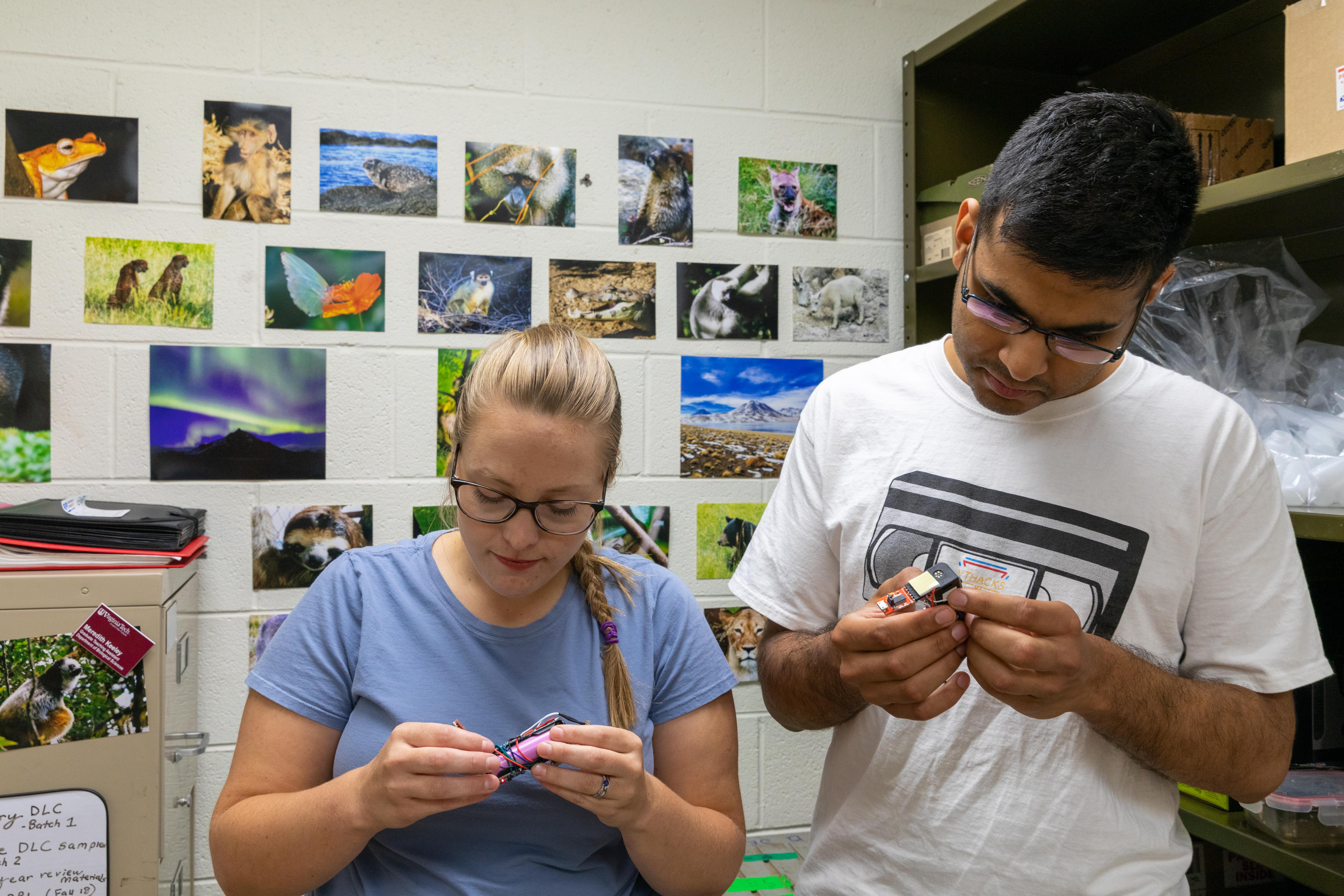 Meredith Semel is working with engineering students to develop a cost-effective tracking collar to assist with lemur research. (Photo by Olivia Coleman/Virginia Tech)
In 2014, Meredith earned a biology degree from Queens University of Charlotte, North Carolina. After graduation, she joined a team studying lemurs in Madagascar led by Mitch Irwin, one of the foremost experts on diademed sifakas. Brandon, who was studying under Irwin at NIU, was also on the team.
"We were the only English-speaking field assistants on the team," said Brandon. "So, we got to know one another pretty well."
At the close of the seven-month study, Brandon returned to NIU, and Meredith traveled to Limpopo, South Africa, to spend another seven months studying primates and predators. Upon returning to the U.S., she worked for a year as a high school science teacher.
Despite a separation that ranged from more than 800 to nearly 9,000 miles over two years, Brandon and Meredith stayed in touch, continuing to cultivate their friendship alongside their passion for the lemurs.
In 2015, Brandon was awarded a National Science Foundation fellowship to pursue doctoral studies under Sarah Karpanty in Virginia Tech's Department of Fish and Wildlife Conservation in the College of Natural Resources and Environment.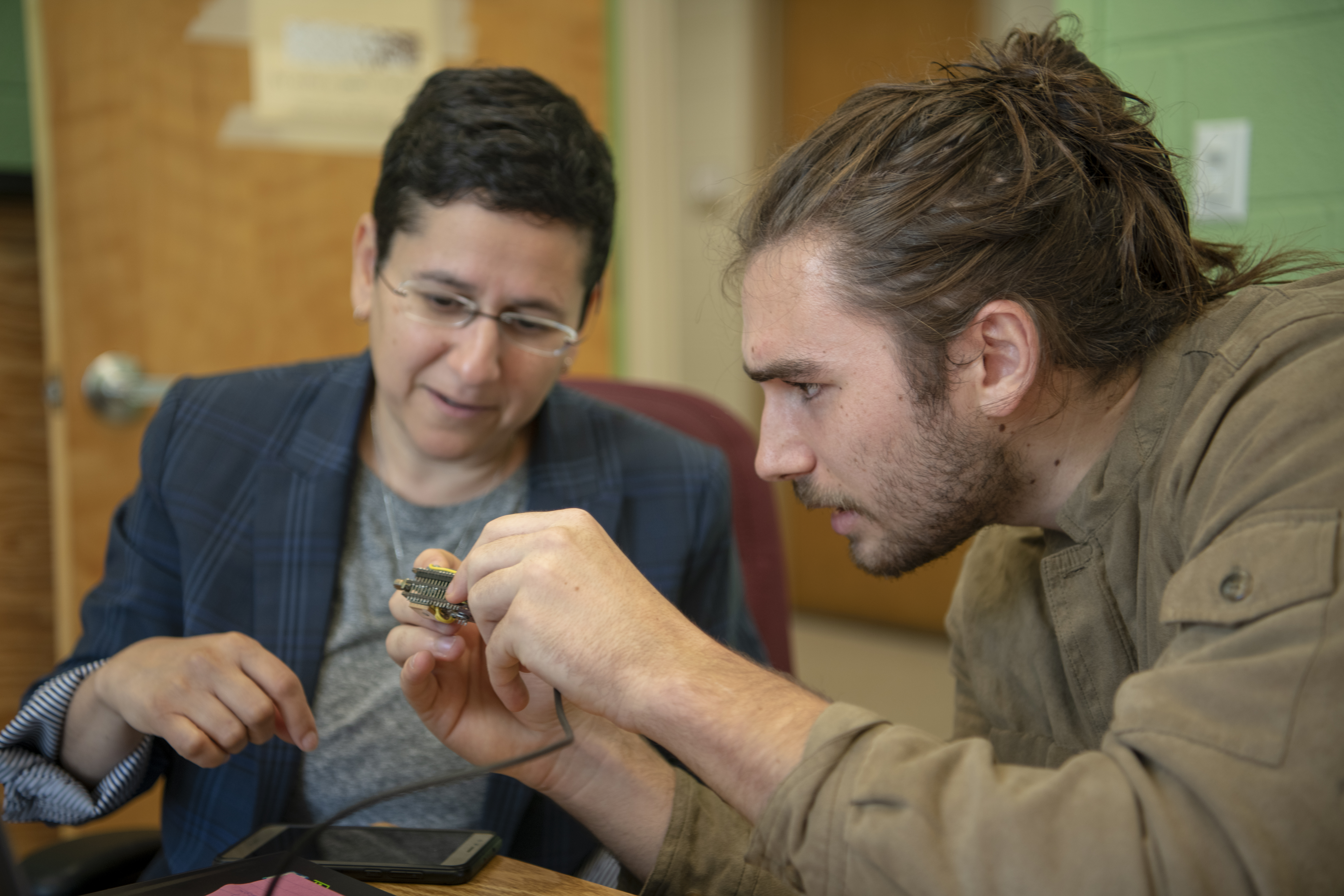 Engineering students and faculty are helping fine-tune a tracking device for lemur research. (Photo by Dan Miroli/Virginia Tech)
A year later, Meredith, who was also awarded an NSF fellowship, began a five-year doctoral program at Virginia Tech under Ignacio Moore, a behavioral endocrinologist and professor of biological sciences in the College of Science.
Living in the same community, studying at the same university, the couple's passion for lemurs and respect for each other grew. They married in 2017.
Counselors and experts agree that the first year of marriage is one of the toughest. But Brandon and Meredith took tough to a whole new level by spending their first six wedded months living out of a tent in northern Madagascar.
According to the Semels, life in the field meant rising before sunrise, recording data at specific time intervals from predetermined locations throughout the day, and leaving the field at sunset. The researchers typically traversed about five miles each day, collecting scat and counting birds, lemurs, and other wildlife. They set up camp near a water source, hauling everything they would need for up to two weeks in carts pulled by cows.
Their mutual goal: to study one of the world's most endangered lemur species, the golden-crowned sifaka. During the last 10 years, the population of this sifaka has declined by 30 to 50 percent, leaving only an estimated 10,000 individuals left in the world.
Ninety-one percent of the approximately 103 known lemur species are endangered, according to the International Union for Conservation of Nature. The primary driver is the loss of habitat as a result of logging and slash-and-burn agriculture. For the Semels, time in the field provides opportunities to engage local communities in efforts to protect the animals.
Facts and figures
Golden-crowned sifaka lemur (aka Tattersall's sifaka) (propithecus tattersalli)
One of the smallest sifaka species.
Weight of 7.5 to 7.9 lbs.
Head-body length of 18 to 19 inches.
Tail length of 17 to 19 inches.
Long, strong legs that enable it to cling and leap between tree trunks and branches.
Most restricted distributions of any lemurs, found along the northeast portion of Madagascar around the town of Daraina.
Estimated to be between 6,000 and 10,000 remaining in the wild with populations decreasing.
Diet consists of nuts, fruits, twigs and nectar.
Life span of 17 to 20 years.
Golden-crowned sifaka lemur
Classified as critically endangered on the International Union for Conservation of Nature (IUCN) Red List. The IUCN Red List, established in 1964, has evolved to become the world's most comprehensive information source on the global conservation status of animal, fungus, and plant species.
Lemurs overall
Earth's most endangered group of mammals according to IUCN. Ninety-four percent of all lemur species have a threatened status on the IUCN Red List, with 49 listed as endangered and 24 as critically endangered. The primary threat to lemurs is habitat loss, as forests are cleared by slash and burn agriculture and illegal logging. More than 80 percent of lemur habitat in Madagascar has been lost since humans first arrived 2,000 years ago.
Range from 2.5 inches to 2.5 feet tall.
Lemur society is run by females.
The word lemur was coined in 1795 by Carl Linnaeus, the founder of modern taxonomy, who took it from Latin. Lemures were evil spirits of the dead in Roman mythology. Most lemurs are active at night, which may explain the connection. The Malagasy have legends that lemurs are the souls of their ancestors due to many lemur species' nocturnal behaviors, vocal cries, and reflective eyes.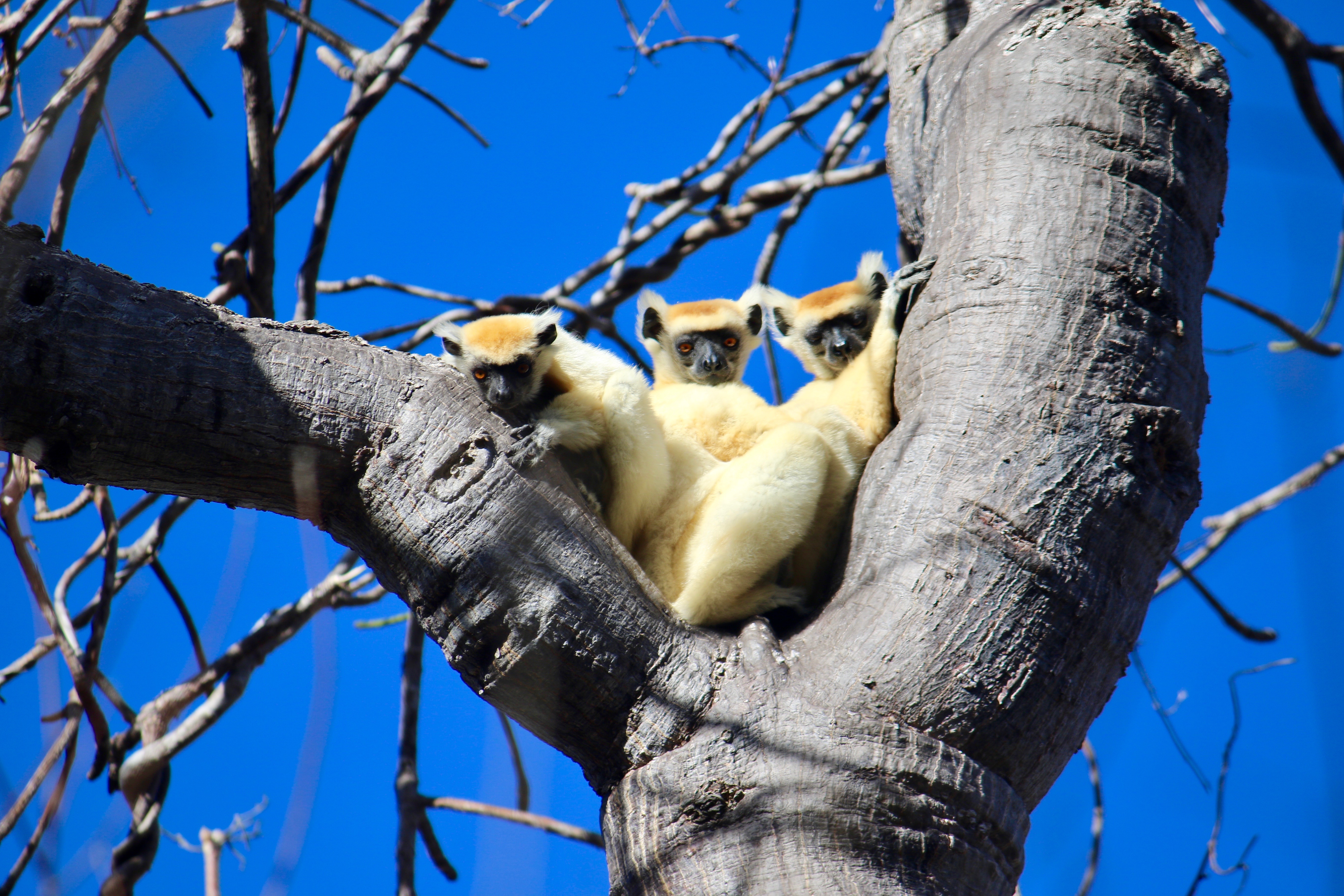 Lemurs
Lemurs are important pollinators, and some are seen by scientists as key indicators of forest health.
Around 106 lemur species are known to science, and nearly all of them are at risk. Less than 10 percent of Madagascar's original forest remains.
The sifaka lemurs are surprisingly great communicators. They use signals and pitch intonations, laughs, and cries to send different messages. Others growl, bark, meow, and use a different combination of scents. They also have shown different humanoid personalities like shyness and aggressiveness.
"As an advisor, I am honored to work with Brandon and to have come to know Meredith as well," said Karpanty. "They exemplify the global reach of Ut Prosim. Their work in Madagascar, in all aspects, is there to serve the local Malagasy communities and the endangered lemurs that are an important natural and cultural resource for those communities. The ultimate outcome of Brandon's project is direct guidance on reforestation plans to benefit both local people and lemurs, to be implemented by his NGO partner, Fanamby. And, lest you think the benefits are all far away, both Brandon and Semel have mentored undergraduates both in field work in Madagascar and in lab and analytical work here at home. Brandon and Meredith exemplify VT's role as leaders in natural resource conservation globally."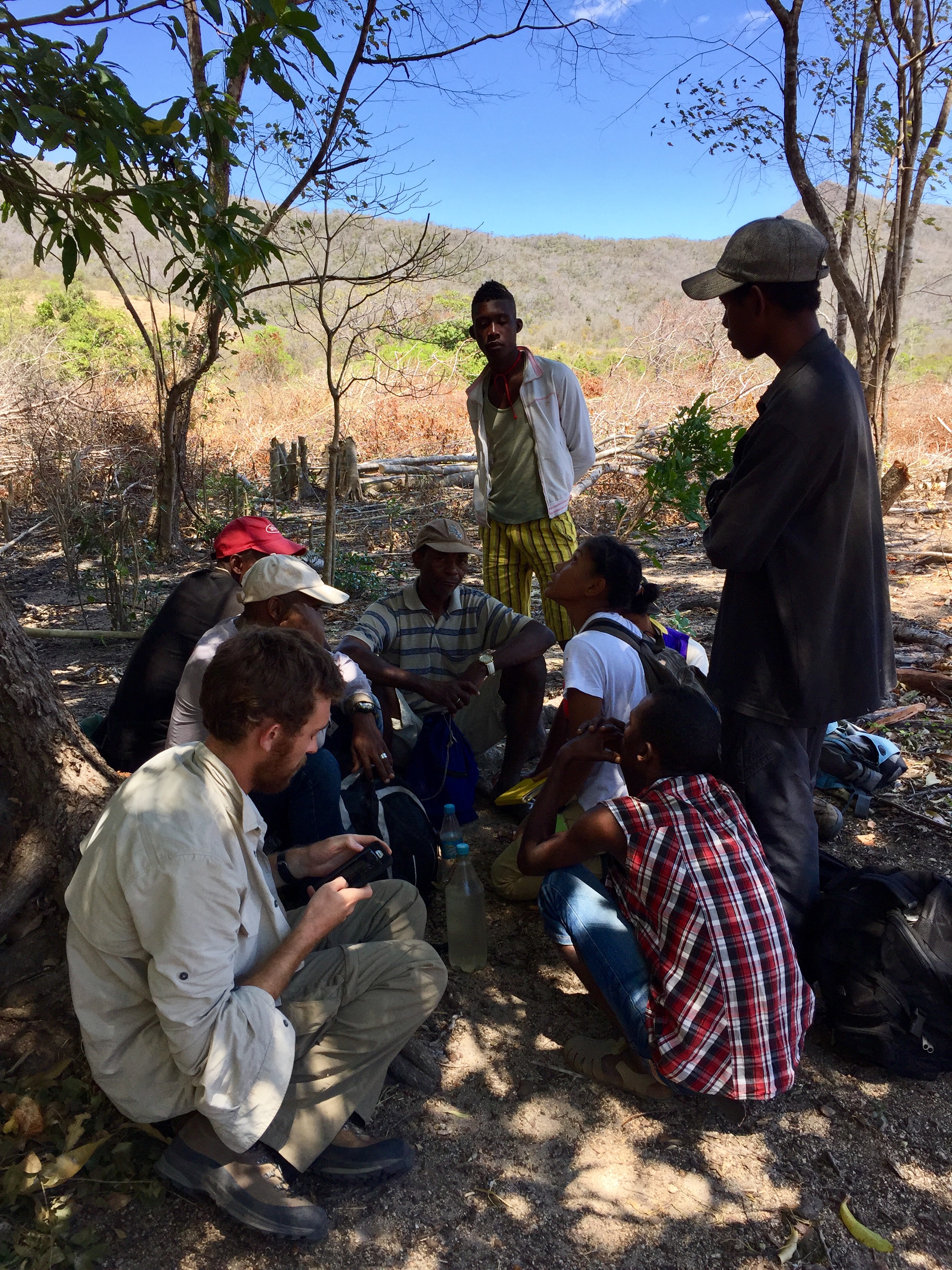 In Madagascar, Brandon Semel works with local guides. (Photo courtesy of Brandon and Meredith Semel)
"We try to work with local people to achieve goals," Meredith said. "It's not realistic to keep people out of the forests. But by creating an environment of mutual learning, we can help local communities recognize how really unique the lemurs are and to understand how protecting them may even benefit Madagascar financially."
The Semels are Interfaces of Global Change Fellows affiliated with Virginia Tech's Global Change Center, an arm of the Fralin Life Science Institute. Brandon studies how lemur populations might respond to climate change and habitat loss by examining lemur densities and genetic diversity across different forest types (dry forests, wet forests, and highly disturbed areas). He uses a suite of techniques to monitor lemur distribution, including land tract surveying, scat sample collection, and drone monitoring.
"Ultimately, I plan to use the data from all of my studies to ensure that government-protected areas include forests that will be suitable for lemurs as the climate changes, and that these forests are connected to one another to ensure adaptive genetic potential as they face future threats," he said.
Brandon suggests that scientific study is about asking questions that the lemurs might ask if they could talk, then using every available resource to find answers and craft solutions.
"For example, if you're a lemur, and you're living in a little patch of forest, and that patch isn't meeting your needs, then where are you going to go?" asked Brandon.
Faced with exactly this question, Brandon set out to identify the elements of the golden-crowned sifaka's diet. This would involve collecting plant specimens, something with which he had limited experience, but for which there were experts on campus in Blacksburg.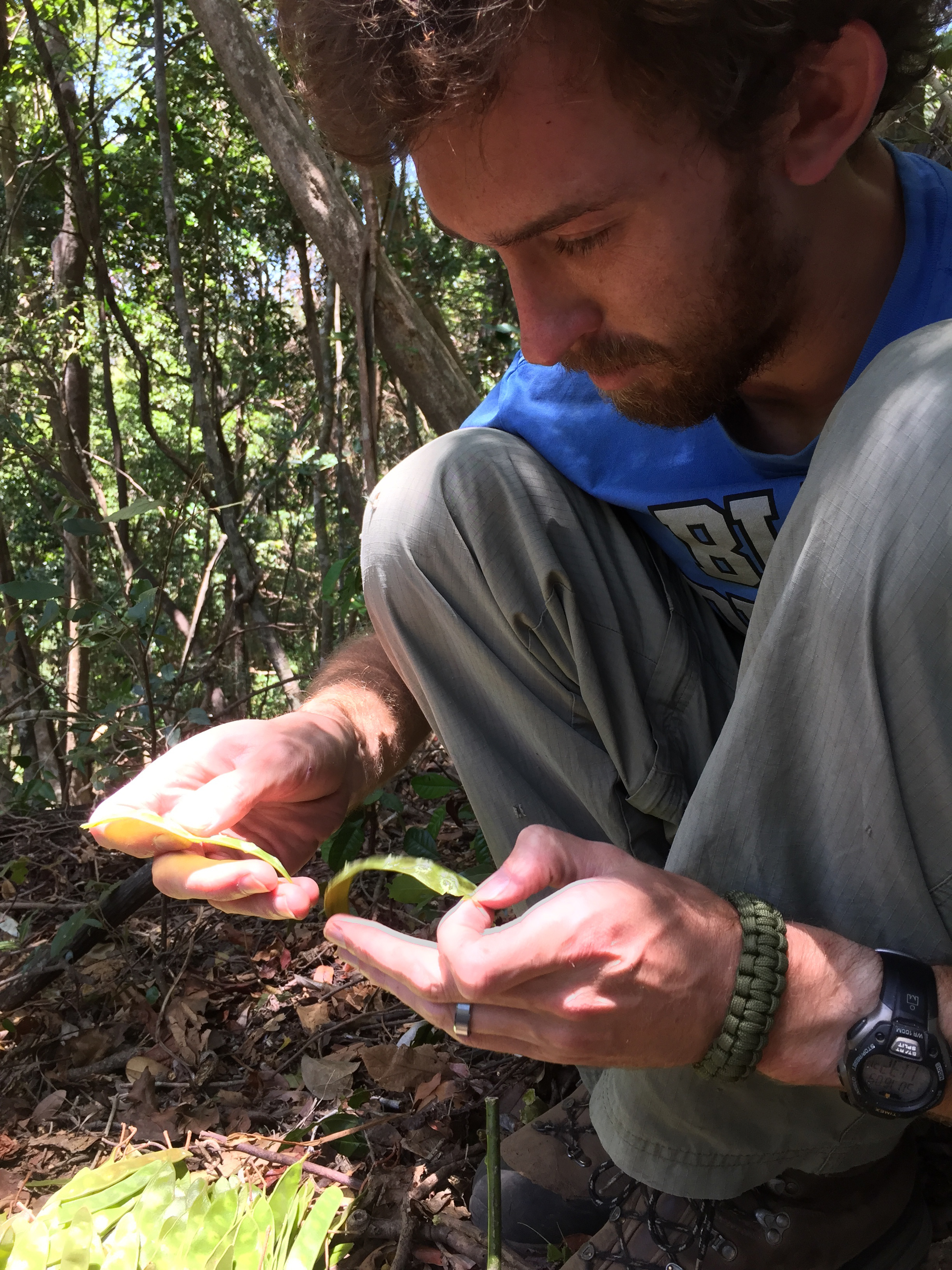 Brandon Semel is working to document native plants and animals to create a resource guide for the people of Madagascar. (Photo courtesy of Brandon and Meredith Semel)
Brandon connected with Jordan Metzgar, curator at Virginia Tech's Massey Herbarium. Founded in 1927, the Massey Herbarium has collected and catalogued more than 115, 000 specimens of lichens, vascular plants, fungi, and bryophytes. It is the largest herbarium in the commonwealth. Metzgar introduced Brandon to the fundamentals of plant collection.
In Madagascar, Brandon and Meredith worked together to press, dry, and identify specimens before shipping them to the U.S. for further studies.
Brandon's research is funded by grants from the Interfaces of Global Change Fellowship program at Virginia Tech, a National Science Foundation Graduate Research Fellowship, Margot Marsh Biodiversity Fund, Cleveland Metroparks Zoo, the Riverbanks Zoo, Explorer's Club of Washington, D.C., Primate Conservation Inc., Sigma Xi Grants in Aid of Research, the International and American Primatological Societies, IDEA Wild, and the Greenville Zoo.
Meredith studies how lemurs respond socially and physiologically to fragmentation and landscape type, such as rainforest or dry forest.
"Meredith's research is truly interdisciplinary as she is working with engineers to develop radio collars to be used to track lemurs in the field in Madagascar," Moore said. "Thus she is spanning electrical engineering to conservation of wild animals. Thanks to the Interfaces of Global Change and BioBuild programs, students like Meredith are able to learn and apply interdisciplinary ideas to their research."
Meredith is collaborating with Nicole Abaid, assistant professor of mathematics in the College of Science, to build open-source tracking collars that more effectively study the group movements of lemurs, specifically the golden-crowned sifakas. (Read more in the box to the right.) Abaid was formerly an assistant professor of biomedical engineering and mechanics in the College of Engineering.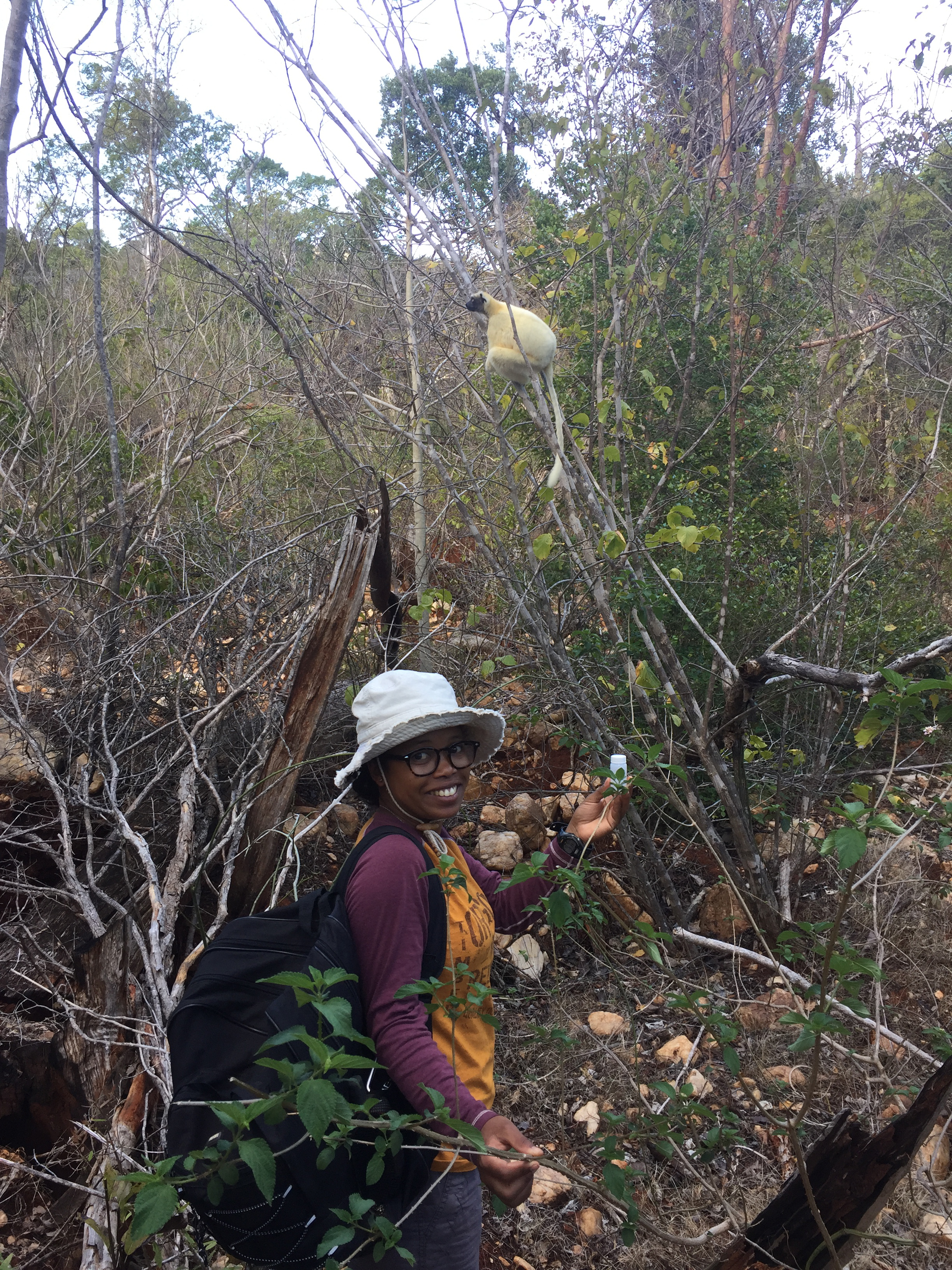 Field studies involve students and local residents. (Photo courtesy of Brandon and Meredith Semel)
Meredith also collects fecal samples to assess lemur stress physiology by measuring glucocorticoid metabolite levels noninvasively.
"I view ecological questions through the lens of an organismal biologist," she said. "I am interested in looking at how environmental factors influence lemur behavior and physiology on an individual and a group level."
Meredith's research is funded by a National Science Foundation Graduate Research Fellowship, the Duke Lemur Center, the Rufford Foundation, a U.K.-based charity that supports nature conservation projects across the developing world, and the Margot Marsh Biodiversity Fund.
In keeping with Virginia Tech's land-grant mission, the Semels also embrace an educational and outreach focus in their work. During summer 2017, Brandon led a National Geographic Student Expedition trip, in which approximately 20 high school students, mostly from the United States, visited Madagascar.
"Providing American students with opportunities to see what life and nature are like in other parts of the world is crucial to fostering their conservation ethic back home," Brandon said.
The couple also mentors Virginia Tech undergraduate students conducting research in Madagascar.
"As an undergraduate, I was lucky enough to be provided with invaluable opportunities to get my foot in the door in regards to local and international wildlife research and to be mentored by enthusiastic faculty who molded me into the student I am today," said Meredith. "As a graduate student at Virginia Tech, I hope to continue to pay it forward by mentoring dedicated students so they can sink their roots into biological research and discover their passions."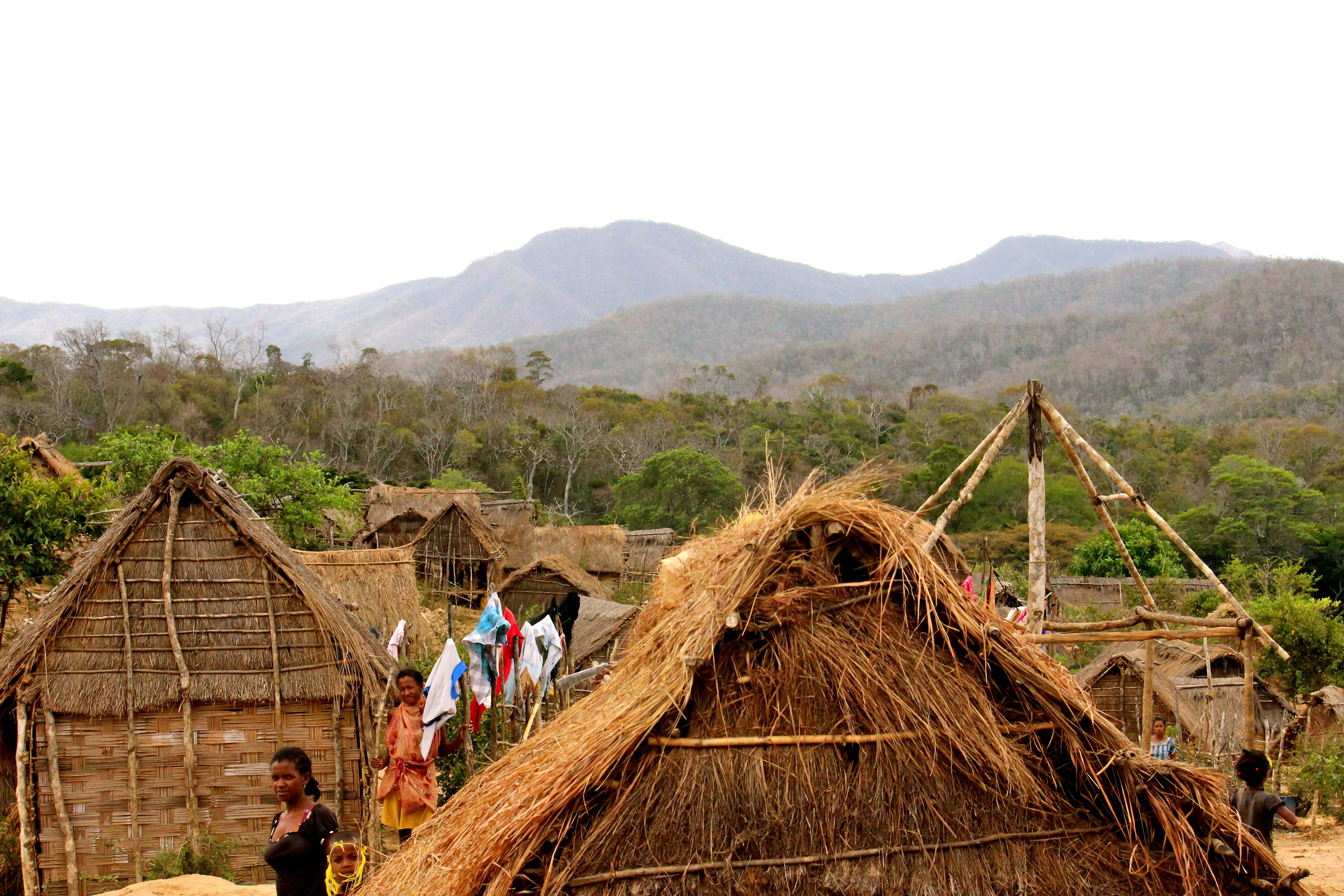 The Semels travel to villages across Madagascar during their visits. (Photo courtesy of Brandon and Meredith Semel)
From an outreach perspective, the Semels have several ongoing projects with local communities in Madagascar. They have worked with local guides and Virginia Tech undergraduate students to document the species of plants and animals that can be found on the island. Previously, no such resource existed, as the Malagasy people primarily rely on oral storytelling to document their histories and surroundings. The Semels' reference guide will serve as a written database of local knowledge, instill a sense of pride in the region's unique natural history, and provide future researchers with a valuable resource.
"In line with Virginia Tech's motto of Ut Prosim (That I May Serve), we see service at a community level as an important aspect of our work," said Brandon. "We are working in one of the poorest places on earth, asking people to limit their natural resource extraction for the good of the whole planet. That's a lot to ask. Serving and working alongside communities is the best way to understand their basic societal goals and needs, from which long-term, sustainable solutions can be built."