AN EXCITING NEW ERA
AN EXCITING NEW ERA
by Tim Sands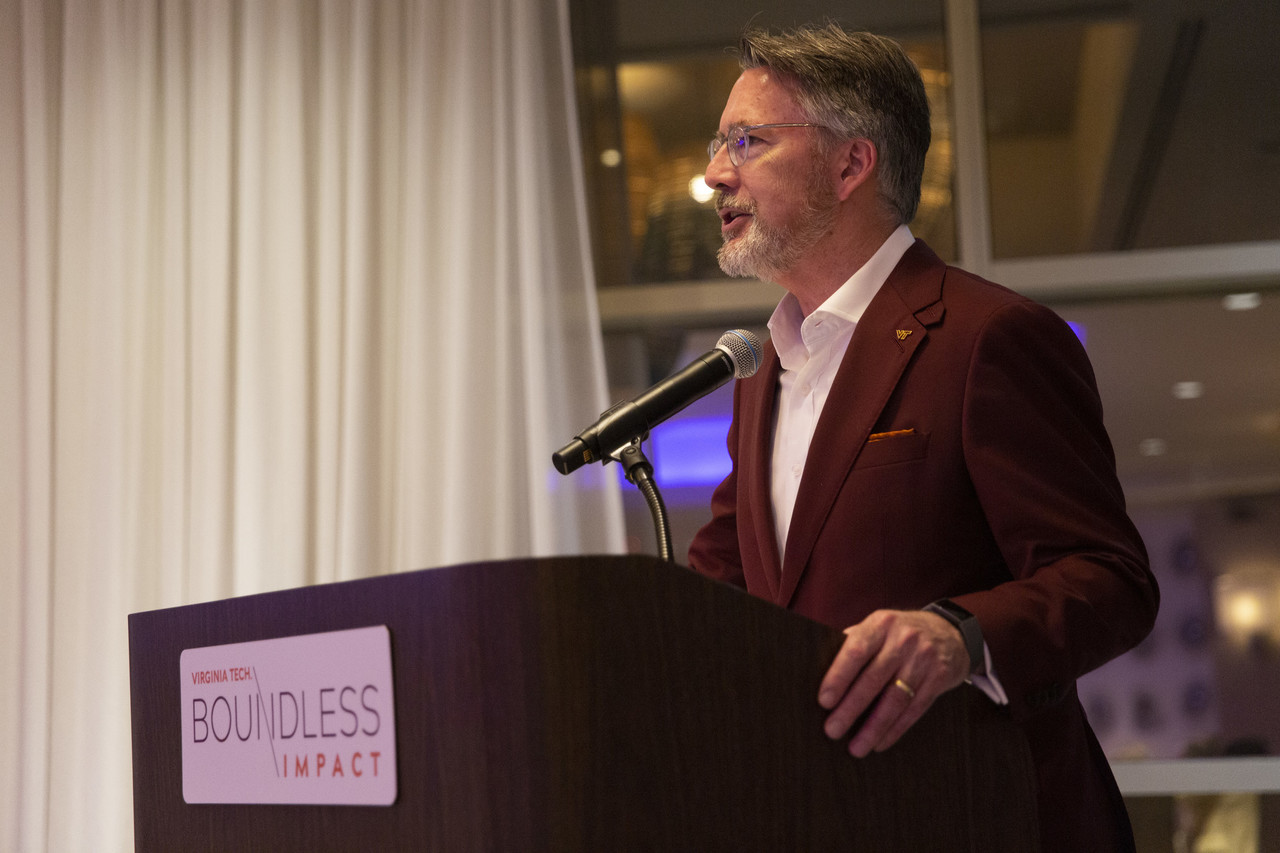 ACTION PLAN: President Tim Sands visited Naples, Florida, in February to address Virgina Tech alumni and friends at a regional kickoff event for Boundless Impact: The Campaign for Virginia Tech.
A few months ago, we ushered in a new decade and with it an exciting new era for Virginia Tech.
Our campuses continue to grow and evolve. The Creativity and Innovation District is taking shape in Blacksburg, and soon the Fralin Biomedical Research Institute at VTC will open a new building in Roanoke, in addition to launching the first phase of its research presence with Children's National Hospital in Washington, D.C.
And we are advancing our plans for the Innovation Campus in the greater Washington, D.C., metro area. In early February, we named Lance Collins as the inaugural leader for that campus. Collins, who has led Cornell's College of Engineering since 2010, was a key member of the leadership team that successfully bid to partner with New York City to build Cornell Tech. We are excited to have Lance joining our university. Read more about him in this issue.
I could compare Virginia Tech's momentum to a rocket launch; in fact, several Hokies are directly involved in space exploration. Learn more in this issue. Perhaps we'll add space travel to the Hokie Bucket List one day!
Back here on Earth, we continue to grow as one university with an interconnected network of campuses. As we enhance our Extension offices and Agricultural Research and Extension Centers, grow our research and academic facilities in Blacksburg, explore health sciences and technology in Roanoke, focus on national security in Arlington, advance automotive performance in southern Virginia, and develop technology and innovation partnerships in the D.C. area, every location shares our signature mission to serve.
In the spirit of Ut Prosim (That I May Serve), we are committed to providing the same university experience to every member of our community regardless of their geographic location or any other differentiator.
Your help is instrumental in shaping the Virginia Tech experience. One way is to join us online on March 18-19 for Giving Day 2020. For 24 hours, alumni, students, faculty, staff, families, and friends can come together to make a powerful impact on our future. And throughout the year, opportunities abound for you—to mentor students, host interns, and volunteer for your local alumni chapter.
Your support will help us advance a great new decade for Virginia Tech. Go Hokies!
Tim Sands is Virginia Tech's 16th president.