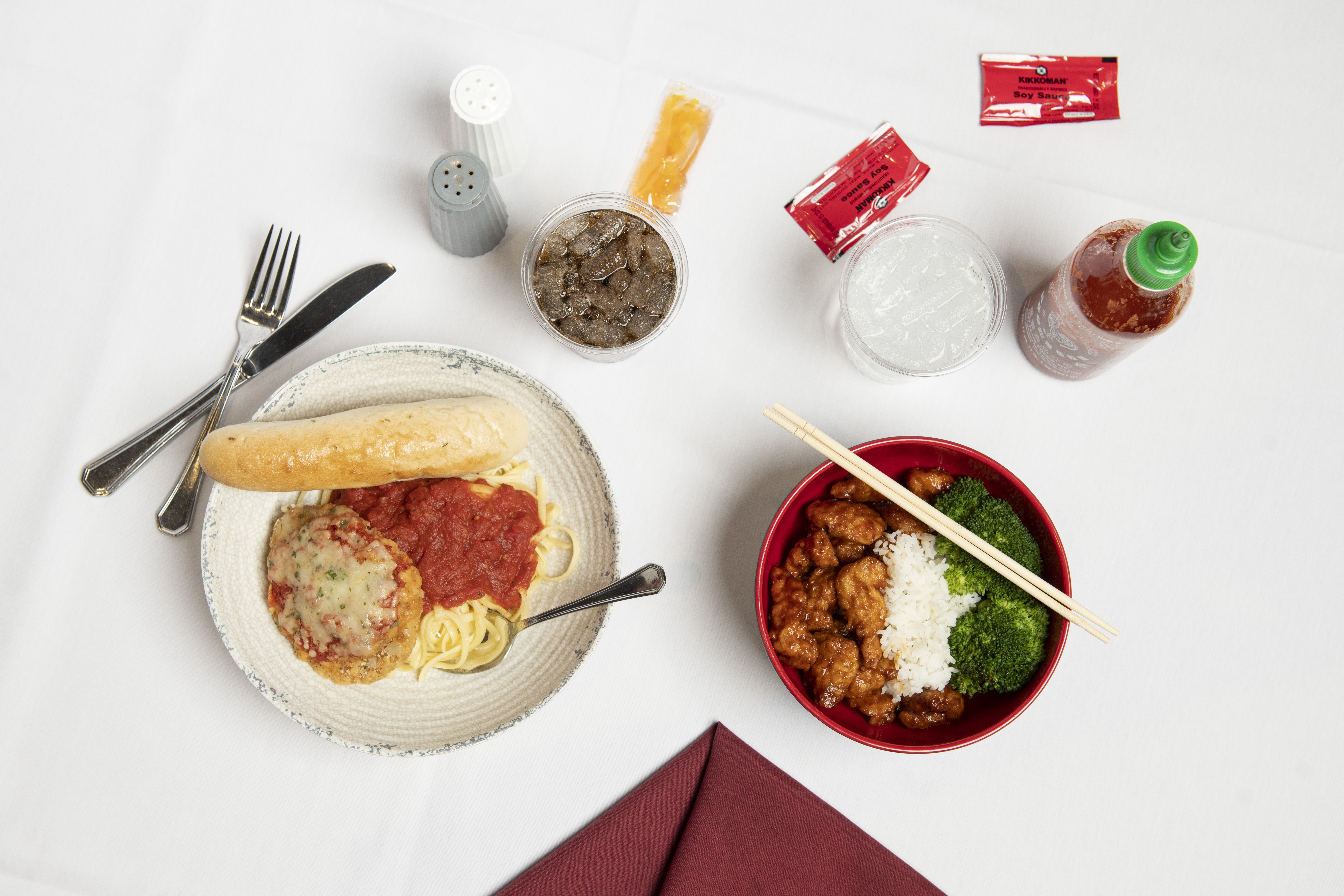 How Tech Ticks
BATTLE OF THE BIRDS
For years, Chicken Parmesan, better known to Hokies simply as Chicken Parm, has sat atop the pecking order of popular dishes in Virginia Tech's Owens Hall.
Survey says:
(In anticipation of the big competition, Virginia Tech Magazine teamed up with colleagues in social media for a poultry poll.)
Grand total of Virginia Tech social channels
Chicken Parm: 3,033
Tso's: 2,996
Twitter
Chicken Parm: 318
Tso's: 318
Facebook
Chicken Parm: 756
Tso's: 580
Instagram
Chicken Parm: 1,959
Tso's: 2,098
Free range feedback
@TheBigBias on Twitter: The Tso and broccoli action is undefeated
Mitch Magee on Facebook: General Tso's was always available whenever you needed it. Chicken Parm came at its leisure.
Gbommer079 on Instagram: Chicken Parm Day is an institution at Tech!
Nicki_geis on Instagram: Chicken Parm held me through all the rough times. CHICKY CHICKY PARM PARM FOR LIFE
The meal has developed a cult-like following across the Blacksburg campus, breaking sales records on two separate occasions.
But while Chicken Parm was nesting on its laurels, another dish was flying below the radar, winging its way to a spot as a top contender.
Winner, winner, chicken dinner
The official results of Virginia Tech's Battle of the Birds play-by-play coverage of every fowl detail are in:

| | | |
| --- | --- | --- |
| Chicken Parm | | 1,640 |
| General Tso's | | 1,365 |
Chicken Parm rules the roost.
"General Tso's is consistently a favorite of the students," said Lauren Snelson, former assistant director of Owens Dining Center. "There was never any real hype around it, but it's just always been steady and popular." (Snelson moved on to another position in higher education shortly after this interview.)
In fall 2017, Chicken Parm averaged 1,102 daily portions to General Tso's 726, but by fall 2019, General Tso's had the edge, 896 to 628.
On Feb. 19, Chicken Parm and General Tso's squared off at Owens Food Court in the first ever Battle of the Birds. The dish with the most portions sold at the end of the day was declared the chicken champion.
The Battle of the Birds is just one example of how Virginia Tech Dining Services is an engaged member of the Virginia Tech community.
"Having the students get involved and get excited is what it's all about," Snelson said. "It gives them an opportunity to walk away from the books, walk away from the tests, and it brings them back home."
Chicken Parm facts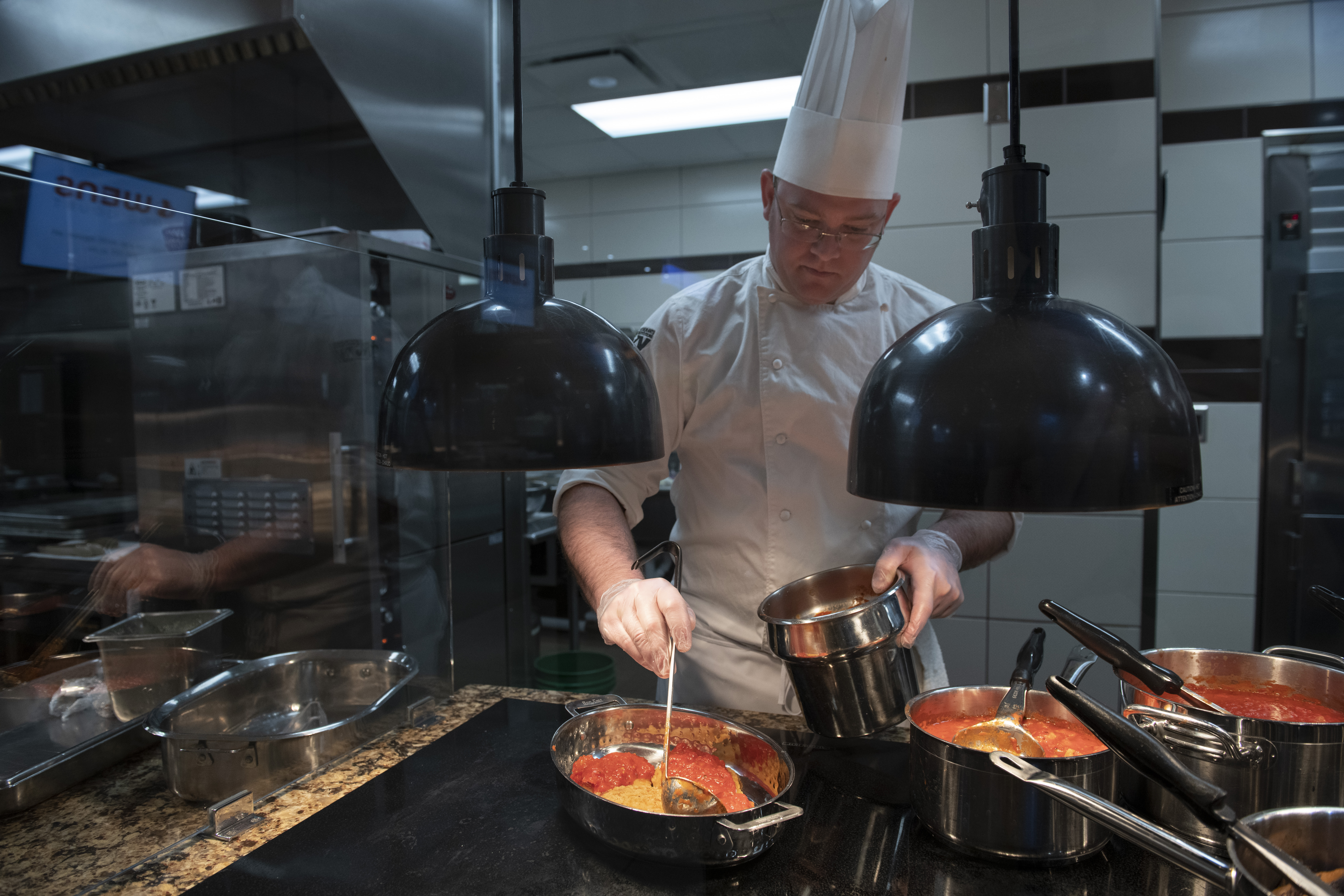 James Zeisler Jr., executive chef, prepares chicken parmesan.
Bio: A deep-fried, breaded chicken breast covered in marinara sauce and melted provolone, perched on a nest made of the customer's choice of sauce and noodles.
Career stats: Set a sales record on April 21, 2017, with 2,839 portions sold, and broke its own record less than two years later with 2,881 portions sold on Feb. 13, 2019.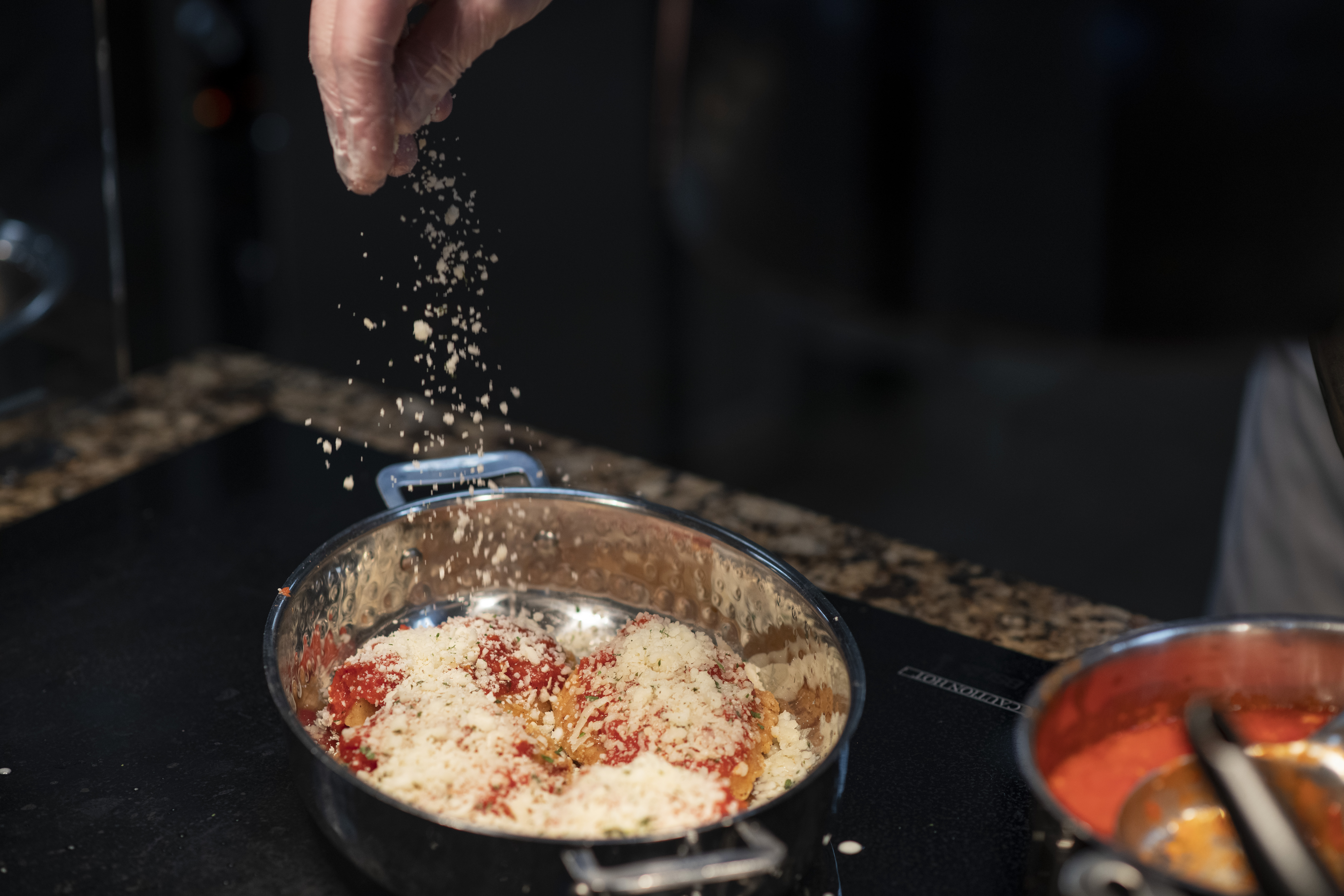 Work regimen: Wednesdays only.
Favorite teammate: Garlic breadstick
Did you know: In its heyday, Chicken Parm was such a can't-miss item, one fraternity had a member solely dedicated to announcing its availability. He became known as Chicken Parm Guy.
General Tso's facts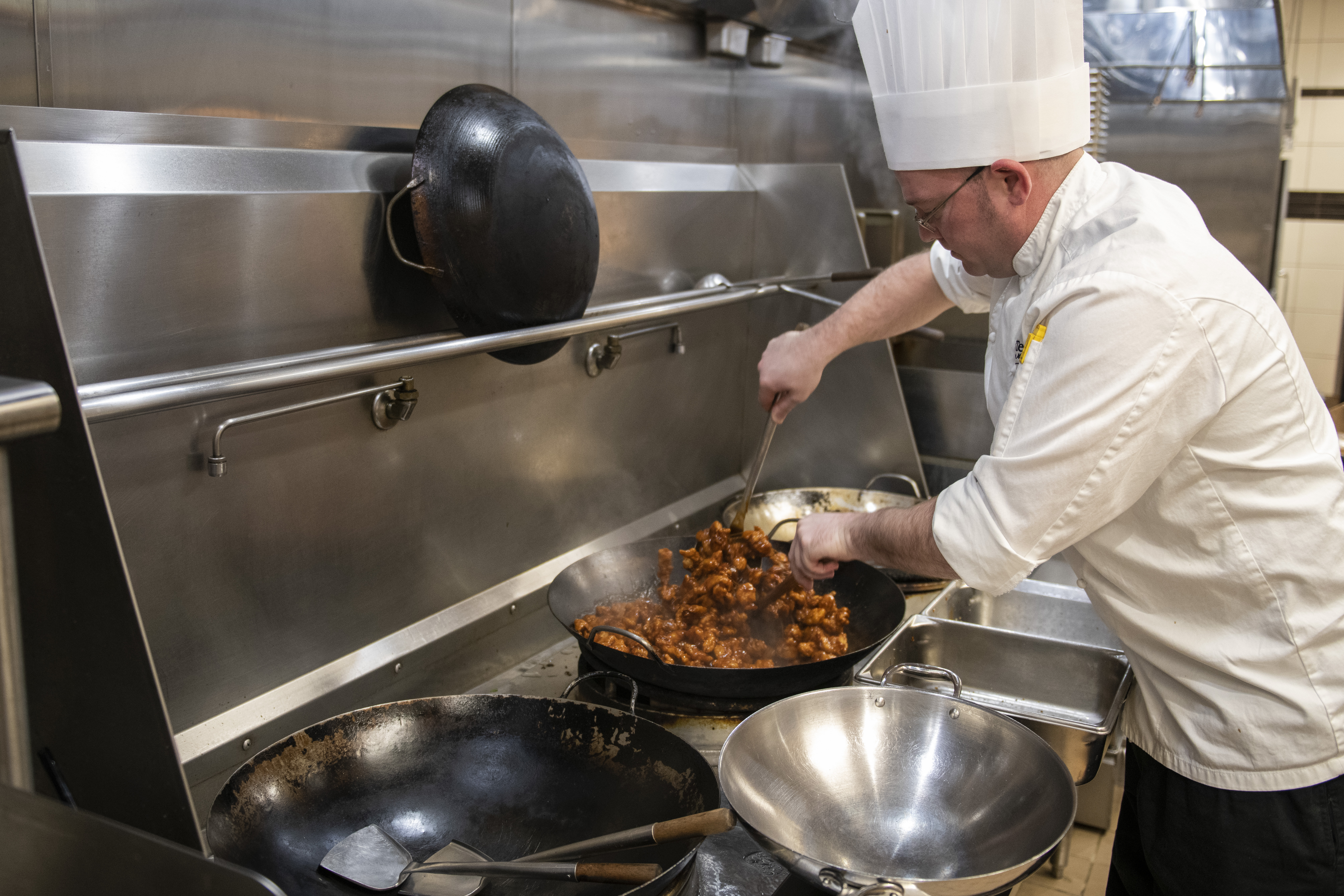 James Zeisler Jr., executive chef, prepares General Tso's chicken.
Bio: Deep-fried, breaded chicken chunks covered in General Tso's sauce with a splash of Sriracha, perched on a nest of rice or noodles.
Career stats: A relative newcomer to the scene, with few relevant stats.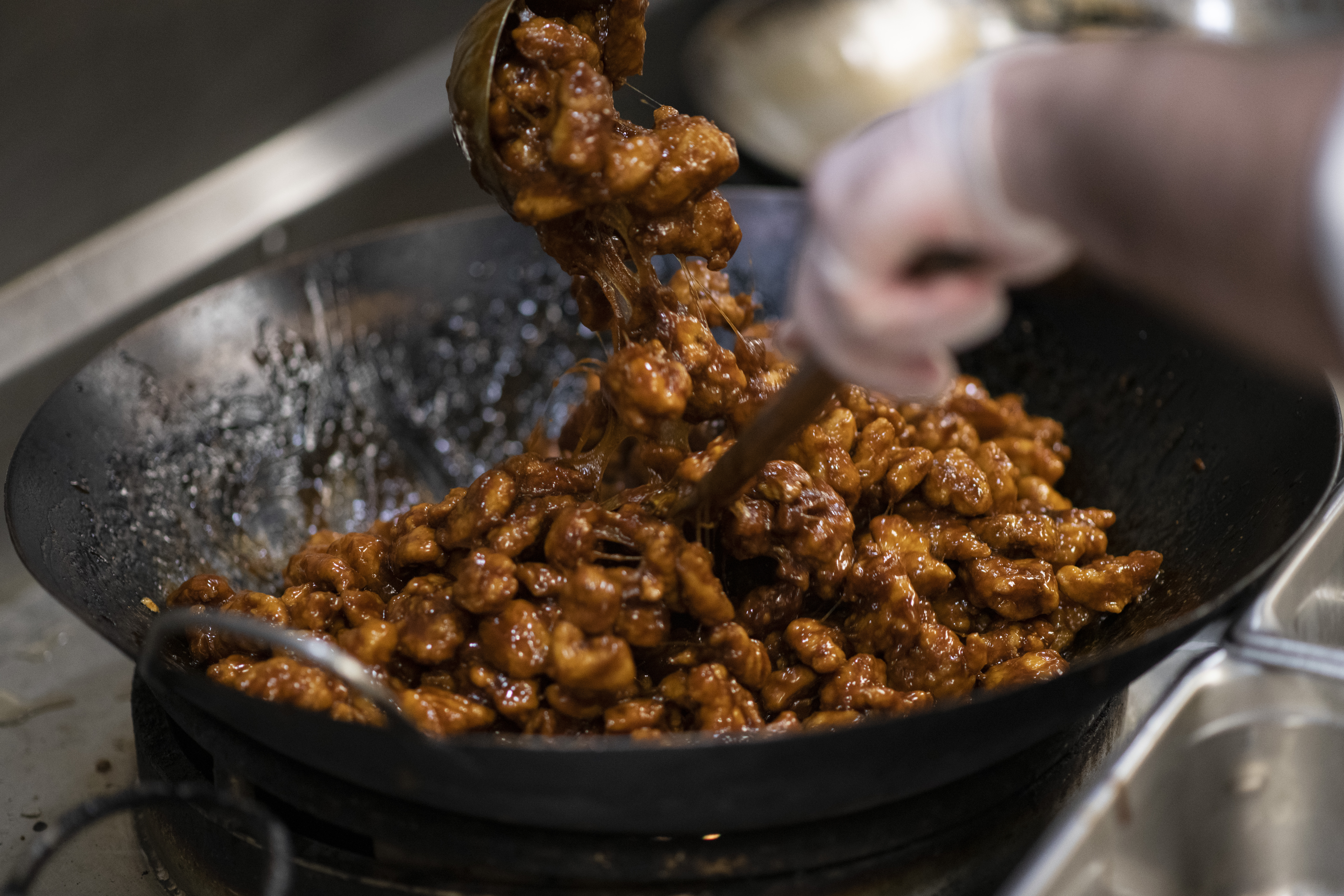 Work regimen: Never misses a day.
Favorite teammate: broccoli
Did you know: Dining Services recipe has been altered twice, but both times, the student reaction strongly indicated the original recipe was simply perfect.
"Our business is to serve the students, so if we're not serving what they want, it's kind of pointless," Snelson said.
Battle by the numbers
Average of daily portions sold
| | | | | |
| --- | --- | --- | --- | --- |
| | | Chicken Parm | | General Tso's |
| Fall 2017 | | 1,102 | | 726 |
| Spring 2018 | | 1,062 | | 672 |
| Fall 2018 | | 805 | | 807 |
| Spring 2019 | | 683 | | 683 |
| Fall 2019 | | 628 | | 896 |