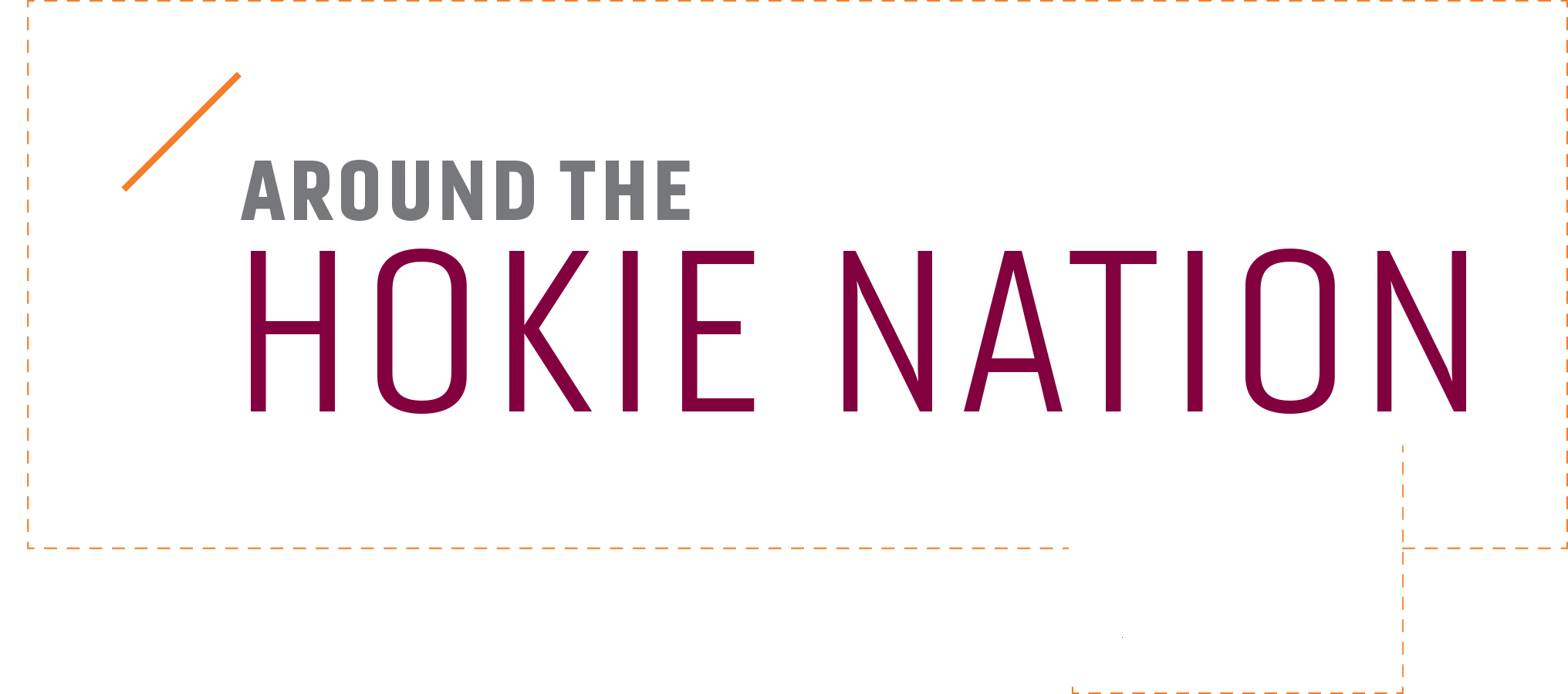 CARRY A COUNTRY
Jack and Alley DuFour in Ecuador.
Jordan Arbuckle might be racing across the Drillfield to class, but one glance at her backpack, and she's transported back to the summer she spent in Barcelona, Spain.
"By carrying my bag, I feel like I've connected Spain's lifestyle of relaxation to Virginia Tech," said the junior studying human nutrition, exercise, and fitness. "Where I typically feel stressed out due to exams, with my backpack, I am reminded of a simpler life, and it almost calms me."
That feeling was what Tech alumni Jack and Alley DuFour of Blacksburg, Virginia, had in mind five years ago when they founded Taaluma Totes, the company that crafted Arbuckle's bag from fabric that the student found during her study-abroad trip, last summer.
"Our goal is to connect the world and make it feel a little smaller," Alley DuFour said.
Jordan Arbuckle's tote
Since 2012, Taaluma Totes has sold thousands of bags crafted from unique international and domestic fabrics. Manufactured by a nonprofit organization in Southwest Virginia that supports jobs for dozens of workers with disabilities, a portion of the profits from the sale of the bags assists people living in the communities where the fabric originated.
In February 2015, the altruistic business model earned the husband and wife team a spot on the reality television show, "Shark Tank." The national exposure created such a surge in demand that the DuFours turned to fellow travelers, like Arbuckle, to expand their access to fabric. For their efforts, each supplier earns a free tote created from the fabric and a commission for the additional totes sold.
"Our goal is to connect the world and make it feel a little smaller." Alley DuFour '13
Michael Harnisch '16 took advantage of the opportunity during a study-abroad trip to Rwanda.
"You throw your bag over your shoulder, and you can remember all of the experiences and people you met," Harnisch said.
The DuFours agree that being Hokies provided the foundation for their success. "The Virginia Tech community was our incubator, giving us everything we needed to start Taaluma," said Jack DuFour.
It was during a Virginia Tech Engineers without Borders trip in Uganda that Jack DuFour, a mechanical engineering major, and Alley Heffern, a civil engineering student, took the first steps on their journey into the backpack industry. The experience in Uganda sparked a desire to bring back a piece of the country. So, when the pair found a local fabric that they felt perfectly captured the culture of the country, they bought several yards. Alley DuFour had a portion of the material made into a skirt; Jack DuFour opted for a backpack.
"And the idea really snowballed from there," Alley DuFour said.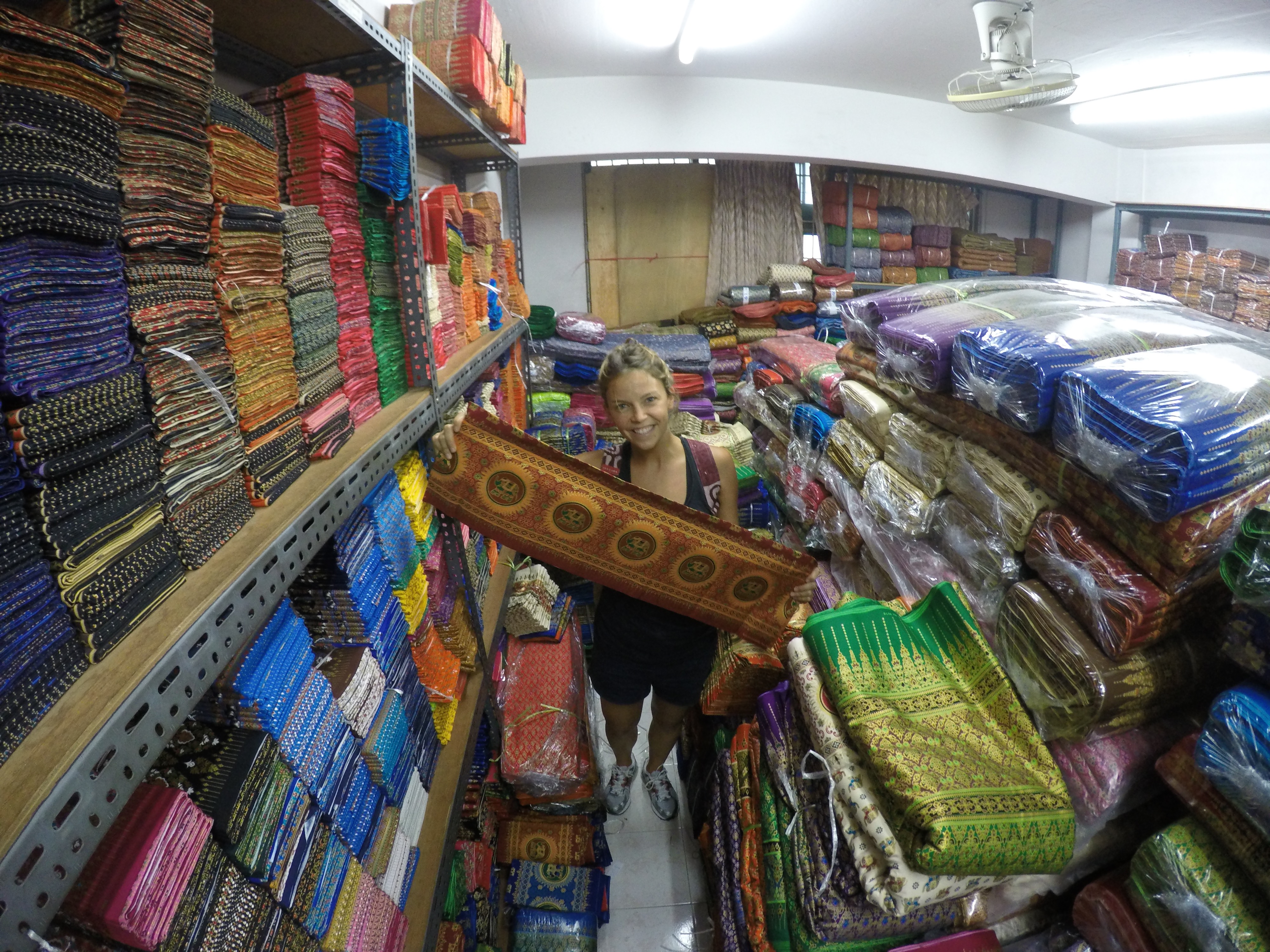 Alley Heffern DuFour searches through a market shop in Bangkok.
The couple returned to Blacksburg with an inspiration, but without the skillset or expertise to make a bag or launch a business.
From the legal paperwork to the actual crafting of their first marketable tote, an extensive network of mentors in and around the university helped bridge the gaps. "I think without the Virginia Tech community we would have just left it as an idea, but instead there were people there who helped us turn it into a reality," said Alley DuFour.
Through careful planning, the DuFours ensured a quality, marketable, cost-effective product for consumers. They also fulfilled a personal commitment to give back. Twenty percent of the profits from the sale of the totes are returned to the country of the fabric's origin as a microloan for a small business or farm. The no-interest loans are managed through the San Francisco-based nonprofit Kiva Lending Team. When the funding is paid back in full within a year, the DuFours reinvest it, buying additional fabric from the country.
"We're trying to connect the world in a subtle, but significant way. Giving people a nudge to wander off the beaten path in search of fabric often leads them to their most authentic experiences. These authentic and genuine interactions with local people connect us in a way that typical tourist attractions don't," Jack DuFour said.
For more about Taaluma Totes, including information on how you can help carry a country, visit vtmag.vt.edu.