ADVANCING THE VISION
ADVANCING THE VISION
by Tim Sands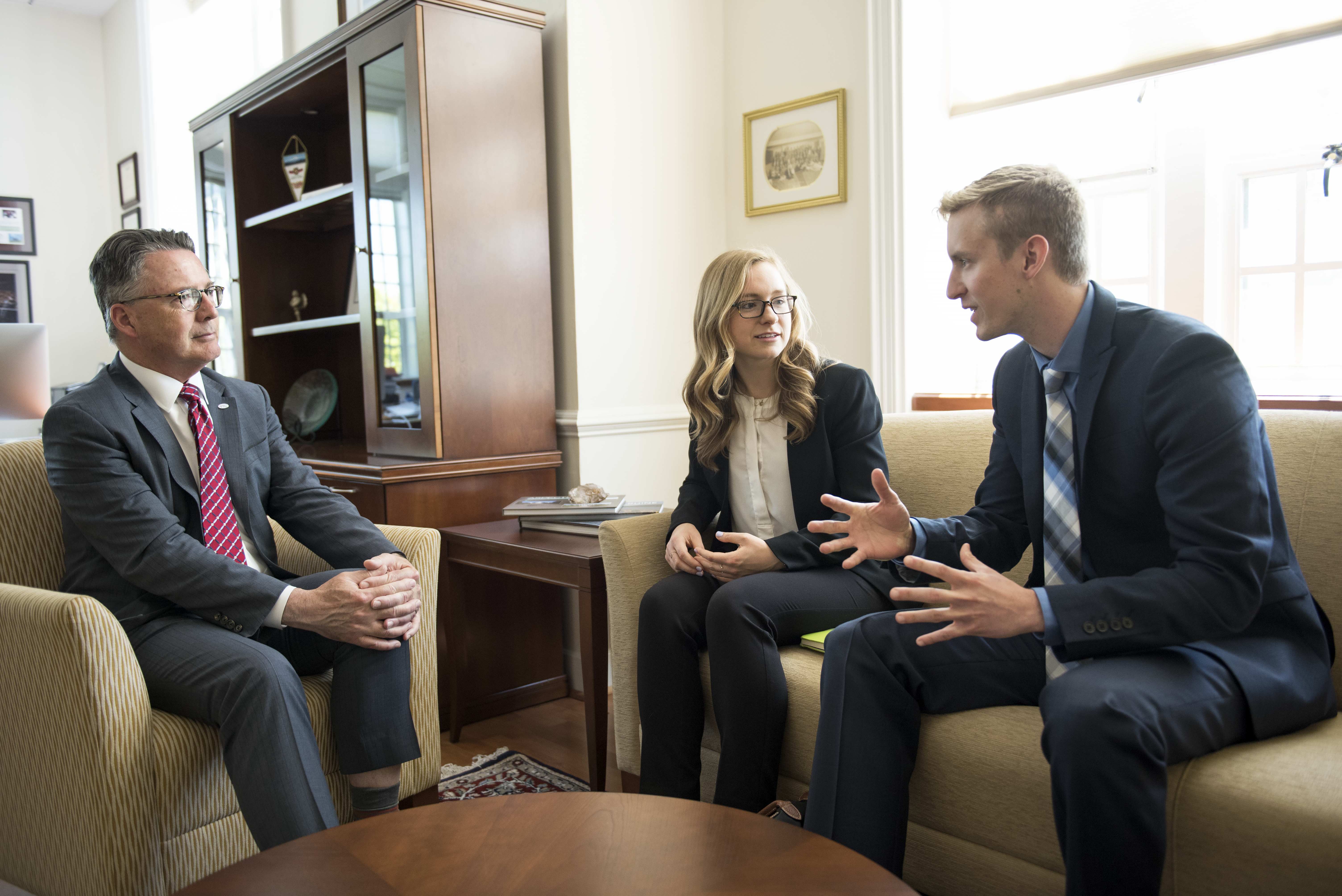 Listen and learn: Prior to graduation in May 2017, Virginia Tech President Tim Sands met with Abby Smith, 2017 Undergraduate Student of the Year, and Bobby Hollingsworth, Outstanding Senior for the College of Engineering, to learn more about their future plans and their experiences at Virginia Tech.
Nearly four years ago, I was honored to become the 16th president of this dynamic and enduring institution. I've engaged in hundreds of conversations with students, faculty, staff, alumni, and partners about Virginia Tech's future. Together, we have identified a set of aspirational themes that will help guide us as we chart the university's future direction.
First, and perhaps most importantly, we must remain true to our heritage as a land-grant institution and our tradition of service to our community, commonwealth, and country. It is the "secret sauce" that sets Virginia Tech apart. We must integrate experiential learning into every student's education, providing them with the diverse skills and global context that will enable them to compete and succeed in a rapidly changing environment. We need to grow strategically to achieve the benefits of scale and meet the growing demands for the Virginia Tech experience. We need to set our sights on becoming a top-100 global university so we can attract the best talent and partners and generate additional economic activity.
Although some of our goals can be accomplished quickly, others will take many years, but everything we envision has one need in common—your support. Your generosity brought us this far, and now we need you to take us to the next level. The giving rate for our alumni is currently about 12 percent. Other comparable universities have a giving rate of 20 percent. If we can increase our philanthropic giving to match our peers, we can achieve our goals for the university and much more. But we need your help.
On Tuesday, March 20, we will celebrate the first day of spring with the first annual Virginia Tech Giving Day. I want to encourage all of our alumni and friends to take advantage of this opportunity to support our mission and vision. Find out how you can participate by visiting vt.edu/givingday and help us match (and exceed) the giving rate of our peers and competitors.
With your support, we are creating a shared vision for the university's future that is both inspirational and achievable. As we move forward, I will keep you informed and share our milestones and progress toward our goals.
Thank you for everything you do for Virginia Tech.
Tim Sands is Virginia Tech's 16th president.