PLUGGED IN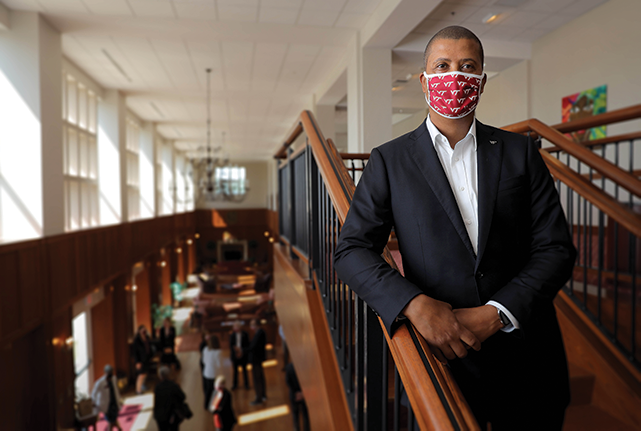 Ed Baine
AFTER GRADUATING FROM VIRGINIA TECH IN 1995 WITH a bachelor's degree in electrical engineering, Edward H. "Ed" Baine joined Dominion Energy as an associate engineer. During his tenure at the energy company, he has held numerous engineering, operational, and management positions
On Oct.1, Baine became president of Dominion Energy Virginia.
A member of Virginia Tech's Board of Visitors, Baine is active in the energy industry as a member of the Southeastern Electric Exchange Board of Directors and the Association of Edison Illuminating Companies' Power Delivery Executive committees. He is a board member of the Dominion Energy Credit Union, ChamberRVA, Venture Richmond, CJW Medical Center, the Valentine, and MEGA Mentors.
In 2017, he received the Anthony R. James Legacy Award for Outstanding Community Service, which was presented during the Career Communication Group's Black Engineer of the Year Award STEM and Community Service Conference. He also received the Metropolitan Business League Oliver Singleton Humanitarian Award. In 2018, Baine received one of seven Influential Black Alumni Awards during Virginia Tech's Black Alumni Reunion.
Baine lives in Chesterfield, Virginia, with his wife, Kim. The couple has four sons. Two, Kyle and Jalen, are current Virginia Tech students in the College of Engineering.
Why did you choose Virginia Tech for your undergraduate studies?
I decided in my senior year in high school that I wanted to be an electrical engineer. Virginia Tech is known for its great engineering program. I ultimately chose VT over other schools because I was given a full scholarship and a computer.
How did your experiences at Virginia Tech as a student, and later as an active alumnus, shape the trajectory of your life?
My experiences at VT as a student helped to build my confidence and develop a variety of skills. I learned that even though I grew up in a rural community, I could compete with anyone if given similar opportunities. That's the power of a land-grant university that serves all Virginians. In addition, Hokie Nation is real. There are so many Hokies that have helped me along the way personally and professionally, and I try to do the same as my way of giving back to the university and fellow Hokies. Lastly, my education and development at VT helped create a foundation that I stand on today in my current role. I am very proud to be a Hokie and very thankful for my opportunity to attend and now to serve the university.
What initially led you to Dominion Energy, and what about the organization has encouraged you to stay for 25-plus years?
I was initially attracted to Dominion Energy (formerly Virginia Power) because family and friends told me that it was a very stable company that would provide a long career opportunity if you worked hard. In addition, my fiancé was still in Virginia so I wanted to stay in the state.
There are many things that have kept me at Dominion Energy. The first one is a sense of purpose. I wake up every day knowing that we provide an essential service to our customers and that they are depending on us so that they can run their businesses and take care of their personal needs. Fortunately, I have been able to contribute to that purpose in many different roles. The second is our core values. I come from a family where you were taught strong values at an early age. I believe in our core values at Dominion Energy, and we live them every day. Lastly, I have stayed for my colleagues. We have great people at Dominion Energy, and I enjoy working with them and want to do all I can to help make them successful in all that they do.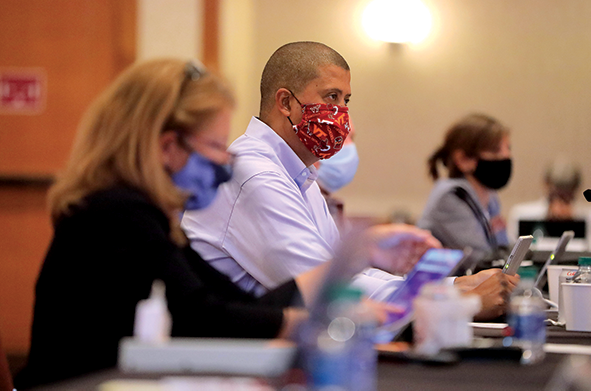 ON BOARD: Ed Baine, a member of the Virginia Tech Board of Visitors, participated in an information session in August, which was held in the Latham Ballroom at the Inn at Virginia Tech to accommodate physical distancing.
Can you describe your perspective on the challenges facing Dominion and how that influences your leadership goals? How has COVID-19 further complicated such challenges?
There is rapid change in the energy industry that presents many challenges and opportunities. As we move to more distributed energy resources, such as solar and battery storage, the grid must evolve and there is the need for new technologies to be developed as well.
We know that our customers want a cleaner energy future, and we have a goal as a company to get to net zero on carbon emissions by 2050. In addition, we want to help our customers to achieve their goals around carbon reduction as well.
We are building solar across the commonwealth. We just brought our first two offshore wind turbines on line and have battery storage projects underway. We have also launched several electrification efforts internally and for our customers. At the end of the day, we want to be the trusted energy solutions provider for our customers and meet their changing needs at all times.
COVID-19 has presented many challenges, but our team has been resilient, and we have been able to meet the needs of our customers during these difficult times. I am very proud and grateful for the efforts of our colleagues this year.
You are the first Black person to head a Dominion business unit, according to a recent news story in the Richmond Free Press. Please share your thoughts as you step into this role. Have recent current events and the resulting civil rights activism affected your perspective?
I am very honored and humbled by the opportunity to be president for our Dominion Energy Virginia segment. There have been so many that have helped me along the way and continue to do so. In particular, there were many sacrifices by my family, and I am driven to make them proud in all that I do. I hope that my journey from the tobacco fields in Lunenburg County to this role will encourage others to not limit their dreams and aspirations.
The recent events have reminded me that I have been put in a position that I can have a voice and need to make sure that I do so more often than I may have done in the past. In addition, it is a reminder that there is still much work to do across this nation to ensure that all people are respected, valued, and appreciated, and I have a role to play in that effort.
"My experiences at VT as a student helped to build my confidence and develop a variety of skills. I learned that even though I grew up in a rural community, I could compete with anyone if given similar opportunities. That's the power of a land-grant university that serves all Virginians."
Ed Baine '95
As you think about the talent that has to be recruited and retained in order to run a successful business, what is higher education doing well, and where can it improve? In what ways is Virginia Tech doing well, and how can it improve?
I believe that higher education is still a great place for students to find personal and professional growth and gain meaningful preparation for their future careers. I believe that the COVID-19 pandemic has created a burning platform for higher education to evaluate its current model and determine what may need to change to serve future students over the next 5-10 years. I also think that higher ed can be a little more nimble in supporting the changing skillset needs for businesses.
I believe that VT does a lot of things well. It starts with the leadership making good decisions to run a successful university. I also believe that focusing on transdisciplinary and experiential learning are very important, because those skills are what we need from a business perspective. I also believe that having the ability to change curriculum in a more timely manner to support business needs is also important.
As I think about the future, there are several things that VT needs to consider. We need to think about what we have learned from the COVID-19 response that we need to take forward even when the pandemic is over. We also need to consider how we could serve students and communities beyond our campus life.
I think there is an opportunity to deliver programs and training beyond what we have contemplated in the traditional sense. We also need to figure out how to attract and retain the brightest students and faculty to the university and continue our focus on diversity. I believe that will require more financial support from alumni for scholarships and other programs.
Describe the principles that govern your life, professionally and personally.
It starts with the Bible verse Luke 12:48: "To whom much is given, much is expected/required." No matter who you are, you need to consider yourself a work in progress. Always have the courage to make the right decision. I believe that you need to be humble, fair, honest, accountable, and yourself. You also need to have a purpose and balance. I also tell my sons when all else fails, do your best and have fun.
When you're away from the office, what are you most passionate about? What are your hobbies?
I am most passionate about my family. I try to make sure that I spend time with them. I like sports. This is the first time in 15 years that I haven't coached youth football. I like to hunt, fish, travel, and spend time with family and friends.