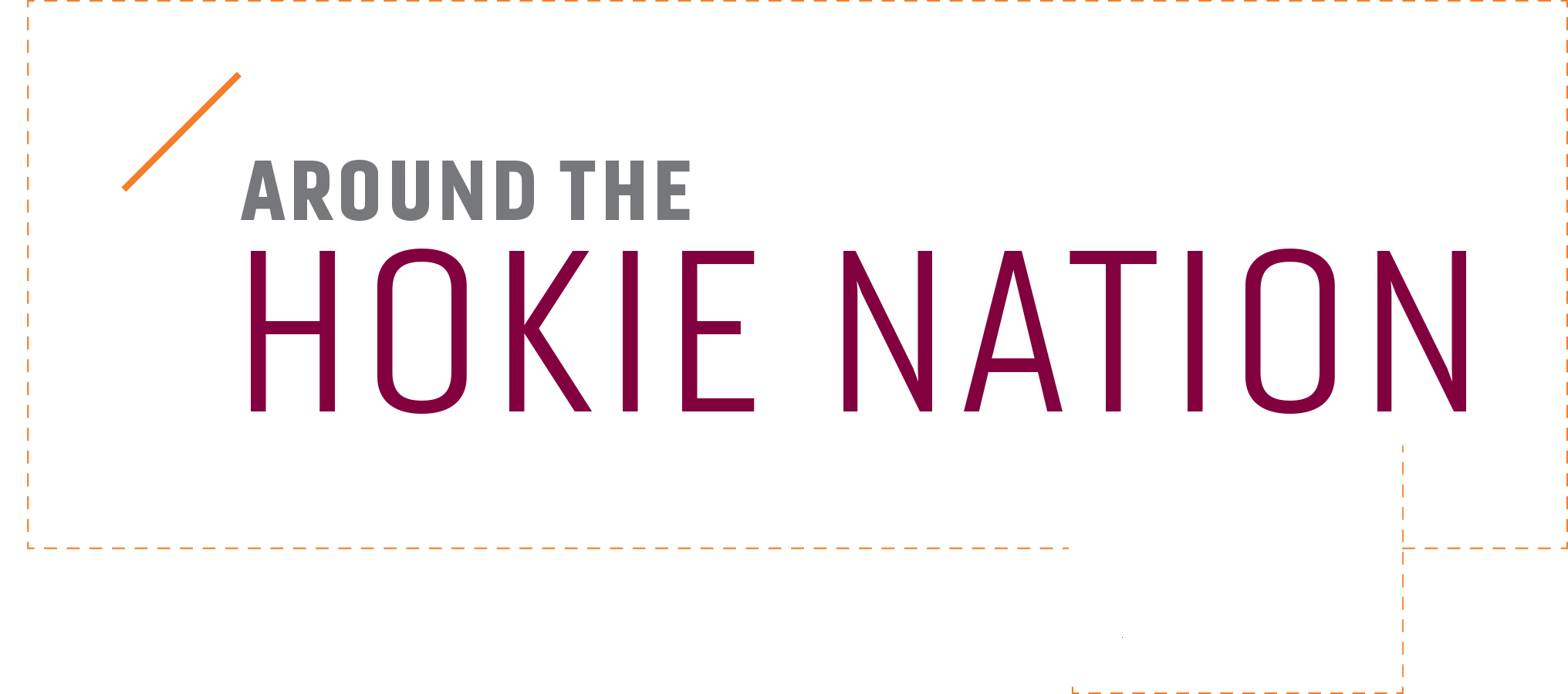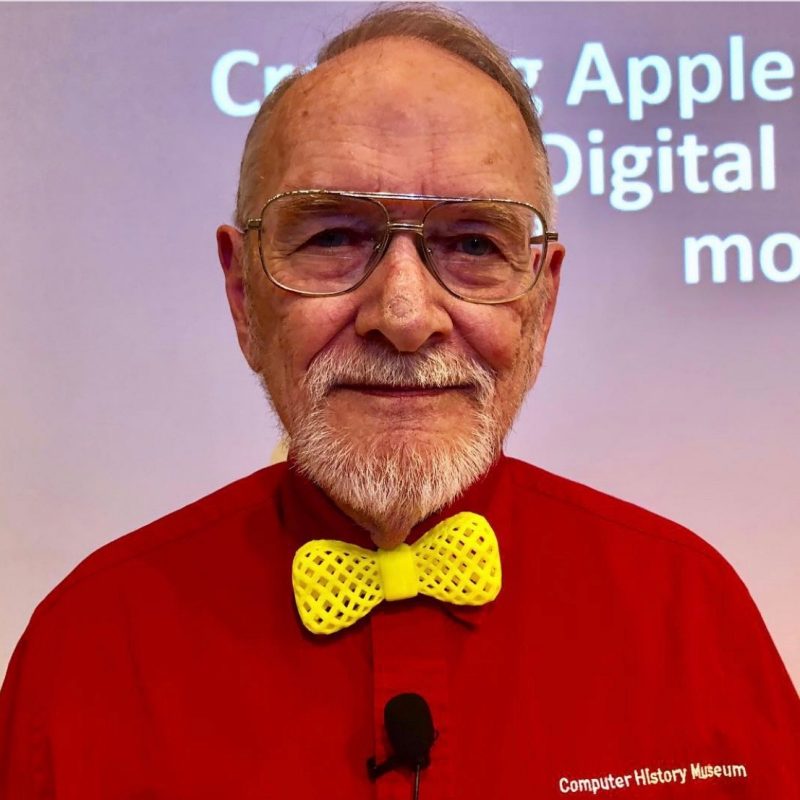 Paul Laughton (photo by Stephen Mackay)
Not everyone can say they were hired by Steve Jobs and Steve Wozniak in a one-page contract worth $13,000. But Paul Laughton can.
In April 1978, Laughton was hired to design the file manager, a BASIC interface, and tools for Apple II DOS (disc operating system, the first disc drive) version 3.1 from his home office.
The Apple II was a game-changing computer, fully assembled, with color, graphics, sound, expansion slots, game paddles, and a built-in BASIC programming language. Laughton, who previously worked as a programmer for John Hopkins University and IBM, would later author Atari Basic before becoming director of software development at Logitech.
Following his retirement in 2000, Laughton became a docent for the Computer History Museum in Mountain View, California, near San Jose. In August 2018, Laughton returned to Virginia Tech, presenting highlights from his career to a packed house inside Goodwin Hall. Laughton sported a bright yellow 3-D printed bow tie that, yes, he made himself. This fall, Laughton was inducted into the Virginia Tech College of Science Hall of Distinction. For more information, visit science.vt.edu.
MENTORING ASPIRING PROFESSIONALS
MENTORING ASPIRING PROFESSIONALS
Kenneth Cooke (Photo credit: Brett Lemon)
Kenneth Cooke, who graduated from Virginia Tech in 1992 with a degree in accounting, is a vice president controller at American Express. As a student, Cooke, pursued a business degree, dreaming of a big corporate office and a $30,000 salary that he thought would make him rich. But what has kept him in the world of finance for so many years is very different.
"I thoroughly enjoy working with my colleagues every day to tackle dynamic business challenges," Cooke said. "Also important to me is that, in an environment where there are so few minorities in positions of authority, I can mentor young African Americans, encouraging them to join the business community and coaching them to successful careers."
Currently, Cooke has 10 "formal" mentees, but he offers mentorship and support to many others as well.
Cooke understands the value of mentors because he had several of his own. "It is invaluable to have people who will give you insights and independent viewpoints on your career and overall growth," he said.
During Cooke's 28-year career, he has held positions at companies, including Goldman Sachs, Genworth Financial, Philip Morris USA, and PricewaterhouseCoopers (PwC).
Read more about Cooke at magazine.pamplin.vt.edu.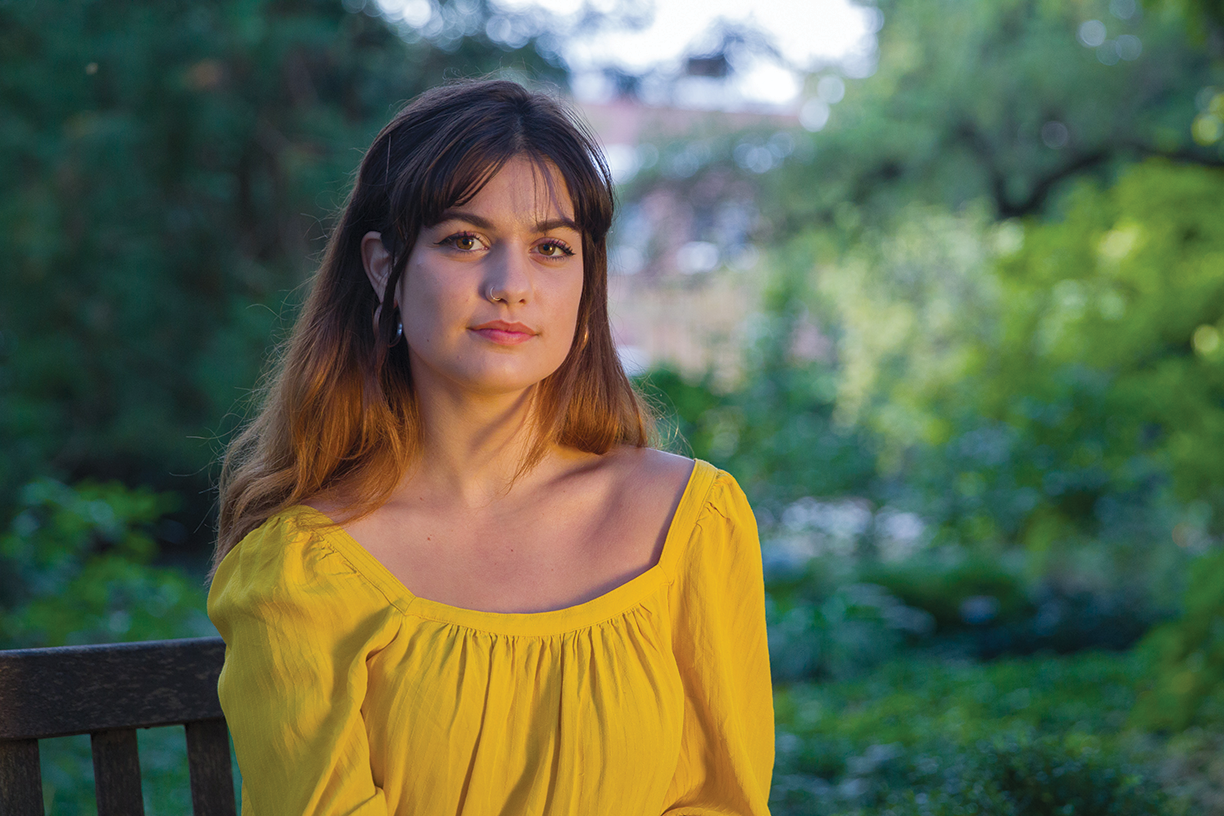 Ellie Muraca
Growing up, Ellie Muraca '18 was always asking questions. That passion for finding connections and starting conversations grew when she joined Virginia Tech as an undergraduate in the urban affairs and planning program.
Now, through a podcast startup, Building the Beloved, Muraca questions what it means to belong or exist in the world of equitable community planning and design. Through the podcast, Muraca interviews people from all walks of life and features discussions with nonprofit organizations and community project leaders. Her first interview subject was Virgil Wood, a renowned church leader, educator, and civil rights activist who served alongside Martin Luther King, Jr.
"The term 'Beloved Community' refers to a way of life that's based on pure, unconditional love for humankind," said Muraca. "It's about including the individual's singular parts that make the community a true, beloved whole."
The distancing required as a result of the coronavirus have put a hold on some of Muraca's plans, but she looks forward to adding to the collection of podcasts as the lifting of restrictions allow.