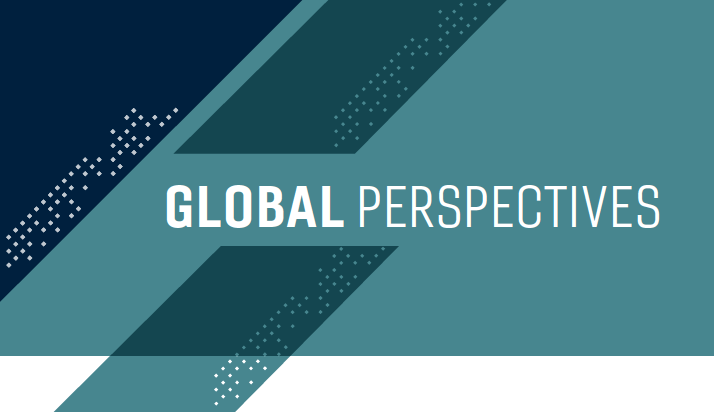 THE TIME IS 10 P.M. IN KAZAKHSTAN, and Kabyl Oxikbayev's classes are just starting for the day.
For the next seven hours, the senior civil engineering major will listen to live lectures, participate in meetings, and even catch up with friends in Blacksburg. His days end at 5 a.m.
"My philosophy is that I am up during business hours," said Oxikbayev, who in May left Blacksburg for his home country in Central Asia, which is in a time zone that is 10 hours ahead of the U.S.
"I WOULD TELL PEOPLE, DON'T BE IN SUCH A RUSH TO LEAVE YOUR FAMILY. I guess i really didn't realize how much time i'd spent away from them, and i feel like people should cherish that time together."
Mikun Adewole
Oxikbayev isn't the only Hokie who has taken on a completely new schedule this semester. Other students who returned to their home countries are taking courses from different time zones and pulling all-nighters to remain enrolled as active students. Some, like Mikun Adewole, experienced this reality when the pandemic began last spring.
Hokies around the world are striving to make the best of a challenging year.
Mikun Adewole: A Semester Disrupted
Mikun Adewole was staying with family members in Maryland when he learned the university was extending spring break as a result of the COVID-19 pandemic. Fearing travel to Nigeria, where his immediate family lives, would soon become difficult, his mother quickly arranged for him to fly home to Lagos, the country's largest city.
"The day after I got back [to Nigeria], the airport closed, and it's still closed," said the junior chemical engineering student.
In the months that followed, Adewole found himself navigating his online courses, as well as adjusting to a five-hour time difference.
Adewole, who did secure safe transport back to the U.S. this summer, says it is a relief to be back in Blacksburg, but he also is grateful for the time he had in Nigeria.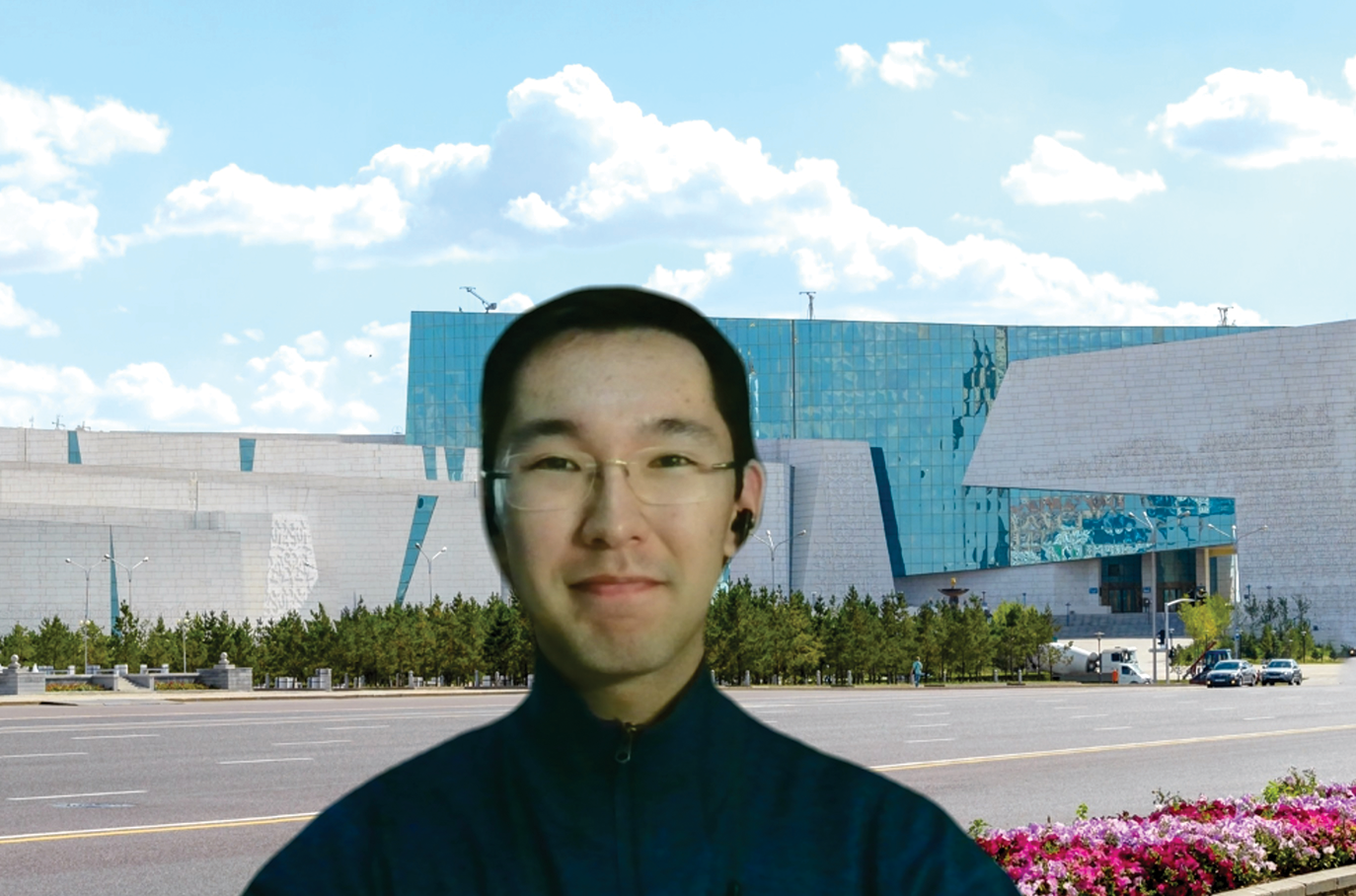 Kabyl Oxikbayev: Leading Across The World
Not only is Kabyl Oxikbayev juggling his senior year of classes, he also is leading an international student organization virtually. In June, Oxikbayev became president of the Council of International Student Organizations, a group that represents and advocates for international students at Virginia Tech.
Generally, Oxikbayev meets with the council's 10-member board every two weeks, and many join virtually from other countries, including China, India, and the U.S.
"Even though it's been a challenge, it does give me a certain level of experience and valuable insight that I feel like I would not have gotten had everything been the same or normal," said Oxikbayev.
Oxikbayev is on a completely opposite schedule than his parents. He goes to bed when they wake up in the mornings. They eat dinner together before his classes begin.
"Staying up late at night to not only do assignments but to be mentally and physically present for a lecture, it's a bit of a struggle," he said. "But I'm just thinking of it in a way that in 10 years I'll be looking back, and, hopefully, I'll be laughing about it."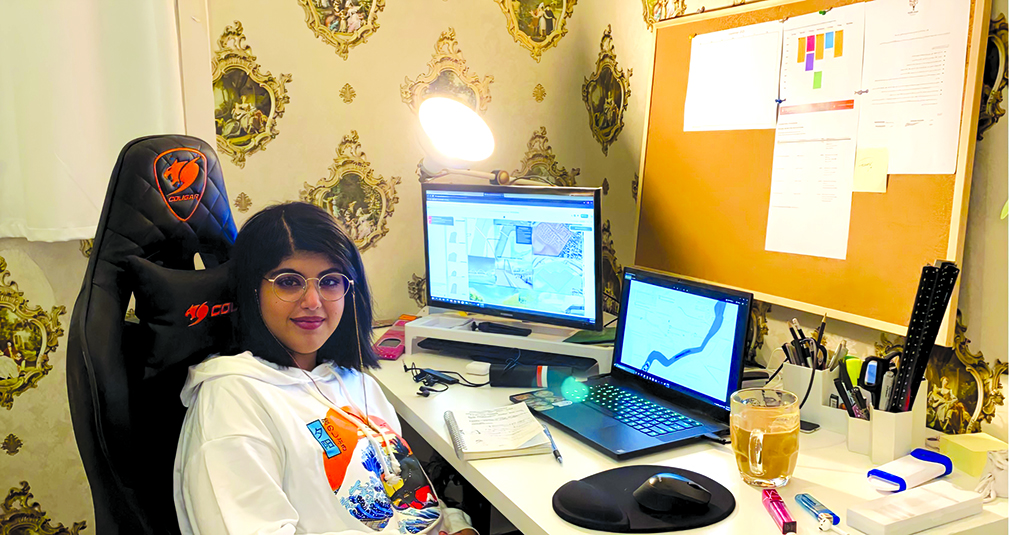 Danah Alnajidi and Najd Alnajidi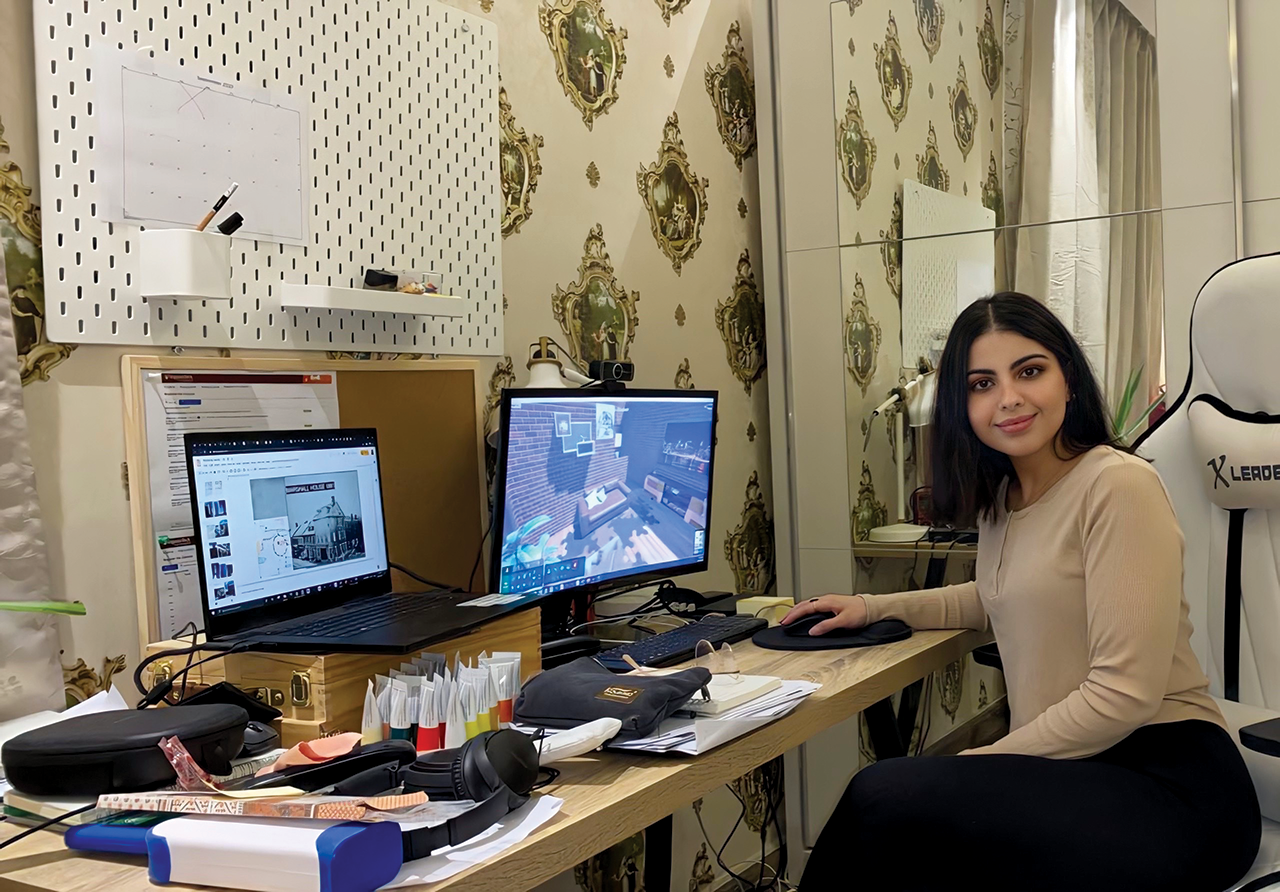 Danah And Najd Alnajidi: Creativity Flourishes At Night
Sisters Danah and Najd Alnajidi didn't want to leave Northern Virginia to return home to Saudi Arabia last spring. But when the coronavirus pandemic began, their family was worried for their safety.
The sisters are graduate students studying architecture at the Washington-Alexandria Architecture Center, a Virginia Tech campus in Alexandria, Virginia.
"It was the most stressful thing," said Najd Alnajidi, explaining that they had to pack up their Alexandria apartment, move their belongings to storage, and leave their two cats with a friend.
Once they arrived in Saudi Arabia, they had to quarantine for 14 days in a city that was on lockdown. No one could leave their houses except to go to the grocery store.
All along, the sisters knew that it would be impossible for them to return to the U.S. for their fall semester, because no air travel was allowed. They were determined not to fall behind in their classes.
"I would have to take a whole semester off," said Najd, who is in her second year of the architecture program.
The sisters retrofitted a study and living area in their home and convinced their family to upgrade the house's WiFi so that they could better access their classes online.
Their classes begin at 8:30 p.m. and end by 5 a.m. They sleep during the day, waking up in time for dinner and other activities with their family.
Danah Alnajidi, who is in her first year of the architecture program, said she's looking forward to having a daytime class schedule once they are able to return to the U.S.
"I don't mind being on Zoom classes, but I would rather be in Alexandria," said Danah.
Another challenge this semester for Najd is not being able to take some of the hands-on classes. She said she also misses being able to print large architectural drawings.
Luckily, both sisters have enjoyed staying up late in the past and that has worked in their favor with their new class schedule.
"We get so invested in ideas that we don't want to go to sleep," said Najd. "We know that once we sleep, the next day that idea won't be there." TW/JKB