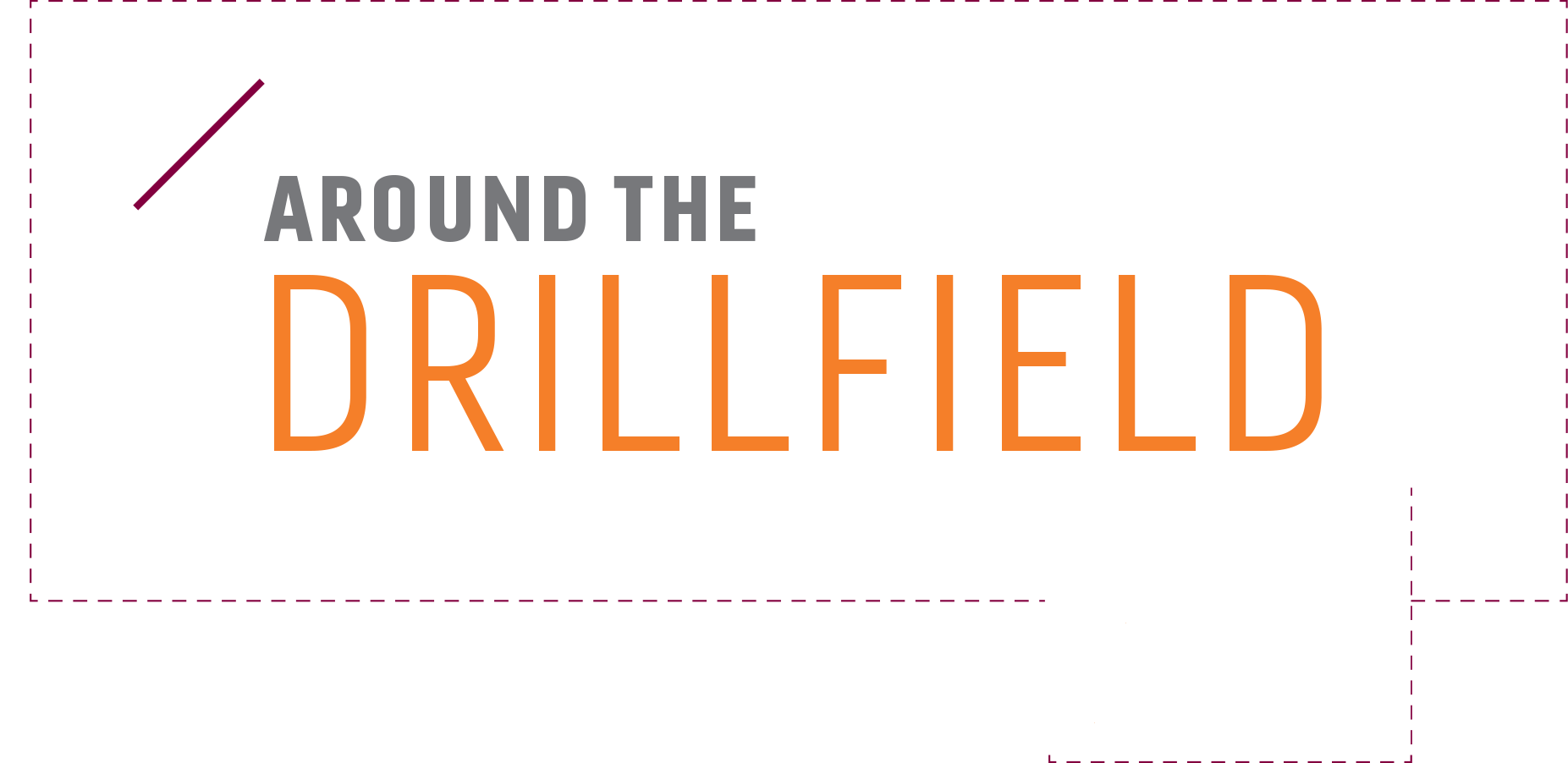 MARCHING TO A DIFFERENT FORECAST
MARCHING TO A DIFFERENT FORECAST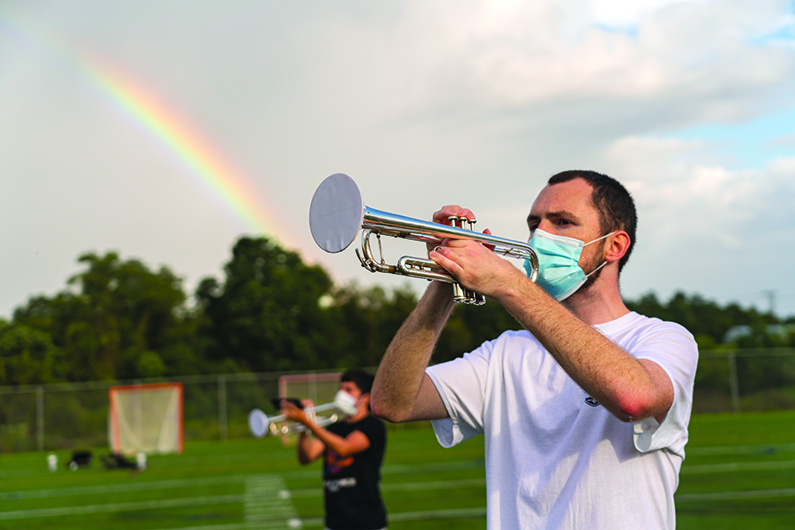 SUNNY WITH A CHANCE OF TRUMPET: Ben Sheppard, center, and the Marching Virginians follow health and safety protocols while practicing. For videos of Ben Sheppard and the Marching Virginians, go to vtmag.vt.edu.
THE MARCHING VIRGINIANS HAVE AN ADVANTAGE THAT FEW marching bands can match: their very own weather forecaster.
Ben Sheppard, a senior majoring in meteorology in the College of Natural Resources and Environment's Department of Geography, has been providing detailed weather forecasts for the Virginia Tech marching band since his freshman year.
"As a first-year trumpeter and a meteorology major, all of my friends in the trumpet section would joke that it was my fault when the weather was bad," said Sheppard, who has played the trumpet since fourth grade. "So I started using what I was learning in class to write up humorous weather reports for the section and sending them out. My friends were excited to read them and very supportive of what I was doing. By my junior year, the band directors were asking me if I could send my reports to them to help their planning."
Sheppard's initiative led to him being designated as the first-ever "Official Forecaster" of the Marching Virginians this year, a leadership position that recognizes his contributions to the band.
With band participants taking extra steps to meet health guidelines to prevent the spread of COVID-19, having accurate weather forecasts has taken on a greater significance. Since the Marching Virginians are required to practice outdoors, it is important for band leaders to know what weather is on the horizon.
DANIEL SUI APPOINTED VICE PRESIDENT FOR RESEARCH AND INNOVATION
DANIEL SUI APPOINTED VICE PRESIDENT FOR RESEARCH AND INNOVATION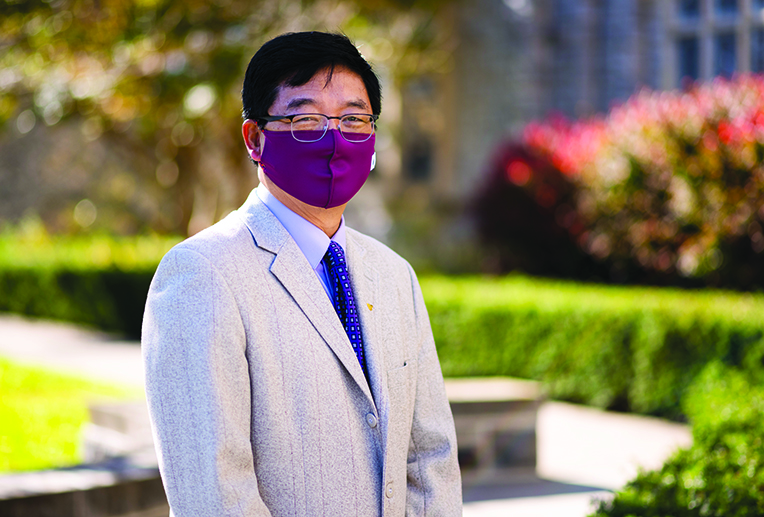 Daniel Sui
DANIEL SUI, AN INTERNATIONALLY renowned researcher in the area of GIS-based spatial analysis and modeling for urban, environmental, and public health applications, has been appointed Virginia Tech's vice president for research and innovation, effective Nov. 1.
"Following a nationwide search, I am delighted that Dr. Sui has joined the Virginia Tech team to lead our research enterprise," said Executive Vice President and Provost Cyril Clarke.
A distinguished professor of geography, Sui served as the vice chancellor for research and innovation at the University of Arkansas.
Sui succeeds G. Don Taylor, Virginia Tech's executive vice provost, who served in an interim capacity. Sui will be responsible for supporting and growing the university's research portfolio, which includes extramural funding. He will also chair two boards for Virginia Tech-affiliated corporations.
Sui has been published in more than 230 scholarly publications and has delivered approximately 70 keynote speeches and guest lectures over the past five years.
Sui had served as the division director of Social and Economic Sciences for the National Science Foundation. He had also served as chair of the Department of Geography at the Ohio State University and was the assistant vice president for research at Texas A&M University from 2004-09.
He earned a Bachelor of Science in geography and a Master of Science in remote sensing and geographic information systems from Peking University in Beijing, China. Sui received his doctorate in geography from the University of Georgia.
VIRGINIA TECH HISTORIANS UNCOVER THE FACTS ABOUT MASKS
VIRGINIA TECH HISTORIANS UNCOVER THE FACTS ABOUT MASKS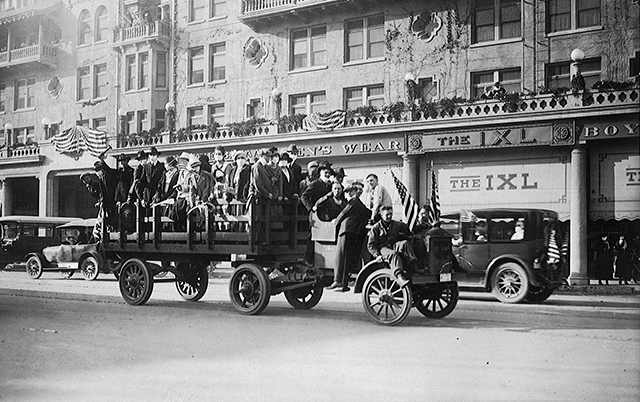 A parade during the 1918 pandemic
MORE THAN 100 YEARS AGO, during the 1918 flu pandemic, health officials urged Americans to protect their country by wearing masks. Flash forward to 2020 and COVID-19. Health experts are again encouraging face coverings to protect against a dangerous virus.
Three Virginia Tech researchers started the Flu Mask Project to study the use of masks in 1918 as a way to understand how people experience a pandemic and how masks fit into a broader public health response. They also are evaluating the scientific evidence of the effectiveness of masks and lessons learned for future mask use, such as during COVID-19.
"Although a century divides these two epidemics, mask hesitancy and outright refusal unite them," said Ariel Ludwig, a member of the research team who earned her Ph.D. in science and technology studies at Virginia Tech.
The team includes Jessica Brabble, a master's student, and E. Thomas Ewing, a professor of history.
BIRX PRAISES VIRGINIA TECH FOR COVID-19 TESTING, OPENING CAMPUS
BIRX PRAISES VIRGINIA TECH FOR COVID-19 TESTING, OPENING CAMPUS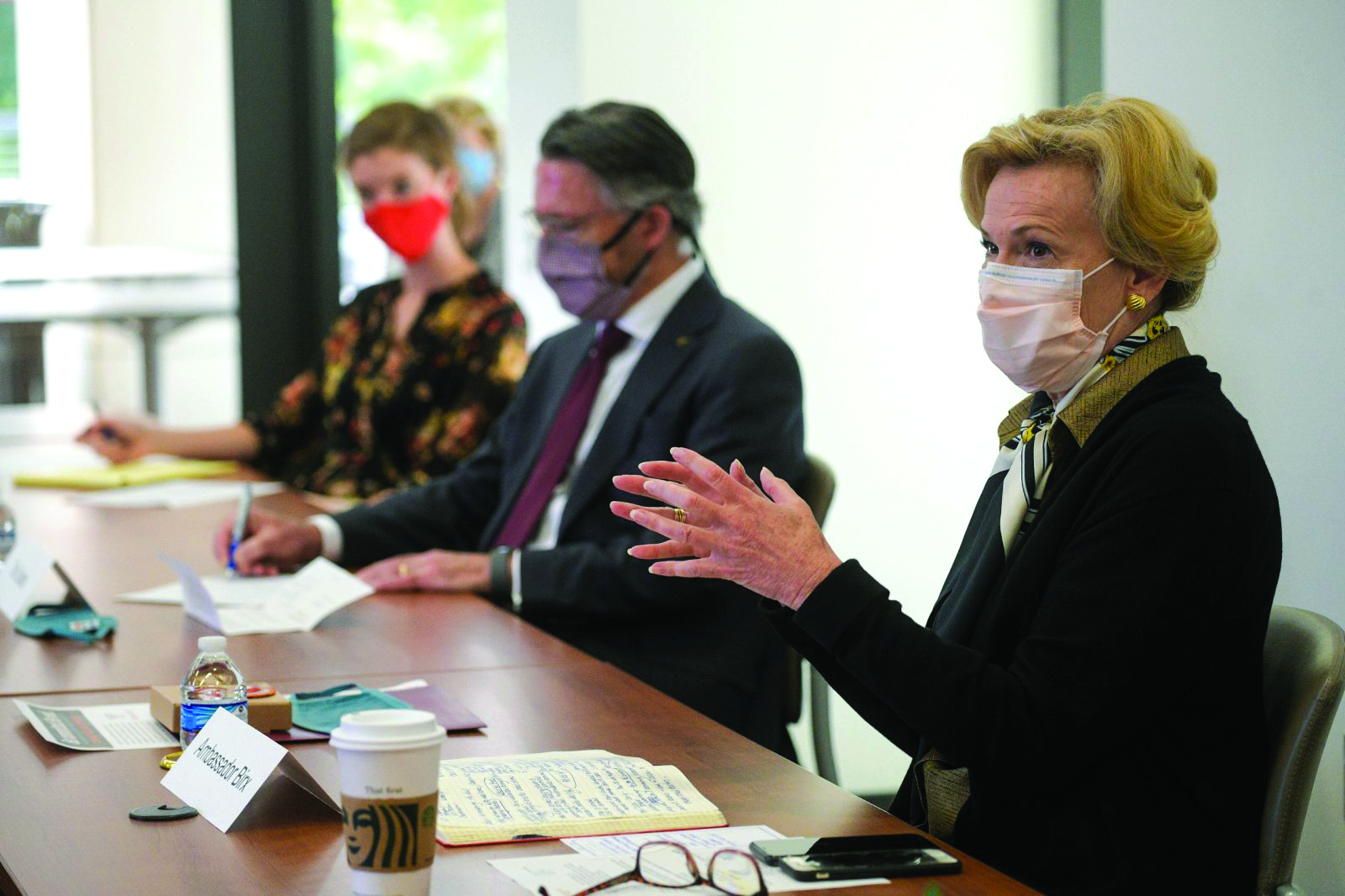 DOCTOR'S NOTE: Deborah Birx (right), White House Coronavirus Response coordinator and world-renowned medical expert, visited Virginia Tech on Sept. 16 to discuss the university's management of COVID-19 with leaders, including President Tim Sands.
DURING A SEPT. 16 VISIT TO Blacksburg, Deborah Birx, a world-renowned health official, physician, and White House ambassador, praised Virginia Tech's work to develop its own corona-virus testing site and open its campuses amid the global pandemic.
Birx, who is the U.S. special representative for global health diplomacy, discussed with administrators and students the ways that the university is managing COVID- 19, and she offered insight and advice.
Virginia Tech's ability to perform its own coronavirus testing, led by Carla Finkielstein, associate professor and researcher at the Fralin Biomedical Research Institute at VTC, is extraordinary among institutions nationwide, Birx said. Only a handful of universities are doing their own COVID-19 testing, she said.
"It's really critical for the community," she said. "You really are in control of your own destiny because of how much testing you can do based on human personnel rather than the supply chain."
Birx said that Americans—including those on college campuses—can figure out how to be social and safe. For example, students who interact within the same small group of friends, also called pods, should be able to dine together safely.
During her visits, she said she concluded that the universities that have been the most successful in managing COVID-19 on campus worked hard during the summer to develop a plan for the fall semester.
"I think that's why you're in a good place, because you really laid a strong foundation," Birx said to Virginia Tech leaders.
MEDICAL STUDENTS CREATE CLUB WITH FOCUS ON MEDICAL DESIGN
MEDICAL STUDENTS CREATE CLUB WITH FOCUS ON MEDICAL DESIGN
From left, Medical Design Club founders Luma Abunimer, Tommy To, and Katie Hardin.
THREE STUDENTS AT THE VIRGINIA Tech Carilion School of Medicine have created a medical design club that merges medicine and innovation.
Second-year students Luma Abunimer, Katie Hardin, and Tommy To said the focus of the organization is to support the engineering and design ideas of medical students and physicians so that they can innovate and improve medical technology, systems, and procedures.
"We felt that if we could provide medical students with the platform and skills to creatively address the many needs in the field of medicine, especially now during the pandemic, we would all be even more dynamic physician thought leaders," Abunimer said.
The group's first project was a website that serves as a virtual repository for sharing computer-aided design files for 3D printing of materials for use with personal protective equipment (PPE). Creation of the website was driven by the COVID-19 pandemic and the PPE shortage it caused.
MOBILE AUTISM CLINIC RECOGNIZED
MOBILE AUTISM CLINIC RECOGNIZED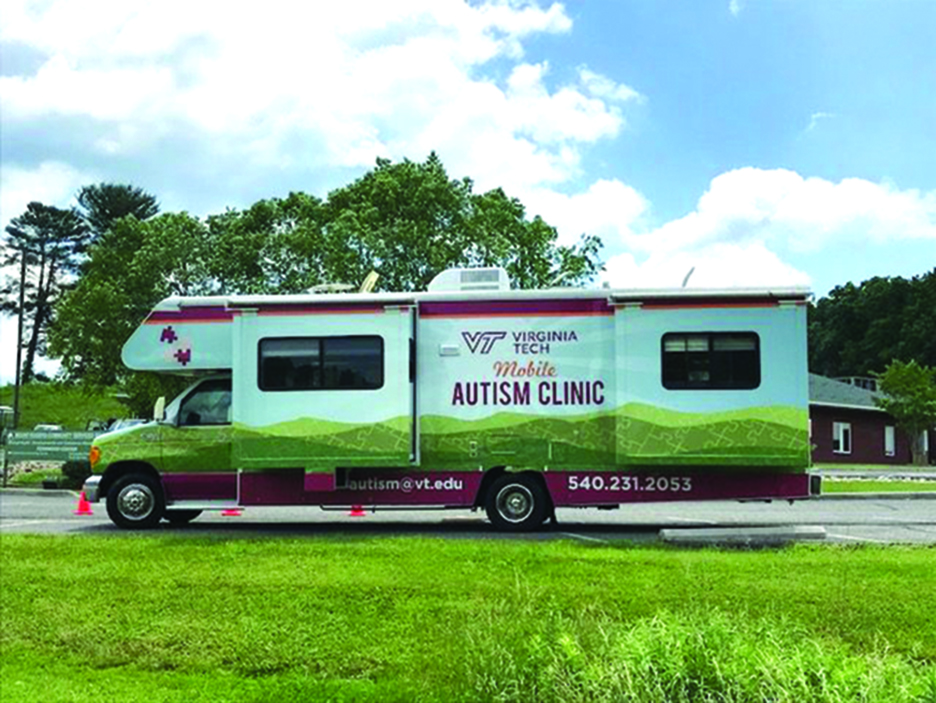 ON THE MOVE: Virginia Tech's Mobile Autism Clinic serves Bland, Carroll, Grayson, Smyth, and Wythe counties, as well as the City of Galax.
THE VIRGINIA TECH AUTISM CLINIC & Center for Autism Research and their Mobile Autism Clinic received national recognition as an "exemplary program" by the Association of Public and Land-grant Universities.
Virginia Tech is one of four universities to receive the designation. The recognition is part of the W.K. Kellogg Foundation Engagement Scholarship Awards program.
Angela Scarpa, a psychology professor in the College of Science, launched the mobile clinic in 2018. Through the use of a modified recreational vehicle, the mobile clinic provides clinical care, support, and therapy sessions for families and children.
Although COVID-19 has forced the mobile clinic to be parked temporarily, Scarpa and her team, along with the Department of Psychology's clinical science program, have moved in-person therapy, diagnosis, and care to an online format using HIPAA-compliant Zoom software.
RESEARCHERS BEGIN TESTING CAMPUS WASTEWATER FOR COVID-19
RESEARCHERS BEGIN TESTING CAMPUS WASTEWATER FOR COVID-19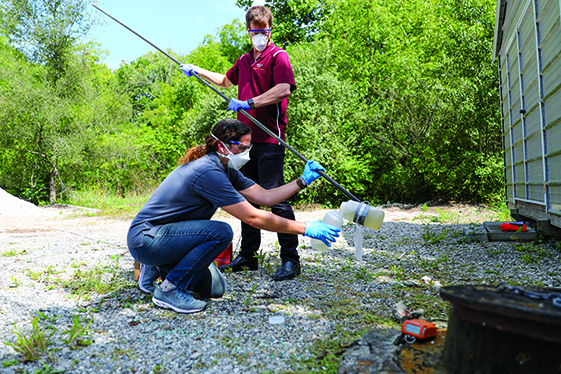 WASTE NOT: Virginia Tech researchers Amy Pruden and Peter Vikesland collect samples of wastewater across campus to test for the presence of COVID-19.
A TEAM OF VIRGINIA TECH Researchers is testing wastewater at 15 campus sites for the presence of the novel coronavirus (SARS-CoV-2), enabling the university to more rapidly identify and respond to positive tests.
The advance allows the university to monitor clusters of campus buildings on a daily basis, testing for the presence of the virus in fecal matter. If the testing shows positive results, the university can then conduct targeted testing among individuals in those buildings to zero in on possible infections. The idea is to more proactively identify virus clusters, even when individuals may be asymptomatic.
The team—led by Peter Vikesland, professor of civil and environmental engineering—includes Civil and Environmental Engineering Professor Amy Pruden and Ph.D. candidate Ayella Maile-Moskowitz. Virginia Tech's Office of the Vice President for Research and Innovation and the Department of Civil and Environmental Engineering invested $200,000 to expand the project to 15 sampling sites on the Blacksburg campus. Most of the sites focus on clusters of residence halls.
"As we saw researchers around the world testing their wastewater for COVID, we thought it would be interesting to see if we could, too, since we already examine wastewater for pathogens and viruses in our lab," Maile-Moskowitz said. "As it became clear that the pandemic was not going anywhere, we saw it as an opportunity to help the university in determining where outbreaks might be occurring around campus, especially as an early warning system."
RECORD GIVING TO VIRGINIA TECH
RECORD GIVING TO VIRGINIA TECH
VIRGINIA TECH SUPPORTERS STEPPED forward like never before in a year that saw the university launch its most ambitious fundraising campaign ever, but also experience unprecedented disruption due to the COVID-19 pandemic.
More than $185.4 million in new gifts and commitments were made during the 2019-20 fiscal year, which ended June 30. The previous record was $181.9 million in 2018-19.
The university received nearly $172.7 million in cash through donations during the past fiscal year, topping the previous record of $134.4 million in cash in 2017-18.
Despite the pandemic's impact on the economy during the latter third of the fiscal year, the total number of Virginia Tech donors increased by more than 14 percent, to 41,524.
In October 2019, the university announced Boundless Impact: The Campaign for Virginia Tech, with a goal to raise $1.5 billion and engage 100,000 Hokies by 2027. The campaign's fundraising progress was $657.2 million as of June 30.
An increase in the number of alumni who gave was even more pronounced— up nearly 22 percent to 27,775. As a result, the university's alumni giving percentage, a key factor in many college rankings, increased from 13 percent to 15 percent.
"COVID-19 changed how we were able to connect as Hokies by keeping us apart, physically. But it did not keep our alumni and friends from showing their support for Virginia Tech," said Charlie Phlegar, vice president for advancement. "We are extremely grateful to all of them."
DESIGN TEAM PLACES SECOND
DESIGN TEAM PLACES SECOND
AS THE RATE OF AIR TRAVEL increases around the globe, so does congestion of major commercial airports, resulting in delays, not enough flights to meet demand, and passengers needing to fly to smaller satellite airports. These recurring problems will worsen in years to come.
After a year-long effort to design a high-capacity, short-range transport aircraft, a Virginia Tech capstone design team brought home second-place honors in the 2020 Undergraduate Aircraft Design Competition sponsored by the American Institute of Aeronautics and Astronautics.
"Our team performed exceptionally well and submitted a quality proposal, even when the bar kept moving," said co-faculty advisor Pradeep Raj. "They each handled the sudden change in modality due to the global pandemic very professionally."
The team, known as Over the Pond, is composed of eight aerospace and ocean engineering students from Virginia Tech and two students from Hamburg University of Applied Sciences in Hamburg, Germany.
Almost 40 university teams from across the country competed in the virtual competition that included an intense design review of their written report. The undergraduate aircraft design competition offers an opportunity for students to participate in a simulated real-world problem and allows students to gain experience and receive useful and constructive feedback from technical experts.
INNOVATION CAMPUS LAUNCHES INAUGURAL CLASS, WELCOMES NEW LEADER
INNOVATION CAMPUS LAUNCHES INAUGURAL CLASS, WELCOMES NEW LEADER
INNOVATIVE COHORT: Lance Collins, Innovation Campus vice president and executive director, arrived at the campus, along with the first class of students.
THE VIRGINIA TECH INNOVATION Campus reached several milestones this semester with the arrival of Vice President and Executive Director Lance Collins and the launch of its inaugural class of students. It also announced an advisory board of 10 global business and industry leaders.
Collins started at Virginia Tech just a few days before the first Innovation Campus class—79 students pursuing master's degrees in computer science and computer engineering—began the fall semester.
"These students will help build the foundation of the Innovation Campus as we expand programs and develop a new curriculum," Collins said. "I look forward to working with them to create a new type of graduate program with a strong emphasis on engagement with companies and federal agencies."
The first Innovation Campus cohort includes 26 students enrolled in Virginia Tech's new Master of Engineering in computer science program—the first degree designed specifically for the Innovation Campus. The other three Innovation Campus degree programs are the Master of Science in computer science, Master of Science in computer engineering, and Master of Engineering in computer engineering.
Innovation Campus classes are online this semester because of the pandemic, and faculty offices and course instruction for students will be in Virginia Tech's existing location in Falls Church while the new campus is being built in Alexandria.
The university expects to break ground on the campus' first academic building in 2021 and welcome students, faculty, and staff in fall 2024.
THE SOUND OF PLANTS DANCING
THE SOUND OF PLANTS DANCING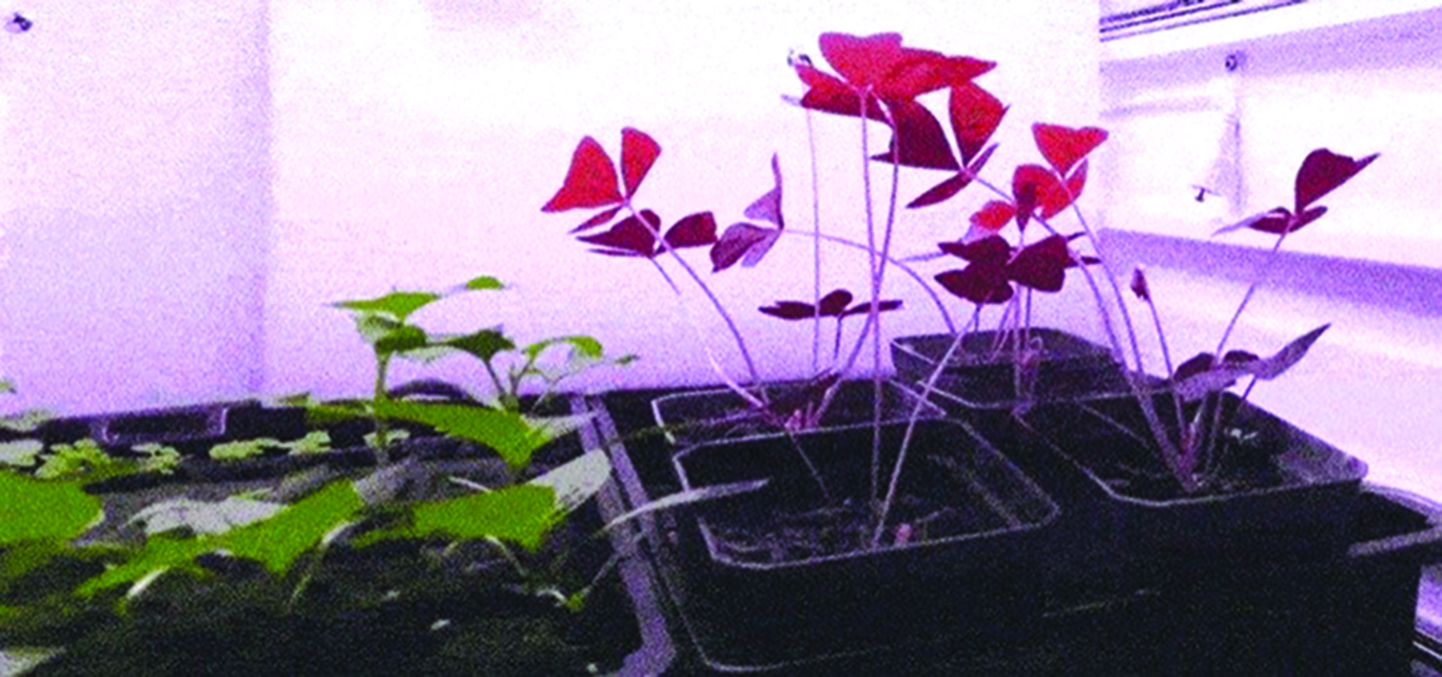 IMAGINE PUTTING ON A PAIR OF headphones and being able to determine the health of plants across the globe based purely on what you hear. You'd be able to make remote adjustments to soil, water, or fertilizer.
Bingyu Zhao, associate professor in the College of Agriculture and Life Sciences' School of Plant and Environmental Sciences, leads a team studying the microscopic movements and sounds plants grown in a hydroponic environment make based on the nutrients they have—or lack—from water.
The work could impact the global food source by increasing the sheer number of food-producing farms in challenging growing locations, such as urban environments.
Plants move during the day and, as they grow, create their own movement patterns. That dance creates a sound that changes based on sun, soil quality, and nutrients. In a collaboration with Ivica Ico Bukvic, an associate professor in the School of Performing Arts, this movement is captured using high-resolution cameras.
CUSTOM FACE SHIELDS AIM TO PROTECT FOOTBALL PLAYERS FROM COVID-19
CUSTOM FACE SHIELDS AIM TO PROTECT FOOTBALL PLAYERS FROM COVID-19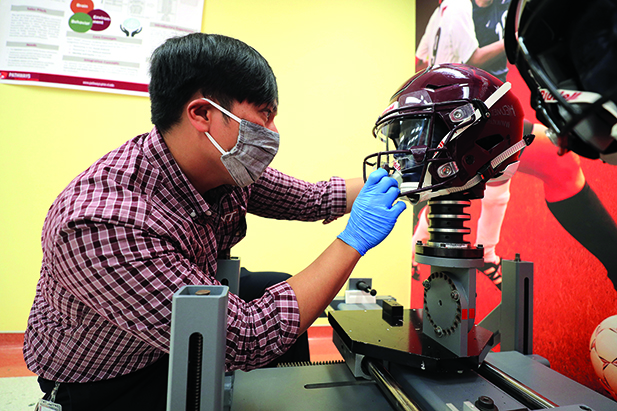 TACKLING COVID-19: Mark Begonia, director of testing for the Virginia Tech Helmet Lab, tests a football helmet fitted with a double visor.
THIS FOOTBALL SEASON, THE HOKIES are wearing custom face shields designed to protect them from COVID-19 that were created by the same Virginia Tech research team that rates helmets for safety.
The team includes Stefan Duma, the Harry Wyatt Professor of Engineering and the founding director of the Virginia Tech Helmet Lab; Mike Goforth, the associate athletics director for sports medicine; and Mark Rogers, the chief medical officer for Virginia Tech Athletics.
With only a couple months before football practice was set to begin in August, the team worked its way through multiple designs, putting in long hours and weekends to compress months of work into weeks. Football players came in every day to test out prototypes.
Ultimately, the design that met their criteria of efficacy, wearability, and ease of production was a deceptively simple solution: a shield pieced together from two visors. The upper half is a commercially available visor; in fact, many players already wear one for eye protection. A second visor, turned upside down and trimmed to fit the helmet, sits directly below the first one and covers the lower half of the face.
The research team was particularly interested in droplets smaller than 300 nanometers, the standard that's used to certify the N95 masks used by frontline workers. The dual-visor shield blocked more than 99 percent of them. Meanwhile, impact tests in the helmet lab verified that the visors could withstand the forces that regularly pummel players' helmets on the field.
As football players wear the visors, they are offering feedback that the researchers are using to fine-tune the design.
Duma hopes work on the face shield can have an impact far beyond the Virginia Tech gridiron. He has already shared the design with the NFL and the ACC and is considering how to help make visors for players at other schools.
News Reel
Virginia Tech videographers have been hard at work capturing the university's news. Watch these videos and many others at video.vt.edu.
RETHINKING TEACHING DURING A PANDEMIC
RETHINKING TEACHING DURING A PANDEMIC
Christopher Pritchett, foundation program chair at the School of Architecture + Design, has found it refreshing to be pushed out of his comfort zone, as the pandemic has forced him to rethink how he teaches.
ASSOCIATE PROFESSOR DEVELOPS NEW COVID-19 KEY DESIGN
ASSOCIATE PROFESSOR DEVELOPS NEW COVID-19 KEY DESIGN
Ryan Pieper, associate professor at the Washington-Alexandria Architecture Center, created a contactless way to open doors and touch other common objects to prevent the spread of the coronavirus in public spaces.
BLACKSBURG DELIVERS PARTNERSHIP BRINGS LOCAL DINING OPTIONS TO CAMPUS
BLACKSBURG DELIVERS PARTNERSHIP BRINGS LOCAL DINING OPTIONS TO CAMPUS
With Blacksburg Delivers—a partnership between the town of Blacksburg, local businesses, and Virginia Tech—faculty, staff, and students can order food from local restaurants for campus delivery.
INTRO TO DANCE TECHNIQUES CLASS TAKES DANCE OUTSIDE
INTRO TO DANCE TECHNIQUES CLASS TAKES DANCE OUTSIDE
Rachel Rugh, adjunct instructor, adapted to COVID-19 by taking her students into the open air.