CHANGING DIRECTION
CHANGING DIRECTION
by Tim Sands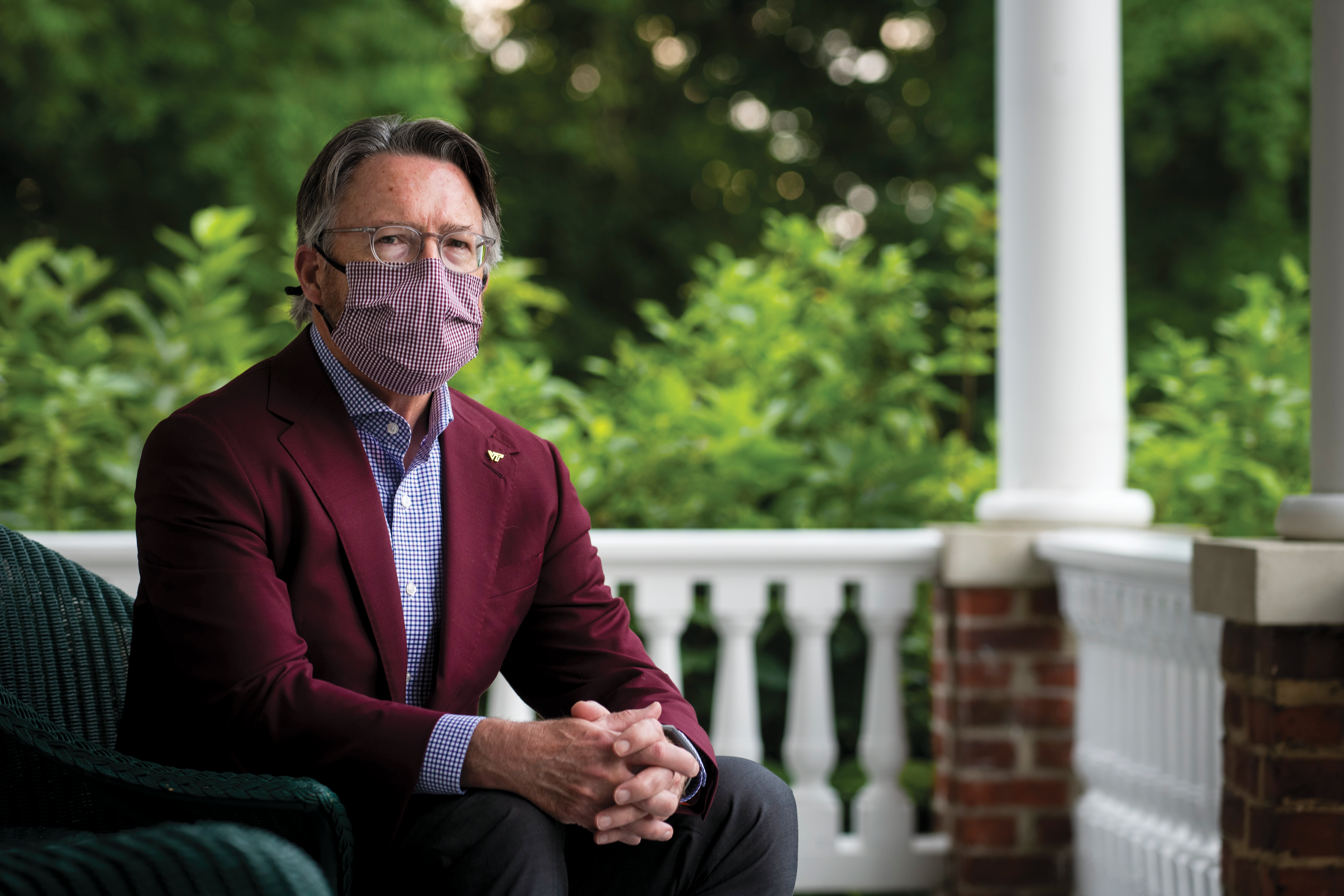 SETTING AN EXAMPLE: Virginia Tech President Tim Sands adheres to the Centers for Disease Control mask guidelines to slow the spread of COVID-19.
Just a few short months ago, no one in higher education knew exactly what to expect as campuses across the country responded to the COVID-19 pandemic. Virginia Tech administrators, faculty, and staff planned exhaustively for a range of scenarios, worked hard to implement those plans, and were prepared to change direction as needed. Robust testing provided by our own research lab, contact tracing, and modification of instructional spaces made it possible to offer a hybrid residential experience while also protecting the most vulnerable.
Our strong and supportive university community stepped up to protect each other by wearing masks, maintaining distance, and avoiding indoor gatherings when masking and distancing weren't possible. As a result, Virginia Tech was able to weather an initial spike in cases and stay the course.
Now, we are looking forward to another semester with cautious optimism and will continue to apply our existing strategies in the spring. Courses may be fully online, hybrid, or fully in-person. Details and updates are available online at ready.vt.edu.
Thanks to that ever-present Hokie spirit and determination, Virginia Tech is meeting the challenges of these extraordinary times and making excellent progress toward our Beyond Boundaries vision for the future.
Undergraduate enrollment reached 30,000 this year, a few years ahead of schedule and in contrast to national trends. Underrepresented minority students now make up more than 19 percent of our entering class, compared to 13 percent five years ago. The combined number of underrepresented and underserved students—including low-income, first-generation, and veteran students—makes up 39 percent of entering undergraduates, almost reaching our 2022 milestone of 40 percent.
Virginia Tech is educating the leaders who will drive the future. The students across our campuses today are preparing for careers with responsibilities that we can only imagine. We are committed to instruction that brings together advancing technologies and STEM education with cultural, human-based initiatives—always keeping our university motto, Ut Prosim (That I May Serve), at the center of our efforts.
Research and innovation at the university have never been stronger. Sponsored project awards were up 15 percent for the year ending in June, and expenditures were at an all-time high. Impressive as they are, these figures don't reflect the full impact of our research and engagement efforts, which are better characterized by the extraordinary public attention our problem-solving and community-engaged researchers, innovators, and Extension agents have earned during the pandemic.
Certainly the COVID-19 pandemic has given rise to challenges that were unexpected and unprecedented. We've had to do things differently and modify—temporarily—some of our most treasured experiences. Yet, by the measures that matter most, Virginia Tech is stronger than it has ever been.
Thank you, Hokies. Be committed. Be well.
Tim Sands is Virginia Tech's 16th president.