JUST ADD WATER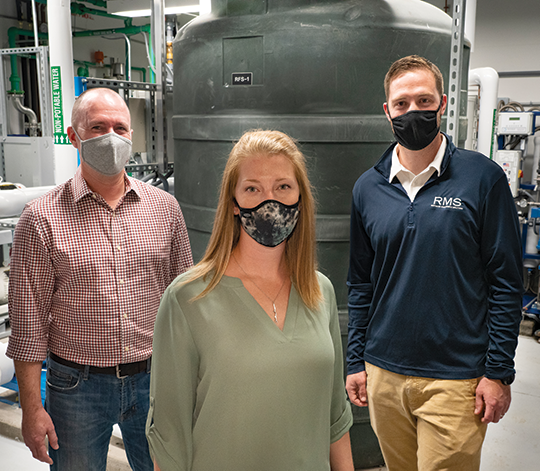 Chris Quillen, Megan Repass Ellis, Shawn Crawford
RAIN IS ESSENTIAL FOR GROWING food and many other functions critical to survival, but downpours can also erode our living spaces and create countless problems.
Three Hokies with degrees from three Virginia Tech colleges are teaming up to reinvent how we manage water flow.
Shawn Crawford '11, '13, who graduated with a bachelor's degree in wood science and forest products and a master's degree in forestry, returned home in 2014 to work as national sales manager for Rainwater Management Solutions. The Salem-based business, founded 20 years ago by Crawford's father, David Crawford, began by making rain barrels to collect and conserve rainwater. Through the vision of the father-and-son team, the company continued to grow, designing more complex systems and creating opportunities for resolving further water-related challenges.
In 2017, the Crawfords hired Chris Quillen '98 as business development manager and added Megan Repass Ellis '16 as inside sales manager. Quillen and Ellis joined a growing team that, through research and development, advanced the company's services to encompass not only rainwater harvesting but graywater reuse and stormwater management.
"Megan has an environmental science background and can read water quality analyses and understand what they're saying," Crawford said.
"Once you make the step to become a bigger business, you need things that address human resources, marketing, and your website. Those were things Chris brought," Crawford continued. Quillen, whose degree is in marketing management, originally joined the company as investor. He later took a position as a full-time employee and was instrumental in helping organize the overall business.
Together, the Hokie trio helped reinvent Rainwater Management Solutions' approach to business by focusing on "just in time" production, a philosophy borrowed from Toyota.
Rather than carrying multiple products from different companies, Rainwater Management Solutions focused on standardized set-ups that provided solutions for its customers.
The systems sold by Rainwater Management Solutions make more efficient use of water, saving money for clients while also helping them to meet stormwater ordinances and reduce nonpoint pollution.
"The value that we add is for a company or business or even homeowners is to cut down on municipal water use," said Quillen. "They're using a more natural source of water coming from the sky instead of bringing it in from the local municipality. That helps stormwater control, because if you're collecting water from a roof, it's not running off."
Rainwater Management Solutions contributed to water management at the Fralin Biomedical Research Institute at VTC—a smaller project than, say, its systems at the Virginia Capitol in Richmond, Virginia, or Allianz Field in St. Paul, Minnesota—but one that inspires pride in the Hokies. MA