SERVING AT THE FUTURE'S LEADING EDGE
by Lance R. Collins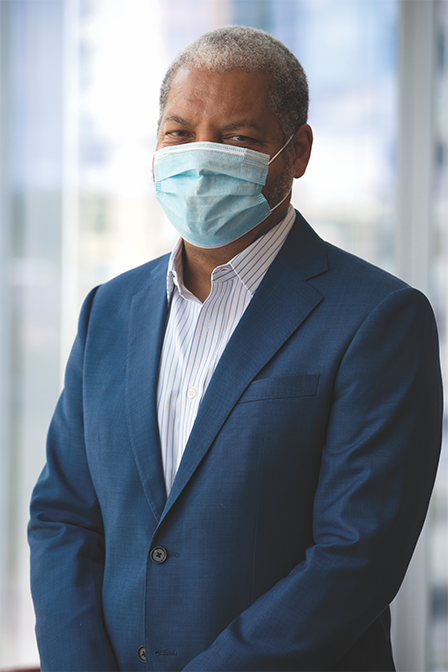 Lance Collins (photo by Erin Williams/Virginia Tech)
THE CORONAVIRUS PANDEMIC HAS fundamentally changed how we work.
It's called me into service in ways I never would have imagined. That was true in the spring, when the virus emerged soon after I had been named inaugural executive director of Virginia Tech's Innovation Campus, and as I was focused on wrapping up 10 years as dean of Cornell's College of Engineering.
As spring gave way to summer and eventually fall, and I relocated to Alexandria, I found that we as a community have had to adapt in ways that previous generations and even our own selves of several months ago could never have fathomed. Institutions of higher education around the world faced historic disruption as we changed our programs to educate our students while promoting good public health practices.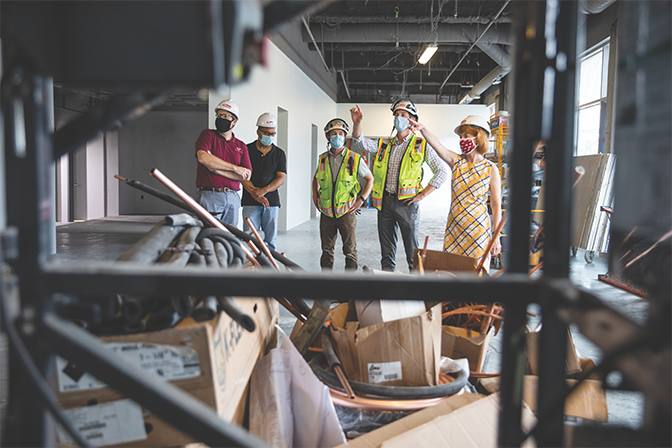 A WORK IN PROGRESS: In July, Lance Collins viewed construction progress at his future office location in Alexandria, Virginia. (photo by Erin Williams/Virginia Tech)
The Innovation Campus now under development in Alexandria, Virginia, affords the opportunity to reinvent graduate education and research in a way that is inextricably linked to the private sector and the state and federal governments. The physical campus will open in 2024 in the wake of the destruction wrought by the novel coronavirus on our society. As we look to computers and the rapid advance of technology to continue working and innovating even during a pandemic, the Innovation Campus is training tomorrow's leaders in computer science and computer engineering while also providing a platform for ground-breaking research in a purpose-driven, action-oriented culture that will get real-world results.
Our goal is to produce graduates who are not just skilled coders, but who have the breadth, depth, and context to become pioneers and leaders in the rapidly evolving digital economy.
Virginia Tech is ideally situated for this mission, not just because of the Innova- tion Campus, but because of its nearly 150-year land-grant mission, its service ethic, and its long history of operating at the future's leading edge. That heritage endures across its long history in Blacksburg, where faculty, students, and researchers have for decades changed the world with advances in agriculture, engineering, science, architecture and construction, the arts, and other areas.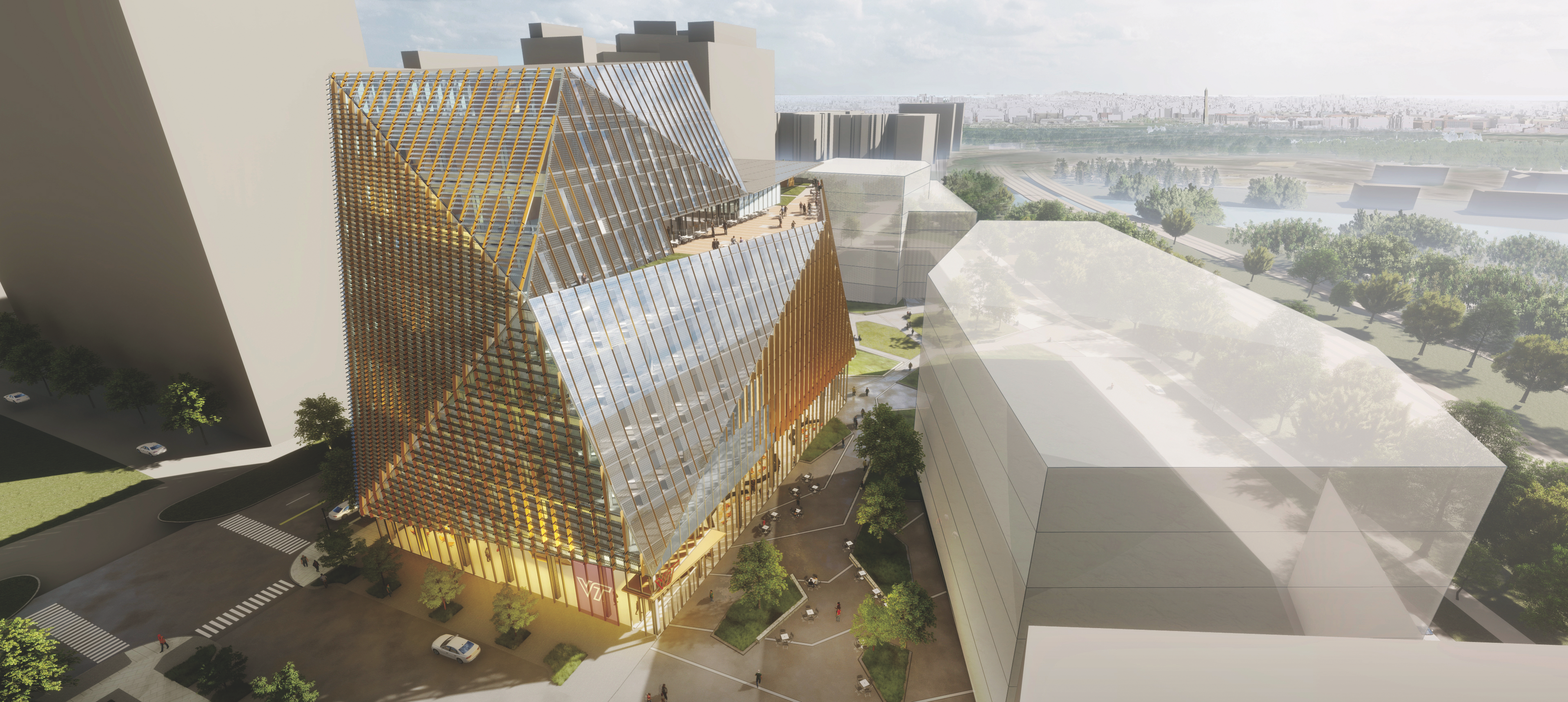 UNVEILED: In April, Virginia Tech shared architectural renderings for an Innovation Campus building in the greater Washington, D.C., metro area. (photo courtesy Smith Group)
Virginia Tech's reach has spread to encompass a medical school and state-of-the-art biomedical research institute in Roanoke, and dozens of Cooperative Extension offices across the commonwealth. With the Innovation Campus, we're now expanding our longtime role in Northern Virginia by leaping into another arena in the greater Washington, D.C., metro area.
We are entering an exciting new technology era, where universities will continue to play their traditional role of nurturing brilliant minds and bold ideas to advance the frontiers of what's possible through research and infusion of talent into the market. Together with our partners, private sector companies, nonprofits, the federal government and its agencies, and even K-12 schools, we will drive technology forward for the benefit of the commonwealth, the nation, and the world.
Lance R. Collins is the vice president and executive director of the Virginia Tech Innovation Campus.
IN THE NEXT ISSUE
During June 2020, the Centers for Disease Control conducted panel surveys of adults to assess mental health, substance abuse and suicide ideation. More than thirteen percent reported having started or increased substance use to cope with stress related to COVID-19.
Researchers at Virginia Tech have long studied various aspects of substance misuse including its short and long-term effects on students and families. Read about how the university is working to learn more about substance misuse and how to support those affected in the spring issue of Virginia Tech Magazine.