The Intersection Of
TECHNOLOGY AND HUMANITY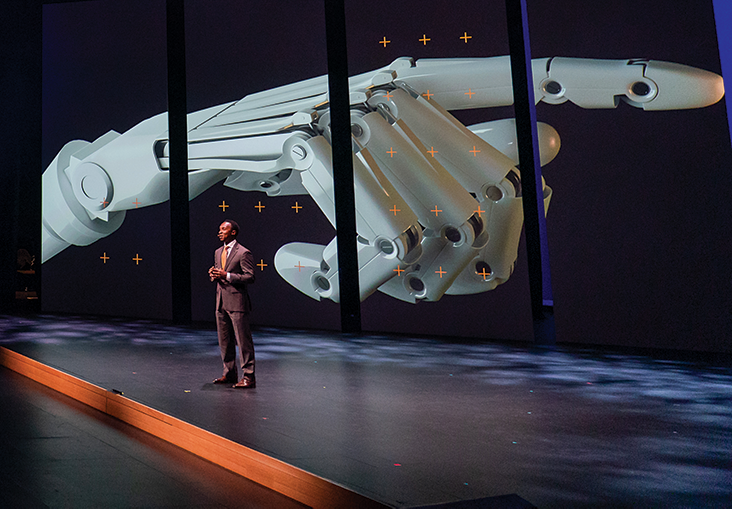 Sylvester Johnson, Oct. 2019
IN THIS MODERN AGE, TECHNOLOGY'S FUTURE MAY SEEM DARK AND APOCALYPTIC OR FANTASY-LIKE. TOMORROW SITS ON A PRECIPICE BETWEEN THE POTENTIAL POSSIBILITIES.
RATHER THAN WAITING TO SEE HOW THE FUTURE EVOLVES, VIRGINIA TECH IS PROMOTING A FUTURE IN WHICH EMERGING TECHNOLOGIES ARE IN SERVICE TO HUMANITY. THE UNIVERSITY IS TAKING HUMAN-CENTERED APPROACHES TO ADDRESS THE SOCIETAL IMPACT OF TECHNOLOGICAL INNOVATION.
"Virginia Tech is uniquely positioned to lead in this new era," said Sylvester Johnson, assistant vice provost for the humanities. "Regionally, nationally, and globally, we are setting a new standard with Tech for Humanity, a university-wide initiative focused on the human-centered guidance of technology."
Under Johnson's leadership, Tech for Humanity focuses on ensuring a thriving future for humanity that emphasizes ethics, empathy, policy, equity, creativity, inclusion, diversity, and sustainability. Through the Center for Humanities, which Johnson also directs, cross-disciplinary collaborations enhance the university's efforts to create responsible technologists.
"These are people who care, commit to, or are involved with advancing human interests through technology," Johnson said.
Tech for Humanity scholars and the Center for Humanities encourage research in arts, human-centered social sciences, humanities, and technological fields. The center also partners with the university's legislative liaisons and faculty members in the Department of Political Science and the Policy Strategic Growth Area to engage legislators in issues of public policy. It additionally educates corporate entities on matters of ethics and the impact of technology on humans.
Combining technology and society is not a new idea for Virginia Tech. Joseph Pitt, a philosophy professor, was an early leader of Virginia Tech programs focused on how technologies affect humanity.
"We started looking at science and its tools and saw its ramifications from sociological, philosophical, and political lenses," said Pitt. "So, we developed a program where students could decide which aspects to pursue."
That effort eventually led to the development of the Department of Science, Technology, and Society.
Rebecca Hester, an assistant professor in the department, is a Tech for Humanity scholar specializing in equity and social disparity in the human condition. Her research interests, which began with the study of immigration, now encompass the social, ethical, and political implications of scientific and technological advances in biotechnology, biomedicine, and public health.
"When it comes to technology, I start with a conversation about social values," Hester said. "We need to reflect on what it is we value and what we should make manifest in the world. That has to do with what it means to be human, who we are, what we value, and what we think we need. Then we can decide on the technology."
Hester cited her research on immigration: The immediate answer to problems that arise from immigration is not necessarily more surveillance technologies. Instead, the conversation should define the underlying cause, she said.
"There has never been a greater need for people to be at the table who understand the social, political, cultural, and economic implications of the technologies that society is promoting," said Hester. "We are shaping the next generation, who will use and create technologies—people who think not just ethically, but also politically and socially about the technologies and the science that they're doing."
Such initiatives are central to Virginia Tech's mission.
"We teach people," Johnson said, "and the structure of our coursework and curriculum needs to show that technology is more than a science and engineering concern. It's a societal issue, a human issue. It encompasses the political, the economic, the cultural, the personal."
Johnson said the university prepares students to understand that technology has wide-ranging implications that involve everyone, not just scientists.
"To be future stakeholders, students must be informed and analytically astute," he said. "They must understand equality, social systems, power, and how the world works at an institutional level and what it means at a human level."
Through targeted programs, Virginia Tech is creating a new generation of responsible leaders who understand the importance of ensuring humanistic applications of technological advances.
Working directly with undergraduates through the Calhoun Discovery Program, a transdisciplinary program run by the Center for Higher Education Innovation that focuses attention on technical innovation and societal transformation, Johnson is optimistic about the future of technology and humanity.
"That program runs across 10 different majors, and we have corporate partners in private industry who contribute their time and capital," Johnson said.
Johnson added that a program that is diverse and includes underrepresented students is critical, because without gender, racial, ethnic, and income diversity, society will face recurring historical problems of inequity. "We need people with the perspectives, insight, and backgrounds to produce the outcomes that will benefit everyone in society," he said.
By investing in initiatives that focus on the human dimensions of innovation and by infusing technologies with insights from the humanities, Johnson said, Virginia Tech is showing its commitment to lead social institutions in addressing the big challenges that emerging technologies pose.
"Virginia Tech is preparing leaders for tomorrow, for a future not yet imagined," he said. "We shape leaders who know that technology must be judged ultimately not by its wow factor, but by whether it contributes to a society we want to live in, one that's for the greater good of all humanity."
Leslie King is the marketing and communications manager for the College of Liberal Arts and Human Sciences.