INVESTING IN OPPORTUNITY
$20 million gift to Honors College Strengthens The Virginia Tech Advantage
The Calhoun Honors Discovery Program debuts in 2019 with 50 scholars.
To succeed, businesses need individuals who are able not only to share from their own knowledge, but who understand how others contribute to the end goal and who can work together to blend varying skill sets to solve problems and grow ideas.
Traditionally, it's taken years of experience and significant workforce investment to develop people who excel at this sort of collaborative innovation.
But what if industry didn't have to wait years? What if a university could produce graduates who are ready to discover solutions to complex problems—because their education prepared them in advance?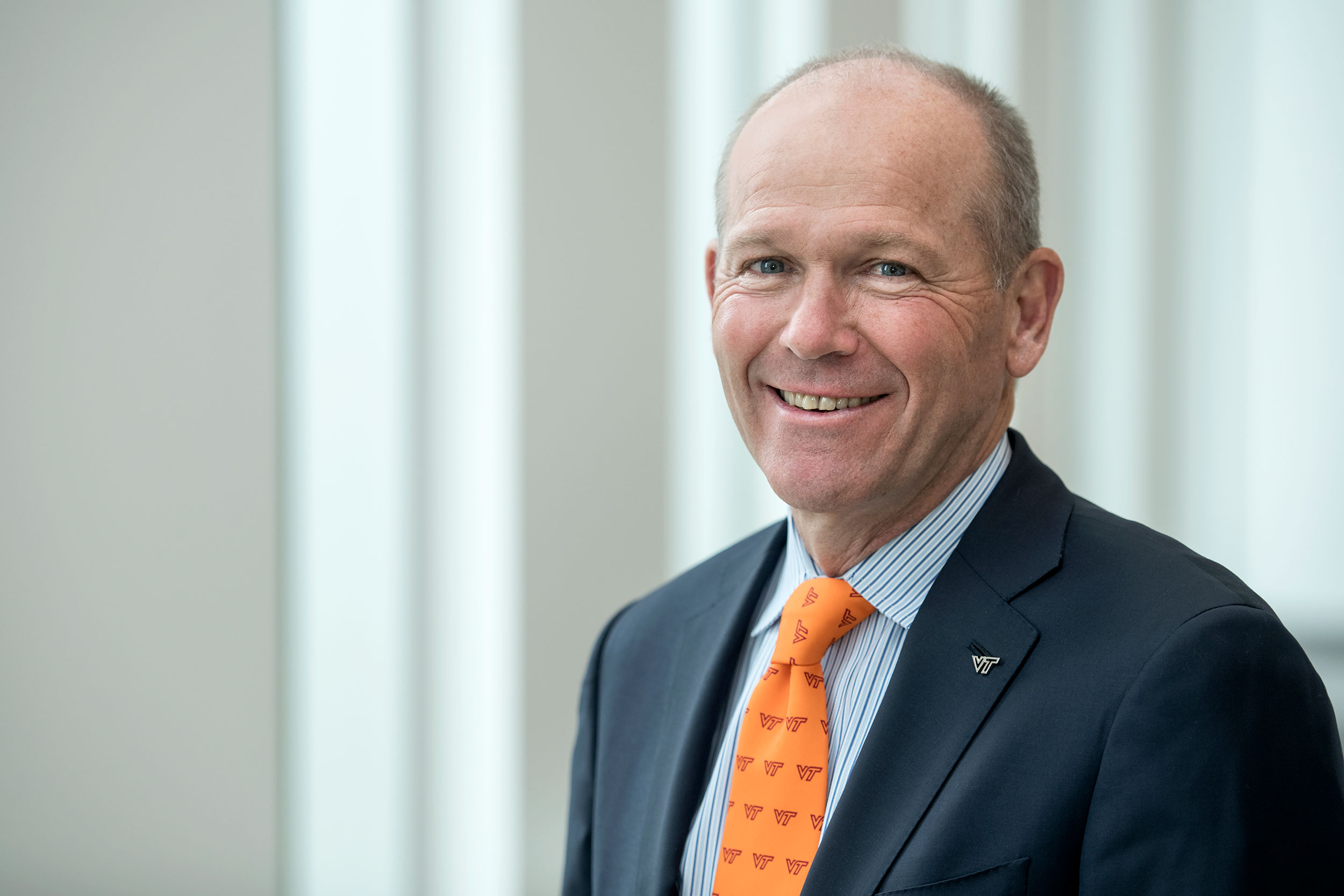 David Calhoun
David Calhoun '79, senior managing partner for the private equity firm Blackstone, former CEO at Nielsen, and a former vice president of GE, announced in March that he is investing $20 million in the Virginia Tech Honors College in hopes of giving Hokie graduates exactly that collaborative edge.
"Throughout my business life in the big systems engineering world … one of the most difficult challenges is the development of people who understand different disciplines and know which to bring to bear on projects," Calhoun said. "If students graduate from college with some of that agency and have some of that ability to bring a variety of disciplines to solve a problem—and they have practiced that—then they will come into companies ready and raring to contribute."
Of Calhoun's $20 million gift, $15 million goes to a scholarship endowment that ultimately will benefit 200 Honors College students annually. The Calhoun Honors Discovery Program will debut with 50 scholars in 2019.
The remaining $5 million supports the launch of the Calhoun Honors Discovery Program, a pilot model of collaborative learning within the Honors College that will connect the specialized knowledge students gain in their majors to foundational concepts from other disciplines, as well as the Calhoun Center for Higher Education Innovation.
"I consider this to be an experiment, and it's going to be an enriching experience for all the students who enter it. The students will be true co-developers of the program. In some ways, we're teaching discovery. That, for me, is very exciting."
David Calhoun
"This is a game-changing gift for Virginia Tech and the Honors College students who will have the opportunity to develop skills that are essential for success," said university President Tim Sands.
Interim Provost Cyril Clarke said, "This program has implications throughout our university and beyond. We plan to collaborate across colleges and disciplines and to form deep partnerships with industry. We expect to create a model that other universities will follow."
Design of the Discovery Program pilot initiative began more than a year ago.
"An initiative this ambitious would not be possible without extensive collaboration across our university," said Paul Knox, dean of the Honors College. "I appreciate all the partners who are helping make this possible. That includes Dave Calhoun. His generosity makes it possible for us to launch this project at a much larger scale than we could ever have done without him."
Before investing in the vision, Calhoun vetted the details, even asking friend John Tracy, retired chief technology officer of Boeing and now a senior advisor to the Discovery Program, to attend an early design meeting to give his opinion on the experiment.
"The more I learned about this program from leaders like Thanassis Rikakis (who will head the Calhoun Center) and Paul Knox, the more I wanted to help support it," Calhoun said.
Emily Blair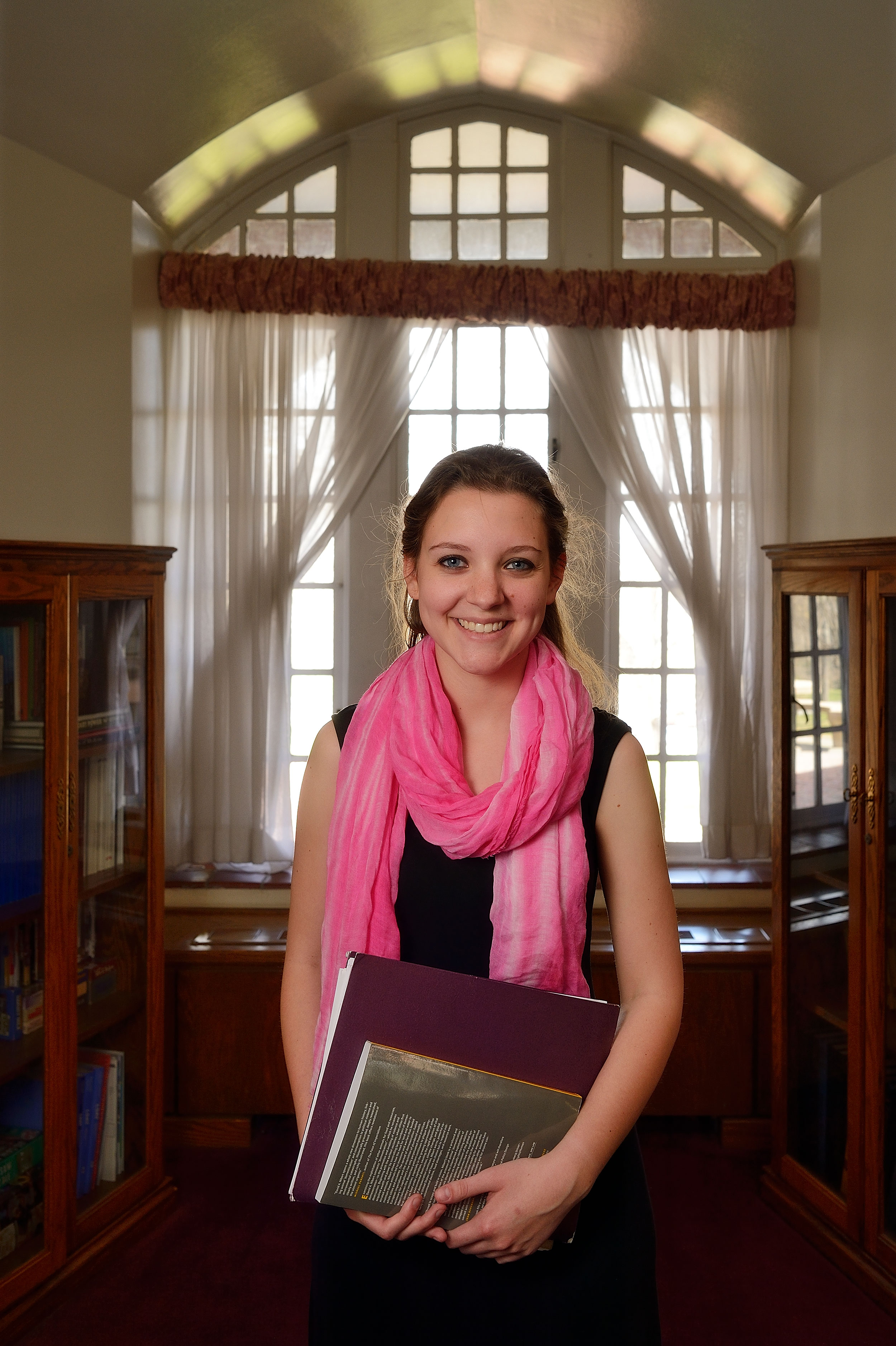 When she was 18, Emily Blair made it clear she planned to teach composition at a college or university in the South.
Now, at age 25, this first-generation college student who grew up rural in Fort Chiswell, Virginia, is doing just that at Mitchell Community College in Statesville, North Carolina, thanks in part to a Calhoun scholarship.
"As a poet from a working-class background, this opportunity was incredible," Blair said. "I knew I would be able to attend college without incurring student loans and be able to focus on my studies, taking a full four years to pursue my interests instead of rushing through the degree to save money."
As a student at Virginia Tech, Blair, an English major with an American studies minor, explored peace studies and violence prevention, Appalachian studies, history, and more; traveled overseas as part of the Presidential Global Scholars Program; saw her poetry published online and in undergraduate literary publications; and twice took third in the Virginia Tech Steger Poetry Prize competition.
Since graduating in 2015, Blair earned an M.A. in English from the University of Louisville and continues to pursue a writing career while teaching. Her first chapbook is being published this summer.
Taylor Allen
Taylor Allen '16 had been to the Dominican Republic, Sri Lanka, Morocco, Turkey, and South Africa before she even graduated from Virginia Tech. Since then, she's studied in China and returned to South Africa to work on her master's thesis.
Allen's exposure to injustice through her international experiences led her to recently complete an internship in Washington, D.C., with the International Justice Mission, a Christian nonprofit that fights human trafficking, slavery, and violence around the world.
"It's heavy, but it's important work that my heart breaks for," Taylor said. "There are more slaves today than at any other point in history."
A Calhoun Honors College scholarship paired with other financial aid helped make all that possible.
"My family and I weren't in a position to financially support me going to college," said Allen. "I got into the Honors College and scholarships honestly just started rolling in."
Allen, who is from Atlanta, Georgia, majored in human nutrition, food, and exercise and minored in 21st-century studies. She earned her master's in global health through Duke Kunshan University in China.
"My study-abroad experiences at Tech opened a door of opportunities to travel the world and explore topics I'm passionate about," Allen said. "I value cultural immersion and any opportunity to travel and partner with local communities."
"I consider this to be an experiment, and it's going to be an enriching experience for all the students who enter it. The students will be true co-developers of the program. In some ways, we're teaching discovery. That, for me, is very exciting."
Calhoun, of Sunapee, New Hampshire, and his wife, Barbara, are among the most generous donors in Virginia Tech's history. Both are members of the President's Circle within the Ut Prosim Society of donors. He is on the Pamplin Advisory Council and has served on the Virginia Tech Foundation Board. Calhoun delivered the University Commencement address in 2005, co-chaired the university's past fundraising campaign, and received the 2015 Alumni Distinguished Service Award.
Blacksburg in his blood
"The most significant thing that happened in my life in terms of developing the confidence to succeed was graduating from Tech," said Calhoun, who earned his bachelor's in accounting from what is now the Pamplin College of Business. "I always felt advantaged because of it. I'm lucky to often be asked how things can improve in our economy and lives, and I always come back to one thing: education. This gift is a combination of my love of the school and interest in doing something good on the education front."
Following graduation, Calhoun joined General Electric, beginning what would become a distinguished 26-year tenure, during which he worked his way to the role of vice chairman of GE and chief executive officer of GE Infrastructure. He moved from GE to transform Nielsen into a global information and measurement company and then to Blackstone, one of the world's leading investment firms, where he is a senior managing director. He also serves on the boards of directors for the Caterpillar and Boeing companies.
Along the way he learned vital lessons. An early one came from Larry Bossidy, a GE vice chairman who was the father of nine children and generally left work in time for dinner.
"He had found this wonderful balance," said Calhoun, the father of four. "He clearly told me how imbalanced I was. ... That was a defining moment in who I became as a person."
Another important lesson grew from learning to recognize the value of diversity. That drive is reflected in the Calhoun Scholars program at Virginia Tech. The program provides scholarship awards ranging from $1,000 to full tuition, fees, room, and board for Honors College students who are first-generation or from an underrepresented group.

Return on investment