From process planning to pingpong

AN INTERVIEW WITH VIRGINIA TECH CARILION SCHOOL OF MEDICINE'S FOUNDING DEAN
When she was hired, Virginia Tech and Carilion Clinic had only recently announced their plans to form a partnership to create a new medical school and research institute. As dean, Johnson would essentially create the medical school portion of the enterprise from scratch.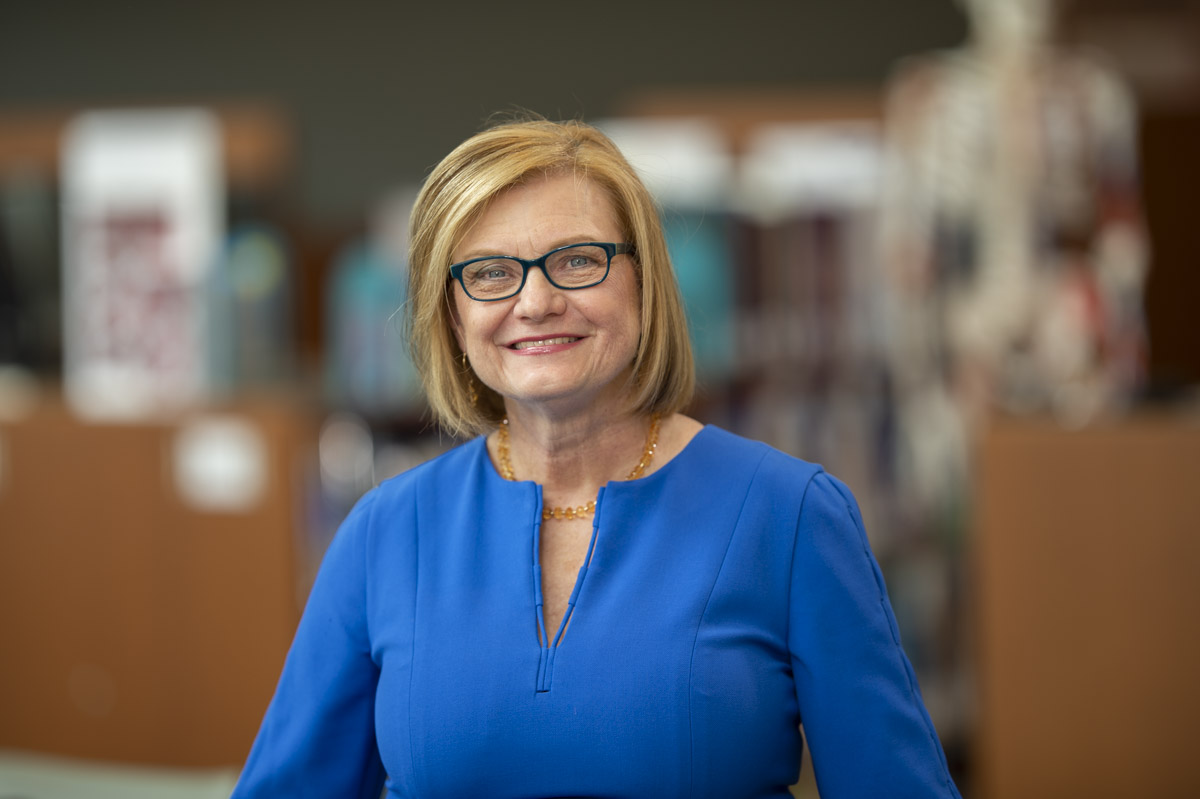 Cynda Ann Johnson
Upon her 10-year anniversary as dean and before her retirement, Johnson reflected on her experiences and what she had learned at the helm of what was at the time the country's newest medical school.
What led you to take the job in Roanoke?
I was looking for a new adventure, and it was essential that I join an organization with strong leadership. I wanted to feel good about who I would be working for. I was impressed with the superb founding leadership team of President Charles Steger, [Carilion CEO] Ed Murphy, Nancy Agee [who succeeded Murphy], and [Carilion Chief Medical Officer] Mark Werner. Today that team has changed a bit, but President Tim Sands, Nancy Agee, Cyril Clarke, and Patrice Weiss, continue to be strong.
Also, I had wanted to live in a downtown area, and Roanoke was just starting to develop theirs as a prime place to live. After I was offered the position, my husband, Bruce, and I bought a place downtown and have never regretted it.
What's been your favorite part about your time in Roanoke?
I've loved watching the city grow. Every time a building is renovated or a new restaurant opens, I feel like it was done for me, with the downtown area being an extension of my home. I've always thought Roanoke was pretty, and when I began to explore all that was possible, my impression got even better. For instance, I am amazed at the caliber of the opera and symphony here.
One of my favorite things is to be walking on the greenway and run into students from the medical school.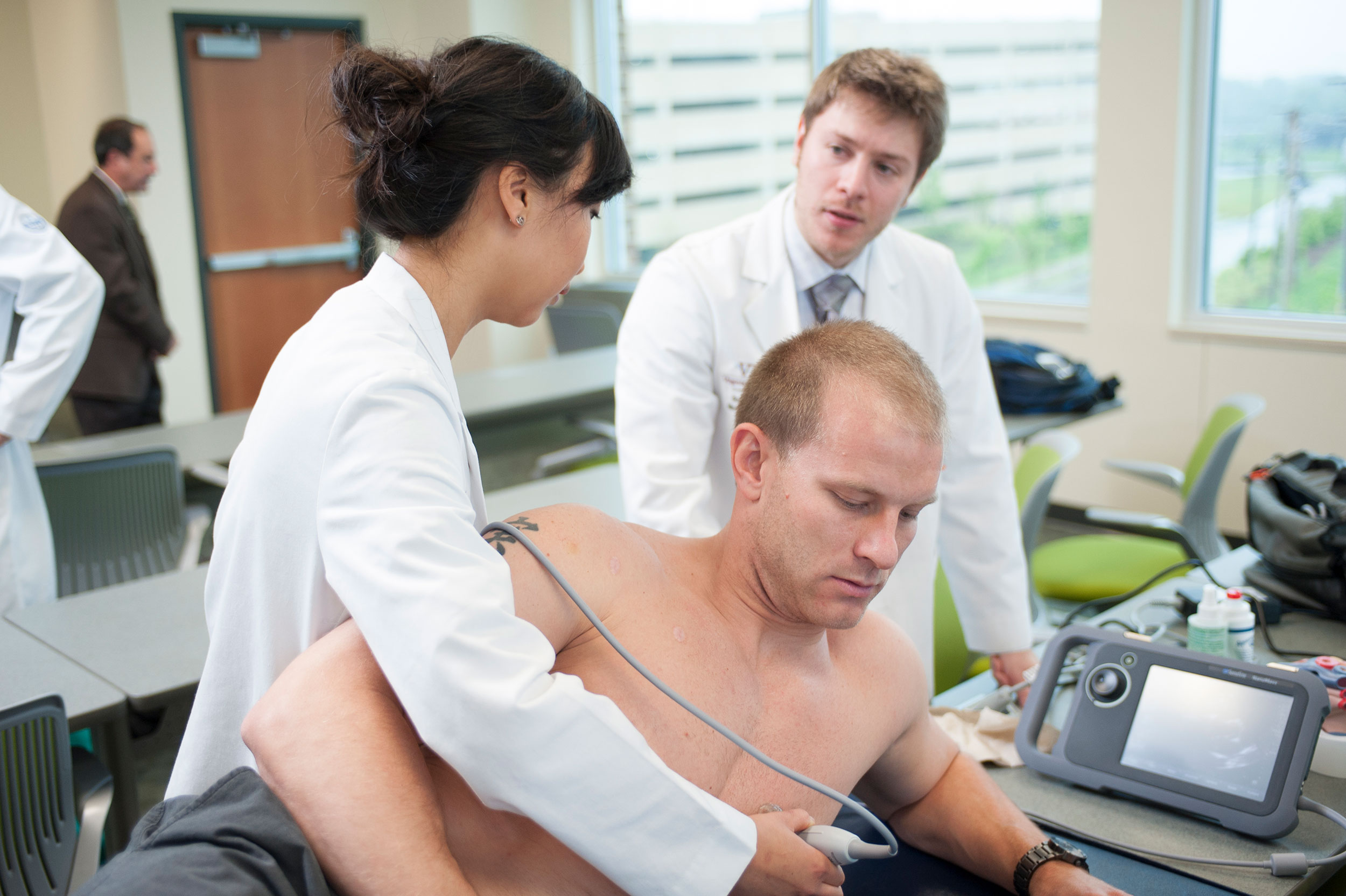 How did you go about creating a medical school from scratch? Why did you emphasize research?
I had close to 30 years of medical education experience and practical experience too. I started my residency in 1977 and was on the faculty right away. I had been involved in accreditation processes at three schools, and I had run national professional organizations, such as the American Board of Family Practice (now Family Medicine) and the American Board of Medical Specialties. Those experiences gave me some ideas of how to start.
The first thing we needed to do involved Senior Dean for Academic Affairs Rick Vari. Leadership wanted us to have a five-year problem-based, research-intensive curriculum. We had a retreat within weeks of my arrival where I got most everyone to agree to a four-year school, instead of five, which would have increased cost and time for students. We designed a compelling model for a four-year integrated education program. Soon after Rick arrived we decided on our four value domains—basic science, clinical science, research, and interprofessionalism.
Some of my primary care and family medicine colleagues wondered why I would start a school that was research intensive. It's been very important to me to teach people that research and primary care are not opposite ends of the spectrum. In fact, there is no spectrum at all. It's a way of learning and thinking critically. The skills we learn by doing research are applicable to all specialties.
U.S. medical schools that are LCME accredited cannot receive full accreditation until they have graduated their first class. How did the accreditation process work at VTC?
First, we had to seek preliminary accreditation in order to recruit the first class. Then we earned provisional accreditation when the charter class completed their first two years. Each stage had its own difficulties. For four years, we were inventing a new year of school each time our inaugural class advanced.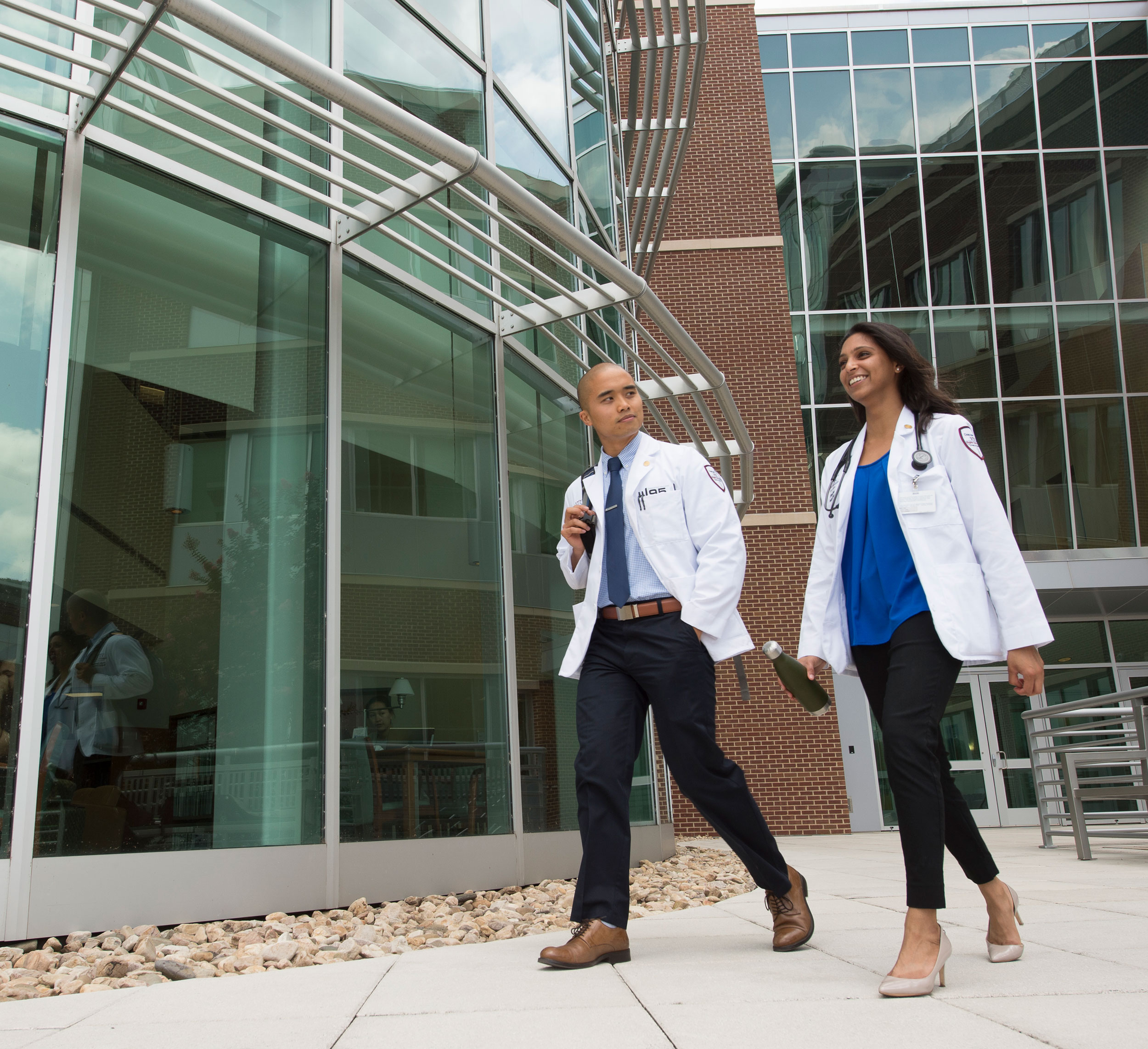 The School of Medicine will become Virginia Tech's ninth college this summer.
We learned was to work in partnership with the accrediting bodies—to listen to them and to build relationships with them. Ever since, they've been supportive and helpful.
From the beginning, VTC's students have distinguished the school. Can you speak to the process of recruiting the first class and how students continue to shape the medical school?
Recruiting the first class produced much anxiety. I thought, "What if no one applies?" When we saw a good number of applicants, that was a relief, but then we worried no one would come. When we seated our first class of 42 students, they were such good students, I almost couldn't believe it. They were a class of entrepreneurs in that they actively helped us build the program. Sometimes their evaluations were critical, and those were agonizing for us. We were trying every single thing for the first time. That was really hard.
The students helped us define our personality, and we were so thankful that. They got involved in the community from the very beginning. The charter class made it a focus to have their own night of volunteering at Bradley Free Clinic, which, beyond student volunteers, requires recruitment of faculty to oversee them. But, they made it happen and it is a tradition that continues to this day.
One of the things I talk about all the time is about our 100 percent match, because it really gets prospective students' attention. It doesn't take students long to figure out that you can get into medical school, but you can't complete your training if you can't get into residency.
Three things our students like best—and I do, too—are our small classes, the problem-based learning experience, and the research component. Those components are what students say compelled them to come. We think these pieces are special because they fit into our mission to develop physician thought-leaders. A personal concern of mine is that physicians have not traditionally been the philosophical leaders of the discipline. We want students to acquire the skills to be able to take the lead—leadership, intellect, and critical thinking.
How has working with Carilion Clinic shaped the school and its graduates?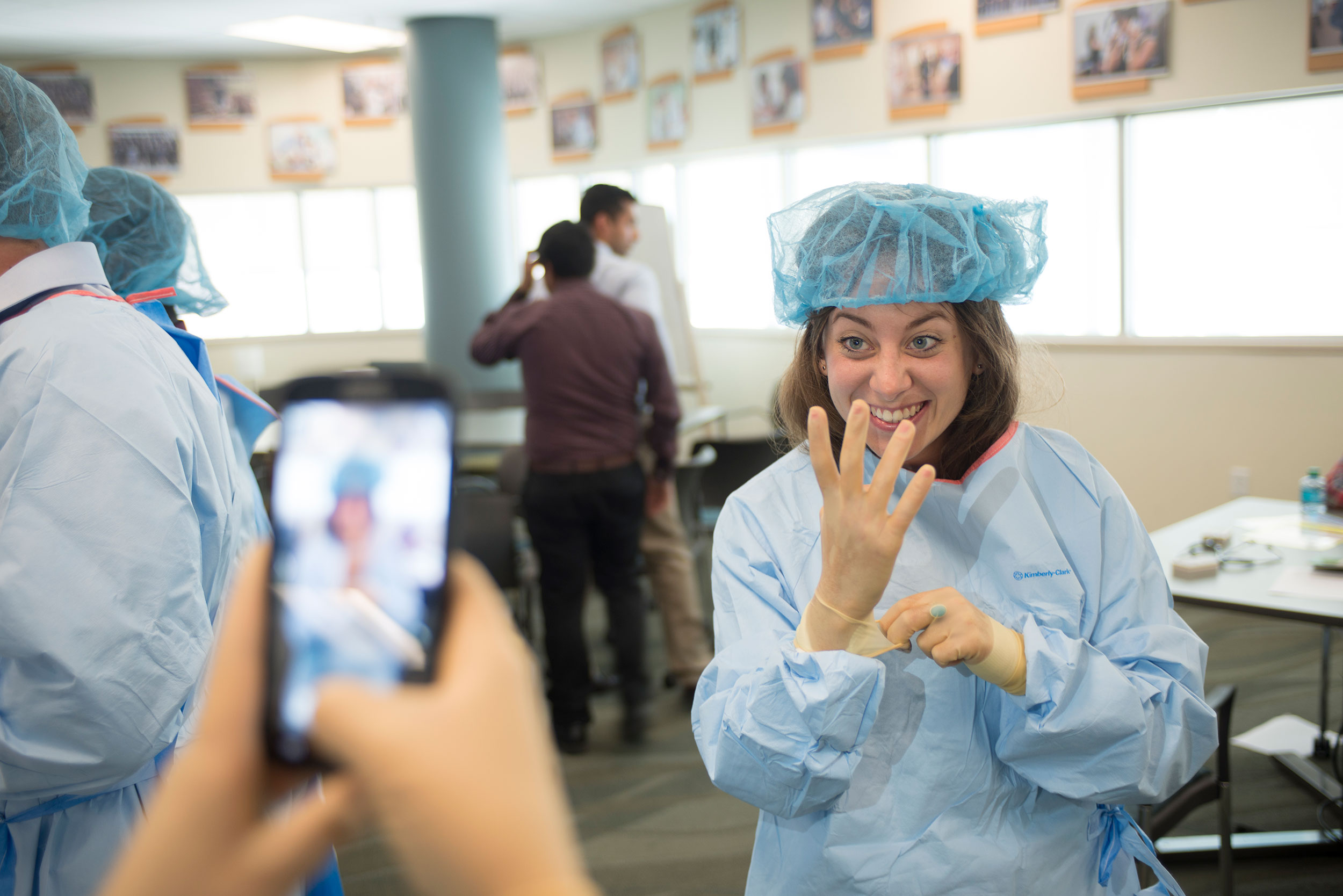 The fact that we have a dedicated health system that supports the school means everything. This is not only important for the students when they begin the clinical rotations in various specialties [clerkships] in years 3 and 4, but also because physicians are involved in teaching our students in years 1 and 2. The relationship between our students and Carilion physicians was great from day one.
One of our biggest challenges was faculty development. I inherited excellent physicians with a long history of teaching residents, but who had never experienced the responsibility of developing curriculum for medical students in their clinical rotations or in lectures, labs, and workshops at the school. We had an intentional need for faculty development to help our physicians learn about key components of teaching: how to give students feedback, how to fit teaching into their daily lives, what are new ways of teaching? Through our partnership with Carilion, we have built an excellent faculty development program. Virginia Tech also offers a broad range of faculty-development programs that transcend disciplines, so we've partnered with them, too.
What will the VTC complex look like in 10 years?
I think I won't recognize it, both in terms of how many buildings and also how many people are here. This campus will be indistinguishable from Virginia Tech and Carilion. I think the complex will continue to move into the community, and we'll see increasing technology transfer between VTC and other businesses.
As for the medical school, I think it needs to grow, but not hugely. I think it can never be more than twice its current size and still retain all of the attributes that make it special. I'd like to see growth within five years. We have so much to offer, and with more than 4,000 applicants per year, a lot of well-qualified individuals want to enroll here. I'd like to be able to accept more than our current 42 students per year.
I predict we will branch out to try things like rural or satellite campuses. I'd also like to see us become a bigger part of Virginia Tech and to more fully participate in the life of a land-grant university and the activities of the Cooperative Extension as part of a health-based initiative. We haven't had the opportunity to do that deeply yet, but I can see opportunities for partnerships with the other colleges to enhance each other's goals. I also expect expansion of our current partnership with Jefferson College of Health Sciences as it looks to integrate with Radford University. This will be critical for aspirations to become an academic health center.
When I first came here, there was talk about the anxiety of having two valleys: Roanoke and New River. They just couldn't come together because of the 42 miles and the mountains, the different cultures. I think that dream of bringing the two valleys together is happening and will be realized in the next 10 years. The activity and collaboration between the valleys will bring us together in a way that will minimize the geographic distance.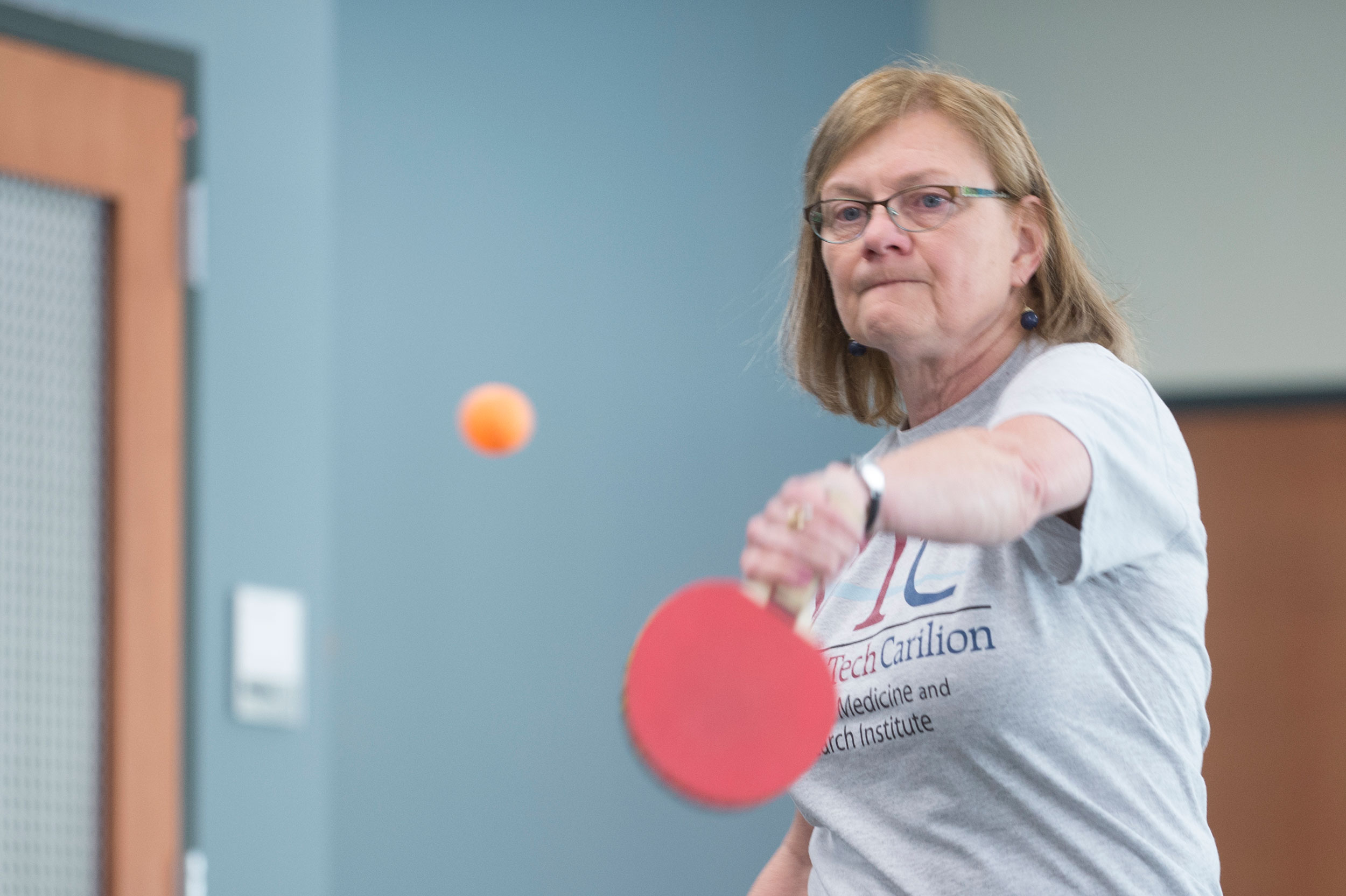 Forest Gump better watch out
While dean here, I was recruited for other jobs, but I didn't consider any in-depth. None could match the experience I have had starting a new medical school—it was the opportunity of a lifetime. I plan to stay active on community boards and boards of professional organizations and with my family. Bruce and I love to travel, but we intend to keep our condo in downtown Roanoke. Every year the medical students hold a pingpong tournament to raise money for one of our scholarships, so my secret goal is to practice more and come back to win the tournament!
Alison Matthiessen is the director of communications for the Virginia Tech Carilion School of Medicine.