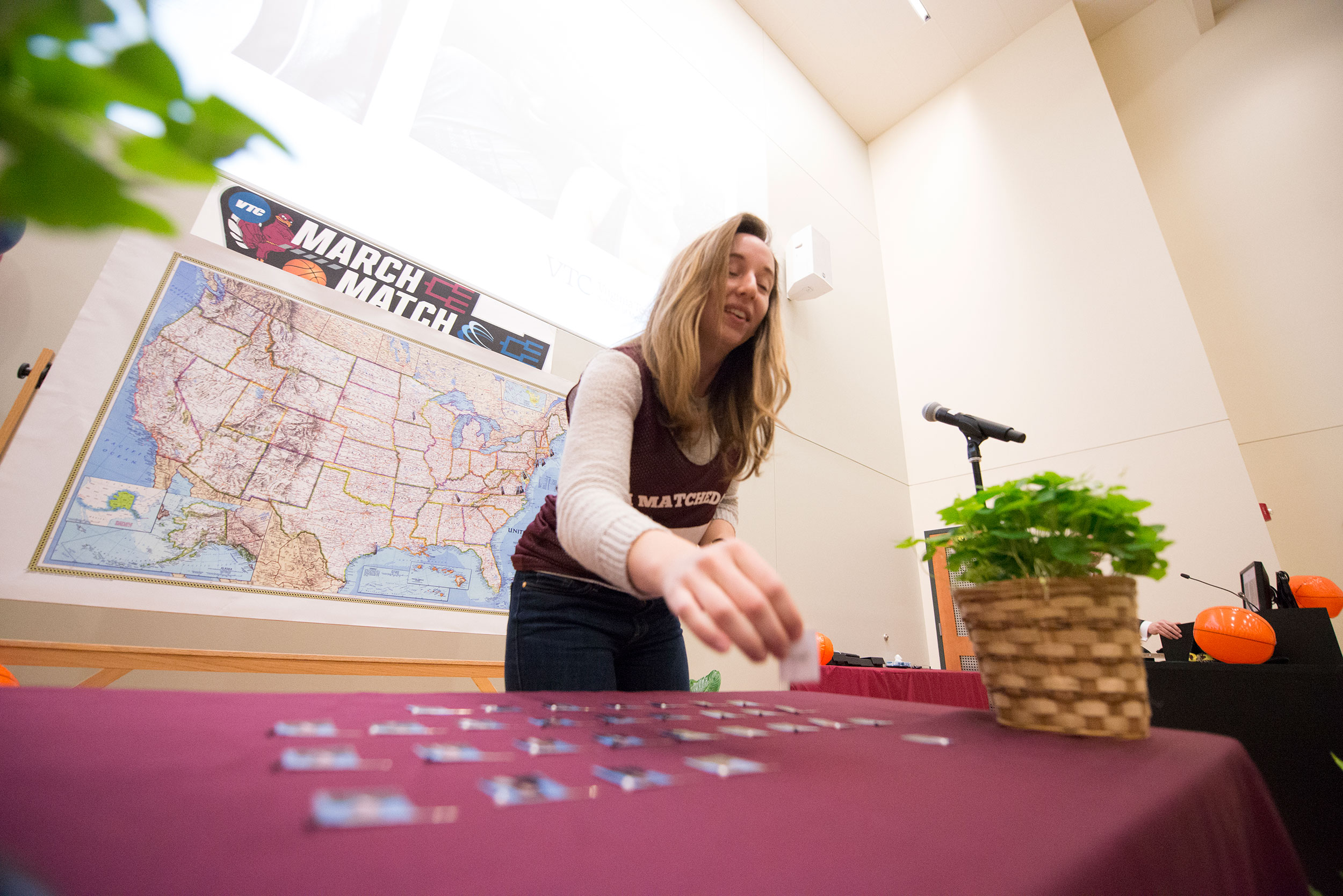 How Tech Ticks
FINDING THE RIGHT MATCH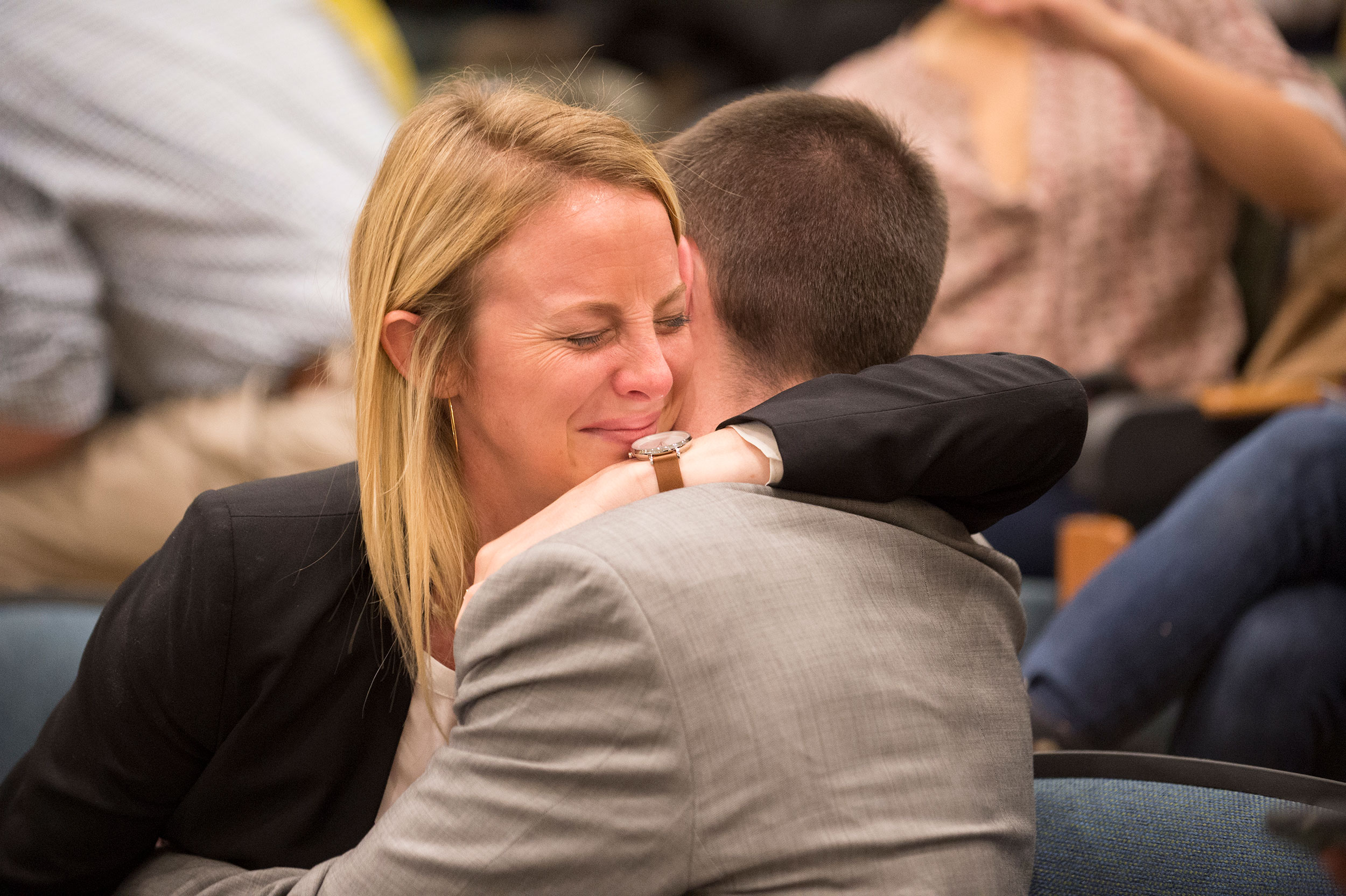 Match Day's mix of celebration and uncertainty at a pivotal time in medical students' lives makes for intense emotions. Here, Caroline Reist '18 hugs her fiancé, Chris McLaughlin '17, after opening her envelope. She will join him at Penn State Hershey for residency. (Congratulations to Caroline and Chris, who were married in May.)
A hallmark of college basketball, March Madness is synonymous with fierce competitions, grueling practice sessions, unexpected opportunities, and suspenseful turns. That's why the theme also was a fitting choice for the Virginia Tech Carilion School of Medicine's annual Match Day celebration, as madness, mayhem, and medicine joined forces for an edge-of-the seat experience that could rival the most hard-fought sporting competition.
Imagine the celebratory feelings of commencement, joyfully shared with family and friends. Add the excitement of a pro sports draft day, replete with anxious anticipation. Mix in a generous array of personal and professional dreams, and you have the makings of Match Day, the pinnacle of the Virginia Tech Carilion School of Medicine experience.
Match Day marks a pivotal point in the lives of medical students. The experience is the culmination of years of study and preparation, as students in their final year of medical school are matched with residencies, the hands-on clinical training required for board certification leading to the opportunity to practice medicine. For medical students at Virginia Tech and across the nation, the path for the future emerges from this moment.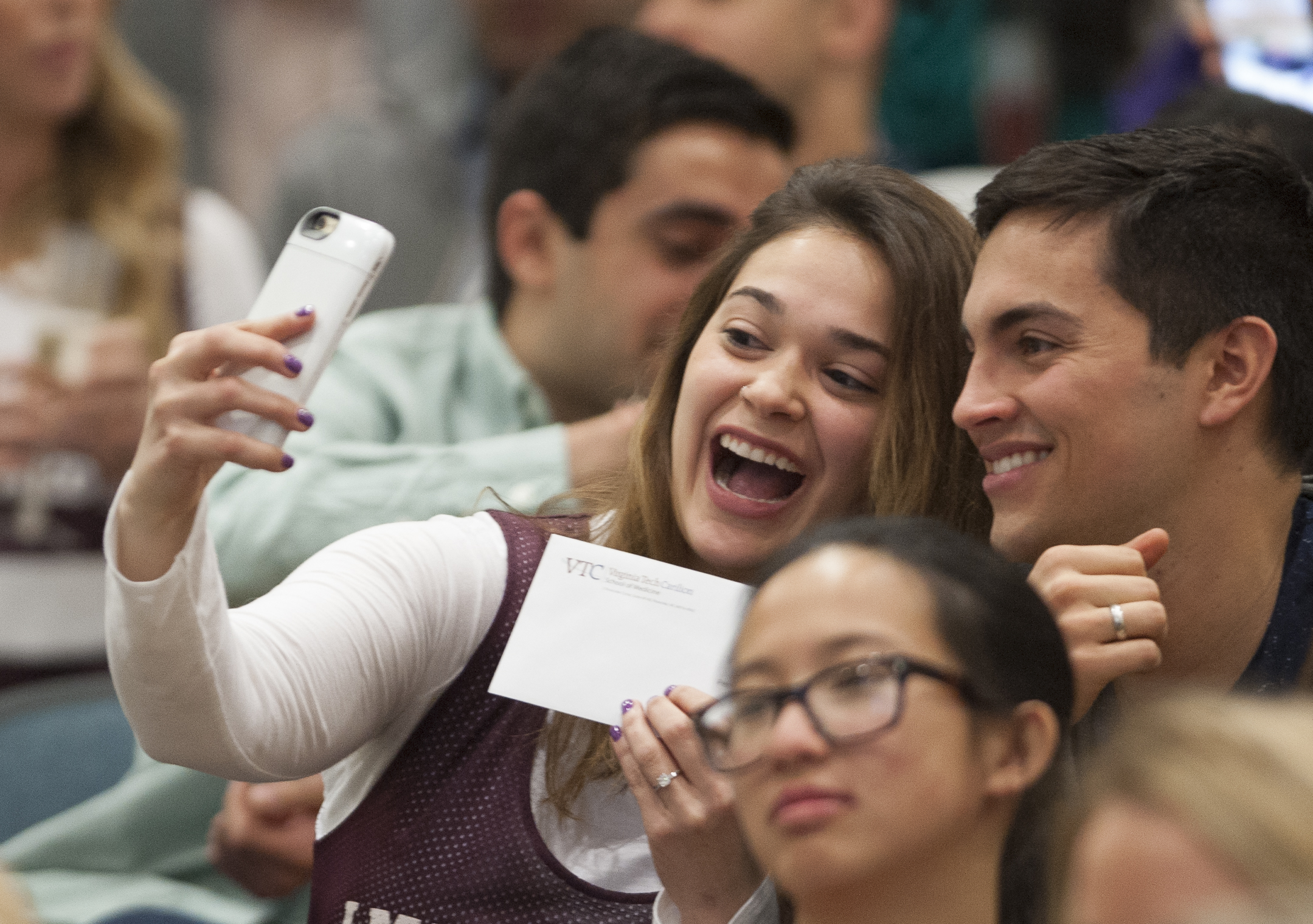 Families and friends gather with medical students as they find out where they will spend the next stage of their education. Perisa Ruhi '18 poses for a selfie with her Match Day envelope.
Pre-med
Students already have completed a rigorous academic experience, even before they're accepted into medical school. They must excel in prerequisite courses in foundational science and achieve an acceptable score on the Medical College Admission Test (MCAT).
VTC School of Medicine
A few dozen students are admitted into the school annually. Together, the cohort tackles coursework and engages in weekly discussions of real medical cases.
Applying for residency
Over the course of their studies, students choose a specialty based on personal interests and talents. During the final year of medical school, students apply to and interview with programs through a process facilitated by the National Resident Matching Program. Then, applicants and programs rank each other in a process with strict rules on communication such that no pre-match arrangements can be made. An algorithm analyzes the rank order lists and "matches" students to programs. Because there are more applicants than spots available, some students do not successfully match.
Couples
The process is more complex if two medical students choose to match as a couple. Couples may rank programs in tandem, according to their preference to live in the same location.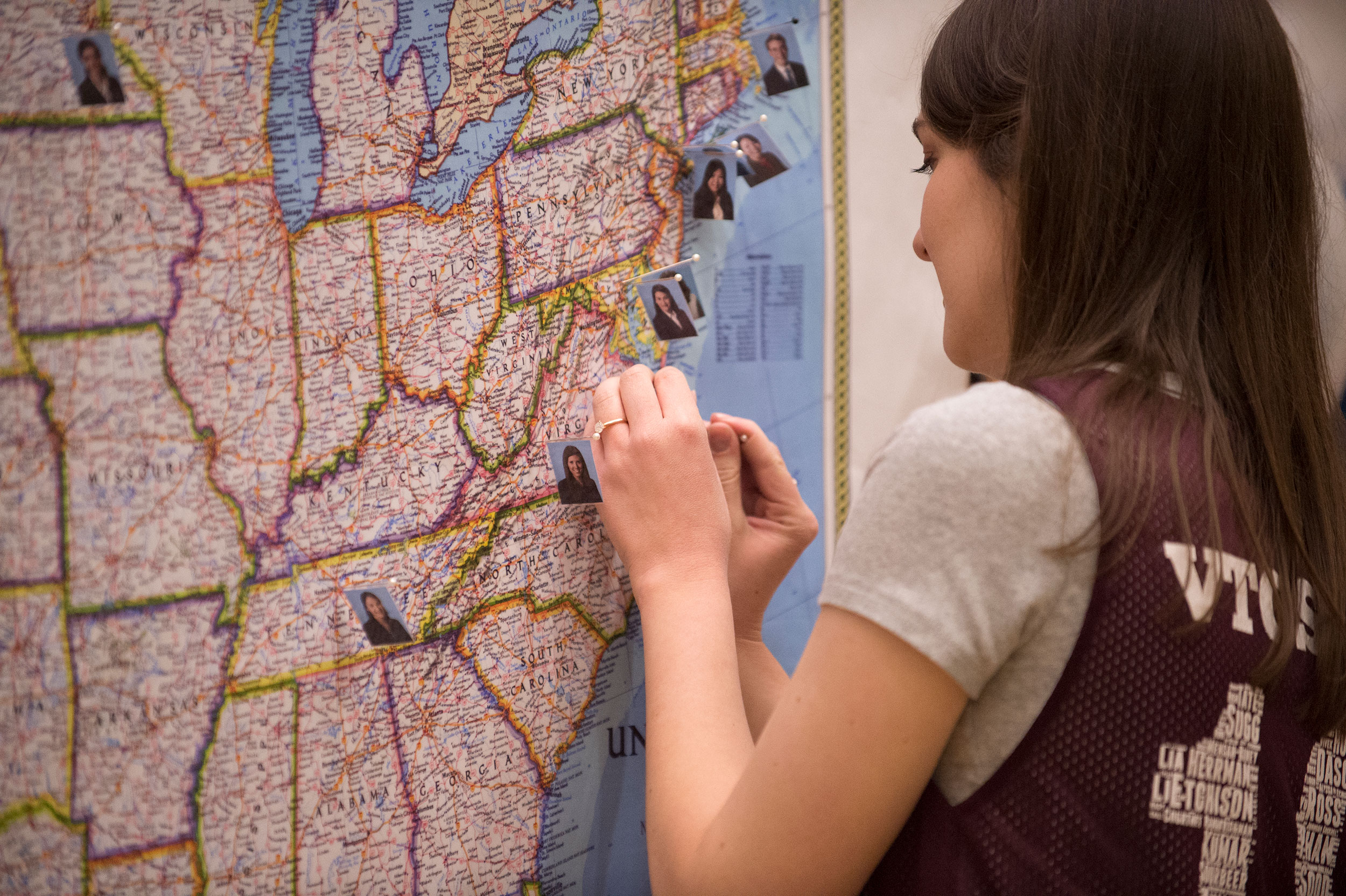 After opening envelopes containing their residencies, students take turns announcing them to the class and pinning their destination on a map. Alyssa Savelli VT '12, VTCSOM '18 will stay in Virginia for residency.
Monday before Match
Students find out if, not where, they matched.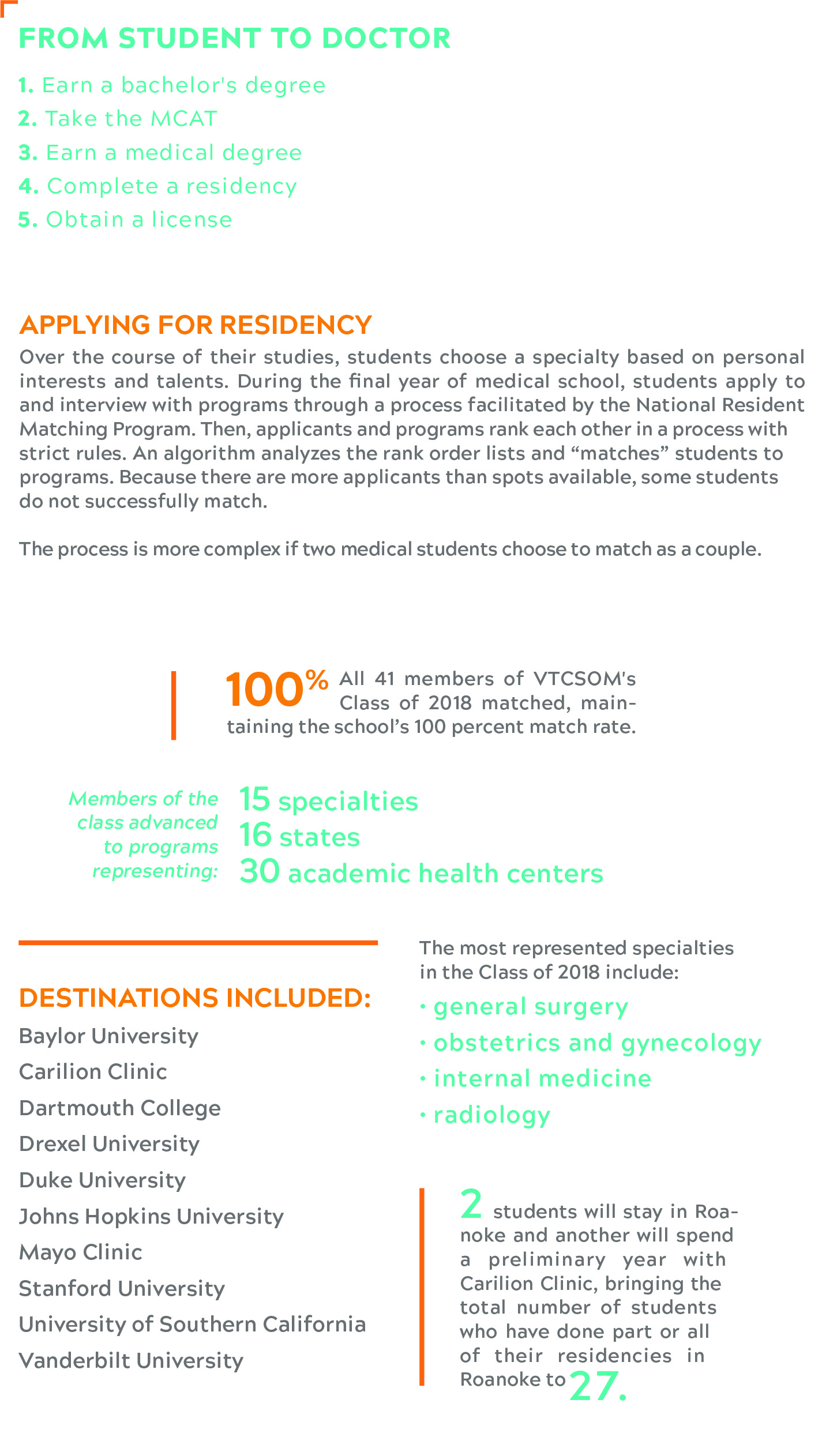 Match Day: March 16, 2018
The 2018 Match Day took place at noon (EST) at medical schools across the country. In Roanoke, students and their loved ones gathered mid-morning for remarks from outgoing founding Dean Cynda Johnson and speaker Matt Joy '14. They watched a video featuring highlights from the medical school experiences of the senior class. Shortly before noon, the crowd made its way to receive celebratory champagne. Aubrey Knight, senior dean for student affairs, offered a toast: "May you hold firm to that which has got you this far, and may you let loose from that which constrains you." Each student, clad in a basketball jersey reading "VTCSOM" across the back, received a sealed envelope just before a countdown from 10. At noon, the students tore open the envelopes, and the auditorium erupted. Shouts. Cheers. Cries of "Woo!" Hugs. Lots of selfies and family photos. Joy and a mixture of varying emotions. Tears. At 12:30 p.m., the group reconvened. One-by-one each of the students walked to the front of the room to share where he or she was headed, and in what specialty, and placed a corresponding pin on a map of the United States.
All 41 members VTCSOM Class of 2018 matched, maintaining the school's 100 percent match rate, which has stood since its founding. Members of the class advance to programs representing 15 specialties in 16 states and 30 different academic health centers. The most represented specialties in the Class of 2018 include general surgery, obstetrics and gynecology, internal medicine, and radiology. Residency destinations included Stanford University, Dartmouth College, the University of Southern California, Duke University, Johns Hopkins University, the Mayo Clinic, Baylor University, Drexel University, and Vanderbilt University. Two students will stay in Roanoke for their residencies, and another will spend a preliminary year with Carilion Clinic, bringing the total number of students who have done part or all of their residencies in Roanoke to 27. The Class of 2018 graduated on May 5.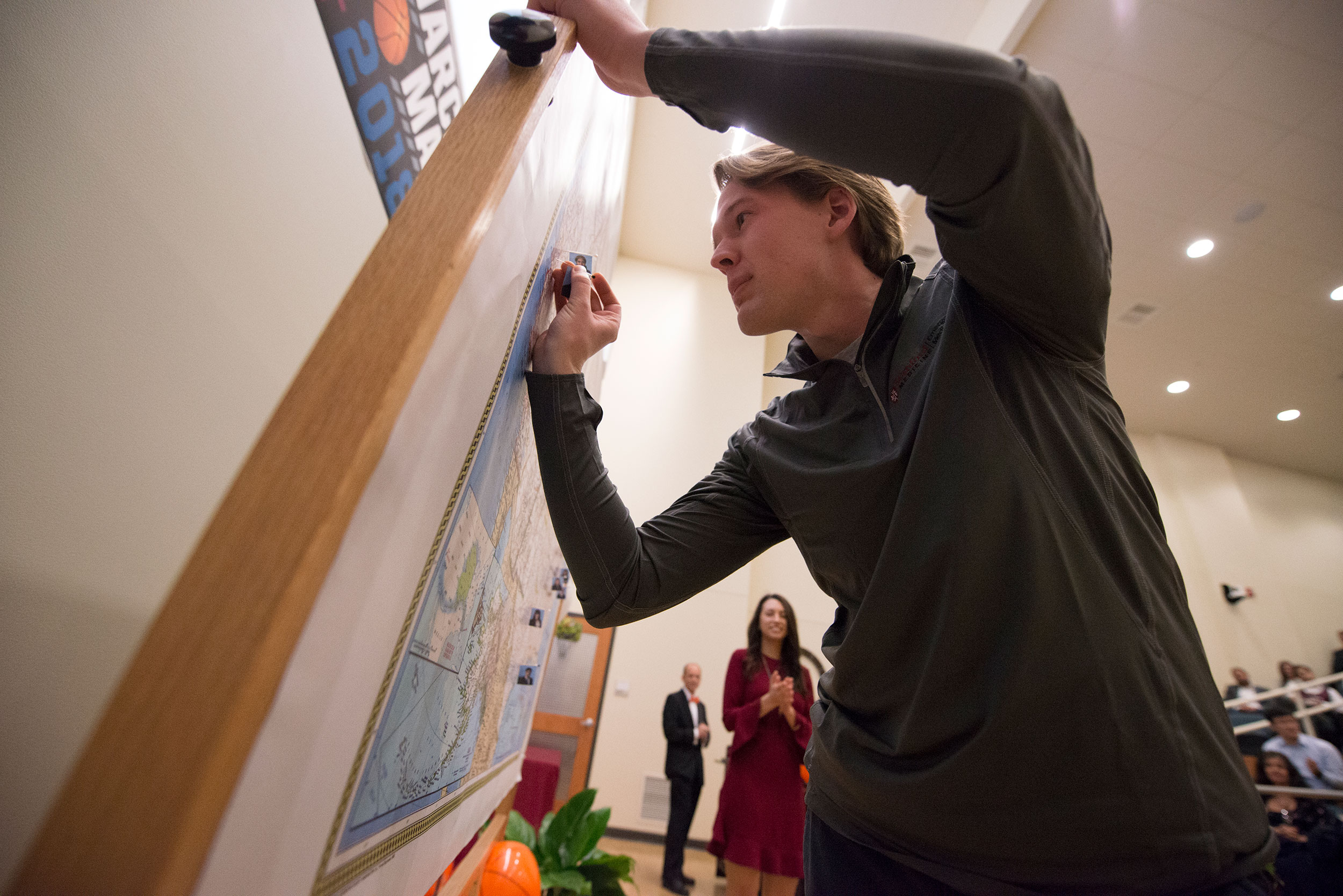 The medical school maintained its 100 percent match record, with students heading across the United States for their residencies. Jonathan Hootman '18 adds his pin to the Match Day map.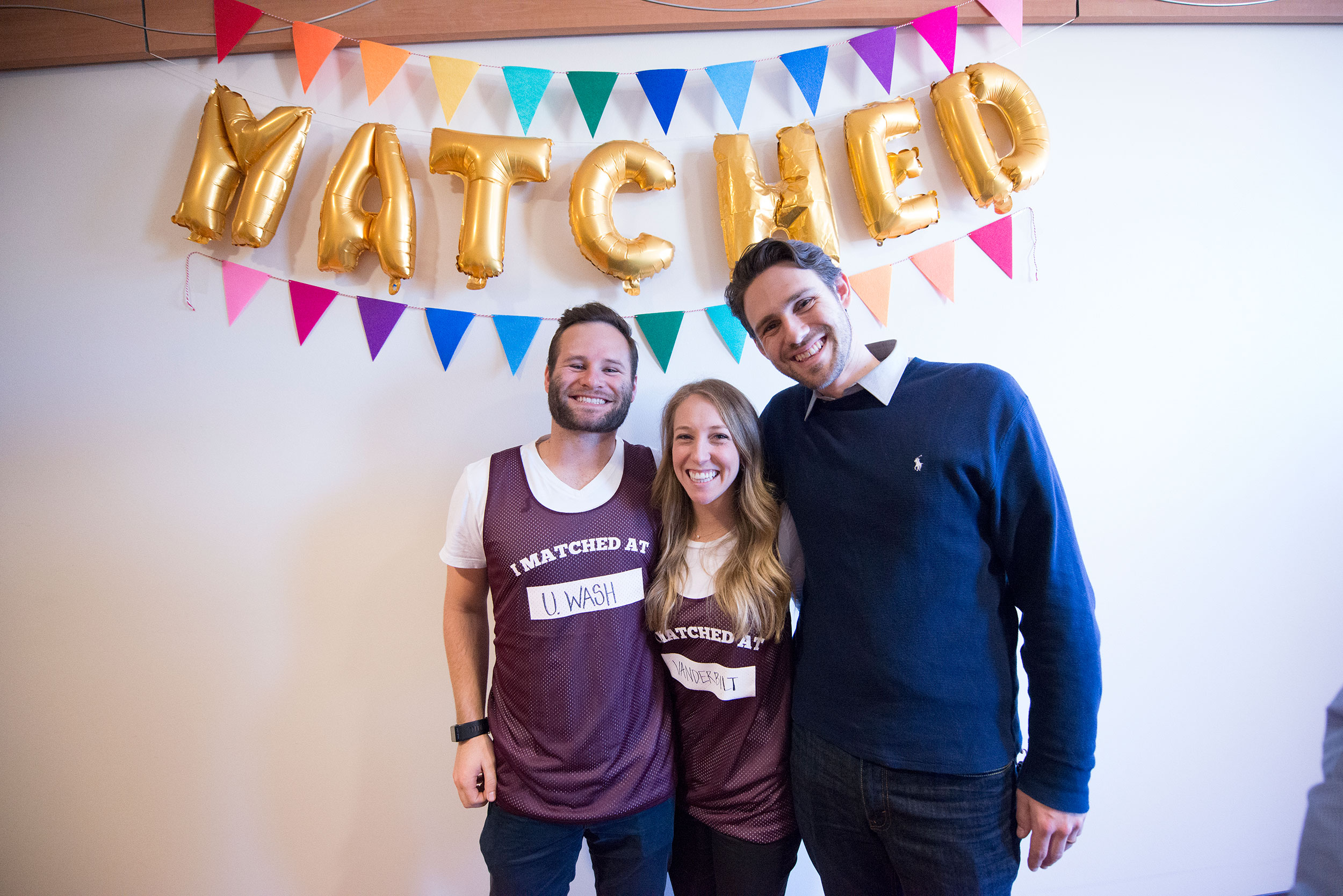 Medical school students Zakk Walterscheid '18 and Lia Manfredi '18 celebrate with friends and family on Match Day.
The map showing where students will conduct their residencies.
Residency
Residents train for three to seven years, often at a teaching hospital, as part of a team with other health practitioners. This hands-on training exposes residents to a broad variety of settings, patients, and health-care styles. Some residents go on to complete an additional fellowship in a subspecialty.
Certification and licensure
After successfully completing a residency, physicians must obtain a state license, granted by the appropriate specialty board, which determines criteria. Once a physician has been certified and earns a license, he or she may begin to practice.
Continuing education
Health care has evolved at a rapid pace, with new research regularly resulting in new drugs, new procedures, and an endless stream of advancing knowledge. Specialty boards require recertification on a regular basis, which often involves ongoing education in the changing health-care industry.
[swipe for more]
The intensive emotions and high drama of Match Day make for a memorable event.

Match Day excitement

Match Day excitement

Match Day excitement

Match Day excitement

Match Day excitement

Match Day excitement

Match Day excitement

Match Day excitement

Match Day excitement

Match Day excitement

Match Day excitement

Match Day excitement

Match Day excitement

Match Day excitement

Match Day excitement

Match Day excitement

Match Day excitement

Match Day excitement

Match Day excitement

Match Day excitement

Match Day excitement

Match Day excitement

Match Day excitement

Match Day excitement