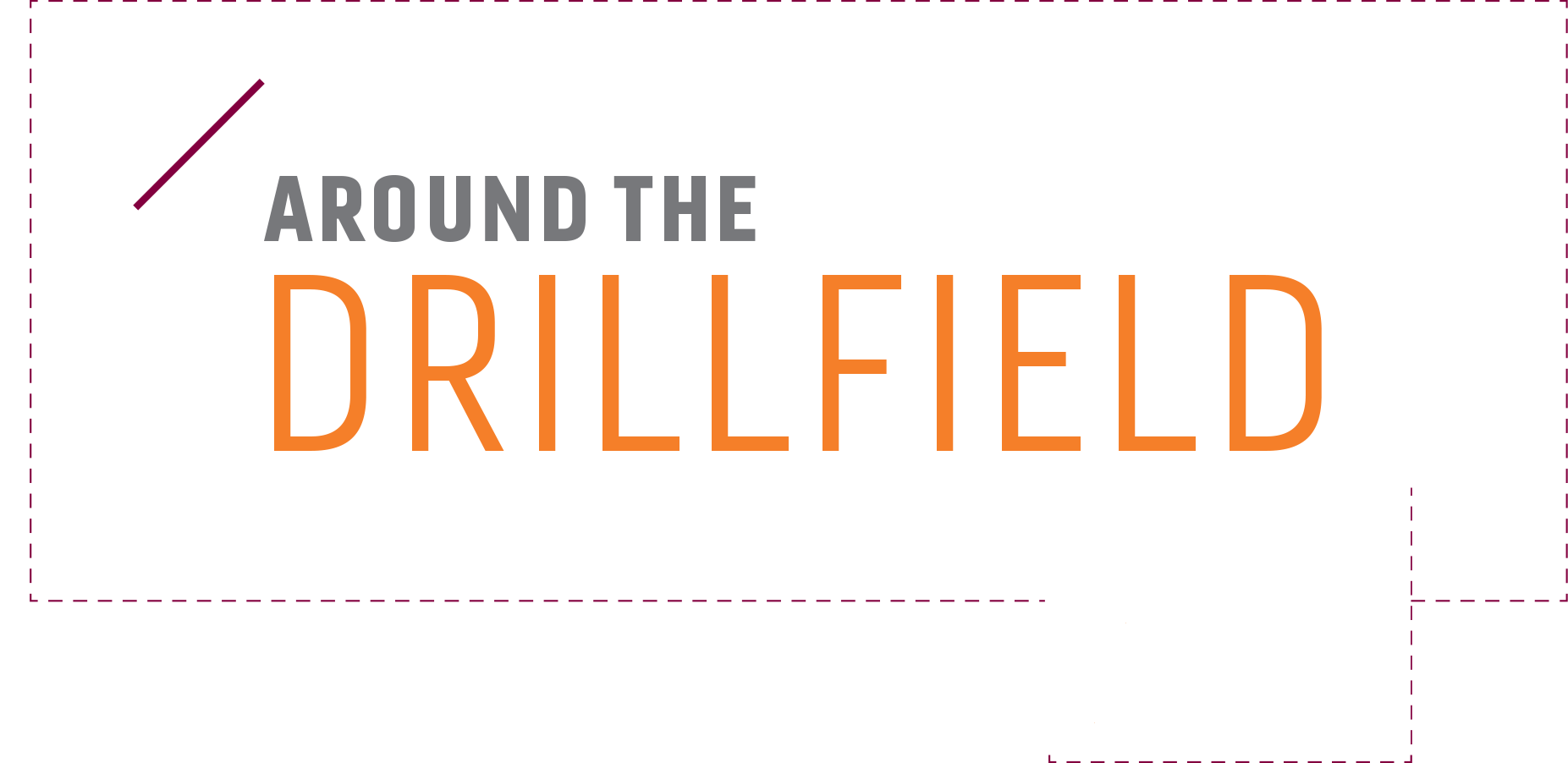 MOMENT: 20/20 CYBERVISION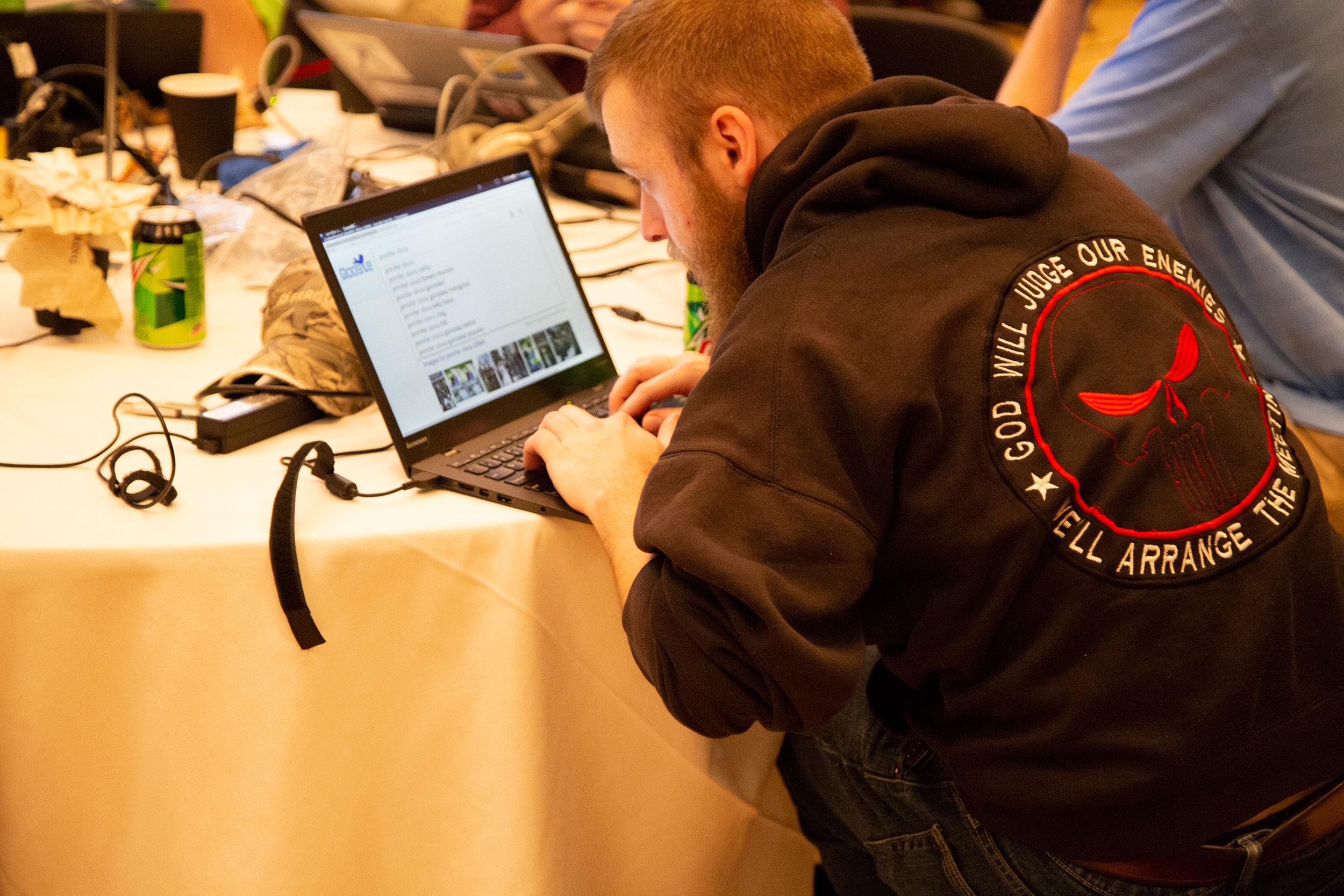 Sam Hentschel helped the Virginia Tech Cybersecurity Club earn a second-place finish in the 2018 Virginia Cyber Cup Competition.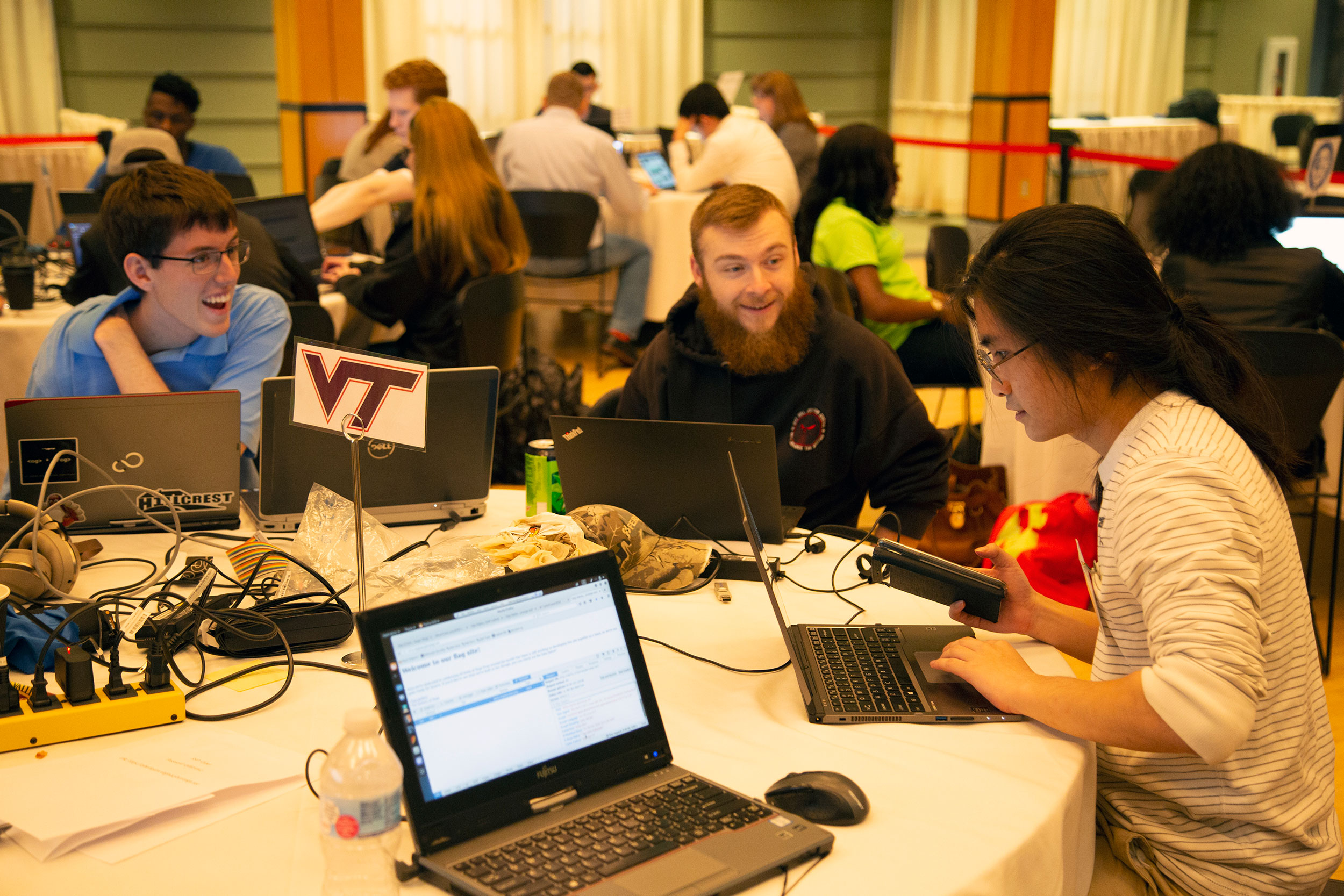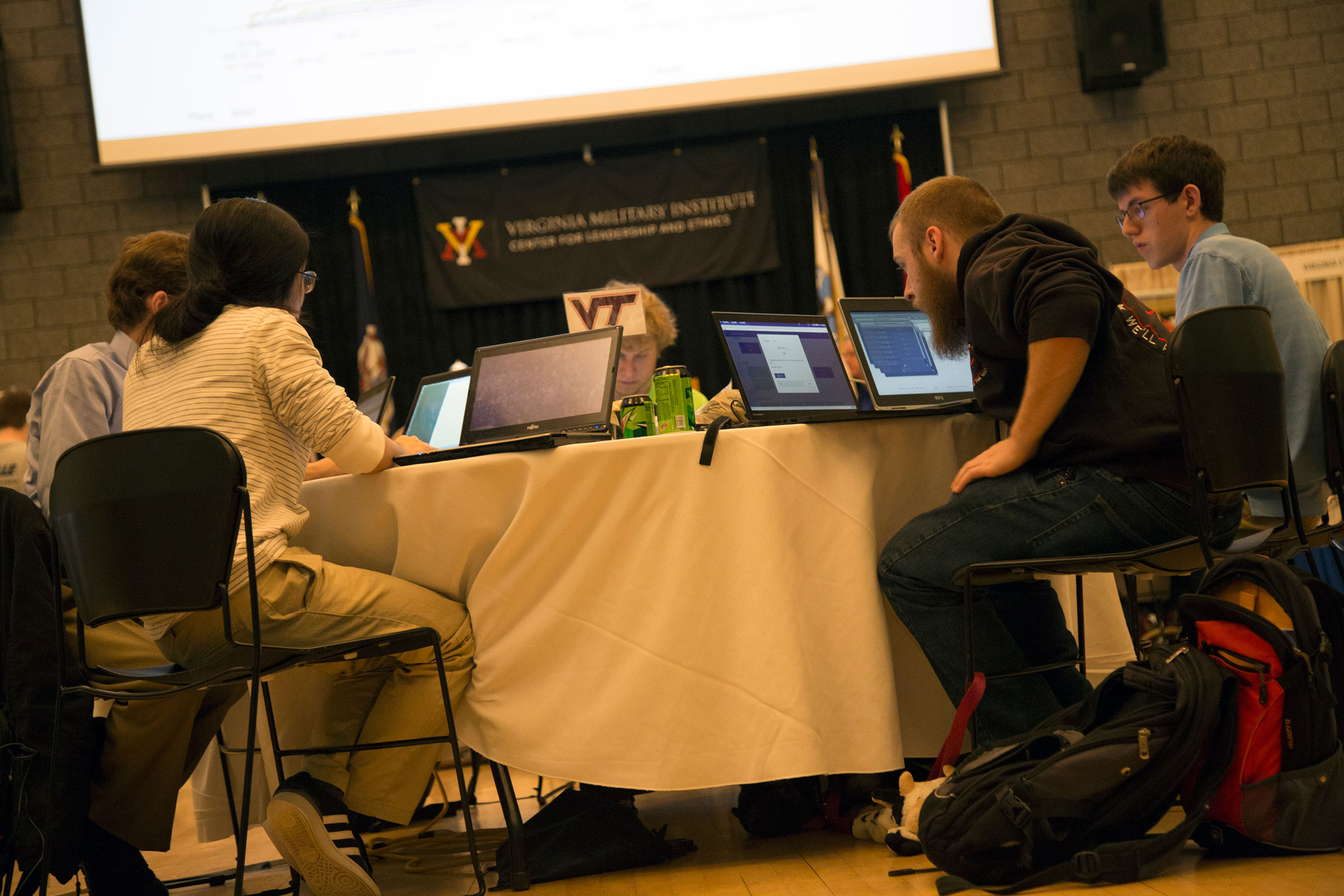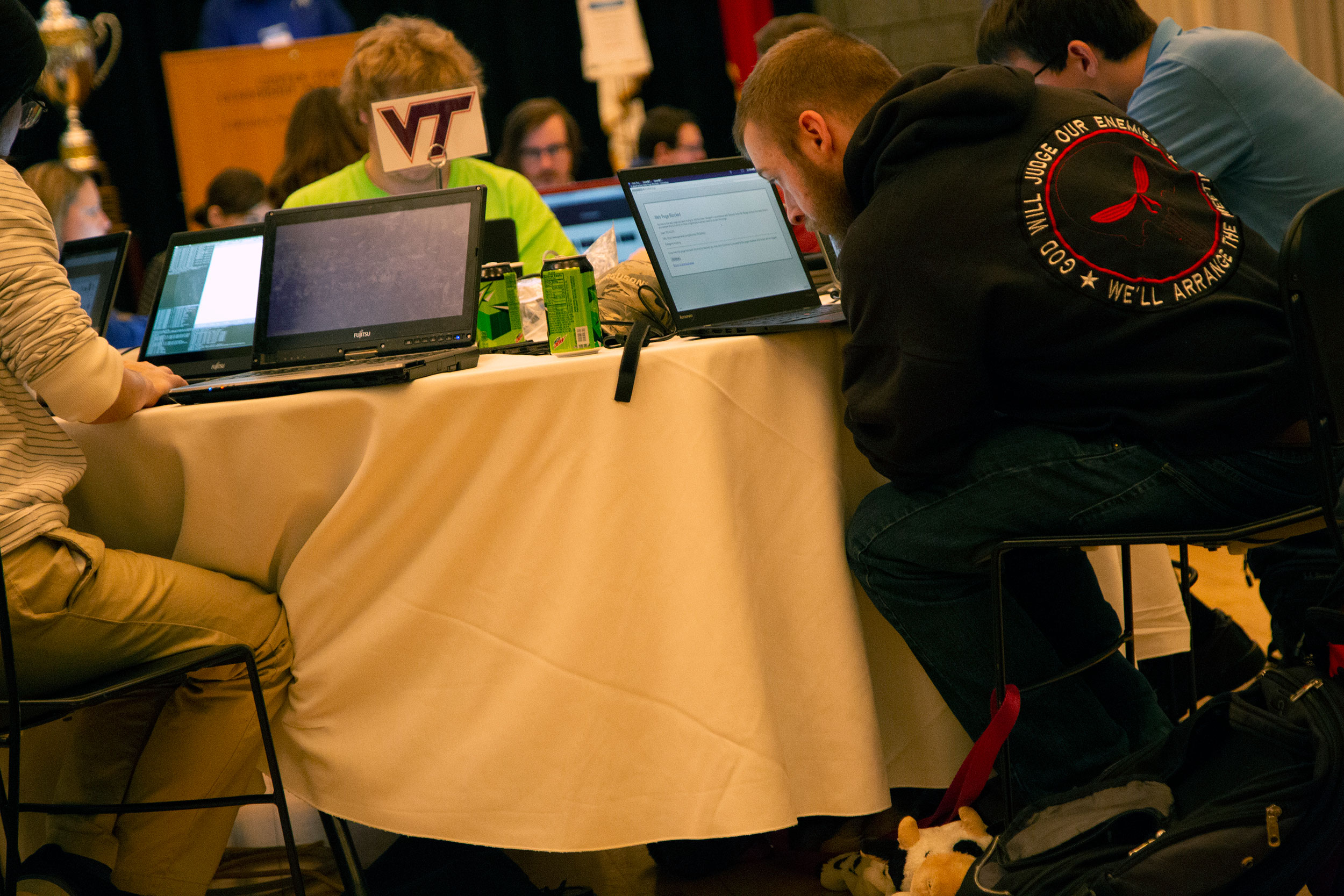 Sam Hentschel works alongside his Virginia Tech Cybersecurity Club teammates at the 2018 Virginia Cyber Cup Competition at Virginia Military Institute.
Sam Hentschel always saw himself serving his country, but his vision challenged the focus of that service.
Born with a genetic condition known as ocular albinism, Hentschel never let his limited eyesight—once tested at 20/800—prevent him from pursuing his passions.
"I grew up with the mentality that you shouldn't use your problems as a crutch; you should try to work around them, be resilient, and don't ever let anyone tell you that you can't do something," said Hentschel, who graduated with a bachelor's degree in computer science in May.
After enrolling at Virginia Tech, Hentschel joined the Corps of Cadets, taking what he expected would be the first steps toward a career in United States Navy, but his plans soon derailed.
"They said in my medical review, 'your vision is too bad, and we can't get you a waiver [for the military],'" Hentschel said.
Disappointed, Hentschel believed that his dreams of a career of service would remain unfulfilled. He immersed himself in his studies and began to focus more on his participation in the university's Cybersecurity Club. The shift opened his eyes to new opportunities.
"It didn't really click until the last year or so that the people who supply them [the military] and give them the intel they need to operate are serving, too," Hentschel said.
Hentschel was awarded a Cybercorps Scholarship for Service, and today, he is working toward a new goal, preparing for a federal career as an information assurance professional. The cybercorps scholarship program is designed to increase the availablity of federal information assurance professionals by providing full scholarships to qualifying students in exchange for three years of federal work upon graduation.
David Raymond, director of the Virginia Cyber Range and deputy director of Virginia Tech's IT Security Lab, is Hentschel's mentor.
"Sam has had to fight through a pretty significant challenge with his eyesight; Virginia Tech does a lot to help students with these kinds of physical challenges, but it is still very difficult to do well in that situation," Raymond said.
"Sam is obviously very passionate about his education, and he focuses much of that energy into the Cybersecurity Club," he added, pointing out that Hentschel had served as the club's vice president and had taken responsibility for the club's network infrastructure.
"The infrastructure task is a big one—it includes several servers running in a virtualization environment, and it is a critical piece of the Cybersecurity Club's annual Cybersecurity Summit Capture-the-Flag Competition, attended this year by over 100 college students from Virginia, Tennessee, and West Virginia," Raymond said.
Hentschel's no-nonsense approach to taking on such tasks also impressed Virginia Cyber Range network architect Aras "Russ" Memisyazici.
"I appreciate it when I meet a fellow security engineer who can interpret a problem without discussing all the unnecessary cruft. His attention to detail is admirable and, in my opinion, he would be a great asset to any team he works on or leads," Memisyazici said.
For Hentschel, the computer science program and the Cybersecurity Club have both helped facilitate a way to combine his life-long interest in computers and his passion for service.
Hentschel was young when computers first piqued his interest, but when a friend in high school introduced him to cybersecurity, he discovered a passion for the work.
"That's really where the whole dork thing started," he said. "In cybersecurity, there is no one solution, so that makes it an interesting problem. And there's something kind of pure about it because they're all just zeros and ones."
He said he believes that Tech helped him develop the mindset necessary to make the most of that interest. "Your enemy isn't going to follow the rules to breach your computer, so you have to have that same mindset to solve the problem," Hentschel said. "The courses [at Virginia Tech ] make you think differently like that."