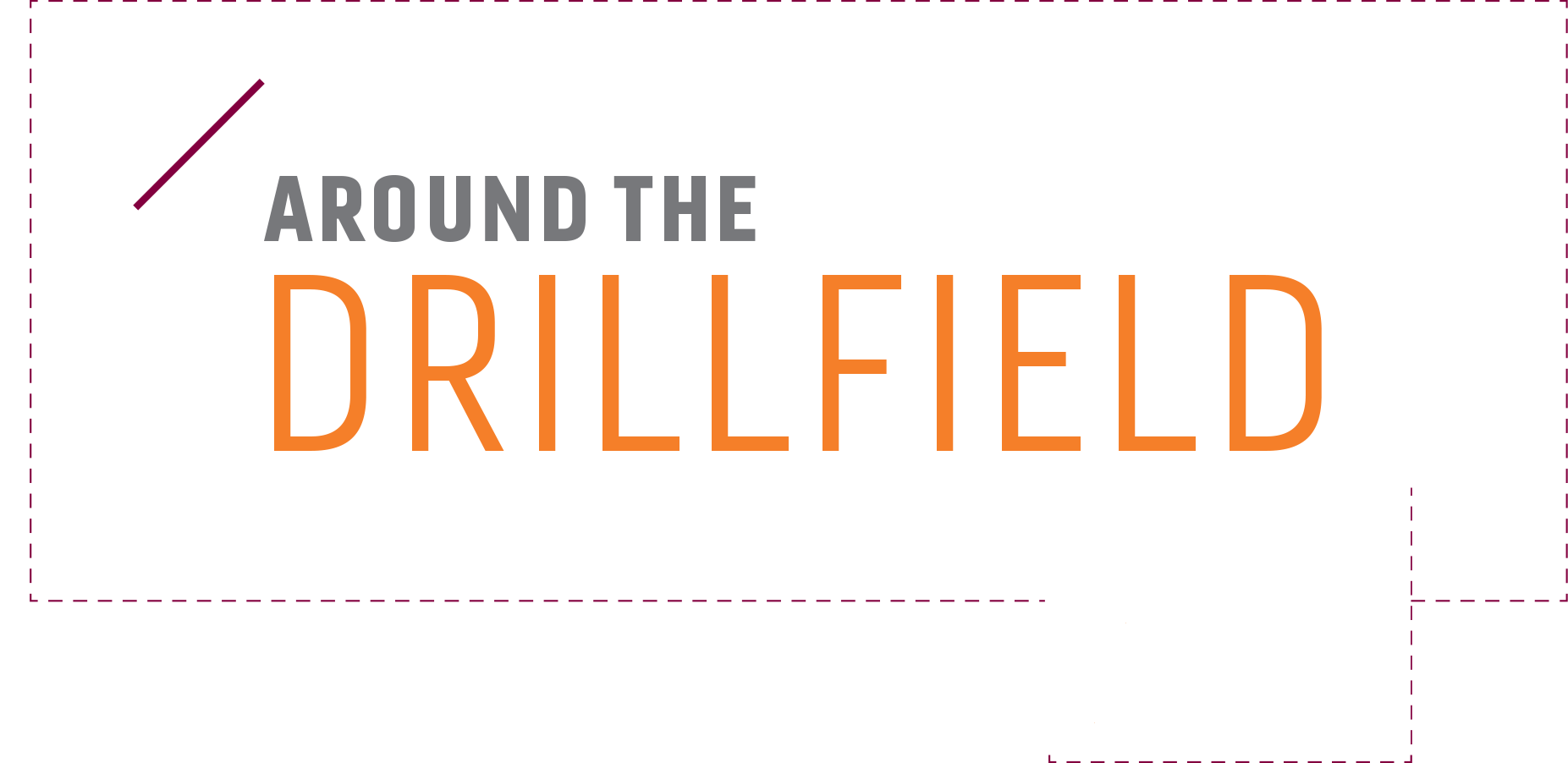 ARCHITECTURE STUDENTS DESIGN NEW CHAPTER FOR AFRICAN UNIVERSITY LIBRARY
ARCHITECTURE STUDENTS DESIGN NEW CHAPTER FOR AFRICAN UNIVERSITY LIBRARY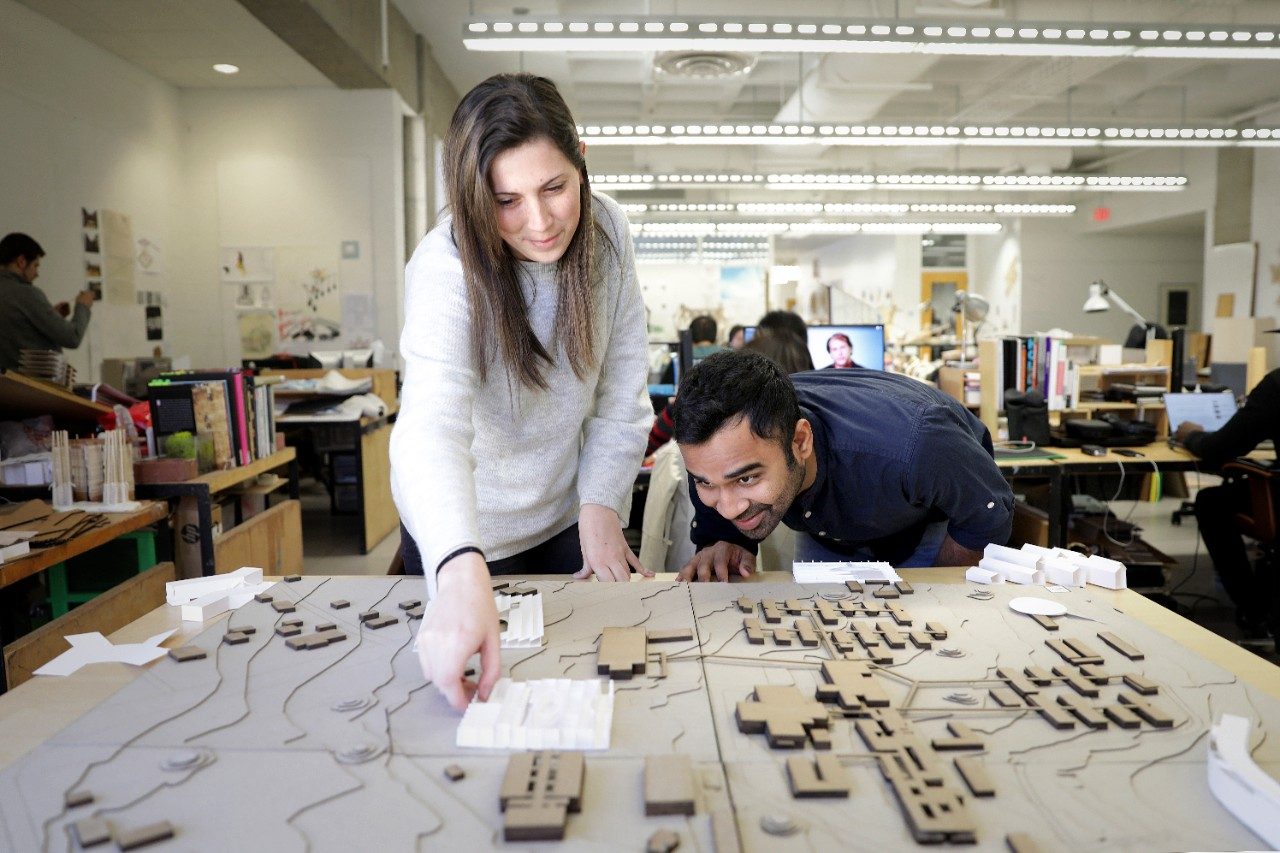 A MODEL FOR THE FUTURE: Virginia Tech architecture students Lindsey Blum and Dhawal Jain work with a site model of Mzuzu University's campus. The students are members of a team designing a new library for the university in Malawi, Africa.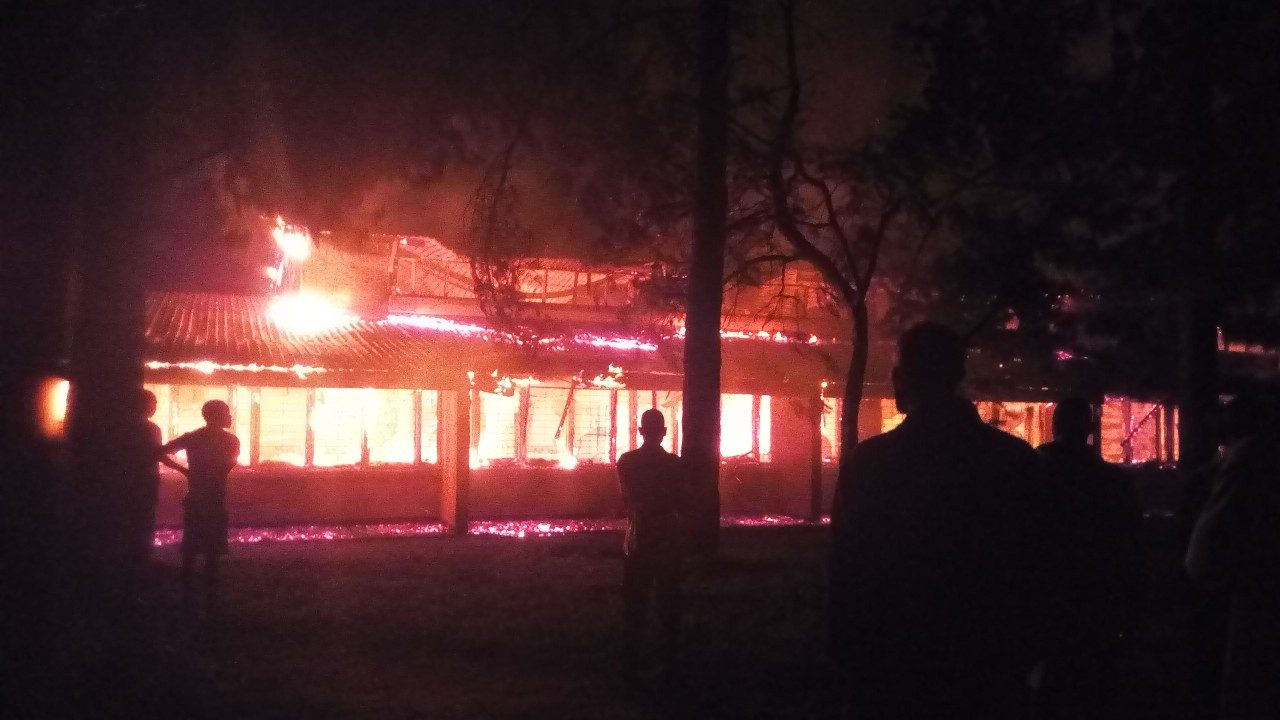 In 2015, a fire destroyed the library at Mzuzu University in Malawi. Since then, an events hall has served as the university's makeshift library, filled with more than 40,000 books that were donated to the university, mostly through a book drive organized by Virginia Tech in 2016.
Three years later, Hokies are helping Mzuzu University open a new chapter. Seven students and an adjunct faculty member from Virginia Tech's College of Architecture and Urban Studies are creating the design for a new library for Mzuzu, a 4,000-student institution in the country's northern region and Malawi's second national university.
The library serves as an essential information gateway at Mzuzu because of the region's poor technology infrastructure. Less than 10 percent of the people in Malawi have electricity, and because only 20 percent of Mzuzu's students live on campus, the library is an important gathering place for those who live off campus, said Felix Majawa, Mzuzu University librarian.
Read the full VTNews story
On March 31, the Spring 2018 Powwow, a traditional Native American celebration was held at Virginia Tech. Organized by Native at VT, a student organization, the intertribal powwow, which was held for the second consecutive year, was designed to celebrate Native American culture and increase awareness of indigenous students at Virginia Tech. The free event featured songs, drum performances, and dancing, along with arts, crafts, and jewelry vendors.
American Indian students are one of the smallest minority groups at Virginia Tech. There are 48 American Indian or Alaska Native undergraduate, graduate, and professional students, according to the university's 2017–2018 enrollment profile. The powwow provides an opportunity to bring the campus and Blacksburg communities together to learn about Native American culture.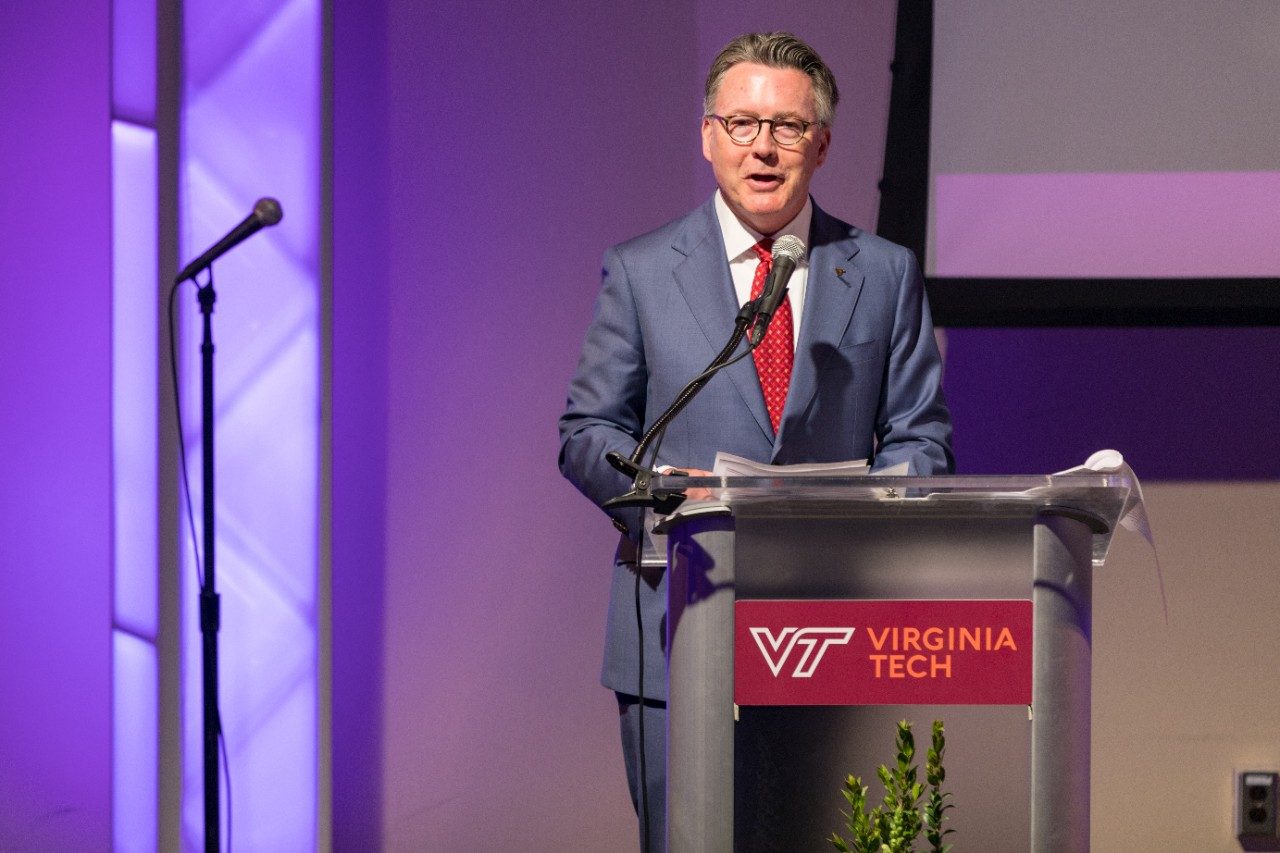 Virginia Tech President Tim Sands announced the new Ujima Living Learning Community during the Black Alumni Awards Ceremony on Friday evening.
Virginia Tech will launch a new living-learning community (LLC) for students interested in understanding, supporting, and learning about the African-American experience. Ujima (oo-JEE-muh), which is expected to open in the fall, will become the university's 15th living-learning community.
"The Ujima LLC will help build and strengthen relationships across the larger university community and support discussions on identity, culture, and history," said Sands. "It will be an important resource in developing our future leaders."
Ujima is the third principle of Kwanzaa and is defined as collective work and responsibility and community. The living-learning community will place a special emphasis on understanding the unique experiences of African-Americans in society, including their experiences in higher education. With a focus on building and maintaining community and solving problems together, the community will be located in Peddrew-Yates Hall.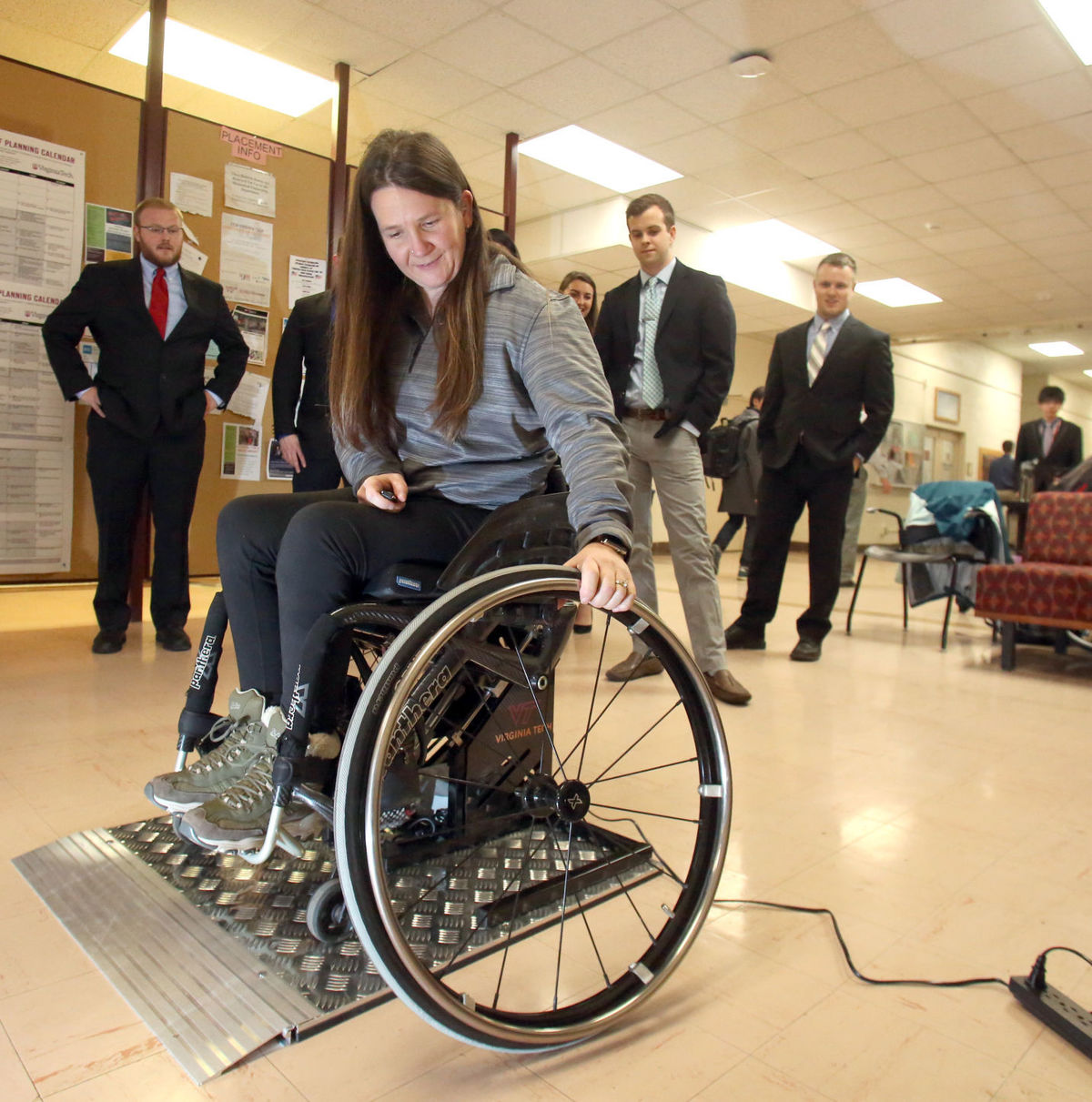 Tammy Landeen of Caribou, Maine, expresses joy after performing a successful wheel change independently.
Through a senior design project, a team of seven Virginia Tech mechanical engineering seniors have provided a boost to a wheelchair-using veteran.
Incorporating an electronic linear actuator, the students developed a lift to elevate a wheelchair about two inches off the ground to allow quick-release wheels to be changed with one hand.
The project was sponsored by the Northern Virginia-based Quality of Life+, a nonprofit specializing in improving the lives of veterans with life-altering injuries; Virginia Tech is one of six universities to partner with the organization.
In March the team introduced the "QL+ Wheelchair Wheel Change Project," to its target customer, Tammy Landeen, a resident of Caribou, Maine, who served 10 years with the U.S. Army before being injured in a nonmilitary-related horseback riding accident.
Project team member Colin Jones said the opportunity to enhance Landeen's independence motivated the students. "It's been nice for us because for all of the fall 2017 and spring 2018 semesters, we, as a team, have known that what we are doing is going to directly impact Tammy's life in a positive way," Jones said. "And it also feels great to be able to give back to someone who has served our country."
The final product, complete with adjustments resulting from the test session during Landeen's visit to campus, were featured at the Mechanical Engineering Senior Design Expo in April.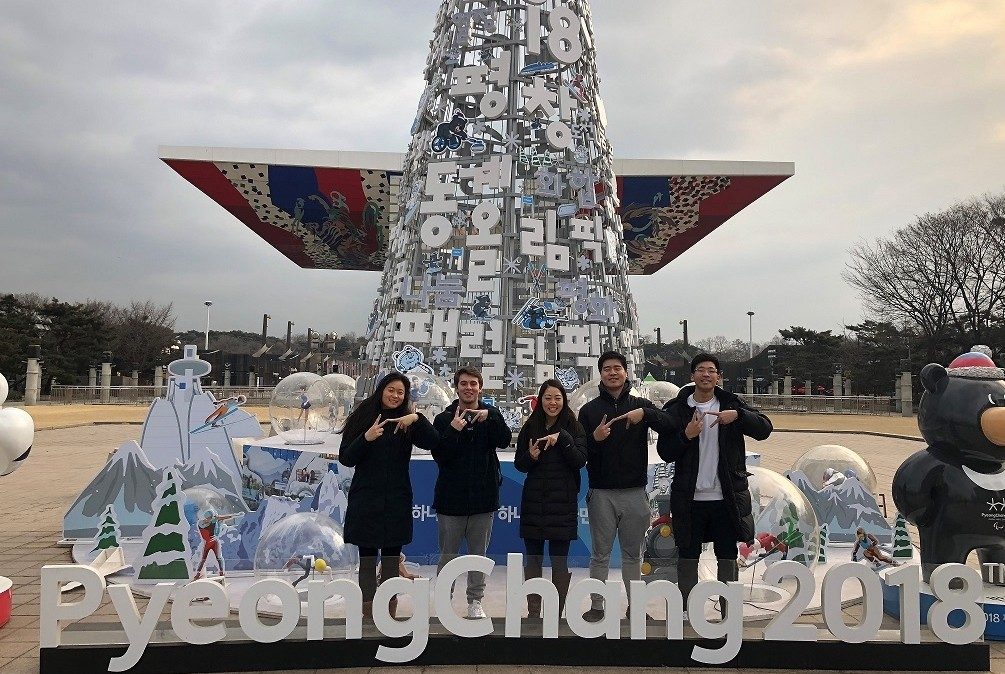 From left: Lindsey Kim, Jay Hurlocker, Colleen Song, Paul Choi, Kevin Kim
Five Pamplin College of Business students participated in George Mason University's Olympics and Paralympics field study in South Korea this spring, led by GMU Associate Professor Seungwon (Shawn) Lee '09, who earned a Ph.D. in hospitality and tourism management from Virginia Tech.
The students experienced the Winter Olympics first-hand and visited Korean cultural sites. They volunteered during the Paralympic Games (March 3-19). Their education about large-venue sports management included taking courses to gain a global understanding of mega sports related to hospitality, tourism, and the event industry of South Korea.
The Virginia DEEP-X team meets with Dan Stilwell, professor of electrical and computer engineering, in the Autonomous Systems and Controls Laboratory. Stilwell leads the team, composed of 21 faculty members and graduate students.
Nineteen teams went in and only nine — including Virginia Tech's own DEEP-X — came out of the first round of a global competition to build autonomous vehicles that can rapidly map the mostly unknown ocean floor.
The DEEP-X team, led by Dan Stilwell, professor of electrical and computer engineering and director of the Virginia Tech Center for Marine Autonomy and Robotics, has earned a finalist spot in the second and final round of the $7 Million Shell Ocean Discovery XPRIZE.
The international competition intends to spur the development of cutting-edge autonomous underwater vehicles (AUVs) that can quickly capture high-resolution maps of the ocean floor, the surface of which is less understood than that of Venus or Mars.
Read the full VT News story.
The Virginia Tech, India, Postgraduate Program in Business Analytics is scheduled to launch in June with courses held online and on the campus of the program's first partner, the N.L. Dalmia Institute of Management Studies and Research.
Under the yearlong program, students in India will earn a Virginia Tech certificate in business analytics, designed to prepare them for careers in government or industries that operate in big-data environments.
The program offers a dozen courses, including classes in data security, big-data technologies, cloud application development, machine learning, and advanced statistics. Portions of the coursework will be online so students who've begun careers can continue working at their jobs.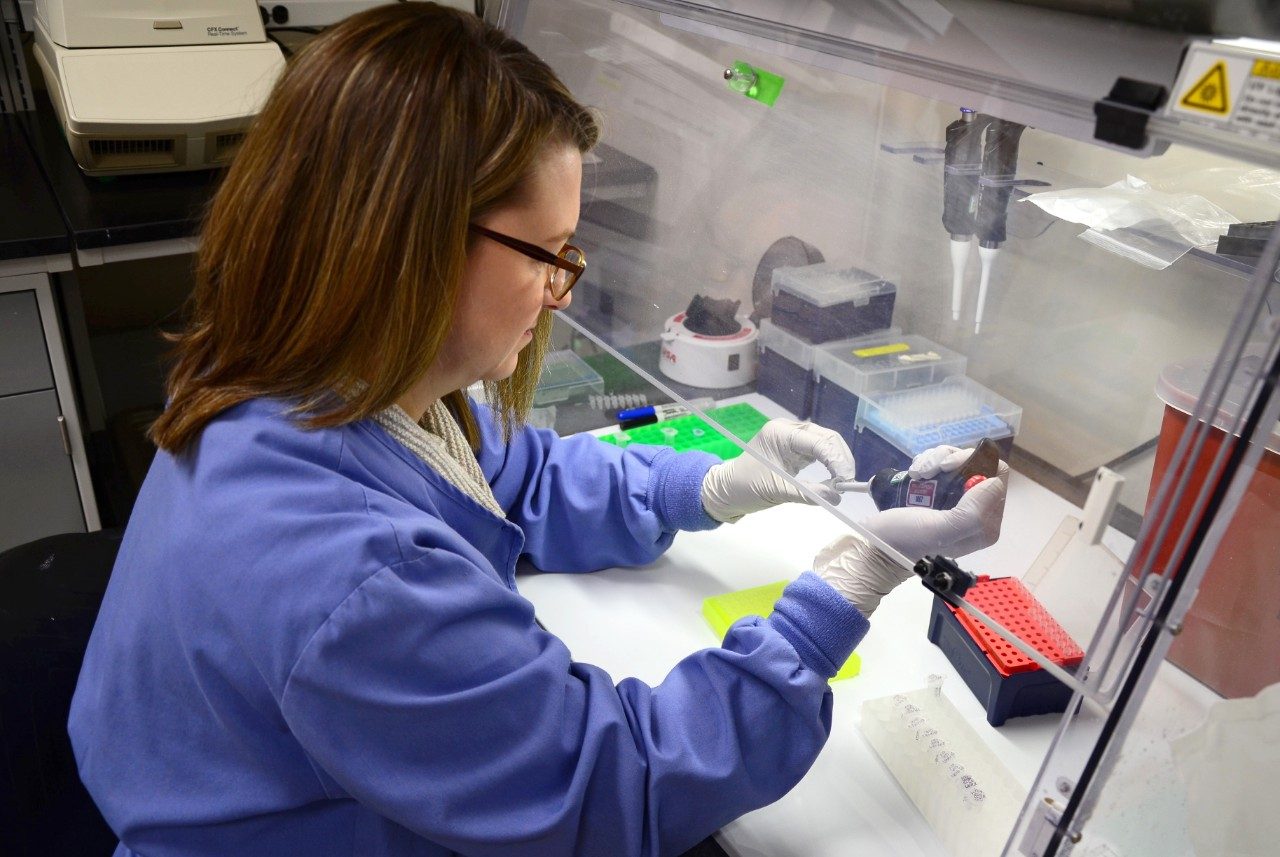 Laboratory technician Amanda Carbonello performs steps used in polymerase chain reaction (PCR) testing. PCR is a molecular diagnostic test that helps identify the presence of pathogen DNA or RNA in laboratory samples for pathogens such as salmonella, canine distemper virus, feline coronavirus, feline leukemia virus, and bovine diarrhea virus.
Virginia Tech Animal Laboratory Services (ViTALS), a full-service veterinary diagnostic laboratory at the Virginia-Maryland College of Veterinary Medicine, has become the first diagnostic laboratory in Virginia to receive full accreditation from the American Association of Veterinary Laboratory Diagnosticians (AAVLD), an internationally recognized accrediting body.
ViTALS offers a wide range of laboratory testing for veterinarians at the college's Veterinary Teaching Hospital, other animal clinics throughout the country, and researchers. It also aides in preparing veterinarians for careers in either veterinary clinical pathology or anatomic pathology through a residency program.
Read the full VT News story.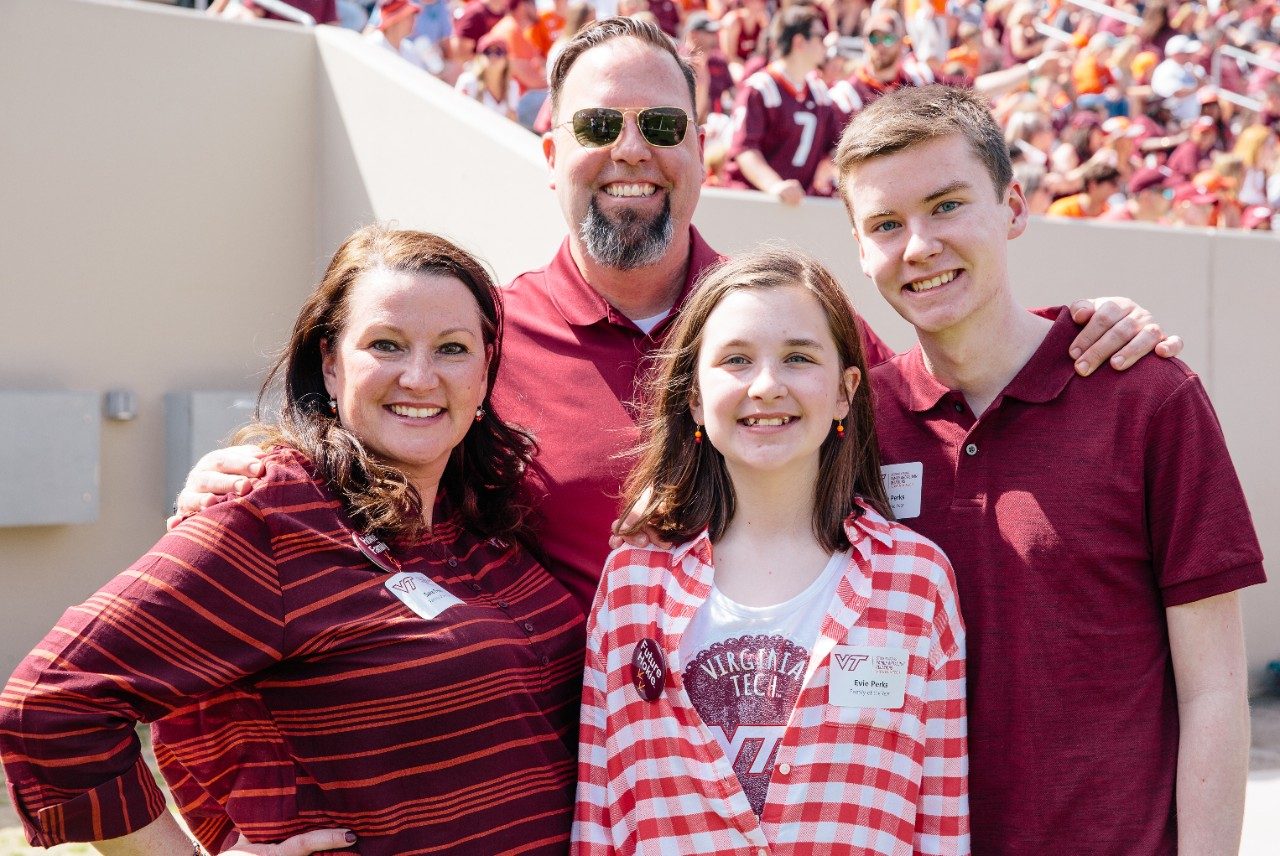 Dave Perks' 95, his wife, Sara Perks, and their children, Jayme and Evie, were named the 2018 Virginia Tech Family of the Year to recognize their commitment to creating a home away from home for Virginia Tech students. (photo by Christina Franusich)
"Family" can mean many things, from biological parents, siblings, or foster families to multigenerational households and extended loved ones. The Virginia Tech Family of the Year award is presented annually by Student Affairs to acknowledge the people who are students' biggest supporters.
The 2018 Virginia Tech Family of the Year award was presented during the Spring Game to the Perks family of Blacksburg: Dave '95 and Sara Perks, their children Jayme and Evie, and their six nominators, Robyn, Josh, Jordan, Tre, Liz, and Nick — all Virginia Tech students.
As part of the Blacksburg Baptist Church Family Ties program, Dave and Sara Perks opened their hearts and home to Cadet Joshua McGuire, of Franklin, Tennessee, a senior majoring in international studies with minors in Chinese and leadership. They got five of his friends as well. This unusual Hokie family has shared adventures, home-cooked meals, and struggles as well as celebrations.
Read the full VT News story.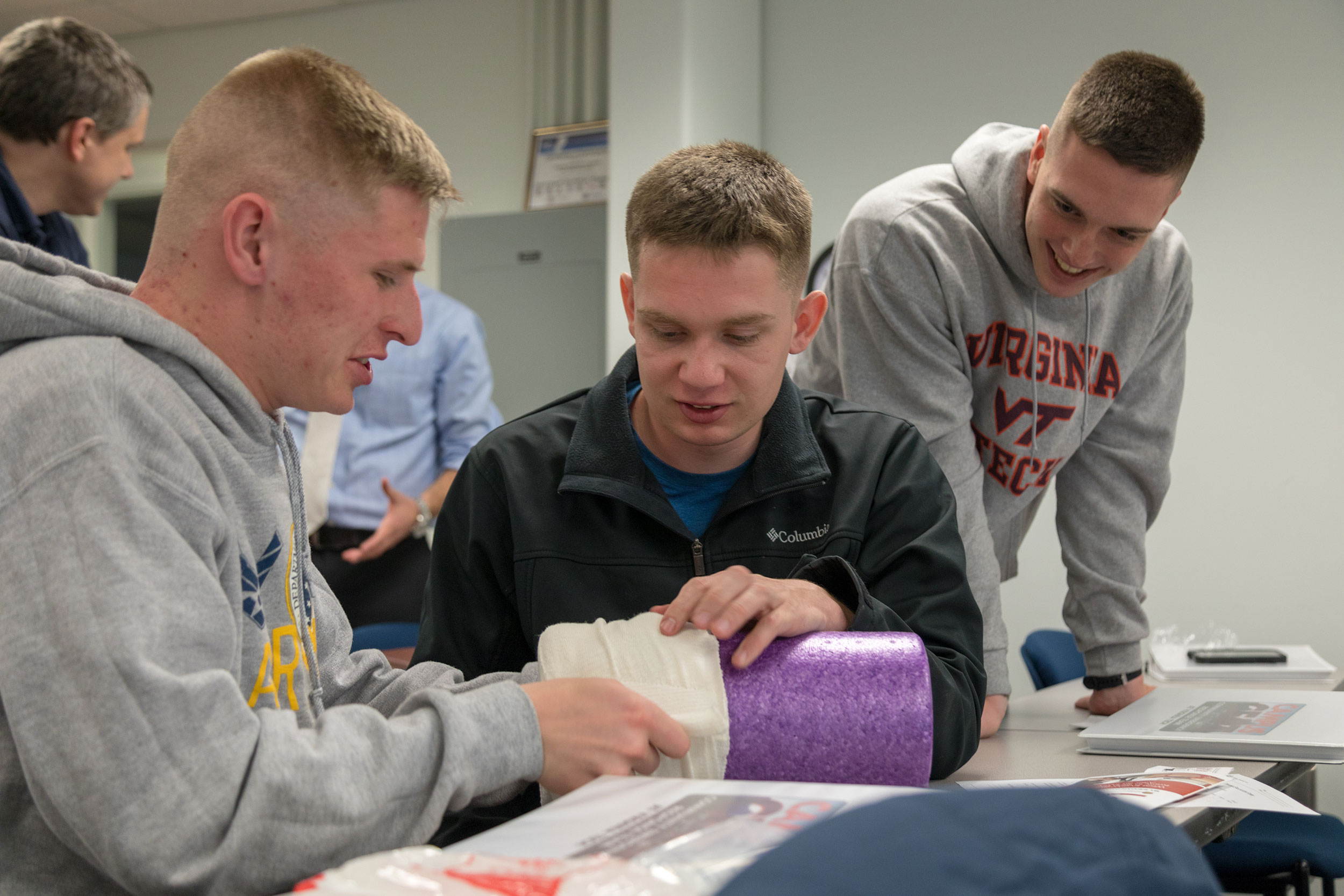 From left, sophomore meteorology majors Damion Freeman, Tyler Roiland, and Ben Blatchford practice dressing a wound during the Stop the Bleed class.
Virginia Department of Transportation's $46.7 million interchange project creates a new grade-separated, diverging diamond interchange at the intersection of U.S. 460 and Southgate Drive, which leads vehicles to a roundabout. Beyond the roundabout, the road heads directly to the university's athletics facilities, including Lane Stadium and English Field at Union Park, the baseball stadium.
Virginia Tech Emergency Management (VTEM) is rolling out the "Stop the Bleed" Program across campus to prepare faculty, staff, and students to treat bleeding emergencies by accessing strategically placed bleeding control kits throughout the Blacksburg campus.
The kits are tied to the national Stop the Bleed campaign, which was launched by the White House in October 2015. The campaign's goal is to prepare people to readily save lives by becoming aware of basic actions to stop life-threatening bleeding.
VTEM also offers training sessions on types of bleeding control such as direct pressure, the use of tourniquets, the pack and wrap method, and other techniques.
Two National Science Foundation grants of approximately $1.5 million, awarded to Virginia Tech researchers, will bring robotics and technology assistance to famers, one of the largest groups of workers in Virginia. The research goal is to combine technologies to provide physical safety and enhance quality of life for Virginia farmers.
The first project partners with industry to use robotics to aid farmers with mobility impairments. The Partnership for Innovation grant is a collaborative effort between Virginia Tech's College of Engineering and the College of Agriculture and Life Sciences, and with community partners, AgrAbility Virginia, a program that assists farmers with illnesses, injuries, or disabilities that impede the ability to work safely, effectively, and productively. The research will aid farmers through the use of wearable robotics, such as exosuits and other robotic apparatus, targeting back, knee, and hand applications.
The Research Coordination Network grant, the second project, is a collaboration with U.S. and international researchers to enhance technology on mid-sized farms.
The third annual Virginia Tech Music Day featured more than 20 student and local musicians performing in various outdoor locations throughout campus on Friday, April 13.
Organized by the Moss Arts Center Student Ambassadors, a student group that represents the center and helps promote its events, the event celebrates the music-making of area performers and shares their sounds with the university community.
With the motto "Ut Musica Faciam" (That I May Make Music), Virginia Tech Music Day began in 2016 under the leadership of student Emily Barritt, a current junior neuroscience and chemistry major, member of the Honors College, Moss Arts Center ambassador, and musician who plays bassoon with the New River Valley Symphony Orchestra. Barritt developed the concept for Music Day with Virginia Tech chemistry professor Gordon Yee, who described a similar event he had attended at another university in his introductory chemistry class offered through the Honors College.