MILESTONE MOMENTS
MILESTONE MOMENTS
by Tim Sands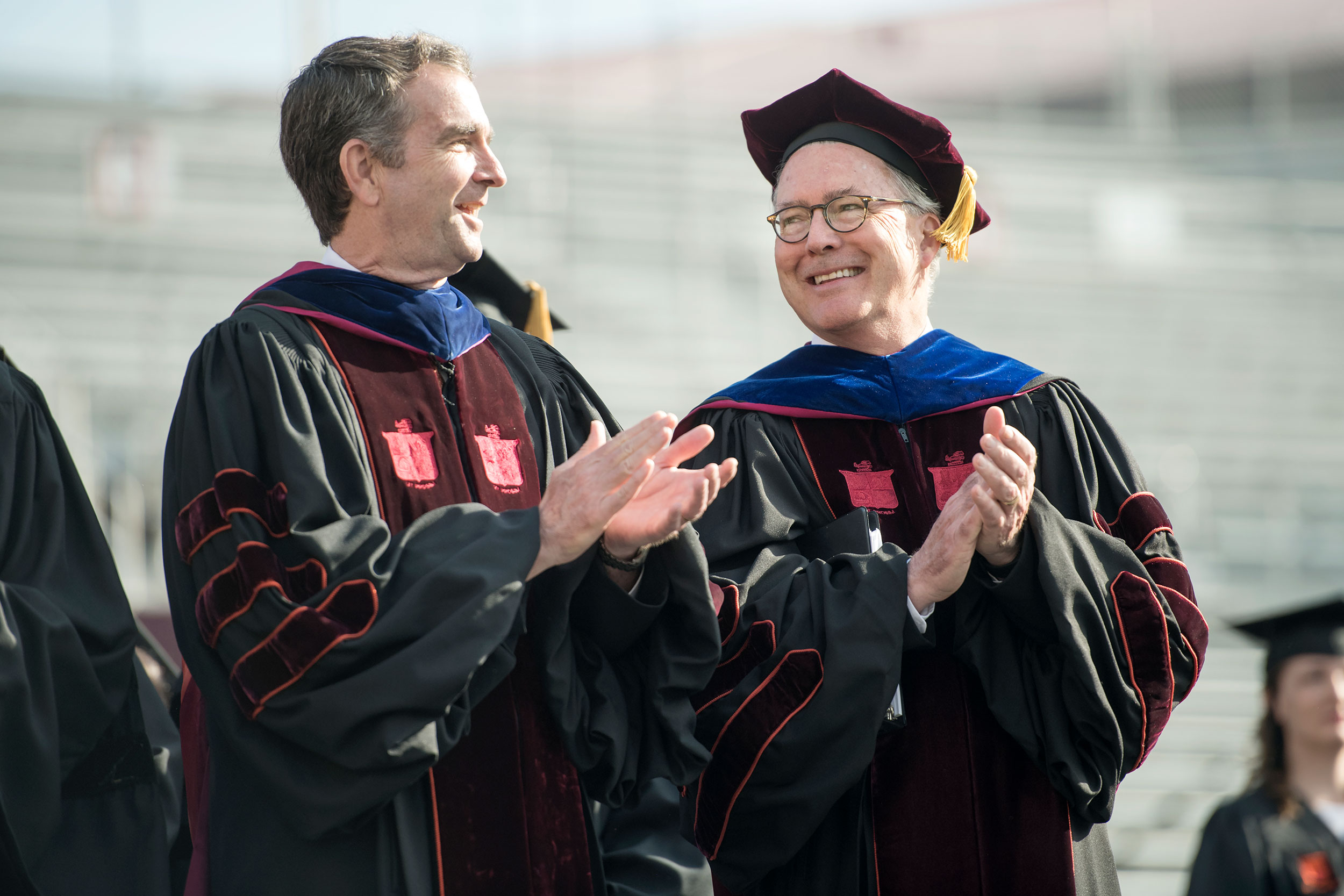 Stage presence: Virginia Gov. Ralph Northam, who delivered the 2018 spring commencement address, and Virginia Tech President Tim Sands share the stage during graduation. (photo by Logan Wallace)
In May, more than 4,800 undergraduate students were awarded degrees during Virginia Tech's 2018 commencement ceremony, a milestone for each new graduate and for me.
In 2014, I arrived in Blacksburg along with many of these students. Like them, I was inspired by the opportunities at Virginia Tech and eager to become a Hokie. We've shared many experiences and had opportunities to lead, learn, and serve. Four years later, we are part of a vibrant community with a sense of purpose, committed to moving our university and our world forward.
The evidence of our commitment extends beyond Blacksburg. A decade ago, Virginia Tech leaders, together with visionaries from Carilion Clinic and representatives from the greater Roanoke community, envisioned a plan for a Health Sciences and Technology Campus that would create a dynamic academic and research environment in Roanoke.
Today, newly constructed state-of-the-art facilities, a competitive medical school, and discoveries through funded research studies highlight the success of that vision. On July 1, the Virginia Tech Carilion School of Medicine will become our ninth college, another milestone for our university and for our Roanoke partners.
Our partnerships support innovation and contribute to economic, academic, and social growth. Creating such connections is part of our mission and will advance our efforts to become a top-100 global university.
Joining forces with business leaders, elected representatives, and community officials creates mutually beneficial opportunities for students, faculty, and alumni. In turn, alumni, who generously help students seeking internships and return to campus as mentors, are our ambassadors beyond Blacksburg.
Generous philanthropists support these efforts and fuel our future. A $20 million gift from David Calhoun '79 will provide scholarships and support the Honors College. And earlier this year, thousands of donors made the first-ever Virginia Tech Giving Day an incredible success.
As we look to the future, we recognize that our success is built on the strength of our founding principles and visionary leaders like President Emeritus Charles Steger, who, sadly, passed away in May. We miss him greatly and will honor his legacy by working hard and making progress every day.
Thank you for all that you do to make me—and my fellow members of the Class of 2018—proud to be Hokies.
Tim Sands is Virginia Tech's 16th president. The Virginia Tech Board of Visitors voted unanimously to extend his contract as university president through 2024.