IN MEMORIAM: SARAH MITCHELL
Pylon Ceremony honoring Ensign Sarah Mitchell, Nov. 9, 2018.
The rain stopped less than an hour before the Virginia Tech Corps of Cadets and the campus community gathered Nov. 9, 2018, to honor addition of the name of U.S. Navy Ensign Sarah Mitchell '17 to the Ut Prosim Pylon.
Mitchell, of Feasterville, Pennsylvania, died July 8, 2018, during a Naval training exercise in the Red Sea. Hers is the 432nd name—and the first of a woman—on the Pylons.
Mitchell graduated with a degree in biochemistry and minors in chemistry and leadership studies. She commissioned in May 2017 and reported a month later to the guided-missile destroyer USS Jason Dunham.
Command Sgt. Maj. Dan Willey, the senior enlisted advisor for the corps' 1st Battalion, worked closely with Mitchell, especially during her senior year when she commanded Alpha Company. An excerpt of his remarks from the Nov. 9 ceremony follow.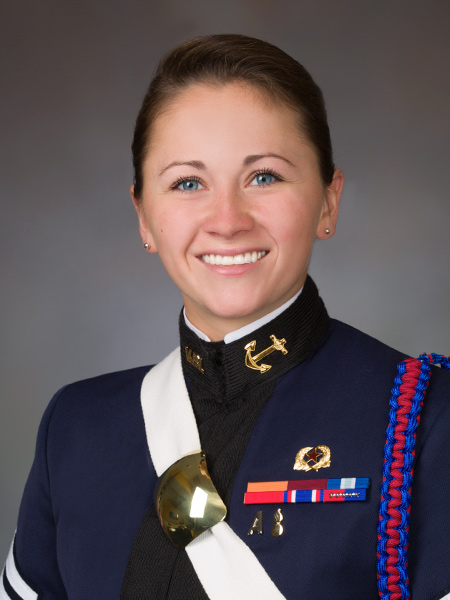 Sarah J. Mitchell
"Every once in a while, a person comes into our lives that will impact us forever. These people are rare, very rare. As a cadet, Sarah was my one in a thousand.
"Where do they come from? What inspires these young passionate patriots to stand their watch in uniform for this great nation? Sarah could have done anything in life, and she would have been exceptional at it. She chose service as a naval officer.
"Service to others was natural to Sarah. She cared about everyone and everything. Here in the Corps of Cadets, she sought out the toughest of jobs. Duties that would put her directly in position to lead and make an impact.
"I liked to say that her battery seemed to have two positive terminals. She was always in a great mood and always had a smile. She loved to compete, and she loved to win. As the captain of the corps basketball team, Sarah led them to a national championship. The other players on both the men's and women's teams knew her as 'the floor general,' as she would always find a way to rally the team to yet another victory.
"Sarah's leadership style was quite unique. She mastered the art of speaking to people and not at them. She could often be found sitting in a quiet corner of the dorm away from the spotlight of the corps, softly coaching and mentoring a struggling cadet.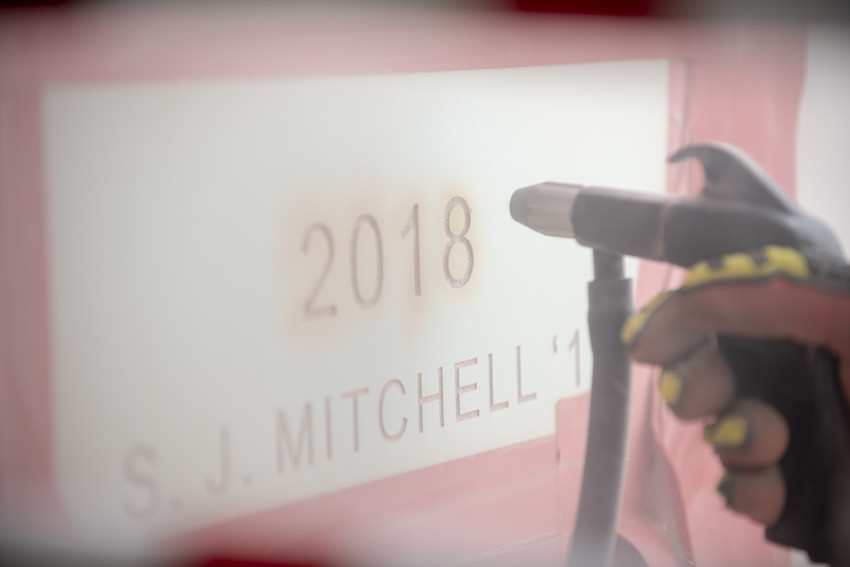 Engraving of S. J Mitchell name on Pylons.
"It is very hard to say goodbye to a national treasure. All of you in attendance today, please know that the corps stands before you in this weather, not because they have to, but because they want to."
The Virginia Tech Board of Visitors honored Mitchell with a resolution at its August meeting, recognizing her "unwavering courage and valor." President Tim Sands honored her with a moment of silence at his State of the University Address in September.
The Pylons are a representation of Virginia Tech's values. The values engraved on the eight pylons are, from left: Brotherhood, Honor, Leadership, Sacrifice, Service, Loyalty, Duty, and Ut Prosim. The Pylons are etched with the names of every Virginia Tech student and graduate who died defending our nation's freedom during a time of conflict, beginning with those lost during World War I.
Shay Barnhart is the communications director for the Corps of Cadets.