Research and Innovation: Looking back and moving forward
by Theresa Mayer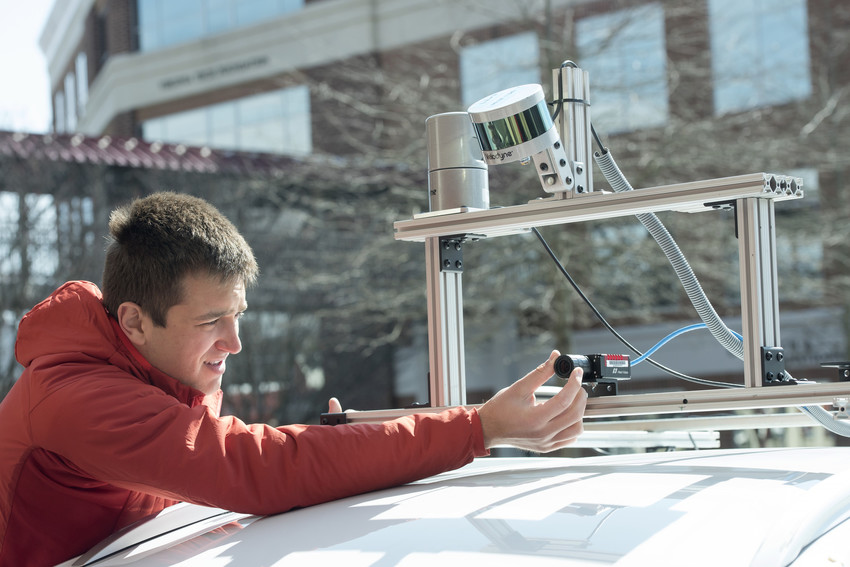 Virginia Tech's College of Engineering's AutoDrive VT team members with Chevy Bolt run at the Society for Automotive Engineers' AutoDrive Challenge at the Yuma Proving Ground in Arizona.
Last year marked the 30-year anniversary of my graduation from Virginia Tech. January 2018 marked my third year back on campus, this time as Virginia Tech's vice president for research and innovation and professor of electrical and computer engineering.
As I look back, I am struck by Virginia Tech's transformational growth. When I visited campus with my husband and twin sons in 2016, I had trouble finding my freshman residence hall among the state-of-the-art research and instructional buildings that had been constructed in the interim. I am sure many of you have had similar experiences during your return visits to Blacksburg.
Amid these dramatic changes, I have been pleased that Virginia Tech has remained true to its rich history and core values as a land-grant university, which are best expressed by our motto, Ut Prosim, That I May Serve. As a first-generation college student from Hampton Roads, Virginia Tech gave me the opportunity to learn from faculty who were world-renowned leaders in education and research.
My mentors and colleagues at Virginia Tech and at my next two land-grants—Purdue and Penn State—also taught me the value of collaborating across boundaries, striving to make a difference and to be excellent, making the most out of every opportunity (expected and unexpected), and persevering in the face of challenges. These essential aspects of the land-grant spirt and culture, characterize our exceptional faculty, staff, and students.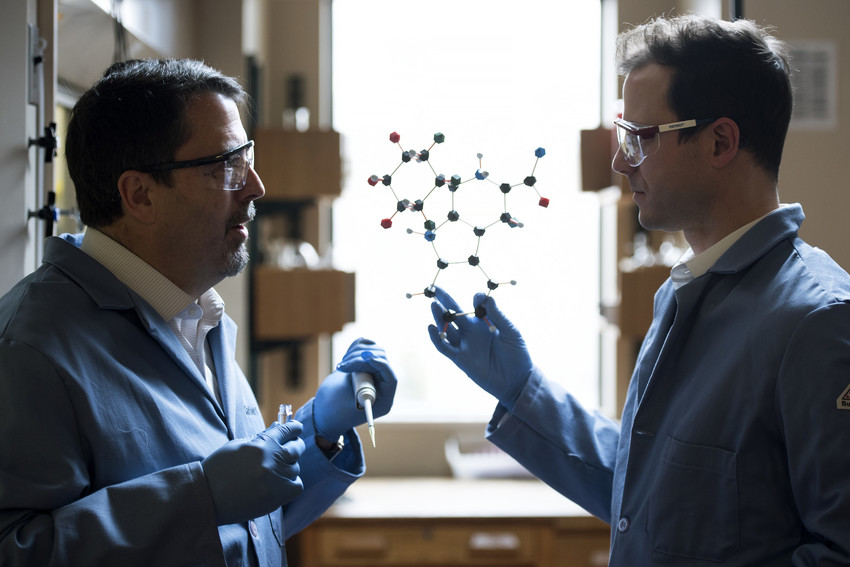 Researchers Dan Slade and Paul Carlier (left) will be working together to develop an improved malaria drug.
Public impact research, which has always been central to our mission, also attracts many of the best and brightest faculty and students from around the globe to Virginia Tech. Our long history of research leadership is evident.
In 1989, we were among the first institutions in the nation to win a National Science Foundation (NSF) Science and Technology Center (STC) in high-performance adhesives and composite materials. That center has been credited with breakthrough discoveries across a wide-range of fields from optical devices to fuel cells.
Three years ago, we were named home to a multi-university Molecular Sciences Software Institute, one of only two major NSF-supported hubs for scientific software innovation to serve the worldwide community.
Ten years after the NSF STC, we were awarded a prestigious NSF Engineering Research Center (ERC) on Power Electronic Systems. This program pioneered a model for industry affiliation and technology commercialization that has been adopted by universities across the nation. Now the center faculty and students collaborate with more than 80 industry partners to radically transform electronic systems-level technologies used to power everything from microprocessors to electric vehicles to cities.
In 2018 we celebrated the 40th anniversary for our Center for Gerontology. This hallmark center fosters multidisciplinary research to enhance quality of life for older adults, addressing a nationwide challenge. Last year also marked 30 years of transportation innovation at the Virginia Tech Transportation Institute, which houses the second largest group of transportation safety researchers in the country.
Our university has recorded substantial growth over the past three decades also. In 1988, Virginia Tech had 1,480 instructional and research faculty, 18,419 undergraduate students, 2,906 graduate students, and $89 million in annual research expenditures. Since then, we have grown undergraduate enrollment by 50 percent, doubled our graduate students, and increased annual research expenditures to $523 million. Impressively, more than half of our undergraduates participate in experiential learning and research each year. In 1998, we published 1,500 scholarly articles, compared to more than 4,700 today.
Yet, through all of these changes, we have remained true to our commitment as a comprehensive land-grant university. Today, Virginia Tech is involved with leading research across engineering, business, arts, design, agriculture, life and environmental sciences, veterinary medicine, biomedical, and health sciences. And that research is supported by nearly every federal agency. Our industry partnerships are among the strongest in the nation. Our research institutes bridge disciplinary and organizational boundaries to support studies that matter.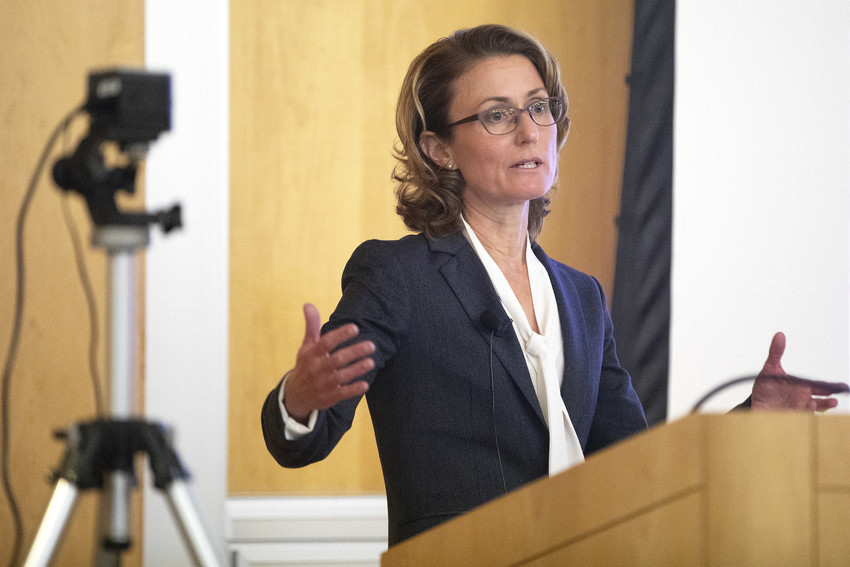 Theresa Mayer
Very few universities have made the investments or formed the partnerships that Virginia Tech has, and the results speak for themselves. Our junior faculty received 15 prestigious NSF Faculty Early CAREER awards in 2018, bringing our total to 39 active faculty. We are home to award-winning creative works, performing arts, and humanities research. In fact, from April 5-7 at the National Museum of American History, the ACCelerate Festival will feature some of these creative installations and performances. If you are in the area, I hope you will join us for this special event.
This year looks like another exciting year for Virginia Tech's research enterprise, complete with opportunities to impact the economic development and prosperity of the commonwealth. The newly endowed Fralin Biomedical Research Institute at VTC and the addition of the Virginia Tech Carilion School of Medicine as our ninth college will continue to drive interdisciplinary work in health sciences and will benefit Roanoke and the New River Valley. Likewise, our leadership of the Commonwealth Cyber Initiative will fuel an engine of growth focused on cybersecurity technologies across Virginia.
But there is more work to be done.
When Amazon announced plans to add a second headquarters, company leaders sought a region with a highly skilled and tech-savvy workforce and an existing ecosystem proven to produce top-notch graduate talent and cutting-edge research. Virginia Tech provided that assurance.
In November 2018, we announced a $1 billion Innovation Campus in Alexandria, which was catalyzed by Virginia's investment in higher-education. Moving forward, we will continue to develop our campuses in Northern Virginia as a global gateway.
Building on a proven track record of molding future leaders, thinkers, and innovators, Virginia Tech is looking to the future, enhancing comprehensive programs, developing strategic partners across the commonwealth and beyond, and advancing the mission of the land-grant university.
By growing research across the boundaries of disciplines and institutions, we are working with our partners to solve and deliver solutions for the grand challenges of the 21st century.
The future of research and innovation at Virginia Tech is brighter than ever!
Theresa Mayer is vice president for research and innovation and professor of electrical and computer engineering at Virginia Tech.
IN THE NEXT ISSUE
Virginia Tech continues to unveil bold initiatives that link traditional academic strengths with creative new ideas. Understanding that innovation begins with imagination, in 2016, the university announced plans to form a Creativity and Innovation District along the eastern edge of campus where it intersects with downtown Blacksburg, designating spaces to nurture ideas and encourage entrepreneurism.
In our summer issue, learn more about how this initiative is moving education and research forward. Also, read a story about a history class where students can visit WWI bunkers virtually and find out about research projects that blur the lines between art and science.