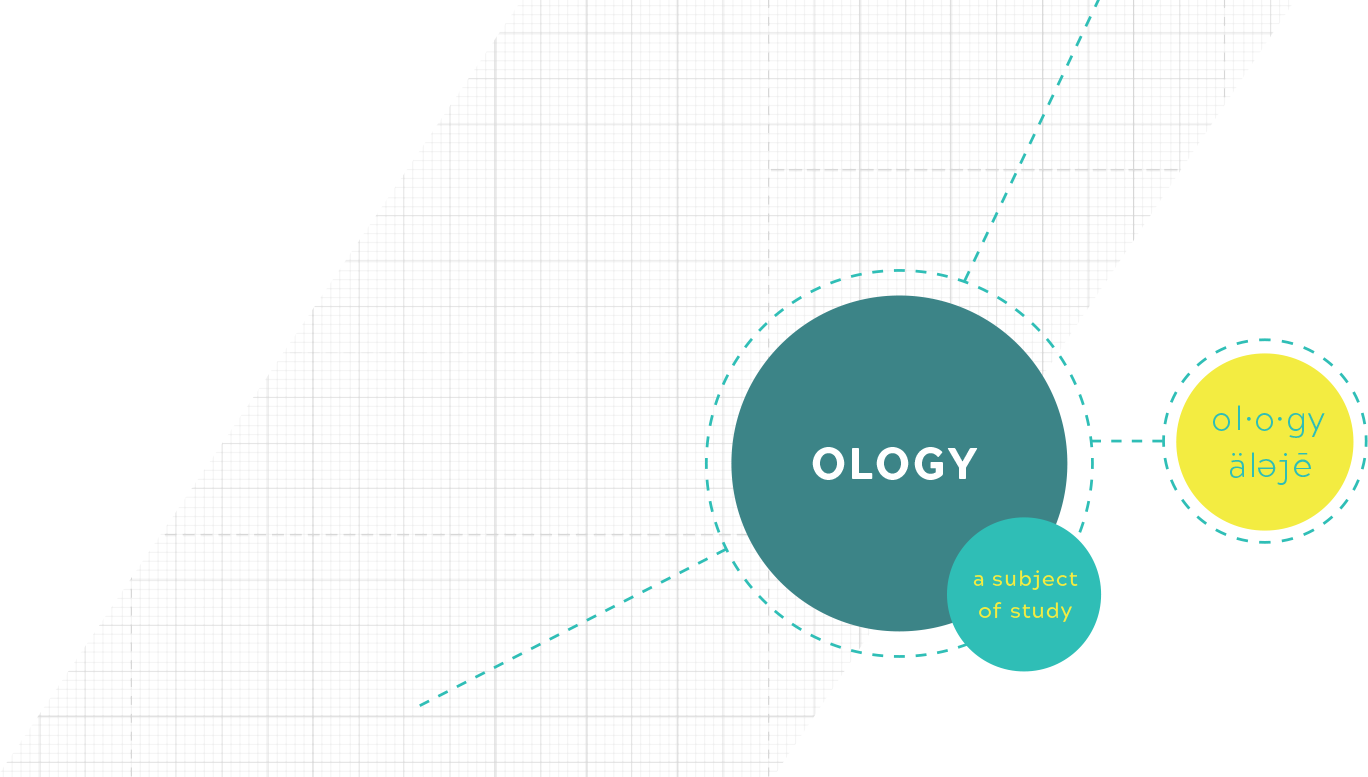 POSTCARDS FROM PERU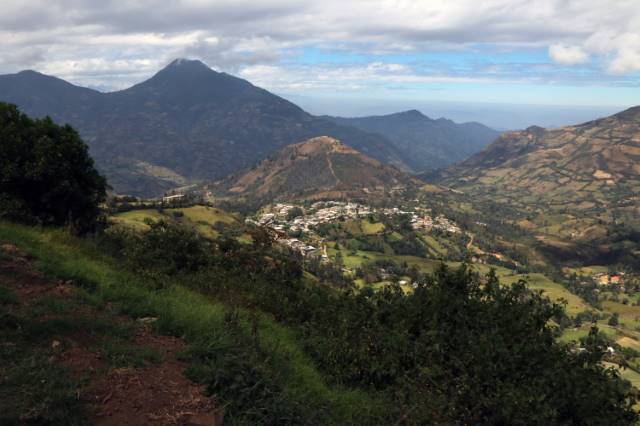 Chalaco viewed from above.
In Peru, the landscape is older than the sound of bells and snow on mountains, but modern-day Peruvian life commands attention. During 10 days in July 2018, in this vast, knitted-together country of coasts, mountains, and jungles, 14 undergraduates from Virginia Tech and the University of Piura learned to apply the techniques of behavioral economics to resolve a range of problems, from deforestation and accumulating waste piles to child mortality and flagging schools.
In the span of less than two weeks, the students will hear lectures in Lima, fly to Piura, visit a flood-ravaged town, take a four-hour winding bus ride to rural Chalaco, learn about deforestation, conduct a survey in a small village (after walking an hour to get there), and spend a magical hour atop the Andes.
They'll conclude by working in teams to craft a pilot intervention costing a theoretical $100,000. They'll pitch those change-the-world ideas to their two professors, Marcos Agurto of the University of Piura and Sheryl Ball of the Department of Economics in Virginia Tech's College of Science. They'll compete, arguing that their projects are valid and worthy of funding.
Along with three other Virginia Tech students, Sana Ahmad lands in Lima on an overnight flight from Dallas. She's excited to try out her Spanish and is immediately humbled. "I thought I was pretty good, but I was slow," she says, laughing. Both of her parents are from India and exposed her to foreign languages early. "The Peruvians thought I was Peruvian until I started speaking Spanish!" she says.
Introduction to Lima
Peru is the land of Incan gold and cultures even more ancient than the Incas, such as the Nazca, which created stunning innovations in the art world. The Nazca stocked the country's pre-Columbian treasure trove with statues, including an iconic killer whale that brims with attitude and teeth.
In Lima, the students learn that Peru exerts a pull on the senses that can clash with the need to focus on academics. Exquisite food can be had virtually everywhere in a country whose restaurants appear on world top-10 lists. Fusion is in fashion as tourists sample the aromatic Peruvian take on Japanese, Chinese, French, and Italian fare. Oregano, basil, cumin, fennel, and cilantro often spice up entrees, along with huacatay—black Peruvian mint.
Students and alpacas.
But—prepped by a week of study at Virginia Tech's campus in Blacksburg and a day in Washington, D.C.—the U.S. and Peruvian students stave off cultural and culinary distractions. Fighting travel fatigue, they dive into what seems like a crash-course pace, beginning each day with language classes, Spanish and English.
At the University of Piura's Lima campus, a Peruvian diplomat speaks proudly of Peru's indigenous past, pointing out that Peruvian civilization predates ancient Greece and Rome. He details the execution of Francisco Pizarro, Lima's founder, by fellow Spaniards. The former leader's bones are part of a prominent display in the Lima Cathedral.
After the lecture, students spill out into the wafting breezes of the campus courtyard. Here, they take their first break, cracking out their cell phone cameras to record a few minutes of traditional dance demonstrated by a young, costumed couple who leap and duck and flirtatiously weave.
Later, downtown Lima offers big-city plazas, the chatter of crowds, and the smell of leather goods and sweat. Bold fabrics in shops scream out for scrutiny. Artwork hints at ever-present ancient gods, depicted as condors. Street vendors hawk wares during the afternoon, the students' only sightseeing interlude. Inside the cathedral, the students ogle Pizarro's bones.
Deep dive into behavioral economics
From Lima, a two-hour flight north puts the students in Piura. The Virginia Tech students are met at the airport by smiling host families with placards bearing the names Hannah, Hannah (there are two), Jessica, and Sana. To keep them straight, one of the professors confers the nickname "Engineering Hannah" on Hannah Looney, who's majoring in industrial and systems engineering.
Piura (population 400,000 in contrast to Lima's 10 million) is about 45 minutes from the coast. On the university's grassy, treed campus, big iguanas skulk across the lawns or climb trees. Peacocks and small deer roam freely.
As the first morning in Piura unfolds, Agurto, who has taught as an adjunct at Virginia Tech, stresses the concept of listening before designing answers to problems. He also explains the need for control groups and randomization—essential to knowing whether an "intervention" has worked.
The students are asked to consider: Is aid to developing countries good or bad? Does it create dependency? Do policymakers offer expert help and then simply hope the situation gets better? Or do they stand by, do nothing, and watch problems play out? Economists must find ways, as Agurto puts it, "to know what works, and why."
The lecture is an eye-opener. Jose Luis Herrera Hinojosa, one of the University of Piura students, previously doubted whether becoming an economist would enable him to contribute to society. He now understands that even a simple intervention—say, a plan to encourage vaccination in children by giving their parents a reward—can improve lives.
"We can do things—we can propose the right things, things that we are sure are going to be good," he says. Buoyed by Agurto's enthusiasm, he adds: "In the future I can better participate in my local and central governments. I can propose better policies. What I'm learning has helped me realize how the world can work better."
Hannah Looney says Agurto's quest for discernment planted seeds of healthy skepticism. Now, when making charitable donations, she'll question whether she should "send money to an organization that's going to give water to the people—but maybe what the people really need is blankets."
Anticipating upcoming fieldwork in the Andes, Looney says, "I like that we are going to be doing interviews with people to find out what they actually need—not what we think they might need."
Lessons from a flooded village
In spring 2017 a triple whammy of El Niño, climate change, and deforestation nearly destroyed the town of Pedregal, not far from Piura. For Agurto, Pedregral is an object lesson with big takeaways for the students.
The students pile into a large van to make their first stop, the Piura River, which breached its banks in 2017 when 10 times the normal amount of rain drenched coastal areas. Standing near the riverbanks, Agurto introduces the idea that even distant deforestation plays a role in magnifying such disasters. Erosion in the Andes, hours away by car, exacerbates floods. Water and sediments flush down from the highlands.
Sana Ahmad, a Virginia Tech economics major, questions experts assembled for the tour about forests and floods, continuing the queries until she better understands why the country still has a long way to go in protecting towns from the effects of El Niño.
Just minutes away at their second stop, the cultural center Narihuala, Agurto explains that this human sacrifice site was built on high ground. When the people of Pedregal fled their destroyed homes in 2017, they sought refuge at Narihuala: "A little help from the old Peruvians to the new ones," Agurto jokes. "Basically the ancient Peruvians knew their territory perfectly. They knew where to build and not get flooded."
The Pedregal stop comes as dusk approaches, heralding predictable swarms of mosquitoes. The van comes to a halt in front of a rebuilt home. Two rebuilding projects are underway, one directed by the government in Lima and one by teams from the University of Piura.
The university is trying to resurrect traditional building techniques, employing artisans who still know the old secrets, Agurto says. They work with bamboo, native woods, cement fashioned into bricks, and other materials.
Construction sounds play out as the students walk through the space. Workers are plastering walls with a mixture of concrete and chalk. Children and elders look on as Agurto explains that the floor plans were designed, cookie-cutter fashion, by government officials in Lima—about 500 miles away. Residents are not universally pleased at being stuffed into one-size-fits-all designs.
This is the students' first look at people who feel they were not asked in advance for their thoughts. But Agurto makes sure the students don't leave with wholly negative impressions. University of Piura researchers were able to introduce a measure of hope. "We realized that the floors were made from dirt, and that's dangerous for the kids at play," he explains. "We looked at interventions from around the world, and we found one called Piso Firme in Mexico—firm floors."
Almost 200 concrete floors have been installed in this and nearby homes, so children now play on hygienic surfaces instead of directly on dirt, which can harbor parasites. Agurto wants the students to understand that, even when cash isn't available to rebuild an entire town, moving ahead on smaller projects can be valuable. Playing on concrete floors makes children healthier by preventing disease: "By a simple intervention, you can save people's lives."
"You never think about your floors," Sana Ahmad says. "Again, it's seeing little things that are part of the big picture. Well-being is such a broad term, and so many things feed into it. I'm seeing what the different minute facets are that play into economic well-being. It's not just money."
Beachside idyll
Part of the study-abroad draw is the promise of cultural milieus and uncommon vistas. Less than half an hour from the University of Piura, the Catacaos District is famous for artisans and craftspeople selling wares. Tourists flock to a small cathedral near the town square, where horse-drawn carriages clip-clop past.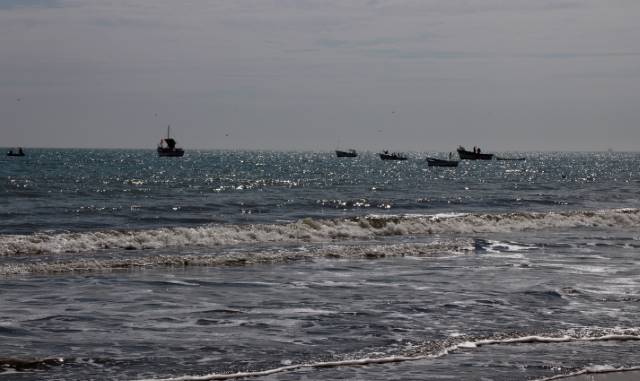 Seascape in Colan.
The Pacific coast is just 45 minutes from the university. Colan is one of the towns whose glistening waves are featured in images meant to lure students to the University of Piura. Here, you can get exquisite ceviche for about $7 a heaping plate; the dish has the sharp citrus bite of lime covering cool white fish. Sides are yucca and sweet potato and pungent red onions, with Peruvian spices warming things up.
Winter would be high season in many coastal communities, but here the beach is relatively deserted. Servers in tiny outdoor cafes look bored, strolling or warming a seat on one of the plastic chairs. On the beach, pink crabs scuttle, taking refuge in their dens, disappearing at the thud of feet. Dogs play in the surf. Seagulls squawk, and the occasional "magnificent frigatebird" (its actual name) arcs overhead.
The small crashing waves are cool, not cold, but no one swims—they reportedly are put off by fish nets and the possibility of manta rays. Far-off clouds billow in a blue sky. The sun is strong, producing tears in squinty eyes.
In the evening, at Tao restaurant in Piura, the travelers dine on octopus, Thai ginger rice and tofu, maki with salmon and avocado, noodles with vegetables.
Destination: Chalaco
The next day brings a four-hour bus ride up the winding dirt roads into the Andes.
The driver picks his way around curves, honking to alert any oncoming vehicles. Only one vehicle at a time can maneuver, cliff side.
Breakfast in Chalaco.
Chickens and pigs appear in yards. Adobe houses with tile or metal roofs flash by. Many driveways sport motorcycles, an easy way to scoot from one mountain village to the next.
Agurto has called ahead to the hotel to ensure that hot-water heaters are turned on. Hot showers for travelers are not a given in Chalaco. Many people live without hot running water and even without home heating. For students intent on facilitating change, the highlands of Peru offer many problems to study.
Almost an hour out from Chalaco, students catch sight of the Andes peaks. Traces of pink, salmon, and fuchsia appear in the sky as dusk creeps over the mountainscapes. The students spill out of the bus to take selfies against the sunset.
Blue-black night falls as the students disembark in Chalaco, elevation 7,000 feet. They claim their assigned rooms in the small, family-run hotel and then assemble in the downstairs dining room for dinner. Agurto informs them that tomorrow they'll walk for an hour on a dirt mountain road to get to the village where they'll carry out a field survey. Such are the hardships of doing academic research in the developing world. Agurto wants students to experience life the way the people in the villages do.
A day of fieldwork
The students set out shortly after breakfast. The walk is challenging. Chunks of the concrete road leading out of town are steeper than the pitch of an A-frame roof.
The road soon turns to dirt, and the sun brings out beads of perspiration on foreheads. Students share the route with others on foot or on horseback. Some people lead burros.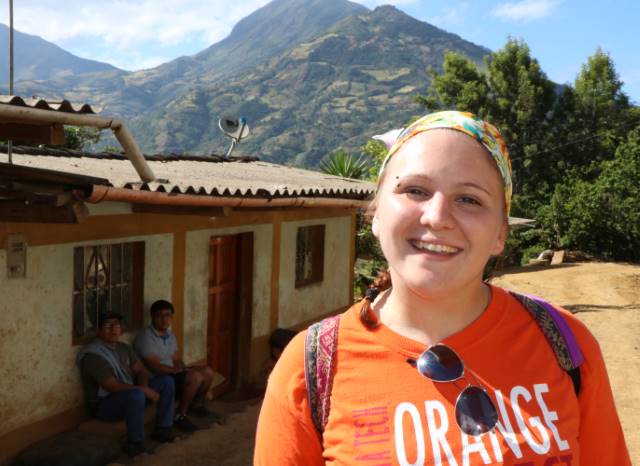 Hannah in village where the survey was taken.
The village is little more than a few houses on hillsides. Students begin their work by crowding into a woman's kitchen, sharing space with an ambling chicken. Agurto explains that the homeowner was more than willing to give up cooking over an open wood-fueled fire—a dangerous, polluting practice. She adopted a more modern stove, but the chimney didn't work properly. The flaw is evident in black smoke-smudges that color the walls. She then accepted a government-promoted upgrade to a gas-powered stove. But gas is expensive, so the new stove is used only for quick-cooking foods. She needs help in repairing and maintaining the stove and chimney, she tells the students.
Afterward, Agurto spells it out. "The students are getting an idea of the many problems that we have in the developing world—where small solutions can help," he says of the intended lessons of the kitchen show-and-tell. "But it's not enough to know what to do. It's also important to have people adopting these solutions, adopting them in the long term."
Once again, the students are impressed with the need to listen to people for whom they intend to design products or solutions. A new stove is all but worthless if the chimney doesn't work and smoke billows, filling the kitchen and blackening the walls.
After the tour, the students disperse in teams. Jose Luis Herrara Hinojosa, Hannah Looney, and Alessandra Nicole Hidalgo Arestegui hike up the sloping front yard belonging to Jose Naval Roman Cruz. They gather round his front door to inquire about the costs of drinking water and electricity. They quiz him about how many rooms his home has and their size. His mother's house is next door, so he answers questions about her home, too.
Cruz serves his visitors coffee from beans he grew, dried, and processed, along with homemade tamales fashioned from homegrown corn. He sweetens coffee with sugar cane grown on his family's land.
It's midmorning—time to go. Four of the students pile into a pickup truck, choosing a wheeled passage back to Chalaco.
"I didn't sign up for the hiking," says Virginia Tech student Jessica Addai, who's majoring in economics in the College of Science. She found the one-hour village-to-village trek daunting. "But going into the homes was a new world—more interactive. It was kind of cool."
Sana Ahmad, also an economics major at Virginia Tech, echoes the excitement of meeting people and entering homes. "When you actually see it, it makes you value what you're doing—more confident." She appreciates learning "that what you're studying will have application in more ways than you think."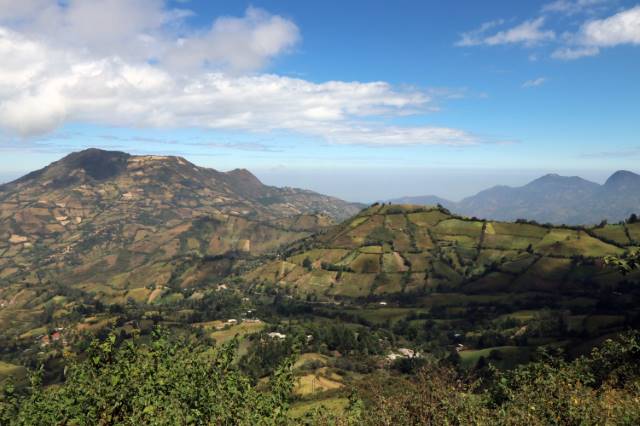 An area of deforestation.
Deforestation: Don't declare defeat
Capping off the day's activities, Professor Manuel Lopez of the University of Piura gives a talk on deforestation. Farming here has gone on for decades, and the vast array of smallholder farms contributes to deforested terrain. Students are urged to view the picture holistically. When deforestation occurs, sediments flow downhill along with the water, creating floods in regions many miles away.
How to turn the tide? Government intervention is stopgap because no regime lasts long enough to see solutions through, Lopez and Agurto explain. Most towns possess a plant nursery to foster native species for mass plantings. This is a hopeful sign. But supervision, money, and follow-through may be lacking.
The Peruvian people are on board, but they need economic incentives to protect their land, suggests Agurto, the economist. Lopez, the forestry engineer, agrees. Government leadership is also needed, because only government can create vast amounts of protected acreage.
Tree planting isn't a simple fix. People plant fast-growing trees because they need wood as fuel for cooking and to build houses. But fast-growing trees are not native. Some, like eucalyptus, take a lot of water.
Lopez ticks off some native trees and fruits, which include aliso, lanche, quina, and pajuro. These might eventually become cash crops suitable for export. Lucuma is a native fruit, bright orange-yellow and the size of a baseball. Demand comes from Italy, where lucuma is used to flavor ice cream and gelato.
Have the University of Piura's interventions helped fix the highlands, just as they've succeeded in coastal areas? "Not yet," Lopez answers. "This is the reason I'm here again. We're working with grapes, bananas, and mangoes on the coast. Here you have different geography, small landholders. We need a different model."
Agurto and Lopez highlight the need for a cooperative to bring the small farmers together. Once they're united, they can systematically plant native species along with their food crops of potatoes, corn, and sugar cane.
Top of the world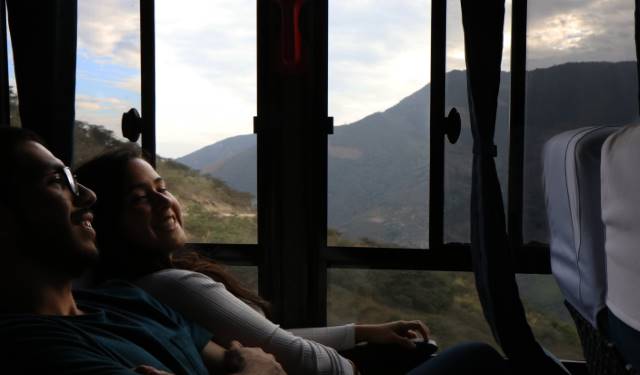 Students ascend to the Andes.
The students have been notetaking, planning, researching, and studying virtually nonstop for days. What comes next is a brief interlude, a view of how the world looks at 10,000 feet. The big bus won't make it up a mountain road that becomes rockier and narrower even as the air thins, so the group separates into pickup trucks and vans.
After experiencing winding roads and vegetated curves that can impart claustrophobia, everyone catches sight of vistas that spread for miles. The idyll enchants the students. Occasionally a resident of the highlands walks by. The figures recede into the horizon, as if swallowed up by an ocean or the desert. A herd of alpaca heads toward the group, as some of the students draw closer for selfies.
A Peruvian student, Martin Vargas Alvines, from the seaport of Paita, and the first in his family to go to college, looks around at the landscape and says, "I didn't know these places existed."
Perfecting their pitches
Back at the University of Piura, the students have two days to plan and prepare their talks.
"We are not looking for a perfect presentation, but we want to see whether the intuition is there," Agurto says, assessing what the students have learned and how he thinks they'll apply it. "The small taste that we are giving them about economic policy—that's basically a chain of starting thinking about a problem. Kids have a lot of innovation and creativity, so it's my expectation that they will surprise us."
One team tackling low-performing schools devises ways for teachers to network. Another team looks for ways that seasonal workers can find productive year-round employment.
The team of Hinojosa, Looney, and Arestegui considers a few different subjects, then settles on the problem of litter. For many towns, trash is both a visual blight and a health hazard.
"In the future I can better participate in my local and central governments. I can propose better policies. What I'm learning has helped me realize how the world can be better."
Jose Luis Herrera Hinojosa, student
As they evaluate rewards and incentives to change habits, Hinojosa thinks it would be fabulous to offer the villages a grand prize—a children's bicycle—but in the end the team abandons that idea because even $100,000 won't cover the costs. Also, while in the planning stages, they research the feasibility of employing prison labor.
Which ideas make it into their presentation? Enlisting community leaders and residents of 16 villages in a street-cleaning campaign. The incentives are to be bags of rice.
The moment arrives, and the three spend 20 minutes explaining their idea. The crux: A cleanup campaign would be run in all 16 villages, with half receiving the rice reward and half receiving nothing. The bulk of the budget would underwrite rice as well as trash-removal trucks. The expected outcome? Healthier livestock, less trash in the environment, and cleaner villages.
The professors ding them on a couple points. The students overestimated the number of residents who would actually take part in the project. Professor Sheryl Ball also points to the lack of a true control group. Simply withholding incentives from half the villages didn't meet the standard. For accurate evaluation, the students should include a cohort of villages where no campaign is run.
"You always think about what could have been done better," Looney muses later. "I'm thankful for the criticism even if it stung a little in the moment. I mean, we just put so much hard work into it. It felt worth it. I think we did a really great job."
Agurto and Ball agree with her assessment; the team is among the highest-performing groups.
Magnificent transformations
When Martin Vargas Alvines was 2 years old, his mother began teaching him to read and paint shapes like circles and triangles. His father worked in the merchant marines in Paita. Neither parent graduated from high school. His mother vowed that life would be different for her son.
Scholarships allowed him to become the first in his family to go to college and also enabled him—a fourth-year economics student—to participate in the program that joins Virginia Tech and the University of Piura. His visit to the U.S. was "a really beautiful experience," but especially eye-opening was his new view of home.
This series of short videos goes behind the scenes of their journey during 10 days in July 2018. The students hear lectures in Lima, fly to Piura, visit a flood-ravaged town, and travel to the Andes, where they become immersed in the problems of tiny mountain towns.
Videography and writing by Andrea Brunais. Postproduction by Michael Folta, a fourth-year student majoring in architecture in the College of Architecture and Urban Studies.
"I didn't know the situation," he says of his highlands experiences. "I didn't know how they lived here."
Learning more about the behavioral side of economics makes him want to enlarge his career goals. "Now I have more clear ideas. I know how I can apply my knowledge," he says. "I learned a lot about my country, the poverty in my country. I know I have to do things to help my people."
Other students find the experience transformative as well. "At the end of the day, this was an educational experience," Sana Ahmad says. "You just see everything you've been learning. It's not just in a textbook."
Hannah Looney, for her part, can't get enough of travel. She has been to Africa, and she's done study abroad in Ireland. Peru is her new sweet spot. "I love the world!" she says.
She started out looking for friendship and adventure, and she ended up learning to "consider more fields and trying to be open with my education." She marveled at learning "how interconnected so many different fields are." Majoring in industrial and systems engineering, she's become more drawn to research and crafting experiments and interventions, taking a hands-on approach to problem-solving.
Jose Luis Herrara Hinojosa might have registered the biggest leap of all. The youngest of seven children, he developed more faith in his opinions as well as belief that he might become a professional whose ideas have merit. He feels like a different person, he says.
His team's trash-abatement proposal is just one of many ideas with world-changing potential. "These are the kinds of things we can do as policy drivers and policymakers and professionals," he says. "I have more confidence right now. Yes!"
Agurto is satisfied that the students came out of the experience enriched. "They did a good job—everybody did. It was not only about the final report, which is important, but it's also about the full experience. It's been a small exercise of what being a development economist is."
Andrea Brunais is the director of communications for Outreach and International Affairs.