Virginia Tech's Bold Initiative Plays Crucial Role In Luring Amazon
DRIVING PROGRESS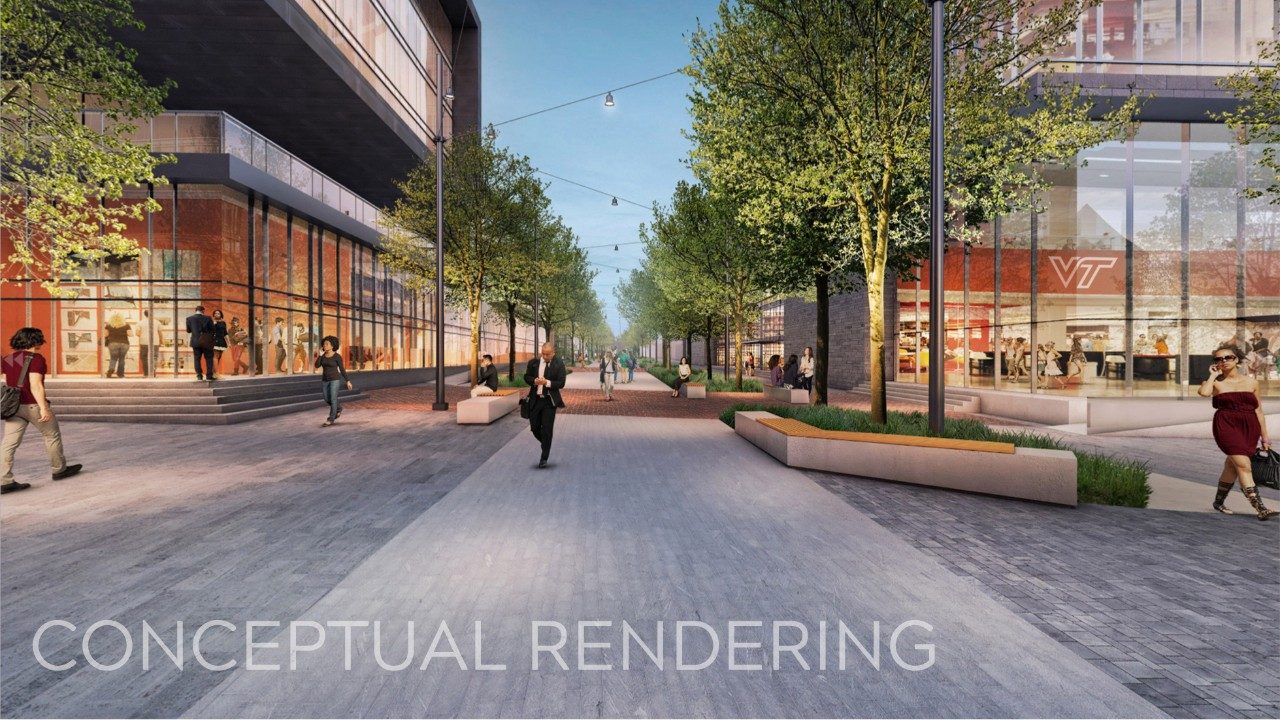 Virginia Tech has set the bar as a leading land-grant university since its founding. When the school launched in 1872, meeting the mission meant offering a curriculum that provided future farmers, trade workers, and soldiers with practical knowledge and personal education around topics like hygiene, health, and manners. Today, that drive to serve means partnering with business and industry to accelerate workforce development and technology.
When Amazon announced it was seeking a second headquarters, hundreds of localities rolled out the red carpet in an attempt to lure the company. Virginia, however, had the foresight and courage to take a different approach, including leveraging the mission of its largest land-grant university as part of a comprehensive $1.1 billion higher education package.
"The state asked, 'How can we create an enabling environment that is an attractive place for companies like Amazon to operate?'" said Brandy Salmon, Virginia Tech's associate vice president for innovation and partnerships. "It was an opportunity to drive diversification and innovation in the commonwealth with a direct investment back into the state."
A key part of the answer, and the deal that ultimately landed Amazon in Arlingon, was Virginia Tech's bold vision to develop the Innovation Campus to serve as a leading magnet for high-tech talent. The proposed 1 million-square-foot graduate campus in Alexandria will transform and sustain Northern Virginia as a leading magnet for tech talent and innovation—with room to grow, adapt, and evolve as the market changes. "The rigorous programs we launch and the powerful research we generate will help drive the innovation economy," said Salmon, the campus' founding managing director. "Together with partners in industry, government, and education, we will cement Virginia as a world leader for the information age."
During the 14-month proposal process, which was quietly navigated by the Virginia Economic Development Partnership, both the company and state realized the benefits of tapping into the university's core purpose of serving the citizens of the commonwealth.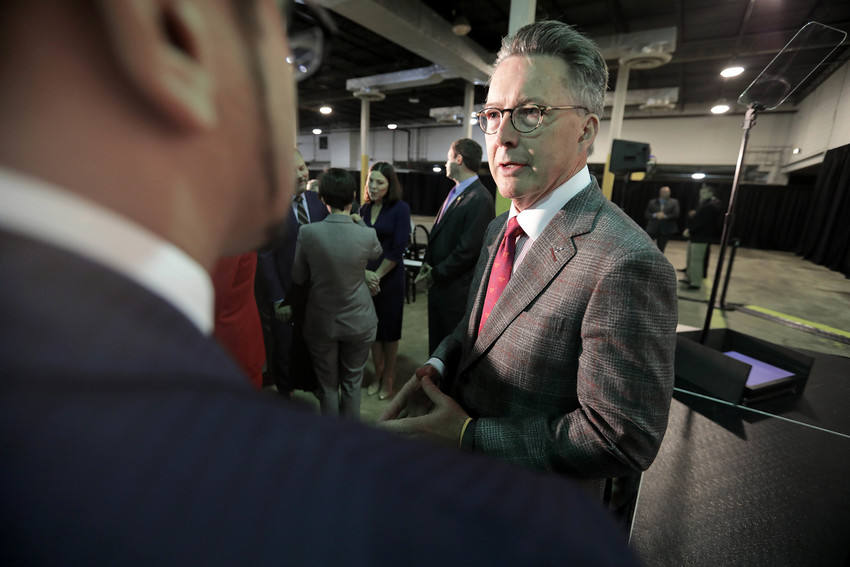 Tim Sands at event where Virginia Governor Ralph Northam announced Amazon's choice of Arlington as one of two new headquarter locations.
"The Innovation Campus helps Virginia Tech live out its mission to support economic growth," said Theresa Mayer, Vice President for research and innovation. "As a research land-grant university, it is critical to translate research and discoveries into the marketplace where they can have tangible impact."
For Amazon, which already employs hundreds of Hokies, that meant the assurance of pipelines producing tomorrow's best workers and technology today. It meant benefiting from Virginia Tech's track record of molding students with disciplinary depth complemented by interdisciplinary know-how. It meant tapping into the university's cutting-edge research ready to be developed for commercialization.
For Virginia, the Innovation Campus meant the development of a community of quality talent, innovation, and infrastructure, which would not only serve Amazon's needs but would make the state a drastically more attractive landing spot for other existing companies and future startups.
"Virginia's biggest employment growth opportunity in the years ahead will be in tech—from artificial intelligence to cloud computing to cybersecurity, and everything in between," said Stephen Moret, president and CEO of the Virginia Economic Development Partnership. "Our success in growing the tech sector will be inextricably linked to our success in developing, attracting, and retaining world-class tech talent. [The] announcements by Amazon and Virginia Tech highlight just how important higher education is to that equation."
As a result, not only will the company's expected need for 25,000 employees provide opportunities in Virginia, but the project as a whole will attract other businesses and firms needing to fill their rosters.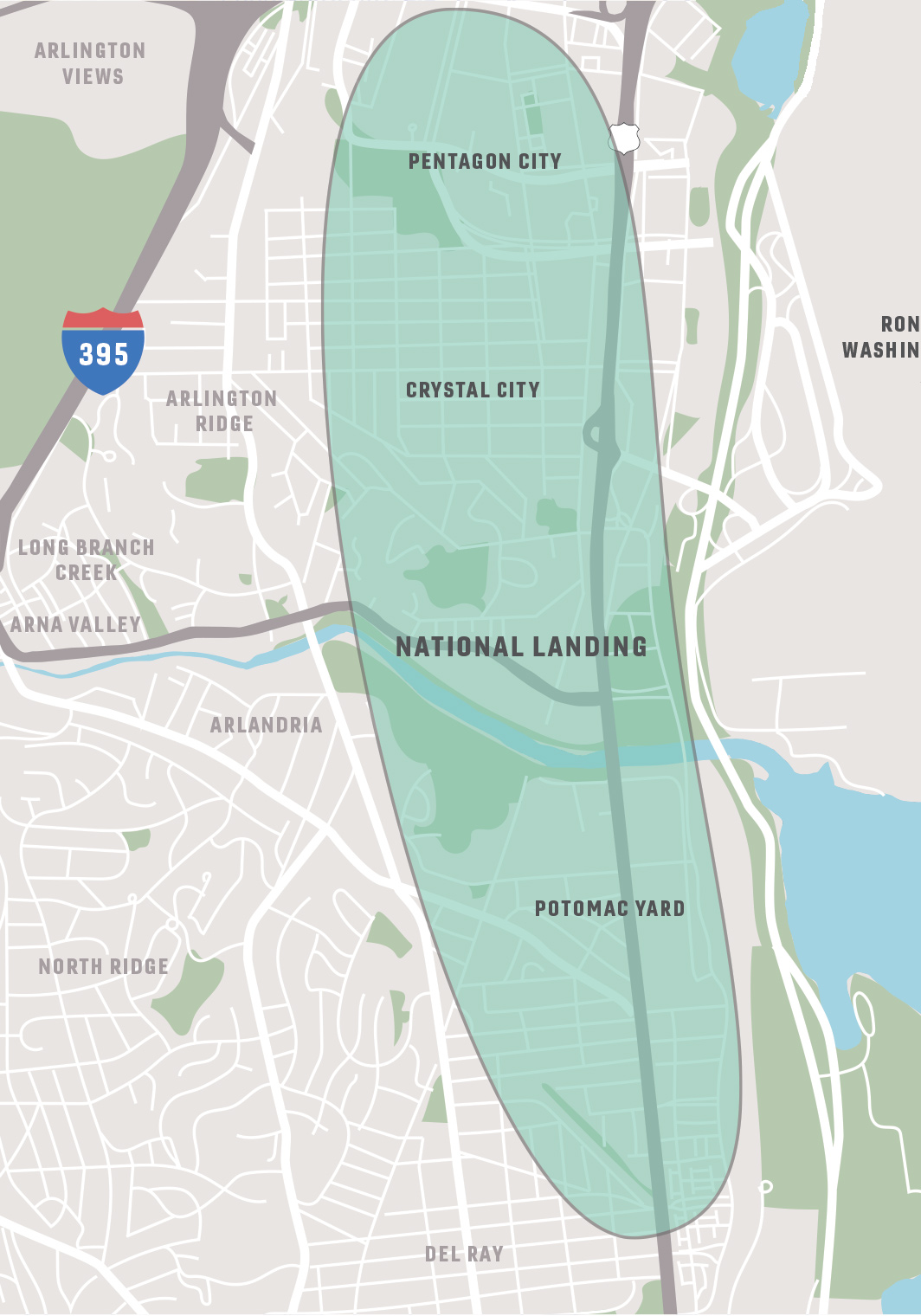 Amazon's HQ2 and the Virginia Tech Innovation Campus will locate in National Landing, a newly branded neighborhood that encompasses parts of Pentagon City and Crystal City in Arlington, Virginia, and Potomac Yard in Alexandria, Virginia.
In Virginia Tech, the state and company found a qualified partner who was willing to step forward and had a blueprint in place already to expand the university's work in the greater Washington, D.C., area.
"Amazon's challenge provided the catalyst to accelerate a plan that we already had in place," said Virginia Tech President Tim Sands, "by bringing together Virginia leaders who are committed to the vision to transform and sustain the commonwealth as a leading magnet for tech talent and innovation—with room to grow, adapt, and evolve."
The $1 billion campus will be constructed on U.S. Route 1 near Potomac Yard and will triple the university's footprint in Northern Virginia, which already includes seven facilities. It will include:
300,000 square feet of academic space and research and development facilities.
250,000 square feet of partner space dedicated to startups and corporate facilities.
350,000 square feet of housing space for students and faculty.
100,000 square feet of retail and support spaces.
The campus will bring together hundreds of new graduate students, dozens of new faculty members, and numerous industry partners. In Blacksburg, Virginia Tech will increase undergraduate enrollment in computer science, computer engineering, software engineering, and related disciplines by 2,000 over the next eight years.
But the impact of the Innovation Campus will not be limited to the timeline of a physical structure.
"We will not wait until the campus is built, because the need for talent exists right now," Sands said.
The first master's degree students will enroll in either existing locations or temporary space with the campus hosting a total of 500 master's degree students within five years and, at scale, enrolling 750 master's degree candidates and training hundreds of doctoral students and post-doctoral fellows.
That news has stirred excitement among Hokies across the country and has many already exploring getting involved.
"I was really excited at how soon this is happening," said Mahna Ghafori, who returned home to Fairfax after earning a degree in computational modeling and data analytics in May 2017.
"I had already had thoughts of doing grad school, but I didn't know where," Ghafori said. "When Virginia Tech announced they were coming here, I thought, 'Oh my gosh, it's meant to be.'"
Amazon's challenge provided the catalyst to accelerate a plan that we already had in place by bringing together Virginia leaders who are committed to the vision to transform and sustain the commonwealth as a leading magnet for tech talent and innovation—with room to grow, adapt, and evolve."
Tim Sands, Virginia Tech President
The Innovation Campus' degree programs and research opportunities will focus on computer sciences and software engineering, while offering specializations in high-demand areas, including data sciences; analytics and collective decisions; security and the internet of things; and technology and policy.
Such disciplines might be the first to come to mind in relation to Amazon, but they are far from an all-inclusive list of opportunities with an e-commerce pioneer, which relies on workers of all backgrounds who cross disciplinary boundaries in ways that are already staples of the Virginia Tech learning environment.
"At Virginia Tech, we're already bringing together technology and creativity to explore and innovate at the boundaries of the sciences, engineering, the arts, and design," said Ben Knapp, founding director of the Institute for Creativity, Arts, and Technology (ICAT). "We have the faculty and facilities to provide students with the cross-disciplinary education necessary to succeed in a company like Amazon."
ICAT provides an example of Hokies learning in situations that mirror those of real-world companies. The university's thematic institutes and transdisciplinary communities, the Destination Areas, also boast of environments that immerse students in the types of academically diverse situations that replicate the working world. These efforts merge such disciplines as art, design, and humanities with STEM concentrations to produce graduates who understand the value of incorporating different perspectives into decision-making.
This experiential-driven learning means Hokies of all disciplines are poised to step out of the university setting and into the type of workforce Amazon requires to thrive. And likewise, the cross-disciplinary demands of the retailer will fuel the university culture producing that workforce.
Virginia Tech's history is highlighted by transformational events aimed to meet the ever-evolving needs of our world. And while the Innovation Campus is definitely one of the most recent, it's guided by the same age-old principles on which the university was founded in 1872.
"While needs and challenges have changed greatly over the course of the university's nearly century-and-a-half history, our commitment to make an impact has not," said Dennis Treacy '78, Virginia Tech Board of Visitors rector. "Creating an Innovation Campus is right in line with Virginia Tech's character—our drive to serve."