LEADING RESEARCH
Fralin Biomedical Research Institute at VTC, Roanoke, Virginia
By Mason Adams and John Pastor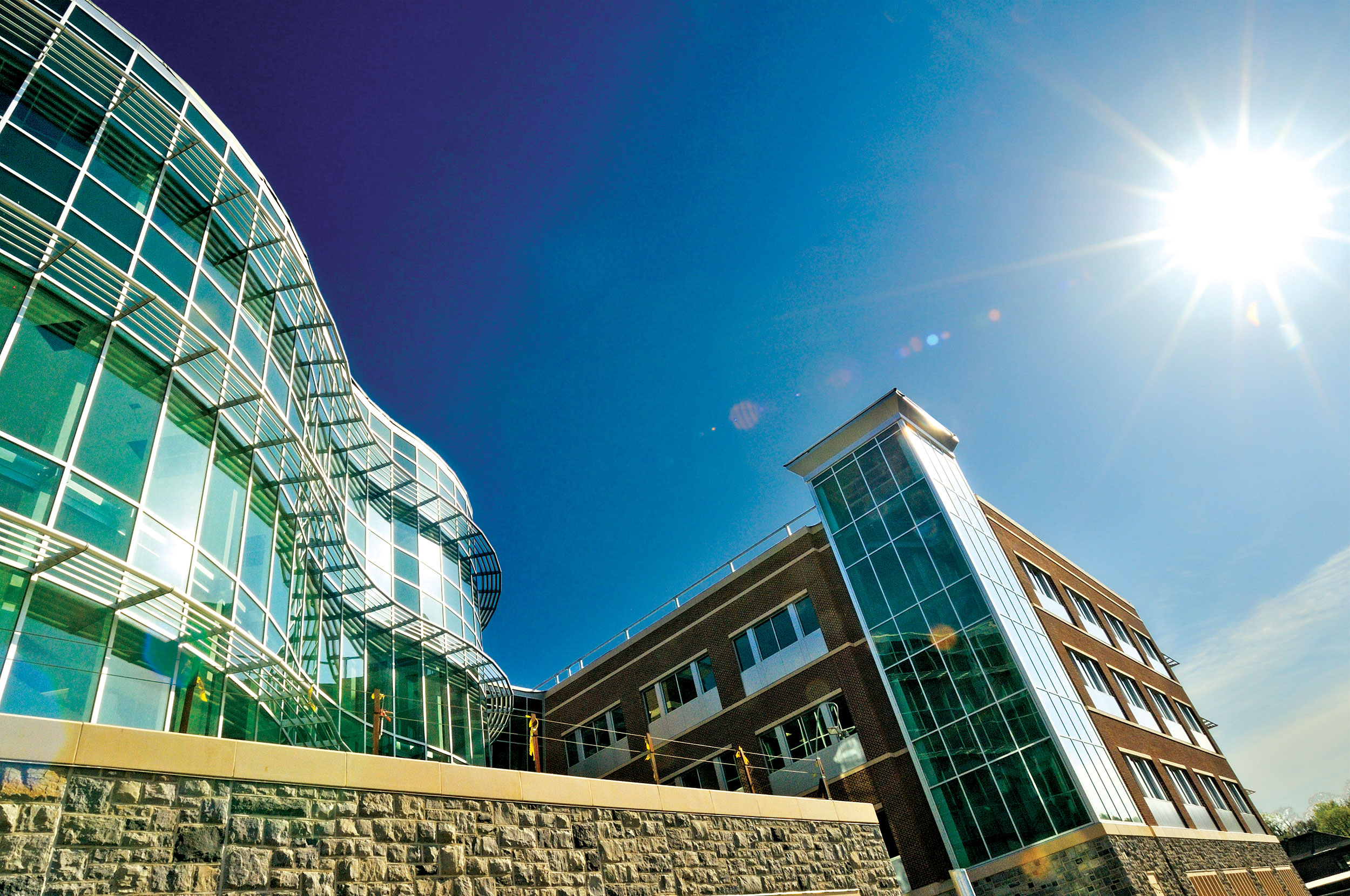 The early university in Blacksburg harnessed the power of research, making outcomes accessible to the largely agrarian population that was teetering on the cusp of an industrial revolution that would change their way of life. Today, Virginia's global land-grant university looks a little different than it did at its founding, supporting research and learning on campuses from Blacksburg to Washington, D.C.
In Roanoke, scientists are engaged in medical studies designed to address health challenges and change lives.
Hokies thrive in new frontiers, whether at the forefront of scientific research, on the cusp of technology development, or at the cutting edge of reinventing spaces. The newly renamed Fralin Biomedical Research Institute at VTC intersects all three.
That trifecta inspired the Horace G. Fralin Charitable Trust and Heywood and Cynthia Fralin to announce, in December 2018, a $50 million gift—the largest gift in Virginia Tech history—to the successful enterprise, catapulting it to the next level.
The institute, first known as the Virginia Tech Carilion Research Institute, was created around a bold yet straight-forward vision: Gather top-tier biomedical research talent, arm them with the resources of a major research university and an enterprising health care system, give them the freedom to innovate, and stand back.
The institute thrived.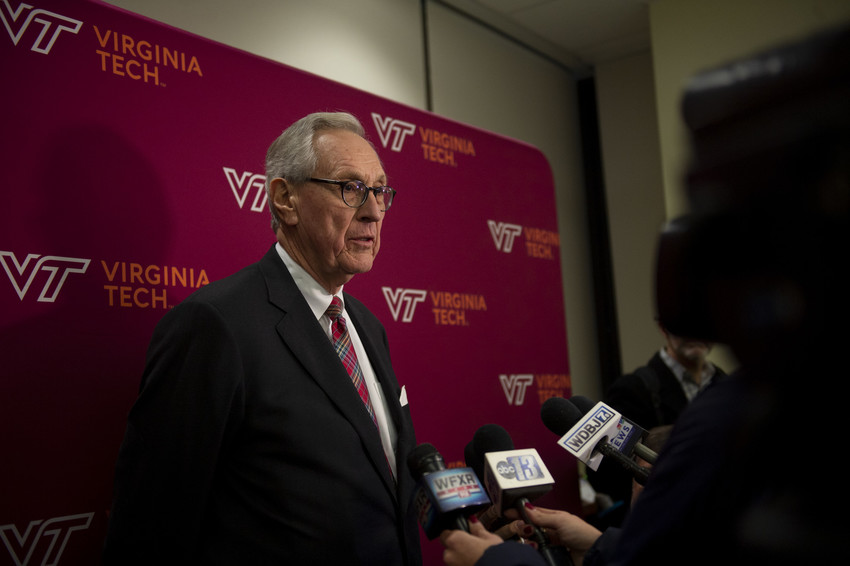 Heywood Fralin, Virginia Tech donor, fields questions from the media after an event announcing a record $50 million gift
Eight years later, the research institute has become a setting for intense, interdisciplinary collaboration among creative, entrepreneurial scientists, and has provided access to state-of-the-art molecular biology, imaging, behavioral, and computational facilities. The resulting partnerships have generated discoveries and intellectual properties that are fueling diverse biomedical-sector startups.
Located near the Roanoke River in a place once considered a blighted landscape of industrial decay, the Virginia Tech Carilion Academic Health Center is revitalizing the South Jefferson Corridor and helping transform the Roanoke Valley economy. Seemingly overnight, Roanoke has transcended its railroad roots to become known as a science- centric outdoor mountain city that's become a destination for young professionals.
The Fralin Biomedical Research Institute and the Virginia Tech Carilion School of Medicine anchor the Virginia Tech Carilion Health Sciences and Technology Campus and provide the foundation for the rapidly growing Roanoke Innovation Corridor.
Now, the $50 million gift from the Horace G. Fralin Charitable Trust and Heywood and Cynthia Fralin is enabling the research institute to take a giant leap forward.
"Supporting an academic health center will help to raise the income levels of all of the citizens of the Roanoke Valley, and it will help change the future of Roanoke," said Heywood Fralin. "In fact, an argument can be made that the development of an academic health center here will have far more impact than the location of the Norfolk and Western offices here many years ago."
An academic health center comprises all health-related components of a university. It is typically affiliated with a health system.
The location of the railroad offices in the early 1880s launched Roanoke as a city. That Fralin would suggest the Academic Health Center might create more long-term impact than Roanoke's founding industry speaks to his belief in the unlimited potential of higher education when put to work for good in the right place at the right time.
Michael J. Friedlander, Virginia Tech's vice president for health sciences and technology and the executive director of the Fralin Biomedical Research Institute, called it "an amazing story of rejuvenation and discovery happening in Roanoke right now."
"Some 10 years ago, this was an aging industrial district," Friedlander said. "Today, it's exactly the type of thriving, knowledge-economy environment that cities all over our nation are striving to develop. The number of people working here on the VTC Health Sciences and Technology Campus is approaching 2,000—and projected to increase to over 5,000 within a few short years."
When combined with the university's growth in the Northern Virginia and a recent commitment to build a $1 billion Innovation Campus in Alexandria, the Fralin Biomedical Research Institute solidifies Virginia Tech's role as a transformative force.
Elevating its profile in biomedical discovery further directs the university's research prowess and Ut Prosim (That I May Serve) ethic toward society's most pressing challenges and promising arenas for discovery.
"Virginia Tech exists to improve lives and communities by using knowledge to solve problems, and some of humanity's greatest challenges exist in the realm of biomedical science," said Tim Sands, Virginia Tech president. "Discoveries in this field save lives and improve the quality of life. They will change the world in which our children and grandchildren will live. There is no better or more powerful way to serve humanity."
"Some 10 years ago this was an aging industrial district. Today, it's exactly the type of thriving, knowledge-economy environment that cities all over our nation are striving to develop."
Michael J. Friedlander,
Vice President For Health Sciences
and Technology and executive
director of the Fralin Biomedical Research Institute at VTC
The renaming recognizes the Fralin family's commitment to support the institute's fundamental work: to make scientific discoveries, generate innovations, improve health through biomedical research, and build the state's biotech economy.
The Fralin commitment is a testament to the world-class quality of the institute's faculty members, who are widely regarded as scientific leaders.
"When I was a doctoral student at Stony Brook University, it was important to be associated with a named institute or named college department," said Gregorio Valdez, an associate professor at the Fralin Biomedical Research Institute and the Department of Biological Sciences in the Virginia Tech College of Science. "It is very motivational to know people recognize the importance of your work and are eager to commit resources to help. It is exciting to see that happening here in our institute."
The $50 million gift will fuel a recruiting blitz for top international biomedical researchers, which is reflective of the organization's launch strategy in 2010. The institute quickly became recognized for having assembled some of the nation's top scientific talent, including faculty, staff, and students, and for accomplishments in multiple areas:
Diagnosis and treatment of addiction and substance abuse in adolescents and adults, ranging from opioids to tobacco and alcohol.
A new form of intensive child neurorehabilitation to treat the devastating consequences of neonatal stroke, including cerebral palsy.
Technological innovations in interactive multi-subject and real-time human functional brain imaging with the parallel development of the new field of computational psychiatry.
A revolutionary paradigm for understanding how electrical signaling occurs in the human heart and identification of new targets for treating disturbances of heart rhythm in order to reduce the likelihood of sudden cardiac death.
Several new strategies for treating the deadliest form of brain cancer in humans and in companion animals.
The first elucidation of structural deformity in the molecule that causes a pernicious form of breast cancer.
A pivotal new insight into the origins of memory cells in the immune system to fight infection and mediate immunity through vaccination.
As the institute grew, those strategic areas evolved. Today, the research efforts target cardiovascular science, neuroscience, cancer, immunology and infection, and regeneration and rehabilitation.
"These are the types of health challenges that we all face every day, right here in Roanoke, throughout our state, nation, and the world," Friedlander said. "And we are making real progress to lessen the incidence of the occurrence of those disorders, to effectively treat them when they do occur, and to achieve healthier lives for children, adults, and the elderly."
Several recent discoveries have led to patents that are centerpieces of spin-off companies, including a brain cancer stem cell therapeutic and a diagnostic screen for alcohol abuse risk. Both have won highly competitive federal technology transfer business awards.
Although the precise outcomes remain to be discovered, certain facts are indisputable: The Fralin Biomedical Research Institute will continue to increase development of intellectual property, to commercialize discoveries through startup businesses, and to grow an already strong portfolio of partnerships with industry. The outcomes will propel innovation from the laboratory to the clinic to the community. And the results will change lives.