From Blacksburg to Roanoke to Washington, D.C.
A GLIMPSE INTO THE MODERN LAND-GRANT UNIVERSITY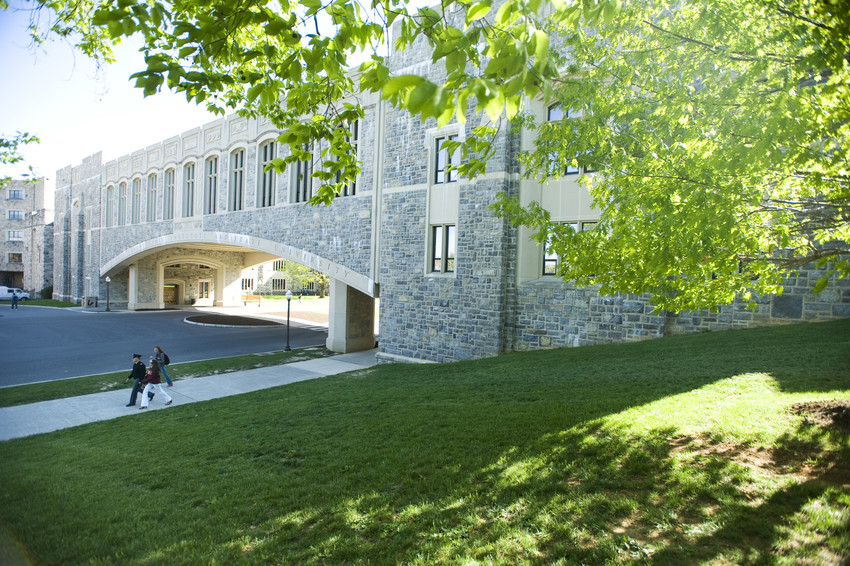 Torgersen Hall, originally the Advanced Communications and Information Technology Center
Virginia Tech has set the bar as a leading land-grant university since its founding in 1872. When the school launched in 1872, meeting the mission meant offering a curriculum that provided future farmers, trade workers, and soldiers with practical knowledge and personal education around topics like hygiene, health, and manners. Today, that drive to serve means partnering with business and industry to accelerate workforce development and technology.
When Amazon announced it was seeking a second headquarters, hundreds of localities rolled out the red carpet in an attempt to lure the company.
Virginia, however, had the foresight and courage to take a different approach, including leveraging the mission of its largest land-grant university as part of a comprehensive $1.1 billion higher education package.
"The state asked, 'How can we create an enabling environment that is an attractive place for companies like Amazon to operate?'" said Brandy Salmon, Virginia Tech's associate vice president for innovation and partnerships. "It was an opportunity to drive diversification and innovation in the commonwealth with a direct investment back into the state."
A key part of the answer, and the deal that ultimately landed Amazon in Arlington, was Virginia Tech's bold vision to develop the Innovation Campus to serve as a leading magnet for high-tech talent. The proposed 1 million-square-foot graduate campus in Alexandria will transform and sustain Northern Virginia as a leading magnet for tech talent and innovation—with room to grow, adapt, and evolve as the market changes.
"The rigorous programs we launch and the powerful research we generate will help drive the innovation economy," said Salmon, the campus' founding managing director. "Together with partners in industry, government, and education, we will cement Virginia as a world leader for the information age."
During the 14-month proposal process, which was quietly navigated by the Virginia Economic Development Partnership, both the company and state realized the benefits of tapping into the university's core purpose of serving the citizens of the commonwealth.
All of the efforts emanate from the very same source as in 1872—Virginia Tech's drive to serve.
What does the modern land-grant look like?
It looks like partnering with the business and industry to accelerate workforce development and technology. Read about the the Innovation Campus.
It looks like students collaborating across the academic spectrum to create the future of energy-efficient home design and quality construction. Read about the FutureHAUS in Dubai.
It looks like world-class scientists inside high-tech laboratories engaged in cutting-edge research. Read about how the Fralin Biomedical Research Institute at VTC is Blazing new trails.
It looks like linking philanthropy to opportunities that leverage resources and grow opportunities. Read about Heywood Fralin, a Hokie at heart.