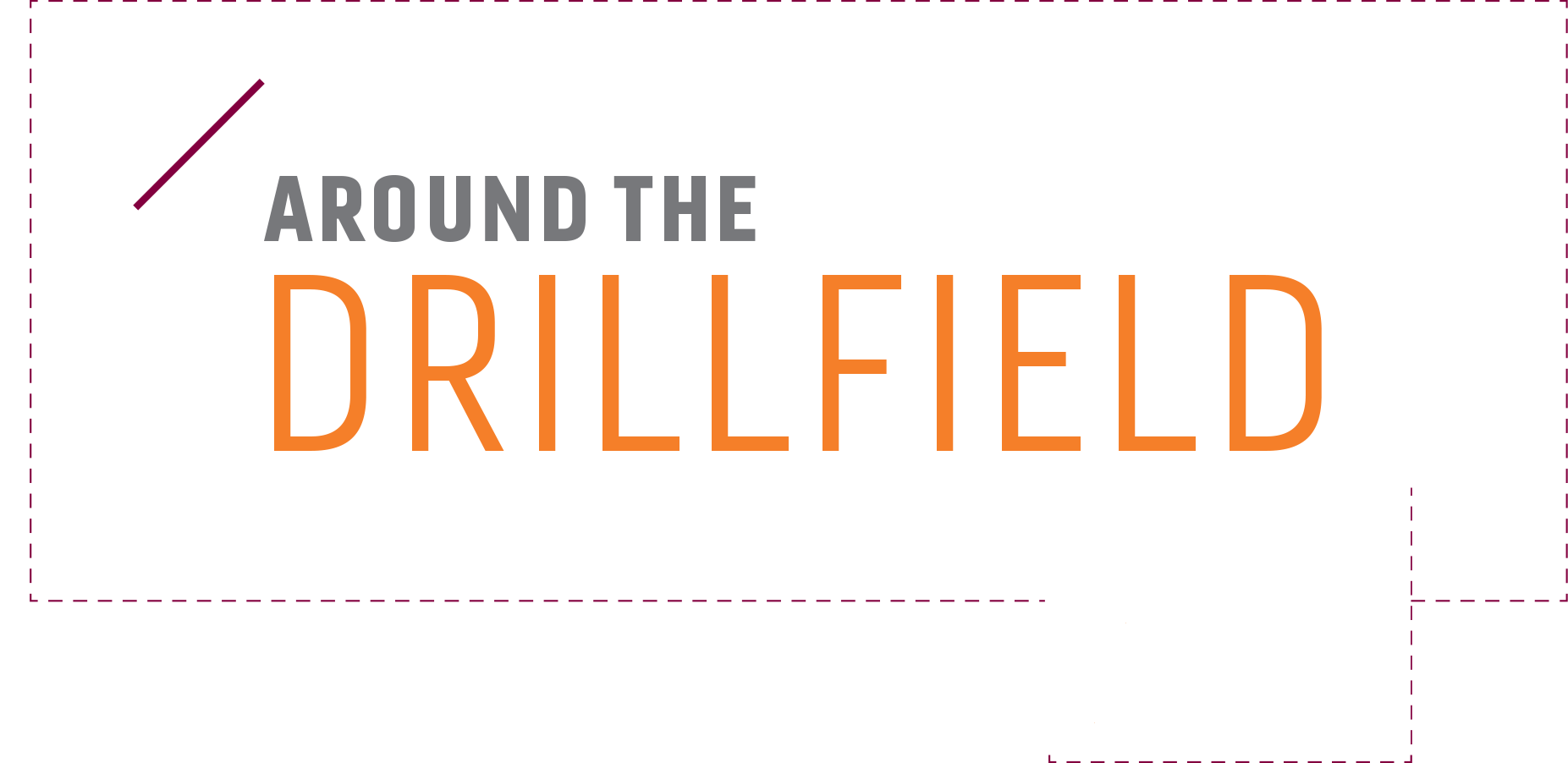 NEW BIOMEDICAL GEL COULD EASE PAIN IN CERVICAL CANCER TREATMENT
NEW BIOMEDICAL GEL COULD EASE PAIN IN CERVICAL CANCER TREATMENT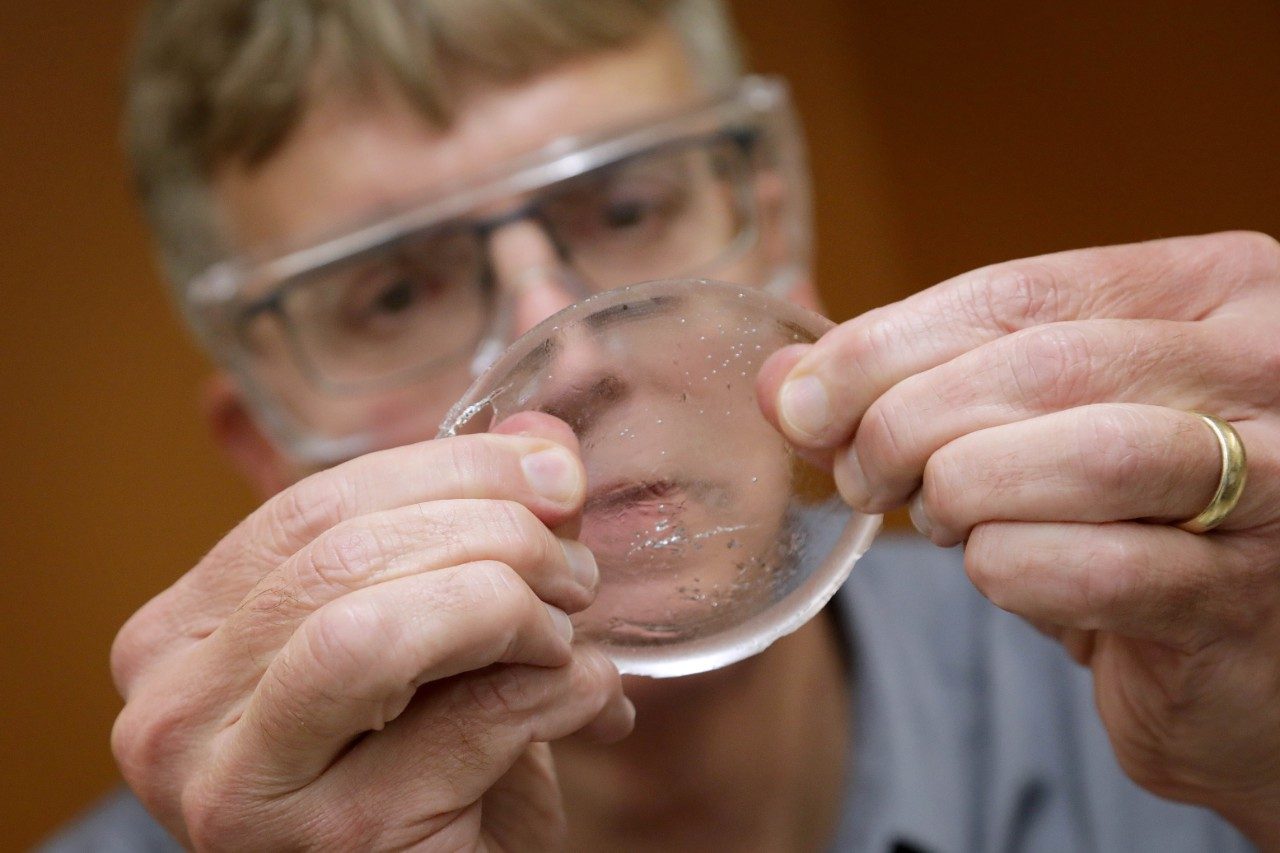 Tim Long, a professor of chemistry at Virginia Tech, examines a clear gel that he created in his lab to help relieve pain during cervical cancer treatment.
A unique partnership between a Virginia Tech scientist and a University of Virginia (UVA) oncologist could result in a solution to reduce discomfort during cancer treatment for women.
Tim Long, a professor of chemistry with the Virginia Tech College of Science, and Tim Showalter, a radiation oncologist at UVA's Cancer Center, are testing a gel that could be used during radiation treatment for cervical cancer.
At his Charlottesville clinic, Showalter performs brachytherapy. It involves inserting radioactive material directly into cancerous tissue. For patients who have cervical cancer, the radiation is inserted directly into the cervix.
But this outpatient procedure, which Showalter performs at least five times for each patient, often is so painful and uncomfortable that some women need anesthesia.
"If we can do something to reduce the amount of discomfort during the procedure, it's a really big deal," Showalter said.
His hunt for a solution began four years ago. He initially sought out chemical engineers at UVA, but he kept hearing about Long, who is well-known for his work in polymer chemistry at Virginia Tech. Long directs the university's Macromolecules Innovation Institute and oversees a diverse group that has received more than $50 million in research funding during the past 18 years. He has more than 50 patents in macromolecular science and engineering, and in 2015, he was one of three people named Virginia Scientist of the Year.
Long was perfect for the job, Showalter said.
He approached Long with his idea, and the two became a team. They discussed the work during video conferences and visited each other's labs and clinics.
Long had never before designed a product for use in a human body, but, he said, it is one of his ultimate goals. Similarly, Showalter has never created a medical product.
"We complemented each other," said Long.
Long and Showalter initially received funding for the project through a 4-VA grant. Long and Showalter also have received funding from other sources in the past few years, including the National Institutes of Health.
Initially, Showalter suggested creating a spray foam substance, but it was Long's idea to go with a hydrogel.
In his Virginia Tech lab, Long, along with a postdoctoral scholar, Nicholas Moon, used click chemistry, which is a fast reaction, to create what he coined a "smart" gel that moves and forms fast in parts of the body.
"The reaction happens in the body," Long said. "Within two minutes, the gel fills the space."
The gel isolates the tumor and becomes soft by adding water.
The idea is for a physician to insert this gel into a patient before radiation treatment, said Showalter.
Showalter created a Charlottesville-based company, Brachyfoam, to develop the gel product, with both UVA and Virginia Tech working to develop the patent.
The next step is to complete more preclinical testing and then to test the gel in humans as part of clinical trials.
"I think we are onto something good," said Long, who will be a consultant during the clinical trials.
The partnership clearly shows the power of two universities working together for the good of the public.
"We've gotten close and enjoy learning from each other's different perspectives," Showalter said. "It is important for the commonwealth when there are synergies available across institutions."
VIRGINIA COOPERATIVE EXTENSION AWARDED NEARLY $1.1 MILLION TO TACKLE OPIOID EPIDEMIC
VIRGINIA COOPERATIVE EXTENSION AWARDED NEARLY $1.1 MILLION TO TACKLE OPIOID EPIDEMIC
The U.S. Department of Health and Human Services has awarded Virginia Cooperative Extension nearly $1.1 million to expand prevention training to help tackle the commonwealth's rural opioid addiction problem.
The two-year Substance Abuse and Mental Health Services Administration-funded Rural Opioids Technical Assistance Through Virginia Cooperative Extension project will build upon two current U.S. Department of Agriculture (USDA)-funded Cooperative Extension projects to expand training and technical assistance on opioid prevention through the implementation of evidenced-based curricula targeting students in nine additional rural Virginia counties.
Rural communities are disproportionately affected by prescription opioid misuse and abuse. Of 134 counties or independent cities in Virginia, 53 are designated as rural.
FIVE-YEAR ENERGY ACTION PLAN ON TRACK TO YIELD $6 MILLION IN ENERGY COST SAVINGS
FIVE-YEAR ENERGY ACTION PLAN ON TRACK TO YIELD $6 MILLION IN ENERGY COST SAVINGS
When the Virginia Tech Office of Energy Management conducted an energy benchmarking analysis of buildings on the main Blacksburg campus in 2015-16, it discovered just 50 buildings accounted for more than 70 percent of overall university energy costs.
That discovery prompted the Five-Year Energy Action Plan, a comprehensive blueprint to improve energy efficiency and reduce energy costs within five years in the 50 most energy-intensive buildings.
Since 2016, three phases of the plan have been implemented, with 10 new energy-intensive buildings incorporated into each phase.
As a result, the university has already reduced its carbon emissions by about 15,000 tons per year and saved more than $2 million in energy costs; full integration of the plan is expected to yield more than $6 million in overall energy cost savings.
More than $3.5 million in funding approved in October 2018 will help propel the plan into its fourth phase and deepen the university's energy conservation efforts.
STUDENTS CREATE DESIGNATED-DRIVER RIDESHARE APP
STUDENTS CREATE DESIGNATED-DRIVER RIDESHARE APP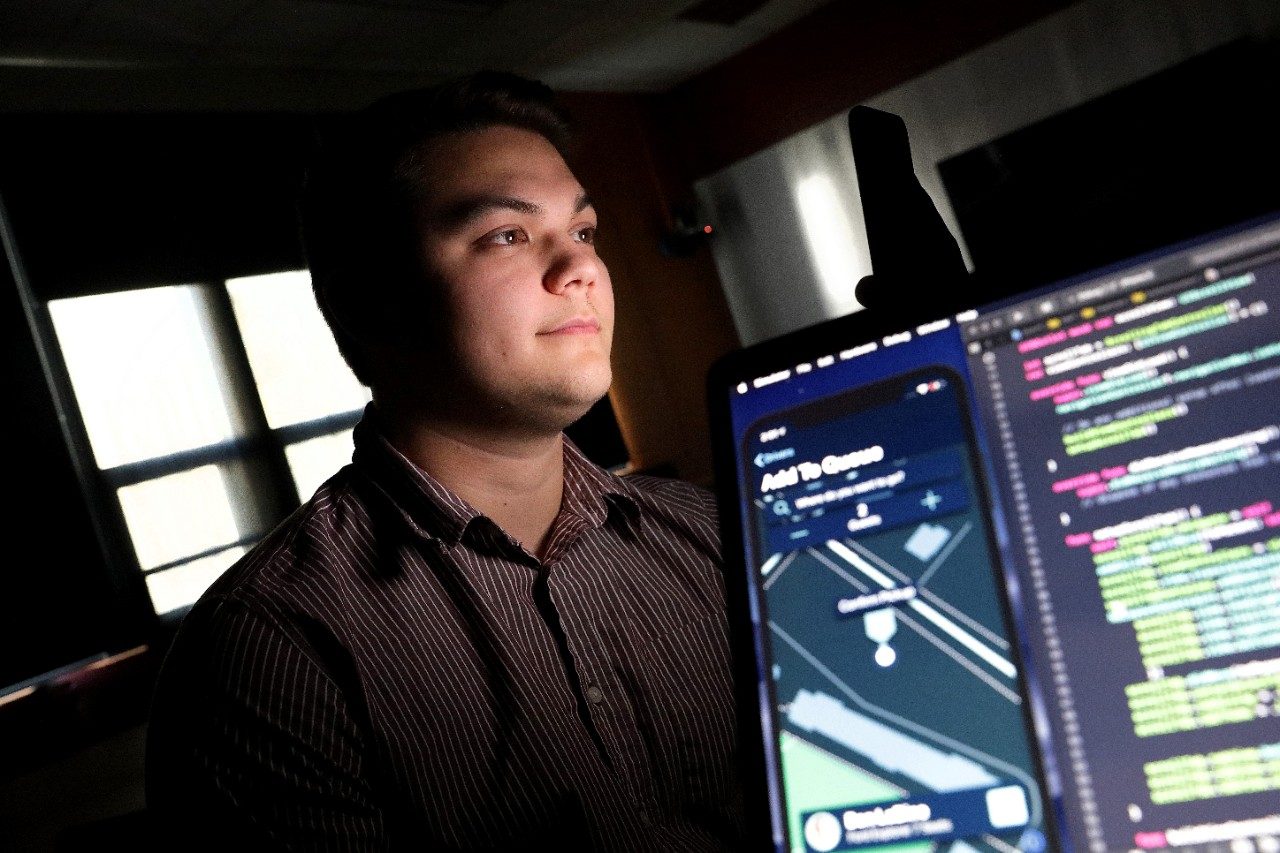 CATCH A RIDE: Matt Sanford, a senior majoring in computer science, is one of the creators of Drop A Pin, a rideshare app.
After countless shifts serving as designated drivers for Phi Sigma Kappa fraternity events in Blacksburg, Matt Sanford and Greg Smith have devised a safer way to give rides to students who have been drinking.
Sanford, a senior majoring in computer science, and Smith, an accounting and finance double major who graduated from Virginia Tech in 2015, created Drop A Pin (DAP), a rideshare mobile platform that connects students with designated drivers.
"The main goal is to get drivers to focus on driving, not talking on the phone," said Sanford.
This is how it works: An organization can purchase a monthly or yearly subscription to use the app for certain events. Once subscribed, users receive a code that connects them with a network of designated drivers available on a specific date and time. The app provides data to the user about the size of the vehicle, the driver, and the pick-up location. Drivers can focus on driving without having to use their phones to talk or text with people needing rides.
Rides are free for Virginia Tech students who belong to organizations that use DAP. Each organization supplies the drivers and runs its own designated driving program through the app. Other schools also can sign up to use the app.
Sanford and Smith plan on making DAP a for-profit business in the future.
Saharsh Shrivastava and Abhinav Oddula, both senior computer science majors at Virginia Tech, helped with the Android version. Tevin Scott, who received his bachelor's in computer science from Radford University, and Sanford created the iPhone version.
DAP not only helps students get home safely, it strives to decrease drinking and driving on college campuses. This is a goal for Hokie Wellness, too, said Kelsey O'Hara, health educator for Hokie Wellness.
"With designated driving in particular, a lot of times our education is centered around bystander intervention," O'Hara said. "We promote people to never drive after drinking; a lot of times we will say 'impairment starts with the first sip.' That's our philosophy because once you start drinking you are impaired. So, never drive while drinking, don't ride with someone who has been drinking, and step up if you see a situation occurring."
GEOSCIENCES RESEARCHERS WILL USE DATA FROM NEW NASA LANDER TO LEARN ABOUT MARS
GEOSCIENCES RESEARCHERS WILL USE DATA FROM NEW NASA LANDER TO LEARN ABOUT MARS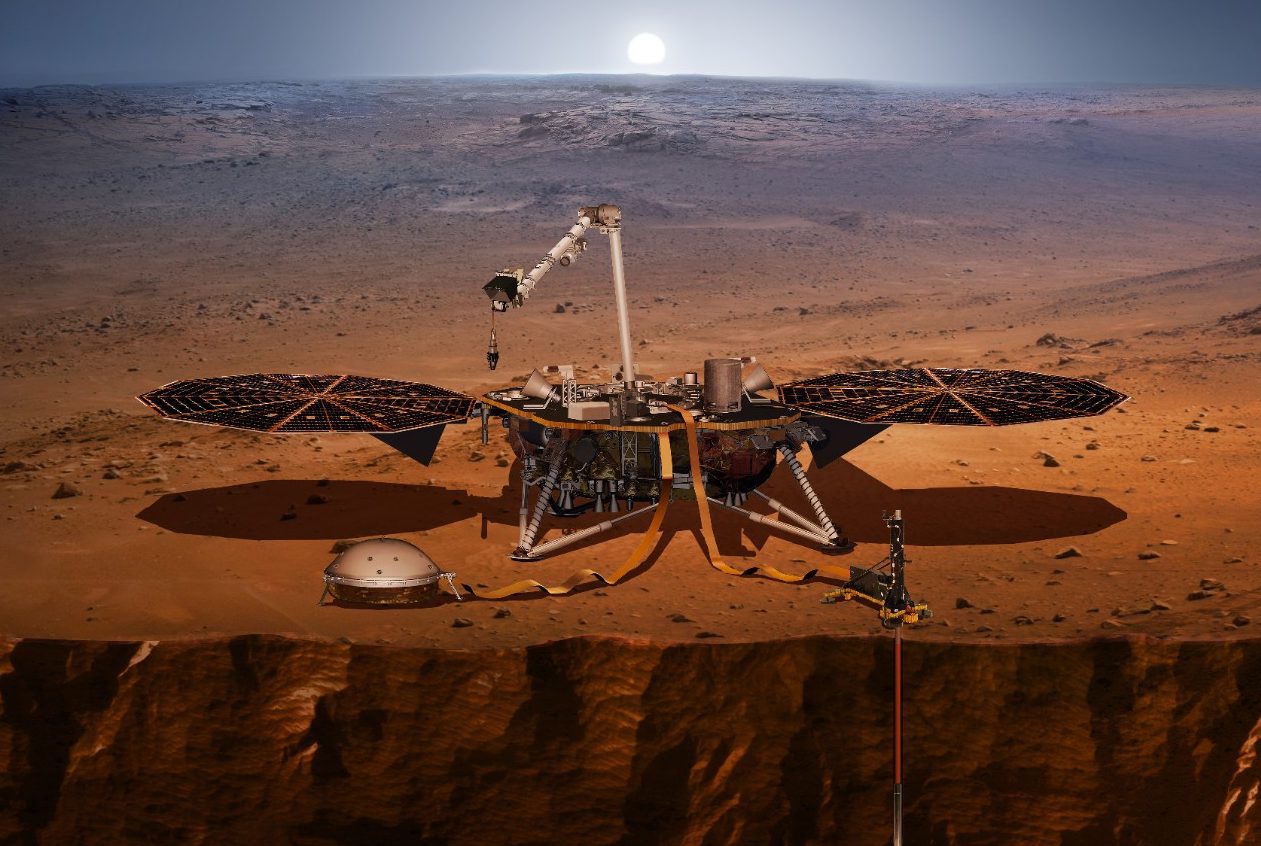 SEEING RED: NASA"s new InSight Lander arrived on Mars in November. Image courtesy NASA.
When NASA's new InSight lander touched down on Mars on Nov. 26, 2018, to begin new explorations of the Red Planet's interior structure, Virginia Tech's Scott King anxiously awaited the first feedback of data.
King, a professor with the Department of Geosciences in the Virginia Tech College of Science, heads one of 24 research teams selected this past summer by NASA to receive data science collected by the lander as it explores the planet during the next four years. When InSight—that's short for Interior Exploration using Seismic Investigations, Geodesy, and Heat Transport—arrived on Mars after its 301-million-mile journey, the robotic explorer took on the mission of studying Mars' crust, mantle, and core.
In NASA's words, this first-of-its-kind mission will "give the Red Planet its first thorough checkup since it formed 4.5 billion years ago." In King's words, "I'll be thinking a lot about what's inside Mars for the next few years." King will focus on the size of Mars' core and how it moves and wobbles, or rotates.
"At the end of the project, I hope that we have a model for the composition of the interior of Mars, including the composition of the core, the size of the core, and the composition of the rocky mantle above it," King said. "I hope this model will be consistent with all the available observations we have—from InSight, from Martian meteorites, from the compositions of the surface rocks from the rovers, and from the global models of gravity and topography. Knowing the composition will help us understand Mars' evolution through time: When did the magnetic field start and stop? And why did it stop? What is the origin of the large volcanoes and why are they on one hemisphere of Mars?"
InSight's exploration of Mars is not King's first project with NASA. He was part of the Dawn at Ceres mission and is continuing to study Ceres, the largest body in the asteroid belt. He has published papers on Mercury, Venus, Earth, and Mars. The Red Planet, though, has remained a top focus.
Josh Murphy, a geosciences doctoral student from Stafford, Virginia, will work with King on the project.
ON TWO WHEELS
ON TWO WHEELS
If the video doesn't load, view it on the video.vt.edu site.
Steve Hankey has developed a unique way to track air pollution.
However, the experiments of this assistant professor of urban affairs and planning at Virginia Tech do not take place in a lab. They happen in the streets of Blacksburg. On a bicycle.
The bicycle, a Specialized Turbo X, monitors air pollution to track hot spots over time.
"The idea is to combine all of this information to look for where you can design healthy neighborhoods that promote physical activity and protect against air pollution exposure," said Hankey, who, along with several undergraduate and graduate students, has finished his research and submitted it for publication.
He hopes to receive funding to expand the research to Washington, D.C., this summer.
Hankey's bike has an intake that collects air and sends information to a Raspberry Pi unit, a single board computer that is connected to Wifi. Once information is gathered, the unit sends it to the computer, which records and monitors the data.
Hankey started his research as a graduate student at the University of Minnesota, and he has furthered his fieldwork in Blacksburg.
Overall, Hankey found that the most air pollution is in downtown Blacksburg in the morning. One reason could be because the mixing height of the atmosphere, which is the vertical mixing of air and suspended particles above the ground, is lower in the mornings, and pollution from the cars stays closer to the ground during the commute, he said.
Hankey's research from previous air monitoring work has appeared in multiple publications, including Environmental Science & Technology, Atmospheric Environment, and Environmental Health Perspectives.
LEARMAN NAMED DEAN OF THE VIRGINIA TECH CARILION SCHOOL OF MEDICINE
LEARMAN NAMED DEAN OF THE VIRGINIA TECH CARILION SCHOOL OF MEDICINE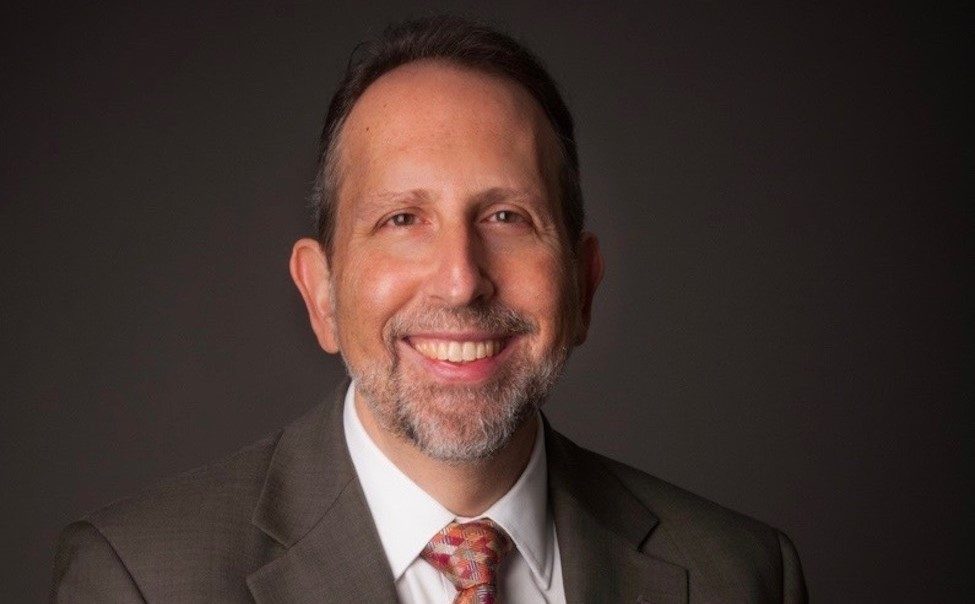 Lee A. Learman
Lee A. Learman, a physician, researcher, and educator, has been named the next dean of the Virginia Tech Carilion School of Medicine following a nationwide search.
Learman will begin in the role July 1.
"I'm honored by the opportunity to serve as dean of the Virginia Tech Carilion School of Medicine," said Learman. "In its first decade of existence, it has built a solid foundation drawing on the strengths of both an outstanding public research university and an outstanding private health system."
Learman has 25 years of progressive leadership experience in medical education and health care. He currently serves as the senior associate dean for academic affairs and the senior associate dean for graduate medical education at the Florida Atlantic University's Charles E. Schmidt College of Medicine.
From 2008 to 2015, Learman served as the Clarence E. Ehrlich Professor and Chair of the Department of Obstetrics and Gynecology at Indiana University. Prior to 2008, he served 14 years on the faculty at the University of California San Francisco.
Learman received his bachelor's degree from the University of California Los Angeles, his M.D. from Harvard Medical School, and a Ph.D. in social psychology from Harvard University. He completed his residency in obstetrics and gynecology at the University of California Los Angeles.
Read the full story.
EQUINE MEDICAL CENTER DEDICATES RENOVATED YOUNGKIN EQUINE SOUNDNESS CLINIC
EQUINE MEDICAL CENTER DEDICATES RENOVATED YOUNGKIN EQUINE SOUNDNESS CLINIC
Equine athletes of all kinds in the Mid-Atlantic region will now have access to an enhanced sports medicine facility.
The Youngkin Equine Soundness Clinic in the Fout Barn at Virginia Tech's Marion duPont Scott Equine Medical Center at Morven Park was dedicated at a ribbon-cutting ceremony held on Nov. 18, 2018, at the center in Leesburg, Virginia.
The renovation of the former open-air barn into a state-of-the-art sports medicine facility, made possible by a generous gift from Suzanne and Glenn Youngkin of Great Falls, Virginia, expands the center's capacity to provide cutting-edge diagnostics and treatment for lameness and other conditions.
The clinic is comprised of four holding stalls, two comfortable client waiting and observation areas, and a large open examination, diagnostic, and treatment area. There, specialists will employ an integrated approach to patient soundness, blending traditional medicine with complementary modalities, such as acupuncture and chiropractic care.
Services at the clinic will include complex lameness diagnosis, advanced imaging, nonsurgical and surgical treatments, rehabilitation, and development of best practices for athletic wellness in collaboration with owners, referring veterinarians, trainers, farriers, and other health professionals.
RACING TO SAVE—AND CELEBRATE—THE WORK OF WOMEN ARCHITECTS
RACING TO SAVE—AND CELEBRATE—THE WORK OF WOMEN ARCHITECTS
The International Archive of Women in Architecture (IAWA) at Virginia Tech is issuing an open call to women architects worldwide to submit a seminal design or drawing to the university's historical collection.
The campaign, dubbed "A Seminal Piece," is the latest in the IAWA's three-decades-long effort to capture and preserve the contributions of women in architecture who are underrepresented in the annals of history.
Housed in the Newman Library's Special Collections, the IAWA contains more than 450 collections of pioneering female architects. A joint effort of University Libraries and the College of Architecture and Urban Studies, it is one of the only archives in the world dedicated solely to women architects.
The organization was founded in 1985 by the late architect and Professor Emerita Milka Bliznakov as a means of addressing the gap in women's architectural history and education. Today, the group is led by Donna Dunay, G.T. Ward Professor of Architecture in Virginia Tech's School of Architecture + Design, Associate Professor of Architecture Paola Zellner Bassett, and Samantha Winn, collections archivist at Virginia Tech Special Collections, along with many others.
The archive boasts a distinguished international board of advisors; spans 47 countries, 17 languages, and two centuries; and draws students, architects, and scholars worldwide to gain a broader understanding of the built environment.
It also has created a network of architects united in sharing a lost legacy.
"The first generations of licensed female architects are passing away—and their stories with them," Dunay noted. "The best way to honor these women is to ensure they don't fade into obscurity. We need to preserve their work so future generations appreciate the path they cleared and how they continue to influence our profession today."
ZUKA JOINS K-9 PROGRAM
ZUKA JOINS K-9 PROGRAM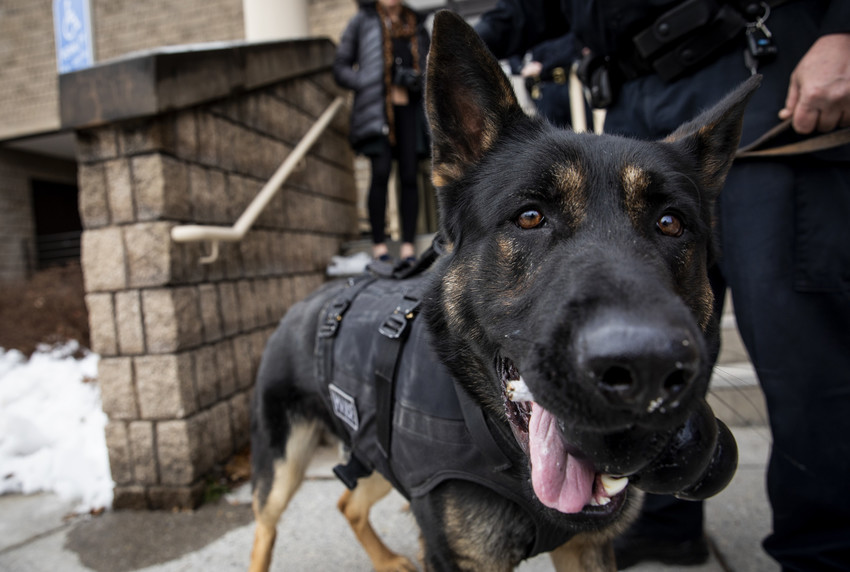 Zuka, a 16-month-old german sherphard K-9, will work with VTPD Officer Jaret Reece.
The Virginia Tech Police Department is pleased to announce the newest member of the force: Zuka, a 16-month-old German shepherd.
Zuka will provide apprehension and narcotic detection services.
Zuka's handler is Officer Jaret Reece, who has served in the K-9 program since 2009.
In 2002, the Virginia Tech Police Department was the first university police department in the state to establish a K-9 program.
The department currently has three K-9 teams actively engaged in the university's policing efforts. K-9 teams patrol campus and are responsible for sweeping Lane Stadium and other university facilities in advance of major events. Each of the dogs has specialized training that can include tracking suspects and missing people or searching for drugs or explosives. The K-9 teams also offer community demonstrations throughout the year.
"Our K-9 teams are an unmatched asset for advancing safety and security at Virginia Tech," said Virginia Tech Police Chief Kevin Foust.