Hokie at heart
by Mason Adams
Heywood Fralin, photographed at Virginia Tech Carilion Research Institute in Roanoke.
Heywood Fralin wanted to do something different. His older brothers had enrolled at Virginia Tech, so the younger Fralin chose the University of Virginia, a decision that would fuel sibling and sports rivalries for many years.
Hokie culture, however, was woven deep into Fralin's family life, so when Virginia Tech first asked him to serve in early 1993, he did not hesitate.
Older brother Horace Fralin '48, a longtime Hokie and successful leader in education and philanthropy, had died recently from cancer. A new member of the Virginia Tech Board of Visitors, Horace Fralin had attended only one meeting prior to his death.
Then-Virginia Tech President James D. McComas reached out to the younger brother, Heywood Fralin, with an unusual request.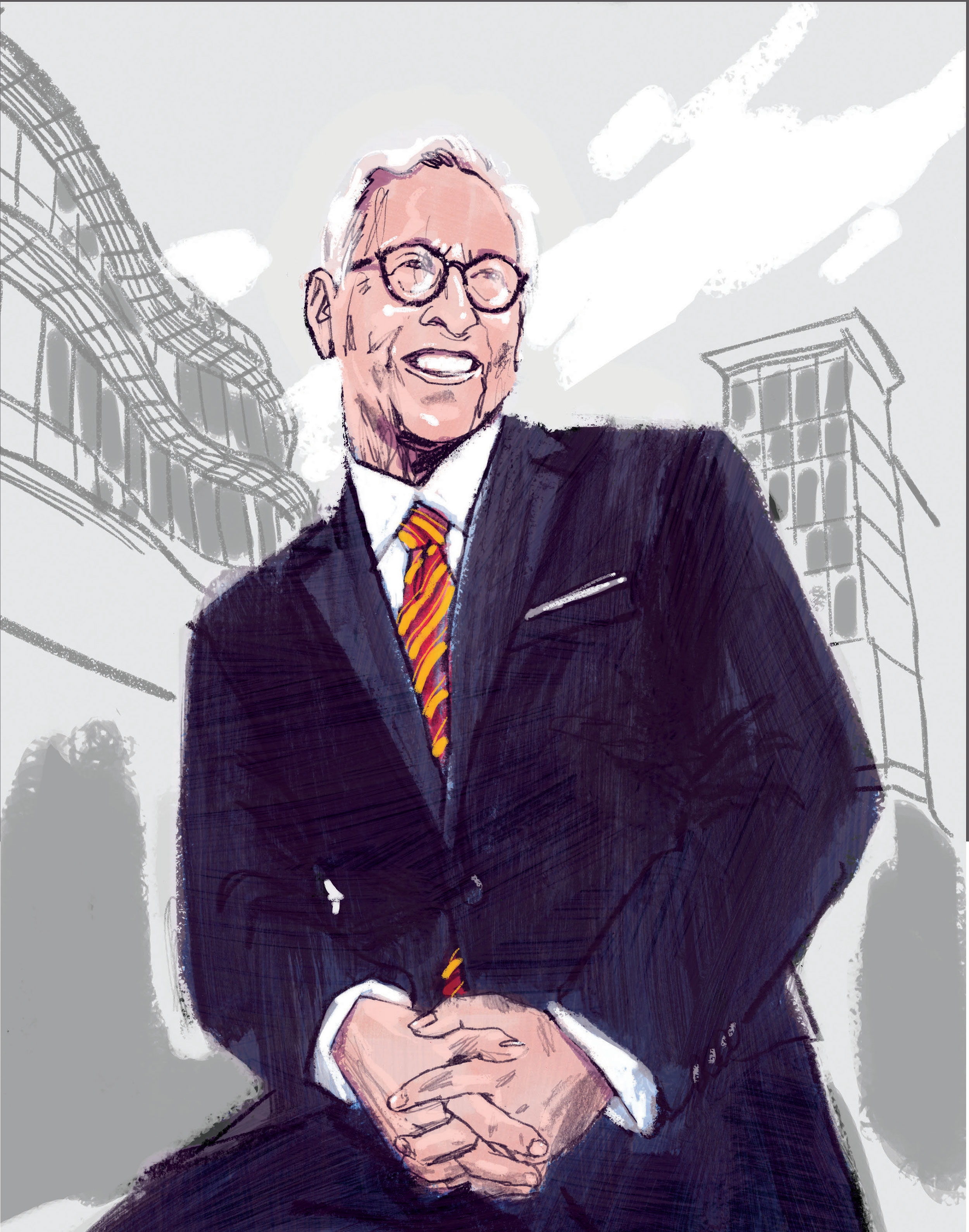 Heywood Fralin (art by Jonny Ruzzo)
"Jim called me, and he said 'I have a crazy question for you,'" Fralin remembered, 25 years later. "He asked me if the governor were willing to appoint me to the Virginia Tech Board of Visitors for Horace's unexpired term, would I be willing to serve? I said, 'Jim, if you're crazy enough to ask, I'm crazy enough to serve.'"
That step was just the first in the Wahoo's relationship with the Hokie Nation—a journey that culminated on a frigid day in December 2018, as dozens of western Virginia leaders gathered to celebrate the largest philanthropic gift in Virginia Tech history.
Heywood Fralin and his wife, Cynthia, in concert with the Horace G. Fralin Charitable Trust, have committed $50 million to support biomedical research at the newly named Fralin Biomedical Research Institute at VTC. The institute is an integral part of the growing Virginia Tech Carilion Academic Health Center based at the Virginia Tech Carilion Health Sciences and Technology Campus in Roanoke.
"This transformative gift raises the bar on what we can accomplish in biomedical research," said Virginia Tech President Tim Sands. "We are incredibly grateful, and we look forward to drawing on this tremendous support in order to make powerful discoveries that will improve lives."
"Serving on the board of visitors gave me huge insight into Virginia Tech and what it can do not only for the region, but for the state and for the world. There are so many things that are impressive about Virginia Tech, but most impressive of all are the students. There is just a sense of dedication at Virginia Tech that's unlike any university I've ever seen. You know, the motto of ut prosim is something that is instilled in every student at Virginia Tech. Every graduate is rightfully proud of Virginia Tech--they don't keep it a secret. Their enthusiasm is contagious and just a wonderful thing to have."
Heywood Fralin
"Thanks to Heywood Fralin and his family, we're much better positioned to recruit additional world-leading researchers to address biomedical problems of global scope," said Michael J. Friedlander, the executive director of the research institute and the vice president for health sciences and technology at Virginia Tech.
The record-breaking commitment of support is in keeping with Fralin's lifetime legacy of service—to Virginia Tech, to his alma mater the University of Virginia, to the Roanoke Valley, to Virginia, and beyond.
Fralin is a Roanoke-born attorney, businessman, health care executive, and patron of the arts. He has served as a member of the Board of Visitors, not only for Virginia Tech, but also for the University of Virginia, and his advocacy and leadership have provided critical momentum for giant strides in bringing the Roanoke and New River valleys together.
Ask him for his title, though, and it's clear which role comes first: "Husband."
That answer speaks not just to his devotion to his wife, but to his family and to the Roanoke community, where he was born and grew up as the youngest of three brothers. His parents, Grover Gordon Fralin and Ollie Elizabeth Fralin, moved to the city from rural Franklin County in the 1920s.
"My father only had a seventh-grade education, but he was an entrepreneur and was very interested in providing for his family," Fralin said. "He worked hard every day and began a building construction business. Meanwhile, our mother was very interested in her children, and thought the best way to promote our futures was to make sure that we were well-educated."
Fralin's firm work ethic became evident in the 1950s, when he landed his first job as a paperboy at age 13.
His older brothers enrolled at Virginia Tech to pursue undergraduate degrees, eventually going on to enjoy successful careers. Wayne Fralin became a medical doctor, while Horace Fralin built a life around construction, health care, education, and philanthropy. (The Fralin Life Science Institute at Virginia Tech was named to honor Horace Fralin and his wife, Ann, and in 1992, he received the university's Ruffner Medal in recognition of notable and distinguished service to the university.)
Despite his brothers' successes, Heywood Fralin chose a different path, attending the University of Virginia, where he earned a bachelor's degree. He continued his education at American University, earning a law degree and then going to work as a practicing attorney before entering the business world in 1993.
Fralin never drifted far from Virginia Tech, though, remaining connected to the university through his family's history, further fueled by brotherly feuding over sports. And when President McComas asked him to serve out his late brother's term on the Board of Visitors, Fralin's commitment to service demonstrated that he's a Hokie at heart, if not in experience. Those seven years on the Board of Visitors have informed his work ever since.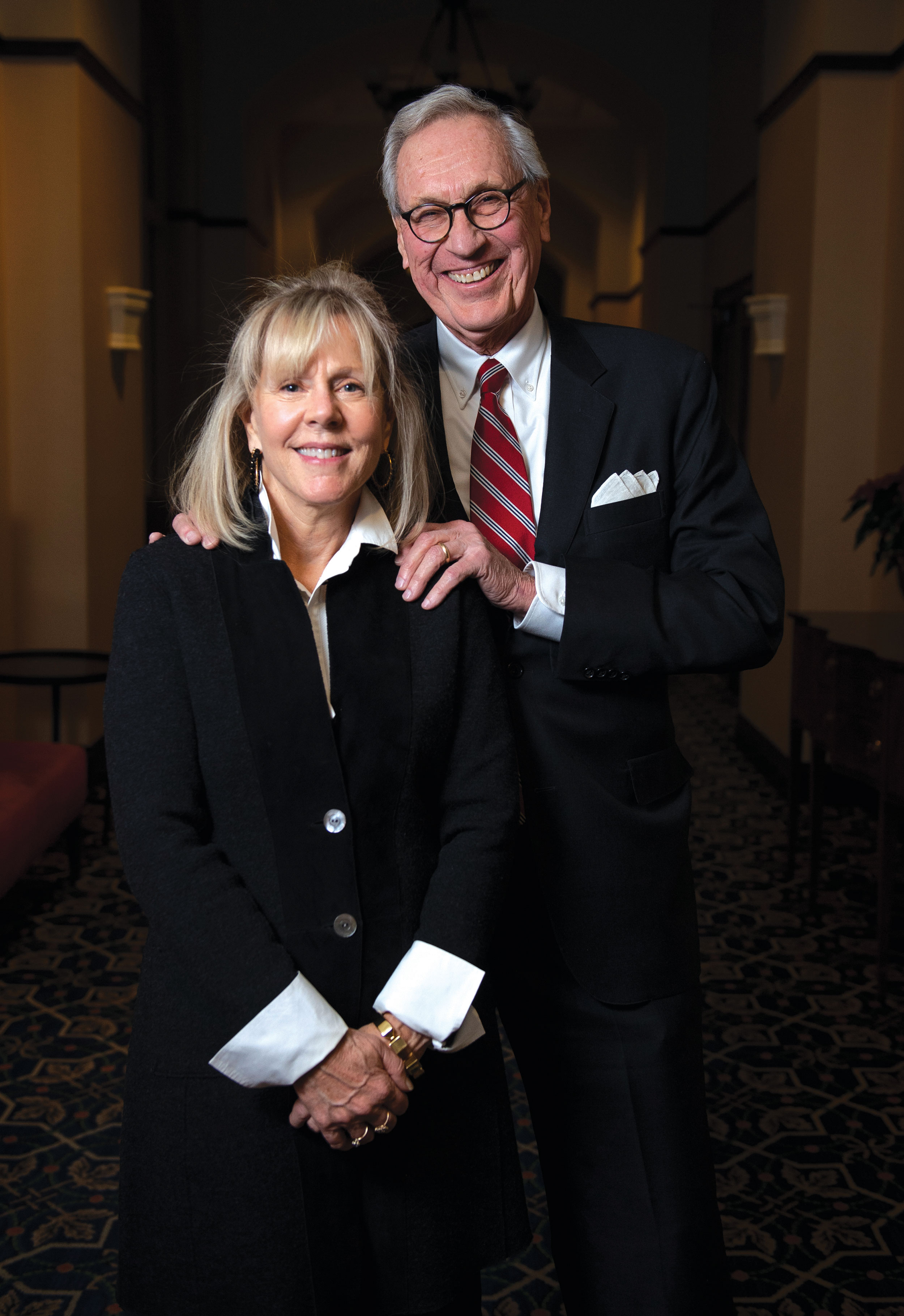 Heywood and Cynthia Fralin.
Fralin leveraged the experience when he later served on the University of Virginia Board of Visitors.
"I kidded them by telling them that everything that I learned about board governance, I learned on the Virginia Tech Board of Visitors," Fralin said. "It was not always well received by some of my UVA colleagues, but it was a fun thing to say."
"UVA benefited tremendously from Heywood Fralin's time on the Virginia Tech Board of Visitors," said John Casteen, former UVA president. "We've seen firsthand the effects of his energy and commitment to a vision. And his work with Virginia Tech is a great thing not just for Roanoke, but for Virginia as a whole."
Fralin is chairman of the State Council of Higher Education for Virginia, commonly known as SCHEV. He has chaired the Virginia Business Council and the Virginia Business Higher Education Council. He served as a member of the advisory board of Carter Immunology Center at the University of Virginia and on the Council on Virginia's Future. He also served as a member of the Governor's Commission on Higher Education Reform, Innovation, and Investment. He currently serves on the GO Virginia Board and the Virginia Research Investment Committee.
"The evolution of the VTC School Of Medicine and the research institute and the emergence of a VTC academic health center to help discoveries come to market and be applied are going to be the future of our region."
Heywood Fralin
Fralin and his wife have agreed to bequeath their collection of works by American artists to the University of Virginia, which resulted in the naming of the Fralin Art Museum on its campus. He also serves as vice chair of Roanoke's Taubman Museum of Art.
Heywood Fralin has become a central figure in the Roanoke Valley and one of its most outspoken advocates. "I consider Heywood Fralin a true, longtime leader in our community," said Roanoke Mayor Sherman Lea. "He's not a person who gets a lot of headlines, but he's intricately involved in the community, and it shows."
Fralin's vision for regional cooperation and investment in growing industries has undergirded Roanoke's economic transformation from a blue-collar railroad hub into a forward-looking, tech-savvy, outdoors mountain city.
"I grew up in Roanoke when Norfolk Southern was everything," Fralin said. "The idea that Norfolk Southern would ever leave Roanoke was unheard of. We all believed that Norfolk Southern would be here forever. But, as we all know, this economy has moved from an energy-based economy to a knowledge-based economy.
"Today, we are very reliant on two things: small start-up businesses, which I believe are going to be the future of the entire nation, and the health care enterprises that are being created in our area through Virginia Tech and Carilion. The evolution of the VTC School of Medicine and the research institute and the emergence of a VTC Academic Health Center to help discoveries come to market and be applied are going to be the future of our region," he said.
Now, through his generous financial commitment, Heywood Fralin is making a significant investment into his vision. The contribution builds on his personal and family history of service and philanthropy, which reaches across the state, touching on research, education, the arts, and economic development.
"I tend to think in terms not only of Roanoke, but Roanoke's involvement in the entire state," Fralin said. "I have chosen to be involved in both the state and in the locality. I just believe that it's the responsibility of everyone to give back to their community and state and to leave things better than they found them."